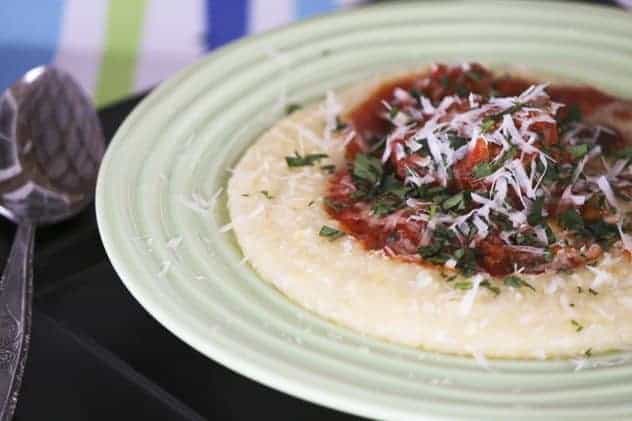 Update: A very astute reader (thank you, Elizabeth!) noticed that I had inserted one of my children's math problems in the "how to make meatballs without a disher" portion of the recipe. If you had followed the instructions I gave, you'd end having SIX HUNDRED tiny, wee, adorable meatballs and cursing my name. Yeesh. In case you were wondering, the problem was 30X=600. Solve for x. Let this be a lesson to you. Don't write and derive.
I vow not to correct my children's math homework while finishing a post again. At least until next week.
With a Grandma from Arkansas and a Grandpa from West Virginia and a Mom -their daughter-  who learned to cook from them, I was brought up on good Southern food. The fact that I lived in Kentucky for six years as a child in my formative years helped matters along a little, too… In short, I run on grits.
There are very few things that grits can't make better. Cold outside? Eat grits. Broken heart? Cheese grits. Nervous about anything? Simple buttered grits with salt and pepper. Feeling celebratory? Shrimp 'n grits. Hungry? GRITS.
What can't grits do? Creamy, chewy, soft, and hearty, grits are corn done right. So what does my Ode to Grits have to do with the dish pictured above? That's polenta. And leaving aside the stoneground cornmeal vs. lye water soaked field corn bit of the discussion, polenta is, as my kids so poetically refer to it, Italian grits. Pronounced, in this case, EYE-tahl-ee-uhn.
We are nothing if we are not classy.
Italian grits bridge an argument that my dear, sweet, deluded husband and I have been having for years. Concisely, he likes his pasta gross. Seriously. He likes fine pastas (angel hair, thin spaghetti, etc…) and he likes it cooked past tender. As in mushy. I like substantial pasta (buccatini, shaped pastas, linguine) and I like it al dente. How have we ever made this work? By chucking most pasta dishes and agreeing on polenta. We both prefer polenta under meatballs and sauce, beef stew, and other various saucy morsels of goodness.
So while other couples make like Lady and the Tramp this Valentine's Day, my sweetheart and I will be sharing a bowl of Italian grits topped with sumptuous baked meatballs and trying to eat faster so we can get the last spoonful.
In addition to being classy, we're competitive. This makes us doubly fun on game night.
This meal is a fast one when you use a Make Ahead Monday advantage. I have to say that I've tried quite a few meatballs in my day, and these come in at the top for taste, ease and versatility. Yes, this recipe makes a lot (referring to both the frozen meatballs and today's baked meatball recipe) but the uses are many.
The frozen meatballs can be baked up in a pan full of sauce like I did here, but they're also divine in sweet and sour meatballs, tossed in barbecue sauce and kept warm in a slow-cooker for a party, or tossed in a cream sauce for a non-traditional (since it lacks pork) but incredibly delicious Swedish meatball dish. And if you find yourself with half a pan of baked meatballs in sauce leftover, you could do much, much, VASTLY worse things than meatball subs or a meatball pizza. When I tell you that those make boys happy, I speak empirical truth. All the minions back me up on this one.
For just one minute, I'm going to do something I don't often do. I want to address two separate groups of people. First…
To Those Cooking for Three or Fewer People Per Meal:
Don't panic when you see the quantity of meat called for in this recipe. Once these meatballs are made and "flash-frozen" then stashed in the freezer, you can take out and warm as few as one meatball or as many as you'd like if you're serving guests. The meatballs are good for eight months, properly wrapped in the freezer. Since the recipe yields sixty meatballs, a person cooking for one would only have to consume approximately three meatballs every other week to go through these in time. That is totally do-able. Yes? In other words, I wouldn't reduce this recipe. You never know when my family might show up at your door hungry. And what would you do then? Hmmm???
To Those Cooking for Four or More People Per Meal:
Don't, under any circumstances, reduce this recipe. In fact, you wouldn't be crazy if you doubled it. And if you're cooking for six or more people? Triple it. If you have teenage kids? Quadruple it. I think you get my point, right? This is hard-core kid-pleasing food. You might be surprised how often you rely on your stash of meatballs.
~~~
Why not just buy frozen meatballs at the store? Because they're gross. Every frozen meatball I've ever purchased (from store brand to boutique brand) has tasted waterlogged and bland (WHERE, I ask you WHERE are the herbs? Garlic? Spices? Flavours?). And even when they were on sale and I had a coupon, the expense was not justified by the product. My thoughts about commercially available meatballs can be summed up with a resounding, "Blech!"
Homemade frozen meatballs are most emphatically not blech! They great, are a massive convenience, and can be made when meat is on big sale at the store or butcher's.
This leads me to a final word about the choice of meat in these meatballs. Most recipes for meatballs and meatloaf call for a blend of beef, pork, and veal in order to keep them tender and moist. I buck tradition here and not only call for all beef, but also for lean beef at that. Crazy? Well, it might not be what most recipes call for, but for me, it is the perfect meatball. It holds together, it's moist, it's flavourful, it's like Mary Poppins: practically perfect in every way. If you'd prefer to use a blend, feel free -by all means- but this is my favourite version by far, and after this many years in the kitchen, I no longer feel like I have to do things "the right way" all the time.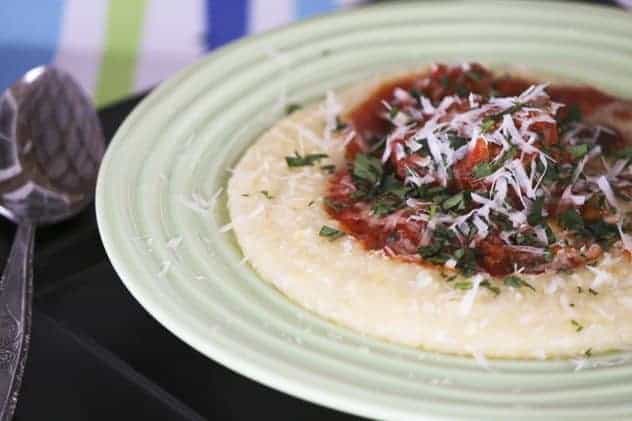 Make Ahead Meatballs | Baked Meatballs In Sauce and Polenta (Make Ahead Monday)
Rate Recipe
There is no dish more comforting than a bowl of creamy polenta topped with piping hot perfect meatballs in garlicky red sauce with a generous handful of grated cheese on top. ...And when the meatballs are waiting for you in the freezer, this dinner comes together in mere moments. Make Ahead Mondays save the day! These versatile meatballs are also great in barbecue sauce, in sweet and sour meatballs, in soups and on sandwiches and pizzas.
Ingredients
For the Make Ahead Meatballs:
4 1/2

pounds

of lean ground beef

1 1/2

cups

fresh bread crumbs

1

cup

onion

minced super fine (I use the food processor to obliterate them to placate the anti-visible veg crowd)

3

cloves

of garlic

peeled and very finely minced or pressed

3

large eggs

1/2

cup

fresh parsley

finely chopped (or substitute 3 tablespoons dried parsley flakes)

1

tablespoon

kosher salt

1/2

teaspoon

freshly ground black pepper

2

tablespoons

Worcestershire sauce

1/4

teaspoon

ground nutmeg

preferably freshly ground
For the Baked Meatballs in Sauce:
25-30

frozen meatballs

directly from the freezer

5

cups

of your favourite red sauce

Marinara, ragu, etc...

2

anchovy fillets

finely chopped

1/2

cup

shredded Romano

Parmesano or Asiago cheese

1

cup

shredded mozzarella cheese

nonstick cooking spray or olive oil to grease the pan
For the Creamy Polenta:
5

cups

chicken stock

or water

1

teaspoon

kosher salt

1

cup

coarsely ground cornmeal

polenta grains

1/4

cup

crumbled gorgonzola cheese

substitute Parmesan cheese if you don't like bleu cheese!

4

tablespoons

butter

coarsely ground black pepper to taste
Additional Optional Garnish:
Freshly grated Parmesano

Romano or Asiago cheese

Minced fresh parsley
Instructions
To Make the Make Ahead Meatballs:
Preheat oven to 350°F.

Line 2 rimmed half-sheet pans (13-inch x18-inch) with parchment paper and set aside.

Combine all of the ingredients in a large mixing bowl and use your hands to mix it gently until all ingredients are evenly distributed. Use a medium sized disher* to scoop equal sized amounts of the meat mixture onto the prepared pans leaving about 1/4-inch of space between the meatballs. If the shapes are shaggy, you can go back through and lightly roll each one between your hands to even out the shape a bit.

*No disher? No problem. Cover your work surface with waxed paper and turn the meat mixture out onto it. Gently pat it out into a large rectangle. Use a pizza cutter or knife to mark the mixture into 10 evenly sized columns on the long side of the rectangle and 6 evenly sized rows on the short side. This will give you 60 equally sized amounts. Roll each one into a meatball, placing them on the parchment lined sheets as directed above.

Bake the meatballs for 30 minutes. Transfer the meatballs to a platter, cover lightly with plastic wrap and refrigerate until completely cool. Place the platter in the freezer until the meatballs are frozen through. When they're completely hard, transfer them to a resealable plastic bag, squeezing as much air from the bag as possible before sealing. Label the bag and freezer for up to 8 months.
To Make Baked Meatballs in Sauce:
Preheat oven to 375°F. Spray a 9-inch by 13-inch pan with non-stick cooking spray or brush with olive oil. Arrange the frozen meatballs evenly in the pan

In a mixing bowl, stir the sauce, chopped anchovy fillets, and shredded Romano, Parmesano or Asiago cheese together. Pour the mixture over the meatballs, then sprinkle the mozzarella cheese over the top.

Bake, uncovered for 30-40 minutes, or until the sauce is bubbly, the cheese is slightly browned and the meatballs are heated through.
To Make the Creamy Polenta:
Bring the stock or water to a boil over high heat in a medium, heavy-bottomed pot. Add the salt, lower the heat to medium and then whisk in the cornmeal, a little at a time, until it is all in and the cornmeal begins to swell and stay suspended in the liquid. Drop the heat to low and let simmer, stirring occasionally with a wooden spoon, until the polenta is quite thick, the grains are all swollen and tender and the liquid is absorbed.

Turn off the heat, add in the butter and crumbled or grated cheese, and stir until both are completely melted and incorporated.
To Serve:
Ladle the polenta into serving bowls and top with 3-6 meatballs, depending on how hungry you are! Garnish the bowls with additional grated Parmesano, Romano or Asiago cheese and minced fresh parsley if you'd like.
Nutritional information is an estimate and provided to you as a courtesy. You should calculate the nutritional information with the actual ingredients used in your recipe using your preferred nutrition calculator.