Disclosure: I'm excited to be working with New York Apple Growers/Crunch Time Apple Growers to introduce you to their new variety: Snapdragon Apples. I was compensated to develop this recipe and tell you about their wonderful new apples, but all opinions and recipes remain my own.
I remember the first time I ever read "Farmer Boy" by Laura Ingalls Wilder. The book drove me into a frenzy of hunger every time I read it, owing in large part to her masterful descriptions of the amazing food her mother-in-law produced when her husband was a boy.
The part of the book that made me hungriest, though, was a passage where Mrs. Wilder made a giant meal including fried apples and onions. I remember stopping as soon as I read that, running to the kitchen, and lobbing a bunch of chopped apples and onions into a frying pan with some butter.
The results were as great as I imagined them to be when I read about them. Over the years, I changed it up just a bit to include frying the apples and onions in bacon fat and stirring the crisped bacon back in at the end. That little hit of umami, smokiness, and salt from the bacon was the perfect counterpoint to the sweet, tart apples and fragrant onions.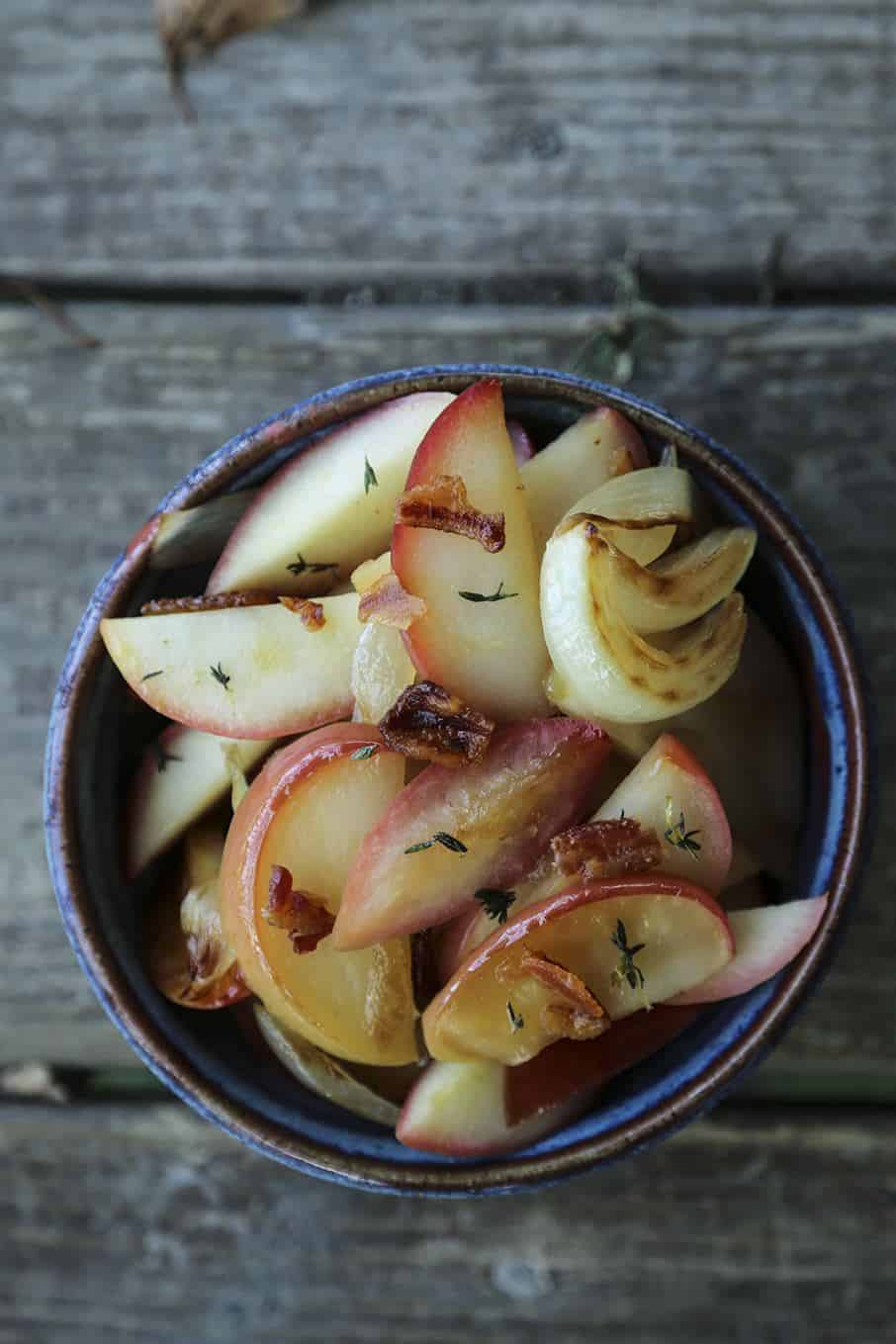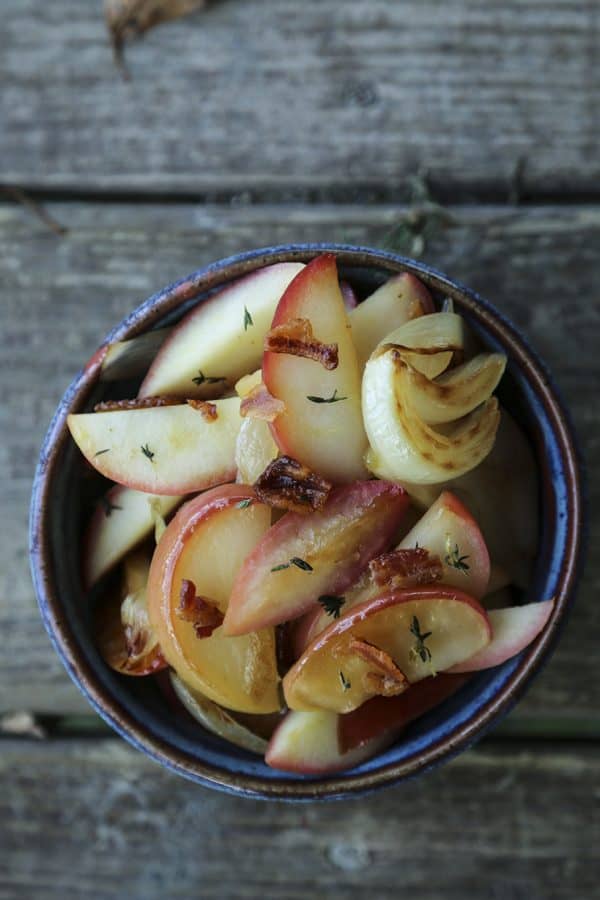 There is something so very comforting about Bacon Fried Apples and Onions all on its own, but it is a fabulous accompaniment to pork chops or roasts, or braised or roasted chicken. Nothing quite compares to Bacon Fried Apples and Onions when the dish is made with beautiful, dead-crunchy fresh, locally grown apples in season.
I was thrilled to get a shipment of New York Apple Grower's new variety of apples to play with just a couple of weeks ago. These SnapDragon apples are a beautiful deep red and golden colour, extremely juicy, and have a snappy, crunchy texture that makes them a delight to eat raw.
They're very similar in texture and flavour to HoneyCrisp apples, since HoneyCrisp was one of the parent varieties Cornell University (my sister's alma mater!) used to develop SnapDragons. After the guys and I power ate the box of SnapDragons that the growers mailed us, I was happy to see a giant display of them right inside the front doors at my local Wegman's and Walmarts. I do believe we will be eating a great many of these through the year!
Almonzo's mother knew her way around beautiful apples, being a New York farm wife, and today's SnapDragon apples, as I found to my pleasure, hold up beautifully to cooking. They don't turn mushy; instead, they become tender and hold their shape quite well.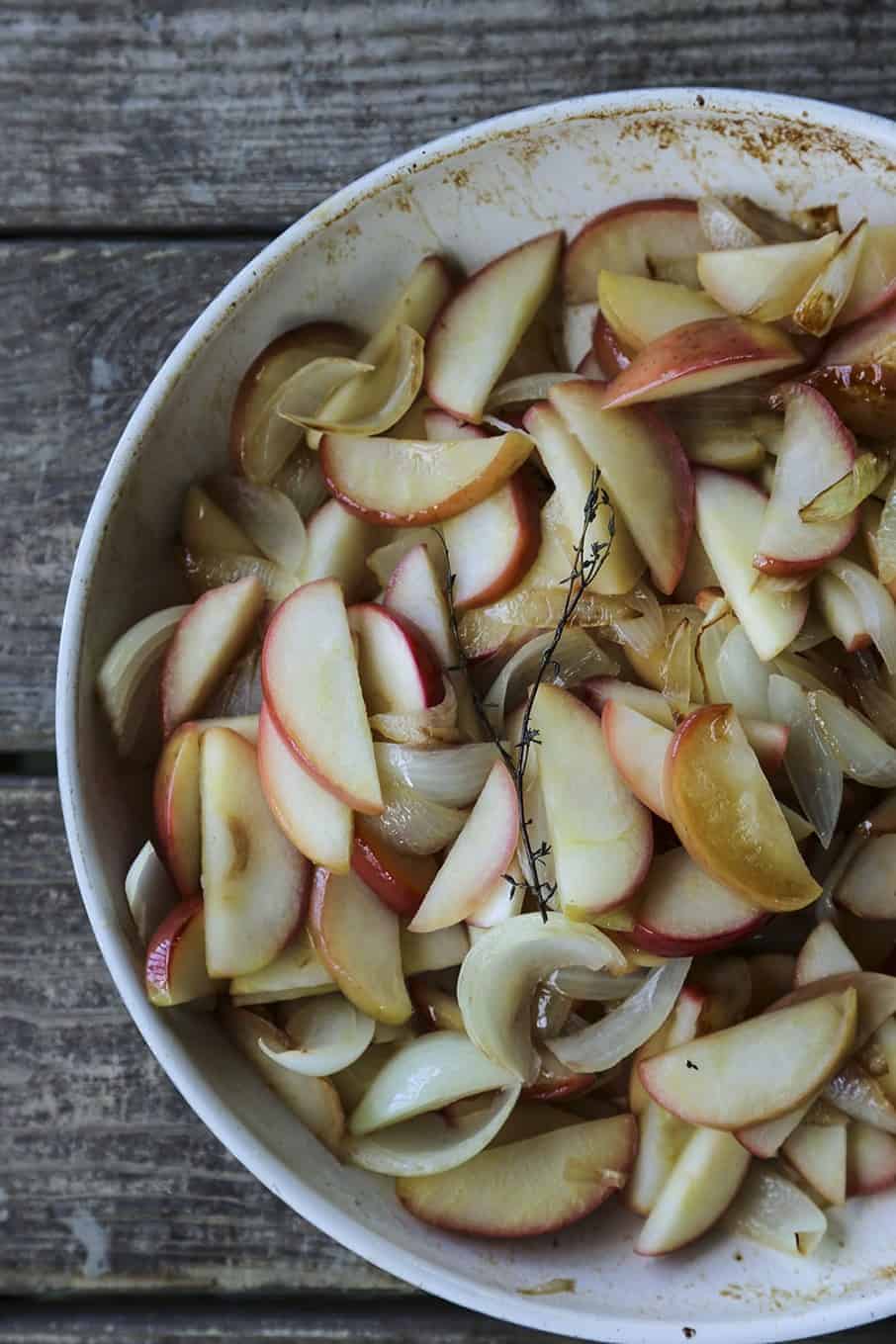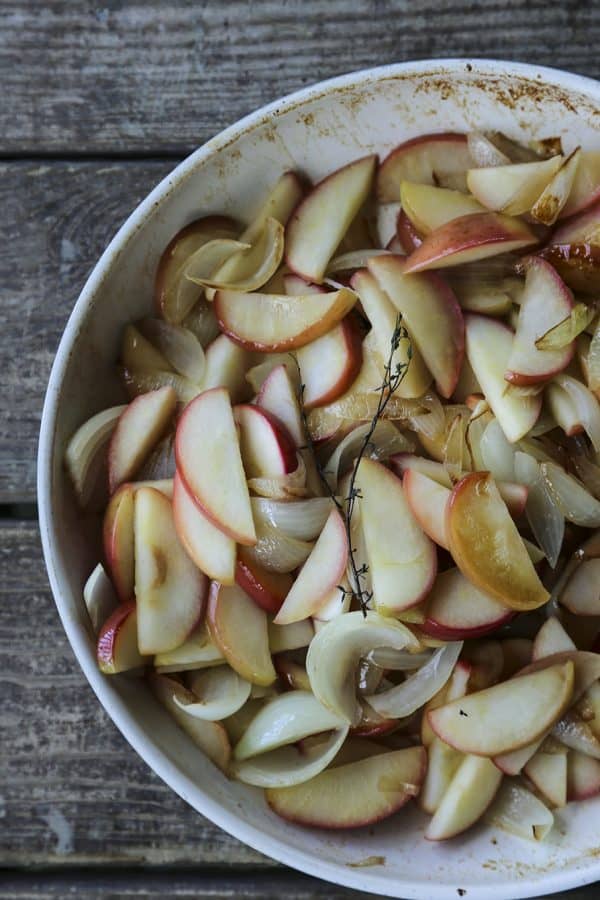 Cook's Notes
I prefer to leave the peels on my apples when I slice them because I like the lovely bit of colour they impart to the final dish. I have not tested Bacon Fried Apples and Onions with peeled apples, but I see no reason why it shouldn't work.
I do advise you serve Bacon Fried Apples and Onions hot or warm.
If you have leftovers, tuck them onto a roast turkey or pork sandwich for a very happy lunch or dinner.
Connect with Foodie with Family
facebook | pinterest | instagram | twitter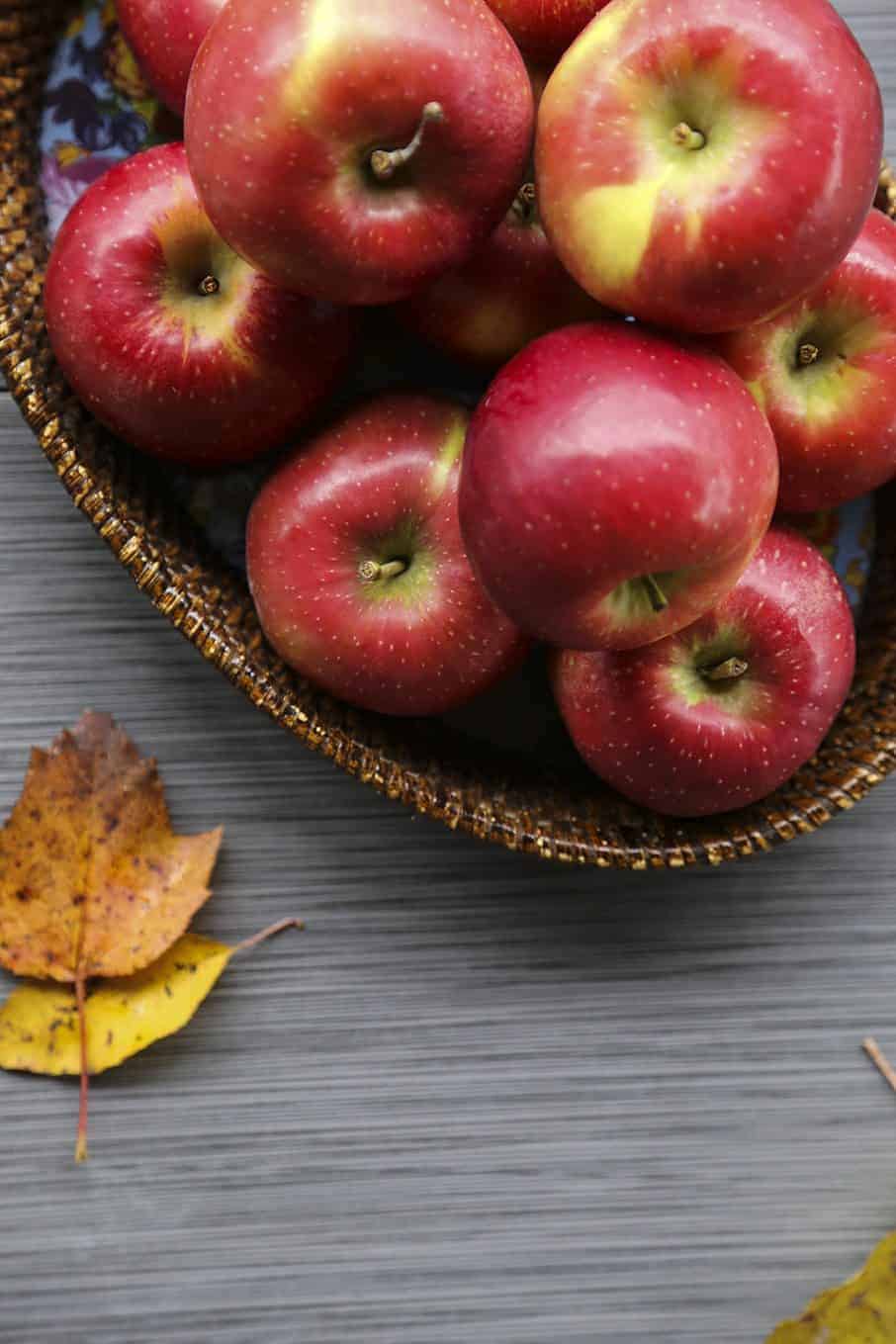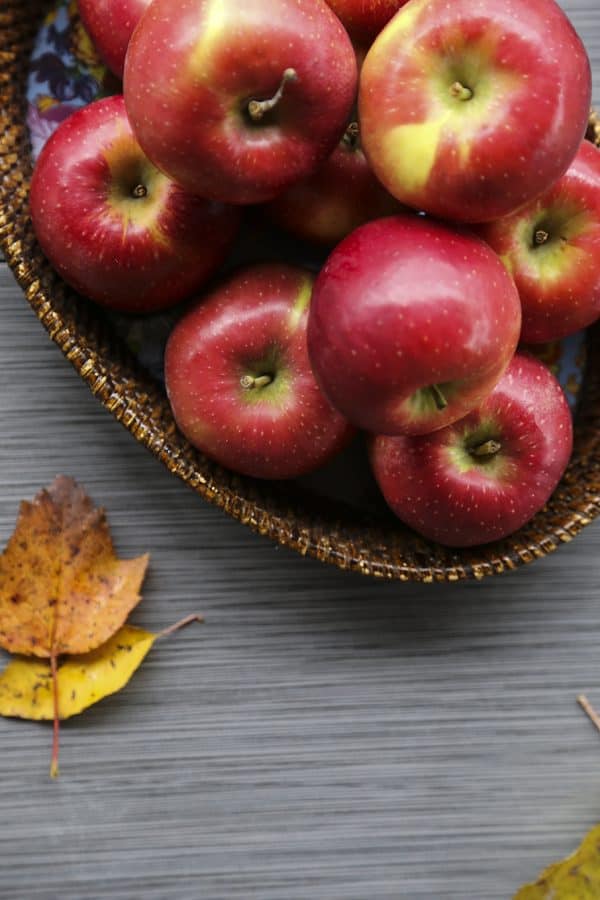 Learn More about SnapDragon Apples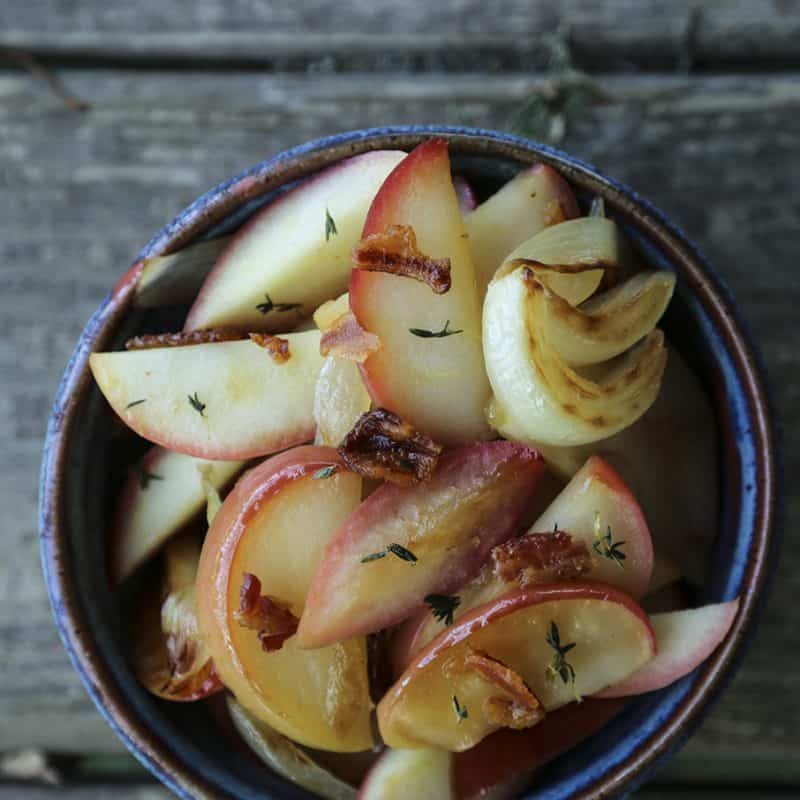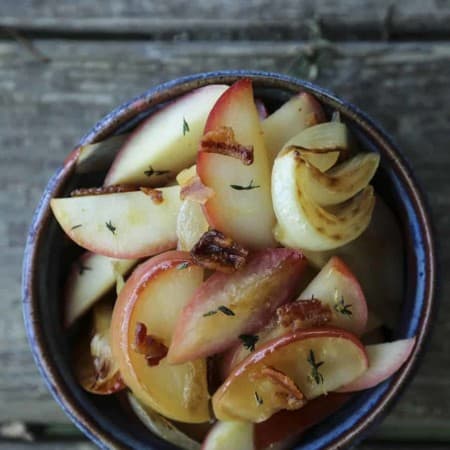 Tender, sweet, tart slices of apples fried in bacon fat with fragrant onions garnished with crisp bacon.
Ingredients
6

slices

of bacon

cut into thin strips

4

to 6 SnapDragon or other crisp

tart variety of apple

2

medium cooking onions

sprig of fresh thyme

freshly ground black pepper to taste
Instructions
Place a large, heavy-bottomed skillet over medium heat and add the bacon strips. Fry until crisp. Use a slotted spoon to transfer the bacon from the pan to a paper towel lined plate. If there is more than about 1 tablespoon of bacon fat, drain the excess from the pan. If there is under 1 tablespoon, add enough butter to bring the fat up to about 1 tablespoon. Return the pan to the heat and add the apples, onions, and thyme. Toss to coat. Fry, tossing or stirring every so often, until the apples and onions are both tender. Remove the sprig of thyme before serving. Add freshly ground black pepper to taste.

If you wish to, you can garnish the Bacon Fried Apples and Onions with fresh thyme before serving.
Nutritional information is an estimate and provided to you as a courtesy. You should calculate the nutritional information with the actual ingredients used in your recipe using your preferred nutrition calculator.