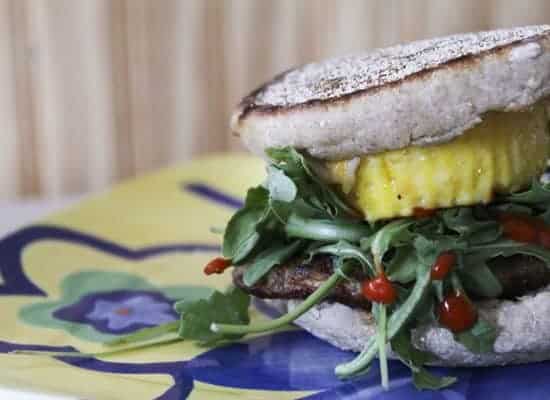 There are a lot of things I'm good at in my kitchen. Making hot breakfasts for seven people (or more if we or the boys have overnight guests) before a whole pot of seriously caffeine fortified tea isn't one of them. I'm just not enough of a breakfast person to warrant the effort most times. Still, though, I feel like it's important for my kids to have the option. The slow-cooker does the work most nights while I sleep and dream of Victorian-era nannies and housekeepers showing up on my doorstep saying they thought my children were so wonderful they wanted to work for us for free and could they start right away… Many mornings the unnaturally large-capacity bellies of my skinny children are filled with overnight-ed oatmeal, jook, bread pudding or somesuch. But there are also many corn flake and raisin bran mornings when I forgot to set up the slow-cooker before going to bed; More than I'd care to admit.
While flipping through the archives of a friend's site, I happened upon her recipe for Breakfast Sandwiches. Brilliant! The concept was smack-your-head-on-the-table simple. Make and assemble all the components for breakfast sandwiches (similar, at first glance, to those available from The Golden Arches, but much better for you and mu-uh-UH-ch better tasting) then let them cool completely.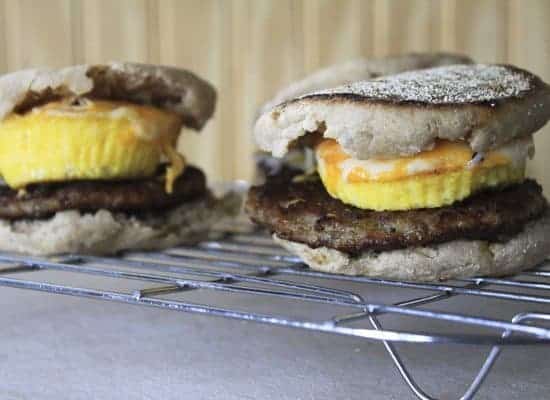 Wrap and freeze. Then BANG! Just reheat those beautiful, substantial lovelies in the microwave of eeeee-vil.*
*A prize to the first person to identify that quote. What kind of prize? I have no idea. I'll work on that idea. Any suggestions?
Here's the point. They play to my strong suit. Namely, cooking in the afternoon. I can whip up a dozen or more of these, have them wrapped, bagged, and frozen while the kids watch an episode of Phineas and Ferb. Stashed in the freezer, they are a serious solution to the breakfast dilemma. Whether you're just low on time in the morning rushing to get everyone out the door or you want variety available, these Sausage, Egg and Cheese Breakfast Sandwiches are the answer to your problem.
Scale this recipe up or down as you like, just keep in mind the one English muffin + one egg + one quarter-cup of cheese ratio;  Keep in mind, though, that since you're already heating up the oven, skillet and toaster, you might as well make as many as you can reasonably eat in a month. Around here, that's quite a few…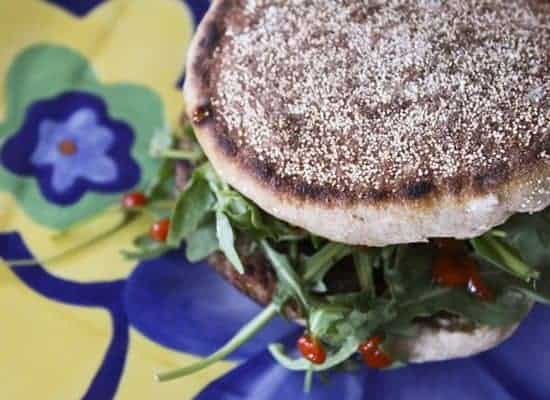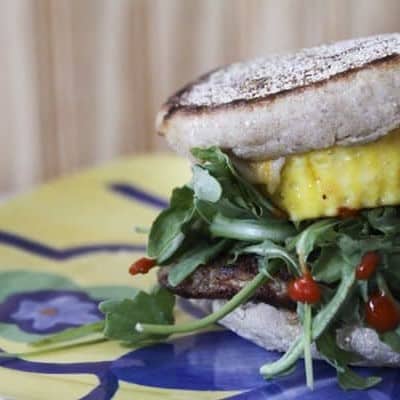 Sausage, Egg and Cheese Breakfast Sandwiches
Rate Recipe
These hearty breakfast sandwiches are cooked, assembled and frozen ahead of time. They reheat easily in the microwave, making them the ideal solution for the morning rush or substantial after school snacks.
Ingredients
12

eggs

12

English muffins

12

breakfast sausage patties

3

cups

of shredded cheese or 12 slices cheese

Colby Jack, Cheddar, or Pepper Jack

1

tablespoon

chopped fresh parsley

a pinch of dried mustard powder

salt and freshly ground pepper to taste

Optional for serving: arugula and hot sauce
Instructions
Toast English muffins and set aside.

Cook sausage patties completely, until nicely browned. Transfer cooked patties to a paper towel lined plate and set aside.

Preheat oven to 400°F.

Crack all the eggs into a large bowl, whisk until evenly yellow. Whisk in dried mustard, chopped parsley, salt and pepper. Spray a 12-cup muffin tin or 12 ramekins generously with nonstick cooking spray or grease well with butter. Divide the beaten eggs evenly between the 12 cups. Bake for 10-12 minutes, or until the eggs are set up and mostly cooked through.

Remove from the oven and top each muffin or ramekin cup with about 1/4 cup (or 1 slice) of cheese. Return to the oven just until the cheese is melted.

When cheese is melted, remove the pans from the oven and let cool before carefully removing each egg and cheese round.

Assemble each sandwich as follows: Base of the English muffin + one sausage patty + one egg and cheese round + top of English muffin.

When they are completely cool, wrap each sandwich individually with plastic wrap and put the wrapped sandwiches into a resealable zip-top bag. Store in the freezer for up to one month.

To reheat: Remove plastic wrap, wrap sandwich in a paper towel and microwave on HIGH for 1 1/2 minutes, checking at 30 second intervals.
Notes
After reheating, I like to carefully separate the sandwich between the egg and sausage and stuff it with a healthy fistful of arugula and a squeeze or two of hot sauce before re-assembling and stuffing into my face.
Nutritional information is an estimate and provided to you as a courtesy. You should calculate the nutritional information with the actual ingredients used in your recipe using your preferred nutrition calculator.