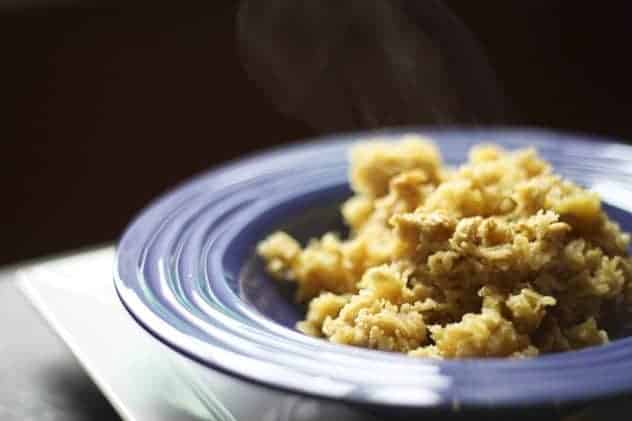 I know I've mentioned a few times that I'm not a breakfast person. I maintain that with one big exception. See that bowl up there? That's the exception. That is baked oatmeal.
I had a big time Goldilocks complex about oatmeal, and not being someone who eats until ten-thirty/eleven-ish each day, I never really felt compelled to get serious about perfecting my porridge. I dutifully made oatmeal for my crew in the wee hours most days, went about my morning routine, then came back to the leftovers when my hunger kicked into gear. I repeatedly tried it to see if it was dinging my chimes yet.
Not so much. By the time I was ready to eat, the stuff I'd made them in the early morning hours was a stodgy clump of thick grey goo. Ew.
Then I saw Erica Berge's gorgeous baked oatmeal a few months ago and decided to give oatmeal another whirl. Boy am I ever glad I did because it solved every issue I've ever had with oatmeal.
It is golden and firm and moist where normal oatmeal is grey and mucilaginous and wet. The texture is like a cookie crossed with a cake crossed with granola crossed with oatmeal.
Leftovers hold and reheat beautifully where regular oatmeal becomes a weird amorphous mass. See, that? That is the real kicker.
It's the holding over well that sealed the deal for me. My kids were able to have something they loved, LOVED, first thing in the morning for breakfast, and I was able to have something I loved when I was good and ready to start chowing down.
If you, like me, are doing all you can to get your brain into gear before you've caffeinated it, there is an added bonus; you can mix the dry ingredients together in a mixing bowl, and mix/cover/refrigerate the wet ingredients the night before. T
hen, while still bleary-eyed the next morning, combine the two mixtures while the butter melts in the preheating oven, pour, bake, and ta-da! You're a hero!
Quite conveniently, a double batch of this takes almost exactly as long to cook as my Pilates routine takes to complete. Admittedly, keeping me going until lunchtime is not such a challenge since my breakfast comes a paltry hour before my noon meal, but my kids are another story and this does the job admirably.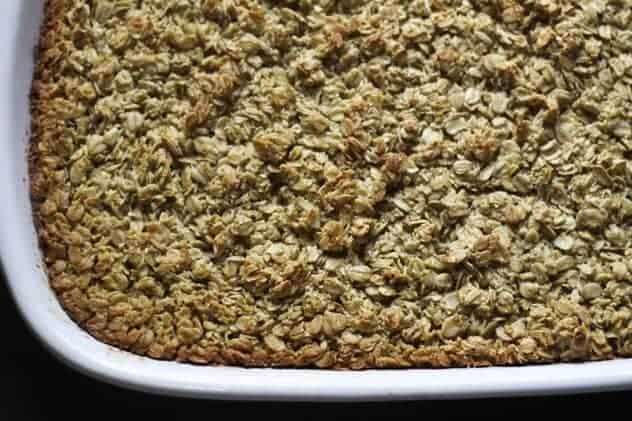 The smell of this baking is one of the easiest ways to get even the hardest-to-wake children out of bed. It has to be one of the most perfect ways to start a blustery, cold day.
The comfort factor of golden, maple-kissed baked oatmeal cannot be exaggerated. With the wintery weather we have predicted this weekend, I can promise a pan full of this will be greeting my kids on our breakfast table Saturday morning and I guarantee we'll be warm enough to face whatever blows our way!
Baked Oatmeal

While the oatmeal tastes wonderful by itself, when you follow Erica's advice and serve with a splash of heavy cream on top it becomes dreamy. There is no way I can recommend the addition of heavy cream highly enough. Do. It.
If you're out of maple syrup, you can substitute an equal amount of our brown sugar homemade pancake syrup. It will work quite well!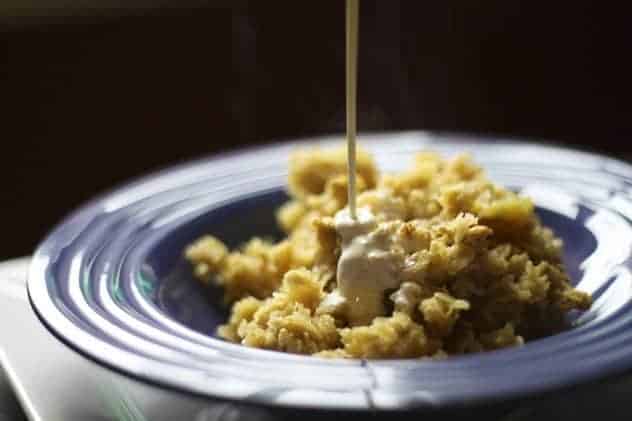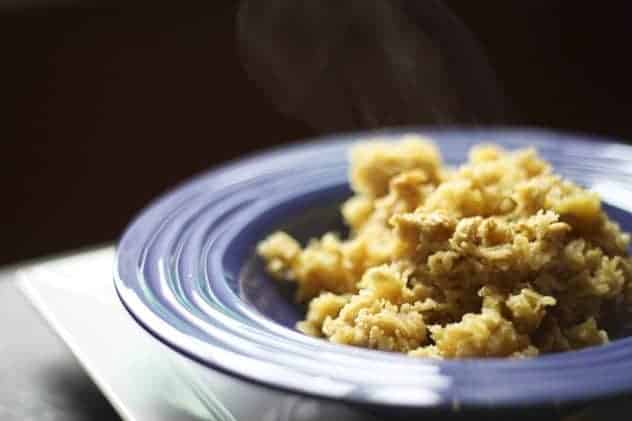 The comfort factor of this golden brown, maple-kissed, baked oatmeal reminiscent of cookies, granola, and cake cannot be exaggerated. There simply is no better way to wake up on a blustery morning than to a bowl full of this drizzled with cold heavy cream. Recipe courtesy of Erica Berge of Cooking for Seven with gentle adaptations.
Ingredients
1/4

cup

1/2 a stick of butter

3

cups

old-fashioned rolled oats

do not substitute quick or instant or steel cut oats

1/2-3/4

cup

raw or maple sugar preferably

You can substitute granulated or brown sugar if necessary.

2

teaspoons

baking powder

1

teaspoon

salt

1/8

teaspoon

freshly grated nutmeg

1

cup

whole milk

2

large eggs

2

tablespoons

maple syrup

you can substitute Golden Syrup if you prefer it.

1

tablespoon

vanilla extract

or 3/4 teaspoon ground vanilla
Instructions
Preheat the oven to 350°F. While the oven is preheating, unwrap the butter and place it in an 8-inch x 8-inch or 9-inch x 9-inch baking pan. Place the pan on the center rack of the oven and let the butter melt as the oven heats. (As soon as the butter is melted remove the pan from the oven or the butter may scorch.)

Whisk together the dry ingredients in a large mixing bowl. Whisk together the milk, eggs and vanilla extract in a separate bowl, pour over the dry ingredients and mix together with a sturdy spoon until everything is evenly combined and wet. Scrape into the pan with the melted butter and stir until most of the butter is incorporated, but there are little pockets of melted butter still visible at the corners.

Bake for 30 minutes or until golden brown around the edges. Serve hot with a splash or a good glug of heavy cream.
Nutritional information is an estimate and provided to you as a courtesy. You should calculate the nutritional information with the actual ingredients used in your recipe using your preferred nutrition calculator.