If you've been visiting Foodie with Family for any amount of time, you know by now that I won't give you a recipe JUST because it's healthy, right? You know that I take a serious stand on the fact that food must -above all else- taste great. Have I steered you wrong yet?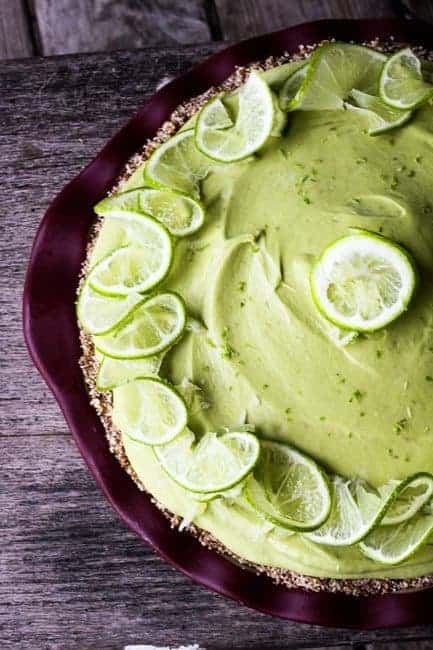 So when I tell you I have a creamy, lemon-lime, sweet, luscious, icebox pie with a lovely crumb crust that is *GASP* actually good for you and has ZERO sugar, dairy, gluten, or grains in it, will you believe me? Oh you'd better believe me. What's the secret? Let me tell you a story…
I have a friend on a very restrictive diet. She's become something of a wizard at making delectables that fit all of the rules that limit what she can and cannot eat. A few weeks ago, a highly-regarded local restaurant held a pie contest.
Contestants were asked to bring the pies along with a copy of their recipe. The recipe was to remain sealed and unexamined until the blind taste test was done.
The winner would receive a meal at the restaurant, a generous cash prize (or gift card for the equivalent), and have their pie featured on the restaurant's menu for the summer. There were categories for fruit pies, custard pies, and savoury pies. My friend entered her grain-free, gluten-free, dairy-free, sugar-free pie in the contest with few hopes that it would get any attention.
When she came back later to collect her pie plate, she couldn't find it anywhere. She found one of the contest organizers to ask where it was and was flabbergasted to learn that she had not just won her category, she had won the overall grand prize.
Now, let me tell you a little something about where we live. It's full of hard-working, salt-of-the-earth people who aren't always known for adventurous or mega health-conscious eating.
…And my friend won the contest with a pie that was arguably health food. If that and the fact that I don't do-health-food-for-the-sake-of-health-food doesn't convince you this is worth a try, maybe this picture will.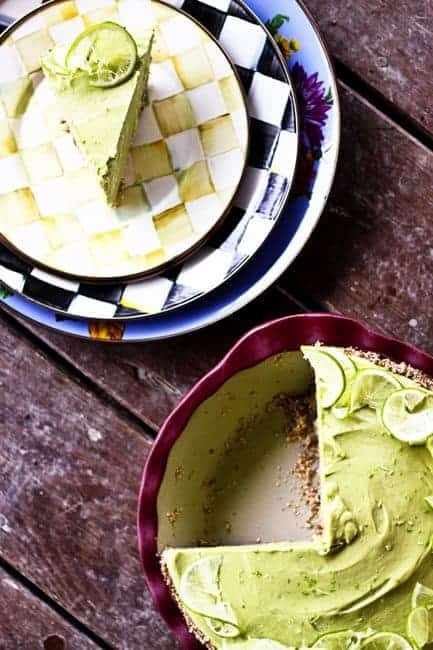 How to make a delicious grain-free, gluten-free, sugar-free, raw pie. No joke!
Icebox pies are some of my all-time favourites, and this one is the current top of the heap. It's like a pie plate full of the creamiest lemon lime ice cream of all time.
Somehow it manages to be rich and indulgent but not weigh you down after you eat it. Are you ready to find out what's in it? Maybe you've already figured out some of it!
The crust is finely chopped almonds or pecans, unsweetened flaked coconut, and pitted dates whizzed together in the food processor until it forms a clumpy, crumbly mess. This is pressed into the pie plate and refrigerated while the filling is prepared.
The filling? Are you holding onto your hat? Avocados, honey, lemon and lime juice and zest, extra virgin coconut oil, and just a kiss of vanilla extract are blitzed together in the food processor to form a smooth custard then poured into the crumb crust and frozen. Don't even look at me like that. This isn't just good. It's GREAT!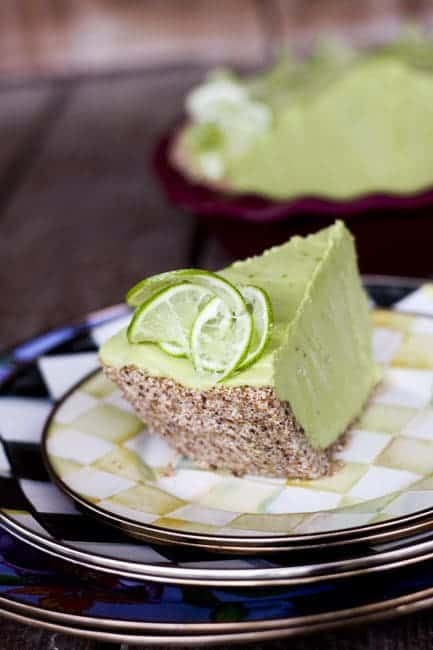 Look at that crust! I liked this crust so much that I think this might be my new go-to crumb crust for all pies that require them. In fact, I might even start using this instead of my graham cracker crust on my cheesecakes. The texture is the perfect combination of crumbly and coherent. It's sweet and nutty. Gosh, folks… it's just so good.
I am going to hop up and down on my couch until you try this. I won't hear any excuses… even my avocado hating kids couldn't get enough of this pie. Granted, they DID refer to it as guacamole pie, but I think it's because they ate it, so who cares?
Some preparation notes:
There are a lot of ranges in this recipe instead of specifics. For instance, the recipe specifies six to twenty pitted dates. I know, it sounds crazy, but there's a reason. Dates vary widely in size and moisture content. If you have adorable, tiny, pitted dates, you're going to need more. If you have massive, luscious pitted dates, you'll need fewer. In the places where I've given you ranges, start with the lower amounts and work your way up, tasting as you go. Because all of the ingredients used in this recipe are safe to eat raw, there's no danger in doing that!
These can easily be made into individually sized pies. Use small single-serving pie shells to press your crust into and divide the filling between them. Voila! Mini icebox pies!
If you favour lime over lemon, replace all of the lemons called for with limes. Likewise, if you prefer all lemon to lime, sub in lemons for the limes.
The pie in my pictures is almost vegan… ALMOST, but not quite. It does contain honey, so if you're looking to adapt this, you'll want to nix the honey in favour of agave syrup. I personally prefer the honey, but it's an easy substitute to flip this recipe all the way into the vegan camp.
There's no doubt this pie is expensive with six whole avocados in it. If you'd like to make it more affordable, halve the amount of filling and make it in a standard pie plate instead of a deep dish one.
Don't be tempted to substitute some other oil for the extra virgin coconut oil. Part of the alchemy that makes this pie filling so ever loving creamy is the viscosity and melting properties of this particular oil. It is creamy and solid at anything under 75°F. You can't get that PLUS the mild flavour it delivers from any other oil.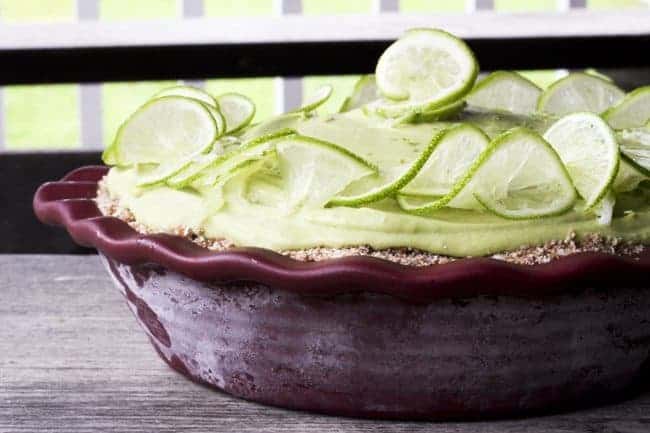 Joy's Prize Winning Secret Ingredient Tropical Icebox Pie | Grain Free, Gluten Free, Sugar Free, Dairy Free, Raw.
Rate Recipe
This beautiful, creamy, indulgent, lemon-lime, mile-high, icebox pie just so happens to be good for you. How is that possible? It's also friendly for a wide-range of dietary restrictions because it is gluten-free, dairy-free, grain-free, sugar-free and raw. With one minor adjustment it is also vegan-friendly. Ever so slightly adapted recipe courtesy of my friend Joy Hinterkopf
Ingredients
For the Crust:
3/4

cup

whole

raw almonds

1

cup

unsweetened

finely flaked coconut

6-20

pitted dates
For the Filling:
6

perfectly ripe avocados

The juice and zest of 4 lemons

or more

the juice and zest of 2 limes

1

cup

extra virgin coconut oil

heated just to the melting point: 76°F.

3/4

to 1 1/2 cups honey

Use agave instead to make this pie vegan., or more to taste

3/4

teaspoon

vanilla extract

1

pinch of salt
Optional Garnish:
Thinly sliced limes

lime zest
Instructions
To Make the Crust:
Add the almonds and coconut flakes to the work bowl of a food processor fitted with a metal blade. Process until it is the texture of fine fresh bread crumbs. Add 6 pitted dates to the work bowl and process until the dates are completely ground into the nuts and coconut. Open the food processor and pull out about a tablespoon of the mixture. Press it firmly together in your hands. If it clumps, it's ready. If it falls apart and doesn't hold together, return it to the food processor and add dates, 1 at a time, processing and testing after each addition, until it clumps well. Turn the mixture into a deep dish pie plate and press it firmly and evenly on the bottom and up the sides of the pie plate. Put the pie plate in the refrigerator while working on the filling.
To Make the Filling:
Wipe or rinse the food processor work bowl and blade clean. Halve and pit all of the avocados. Use a spoon to scoop the flesh from the shells into the work bowl of the food processor fitted with a metal blade. Immediately add the lemon and lime juice and zest, coconut oil, 3/4 cup of the honey, vanilla extract and salt. Fit the lid in place and process until smooth. Taste the mixture. If it needs additional sweetness or acidity, adjust it with more honey and/or lemon juice. Remember that things taste less sweet when they're frozen so you might want the mixture slightly sweeter than you think you'd like it. Scrape the filling into the prepared pie crust and smooth or mound it as you'd like. Put it directly into the freezer until the surface is firm (about 2 hours), then cover with plastic wrap directly on the surface of the pie.
To Serve the Pie:
If you wish, you can garnish the pie with thin slices of lime and a scattering of lime zest. Slice the pie into wedges of desired size and serve while still frozen like an ice cream pie.
Nutritional information is an estimate and provided to you as a courtesy. You should calculate the nutritional information with the actual ingredients used in your recipe using your preferred nutrition calculator.