There are a few things that I know are surefire hits with my menfolk and near the top of that list are grilled things, bacon, and hot dogs. When I combined them the other night, the result was an evening of my young men promising me all sorts of doing of chores and favours if I would JUST make the dish again. What did I do? I made Grilled Bacon Wrapped Hot Dogs. My husband swore that it was the best hot dog he'd ever eaten. Looking to impress the guys in your life? (Okay, and the bacon loving girls, like yours truly…) Make them Grilled Bacon Wrapped Hot Dogs. It doesn't take much effort and what little effort it takes is well-worth it in return for the adoration you receive when you serve them.
Honestly, it all started with me just playing with my food. I had some packages of not-top-shelf hot dogs I had bought at an irresistible sale price. I was looking at them and thinking about how I was going to have to bury them in something because I've married, given birth to, and raised a bunch of hot dog snobs.
Don't look at me like that. There IS such a thing as a hot dog snob. My kids turn their noses up whenever I make anything less than a high-end dog. They prefer Zweigle's White Hots, Sahlen's Old-Fashioned Casing Dogs, or something kosher and all-beef. If they're at a baseball game, fireman's carnival or somesuch, they'll happily eat what my husband calls a 'dirty water dog', but if we're home, they want the good stuff. So as I stared at my package of questionable hot dogs, I figured I had to do something to disguise the fact that they weren't in my guys' hot-dog wheelhouse. I grabbed a package of bacon and started wrapping.
I wrapped two full packages of hot dogs with bacon and part of a third, reasoning that if they didn't like the bacon wrapped ones, there would be some plain ones that they could eat even if they weren't psyched. Yes, I have to cook at least that many when everyone is home. I wanted to grill them because it was roughly 2,000°F in my kitchen and there was a fair breeze outside. I stood by, flipping them frequently, and put the finished hot dogs on a plate to bring into the house. My expectations were not high.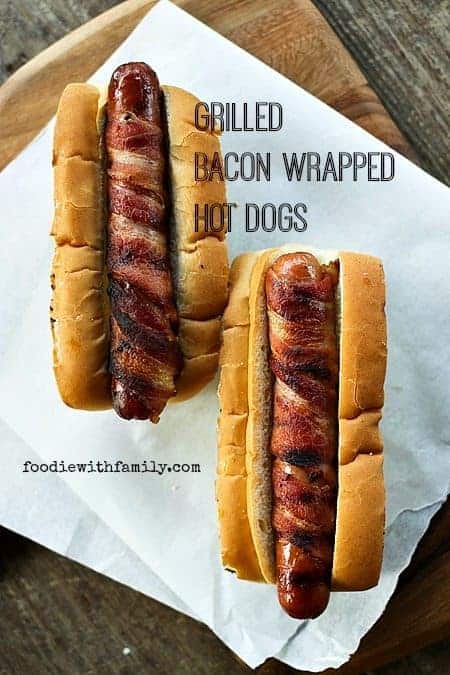 I laid the plate on the counter and walked out onto the porch to call the kids to dinner. My eldest had wandered into the kitchen behind me to sniff out what they were going to inhale eat for dinner. As I took a deep breath iiiiiin to holler for kids who I couldn't see or hear in the yard I heard my eldest exclaim, "What kind of magic is THIS!?!?" from the kitchen. It turns out his little brothers had come in through another door, because I heard them all laying tracks to get to the kitchen quickly. Before I could turn around, the rest of them were excitedly shouting, "It's a miracle!", "It's the best thing EVER!", "OH MOM!", and "WHOA. Am I seeing this right?" I was a little, um, surprised by the passion of their reaction. My husband drifted into the kitchen and didn't even wait for a bun to take a bite of one. He looked up at me with love in his eyes and said, "This is the best hot dog I've ever eaten in my life." I told them all what brand of hot dog they were eating and every one of them couldn't possibly have cared less. Behold the power of bacon!
I'm calling that a win even if it WAS just grilled bacon wrapped hot dogs.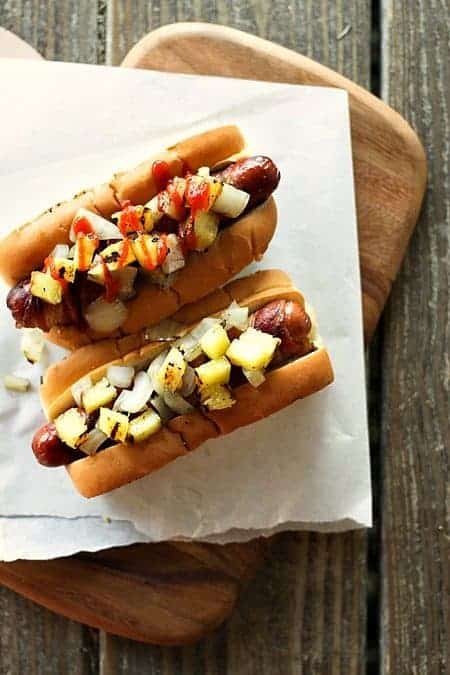 Cook's Notes
Because bacon shrinks as it cooks, you need to hold the bacon to the hot dog with toothpicks. Be smart (unlike me) and choose natural toothpicks with no colour (unlike me) to avoid any colour bleeding onto your bacon and hot dog. My guys didn't care, but it offended my aesthetic sensibilities. Yes. I just talked about aesthetic sensibilities combined with hot dogs. I am what I am.
This really is a simple process, but it does require you to be present the whole time. There's no dropping the lid on the grill and walking away for any reason. Bacon drips fat, and fat on flames flares up. To mitigate any problems, you want to stand by, tongs at the ready.
Don't feel obliged to keep the hot dogs in the same position on the grill that they were in when you laid them there. If you feel one is cooking faster than the others, move it to a cooler part of the grill. Conversely, if you have a straggler that's cooking far slower than the others, swap places on the grill with one that's been cooking faster. That way you can get them all done at relatively the same time. Move 'em 'round!
My kids ate these straight-up hot dog style with ketchup, mustard, and relish. My husband and I ate them smothered in grilled pineapple and onions and hot sauce. Both groups were absolutely convinced that we had eaten it the only way it could possibly be eaten. In other words, top them as you wish!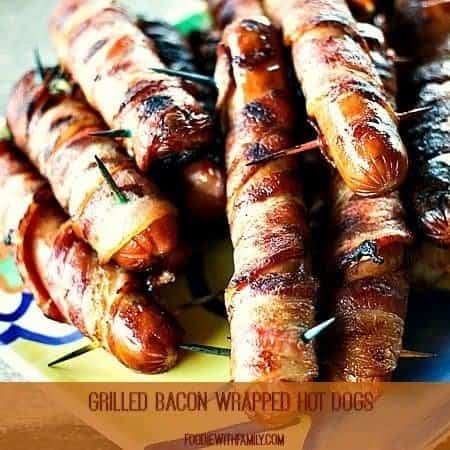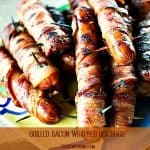 Print
Grilled Bacon Wrapped Hot Dogs
Hot dogs wrapped in bacon? It can be done, and it should be done. Come and get some popping-hot grilled dogs with smokey bacon, and watch the eyes of your family light up with joy!
Ingredients
1

package hot dogs

any style

an equal number of uncooked bacon strips to the number of hot dogs you have

2

toothpicks per hot dog

preferably un-coloured
Instructions
Preheat grill to low (or build a low bed of coals on one side of the grill). Wrap a piece of bacon around each hot dog, starting at one end, fixing it in place with a toothpick skewered all the way through the bacon and hot dog, and spiraling it around the hot dog to the other end where another toothpick is pushed through to hold it in place. Repeat until all the hot dogs are wrapped in bacon.

Place the hot dogs on the hot, clean grill and let them cooking, turning and repositioning as necessary, until the bacon is chewy/crisp, or about 8 minutes.
Nutrition
Calories:
202
kcal
|
Carbohydrates:
8
g
|
Protein:
7
g
|
Fat:
15
g
|
Saturated Fat:
5
g
|
Cholesterol:
34
mg
|
Sodium:
453
mg
|
Potassium:
109
mg
|
Vitamin A:
10
IU
|
Calcium:
11
mg
|
Iron:
1.2
mg