Did you know there's no actual rabbit in Welsh rabbit? In fact, most of the time, there's no meat at all in a Welsh Rabbit. The actual name is Welsh Rabbit even though there's a complete lack of Bugs Bunny in it, and the phrase "Rarebit" came along later, probably in an attempt to make sense of the name Rabbit in a dish which had none. "HUH?!?" you say, and I don't blame you. With all the love my anglophilic heart can muster, I have to lay the blame for any confusion squarely on the British people. Much like Stonehenge, everyone has a theory about why it's called what it's called, but no one can say for sure.
All I really know is that Welsh rabbit is generally agreed to be comprised of cheese or cheese sauce on toast, which I believe we can all agree is a very good thing, indeed. While plain ol' Welsh Rabbit is wonderful, I have something AMAZING to share with you today: Summer Welsh Rabbit. This is my favourite take ever on the cheese sauce on toast theme and it is inspired by my dear friend, Sandii, an Australian national and her American husband, Matt. To summarize: former colonies unite to revamp a British classic! Summer Welsh Rabbit starts with toasted baguette (Viva la France! Sorry, Britain. I'm a francophile, too.) which is topped with pan-fried onions, thick slabs of fresh summer tomatoes, crispy bacon, and is then finally doused in a hearty helping of a beer-based, hint-of-mustard Welsh Rabbit. Good golly. I die of happiness every time I eat this.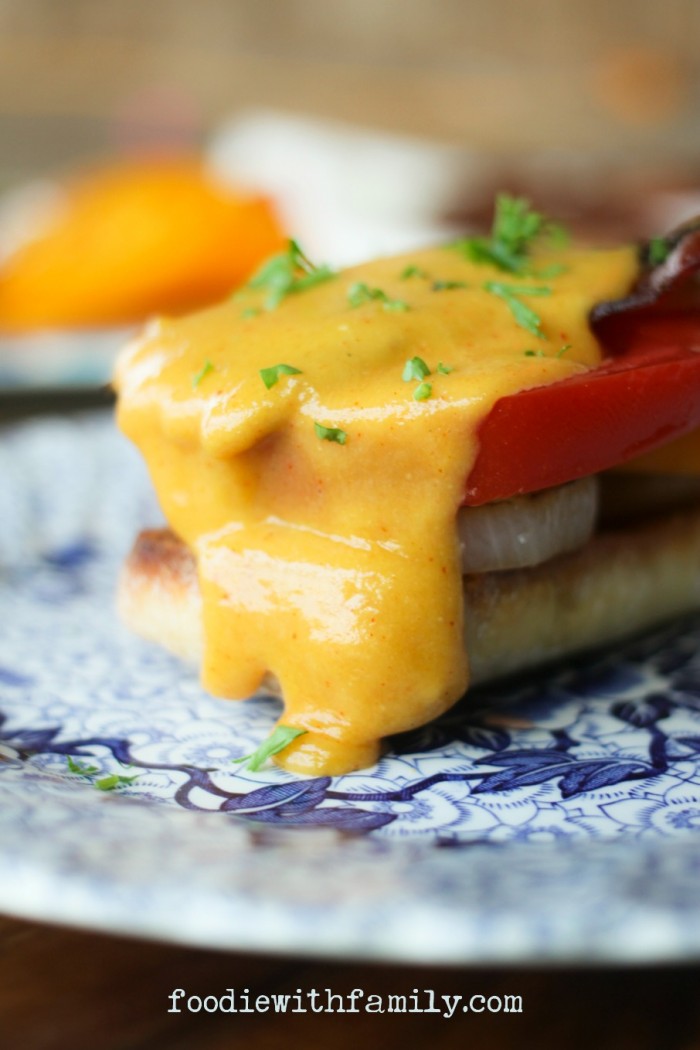 So WHATEVER the origins of Welsh Rabbit/Rarebit and whichever you prefer to call it, it's delicious. I'm sure there's a better adjective for it than 'delicious' but delicious it is, so it stands. I'll tell you, The Evil Genius and I about elbowed each other out of the way to get to the last of the Welsh Rabbit in our wee pitcher. It doesn't get a whole lot easier than this either…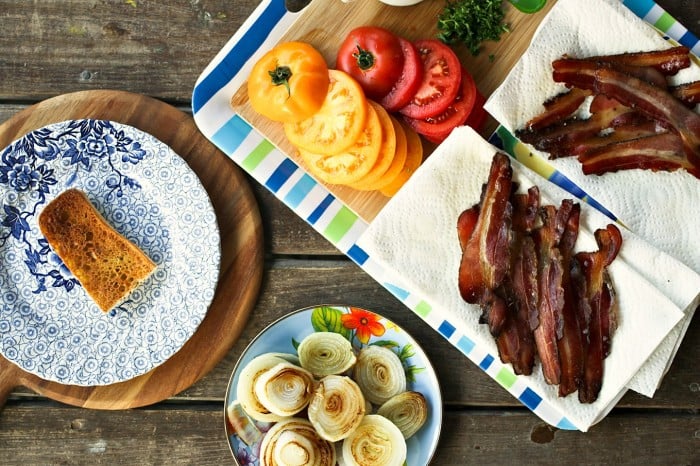 Cook's Notes
I think a long, thin baguette is the perfect bread for the job here because it's sturdy enough to retain some character after being drizzled with olive oil, toasted, covered in fried onions, juicy tomatoes, bacon, and a dousing of cheese sauce. If you can't lay your hands on baguette, thick slices of homemade sourdough or hearty white bread would stand in admirably.
I like sweet onions for the onion component here, but any good onion will do. Keep in mind that it will be a stronger finishing onion flavour if you start with a stronger onion. That's not necessarily a bad thing!
The reason this is a SUMMER Welsh Rabbit is because we all know tomatoes aren't worth a dang in the middle of winter. There's just no greenhouse tomato produced in January that can compare to a ripe, juicy, summer tomato. If you decide to try this midwinter, well, good luck to you. (I'd make this and nix the tomato portion of the programme, midwinter.)
Do yourself a favour and err on the side of too little flour for the Rabbit. Because there's not much sadder than a clumpy, grainy Rabbit sauce, and too much flour will do just that. If you want to be VERY precise, use a serving spoon to lightly sprinkle flour over your measuring spoon and then use the handle of the spoon to scrape across and level the spoon taking great care not to shake it and settle it into place. I know that sounds fussy, but it's not THAT much extra work, and your sauce will thank you.
While I'm normally a fan of extra sharp Cheddar for, um, everything, I prefer regular Sharp Cheddar for Welsh Rabbit. I think it avoids some of the grainy issues that extra sharp introduces and still gives a good old Cheddar punch. You'll make up for some of the lacking sharpness with the dry mustard and grainy mustard you add into the sauce.
Yes, you're mixing a raw egg yolk into the finished sauce. If this poses a health risk, use a pasteurized egg yolk. Most of the time, food-born illness is a result of the shell or the egg white, so you really needn't fret a raw egg yolk here and there, though.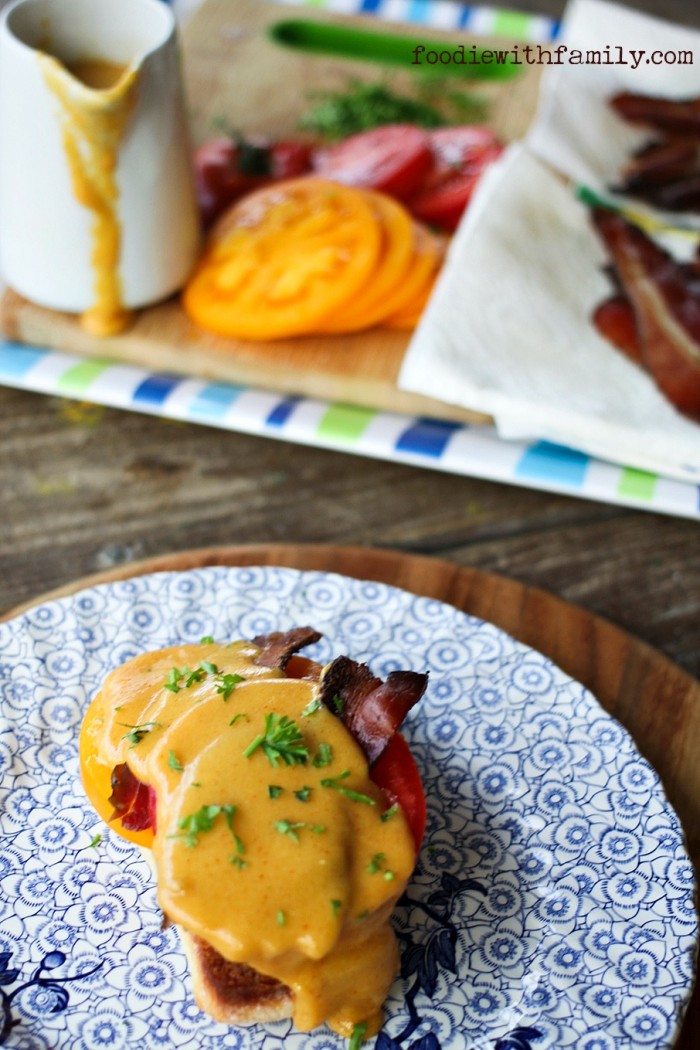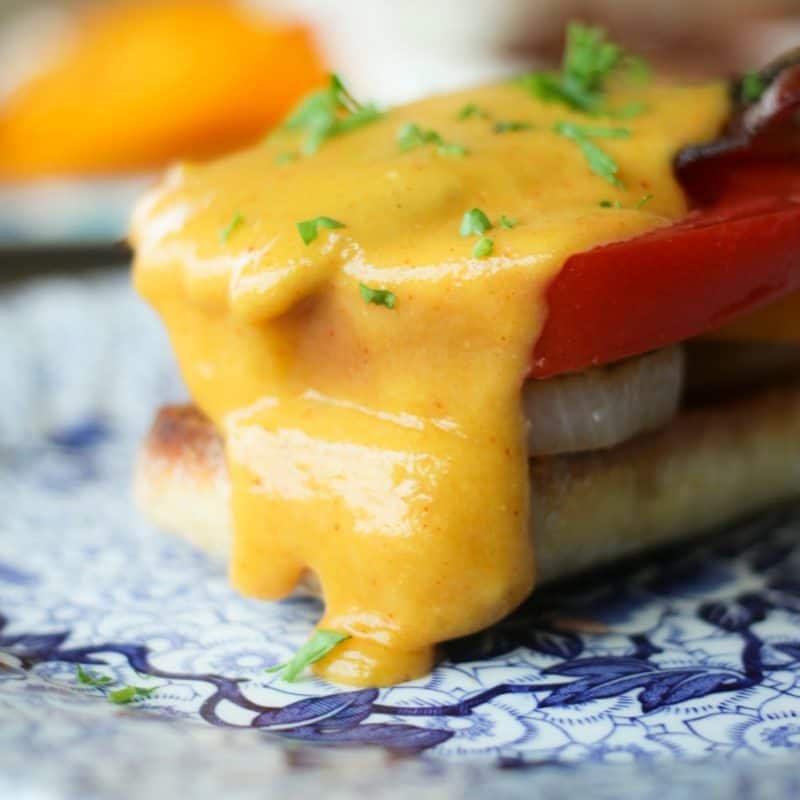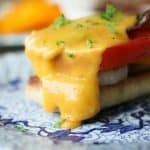 Print
Summer Welsh Rabbit (a.k.a. Welsh Rarebit)
Ingredients
baguette

sliced in half as if for a sandwich, then crosswise into 4-inch pieces

2

sweet onions

peeled, sliced into 1/2 to 3/4-inch thick slabs

olive oil

12

ounces

to 1 pound thick sliced bacon

cooked 'til crispy

fresh tomatoes

sliced thickly
For the Welsh Rabbit Sauce:
1

tablespoon

butter

1

scant tablespoon all-purpose flour

1/2

cup

beer

preferably ale

1/3

cup

milk

1

teaspoon

dry yellow mustard

1/4

teaspoon

Worcestershire sauce

1/4

teaspoon

paprika

2

teaspoons

prepared Dijon mustard

grainy or smooth

1 1/2

cups

shredded sharp Cheddar

1

egg yolk
Instructions
Set your oven's broiler to HIGH. Arrange the bread, cut side up, on a cookie sheet. Drizzle twith olive oil and pop the pan under the broiler. Toast until the bread is uniformly golden brown. Remove the pan from the oven and set aside.

Heat 1 tablespoon of olive oil in a heavy-bottomed skillet over medium-high heat. When it is shimmery, lay the onion slabs in the pan and let them fry 3-4 minutes on one side, undisturbed, or until you can ease a spatula underneath, lift it gently, and find it to be golden brown. Lay a flexible spatula over each slice, slide another one underneath, and gently turn each over to fry for another 3 to 4 minutes, or until golden brown on the second side. Transfer to a plate and tent gently with foil.

Return the pan to the burner, adjust the heat to low, and melt the butter. Sprinkle the flour over the melted butter and whisk it in. Toast for 1 minute, or until fragrant, whisking the whole time. Whisk in the beer until smooth, then the milk. Whisk in the dry mustard powder, Worcestershire sauce, paprika, and Dijon mustard until perfectly smooth. Stir in the grated cheese until melted, then remove from the heat and whisk in the egg yolk. Serve immediately with the toast, fried onions, fresh tomatoes, and bacon. The Welsh Rabbit is best served hot or warm.