I am about to become your best friend forever because I am sharing with you the formula for the easiest and most delicious side dish ever, ever, ever. It is so good that it deserves a 'Hallelujah' and 'Amen'. My FMC Mango Salsa has its roots in desperation, as most of my favorite recipes do. One day many moons ago I had grilled a pork tenderloin and planned on accompanying it with a fresh pineapple salsa. Much to my chagrin I had neglected to put into my grocery cart the crucial pineapple. There were mangos (goodness knows why I had bought mangos and forgotten pineapples) in my fruit bowl so I did what cooks through the ages have done in times of need. I substituted. And woah baby, did I hit pay dirt. Now I know I'm not the first person to make mango salsa and I sure won't be the last, but it was a revelation. The combination of sweet and soft mango cubes with the hot and fruity jalapeno, the pungent red onion, the hot garlic and the tangy lime juice took away my breath. I practically forgot about the gorgeous grilled tenderloin sitting on my cutting board. And I surely forgot about the pineapple. *
*Don't get me wrong. Fresh pineapple salsa is fabulously delicious, too. But the unexpected deliciousness of the mango substitute that day quickly dispelled my disappointment at missing the pineapple. I still loves the pineapple salsa, folks, but given the choice between the two I'd take the mango any day of the week…
If you've never tackled a mango, don't panic. I can help you. There are some pretty good tricks (and tools) to get you through the job with fingers and mind intact. If, however, the thought of choosing and cutting a perfect mango is enough to deter you from trying this recipe and give you the palpitations I have another solution. Buy a bag of cubed, frozen mango. In our moderately well-stocked grocery store about 45 minutes from here they carry frozen mango cubes in the 'Goya' foods section of the freezers.
But before we get to cutting the mango we need to talk a bit about choosing a good mango. The perfect mango for our salsa is still firm, but yields a little to gentle pressure from the thumb. In other words, when you press gently on the mango your thumb shouldn't poke through the mango skin and cause a geyser of juice to shoot out. If you look at the skin, there may be a couple wrinkles here and there, but it should be mostly smooth and firm to the touch. And mangos are, in my opinion, easier to pit and cut when they've been chilled a bit.
And while we're talking tips, let me give you a heads-up on fresh jalapenos. You should probably wear gloves when working with them unless you have impervious asbestos skin. Jalapenos, on the hot-pepper-pain scale, are relatively low, but all the same… It's not so much your hands you want to worry about. Let me put it this way. The Evil Genius and I bought a half- bushel of hot peppers we couldn't identify at the farmer's market once when we were first married. We went home, sliced them and boiled them in vinegar to can for later use. I wore gloves. He did not. We were drinking a lot of water while doing the job, hot work and all. After a couple hours he had to go to the bathroom. Sadly, this is where not wearing gloves came back to bite him. Almost literally. His, er, manly parts were in pain for two days. Turns out the peppers were serranos. And yes, they're much hotter than jalapenos, but remember this… Each individual hot pepper varies in how much punch they pack. And if you're not used to working with them it's better to be safe than sorry. If you don't have gloves (or forget to use them)  follow these simple precautions to keep the burn from getting too bad on your skin. Before washing hands with hot water, wash first with cold water and soap. This will keep the pores of your skin from opening up and drinking in the oil from the hot peppers that gives the burning sensation staying power. Follow the cold water wash with a hot water wash.
If you are worried about the heat and your tongue, be careful to remove all the seeds and membranes when you seed the peppers. Those are the storage units of heat in any hot pepper. Once those are gone, a jalapeno is mild and fruity. Don't fear the jalapeno. If you're unwilling (or medically unable) to go the hot pepper route you can always replace the minced jalapenos with minced bell pepper.
Lest it should escape your notice, this is so healthy and diet friendly it'll make you sick. Fruit, vegetables, herbs and salt; that's all there is. There's not a lick of fat in it. And what can this not accompany? Over rice, with spicy saucy black beans, next to grilled or slow-cooked pork (and here), fish (especially fish), chicken and beef, FMC Mango Salsa is enough to make your tongue slap your brain silly. It almost makes me weep. Or was that the onions?
Enough jawing, let's get cooking.
FMC Mango Salsa. Amen.
Ingredients:
2-3 fresh mangos (depending on how much you want to make)
1 medium red onion, diced
3 fresh jalapeno peppers
3 cloves of garlic, minced
1 large handful of fresh cilantro, washed and allowed to air-dry (Hate cilantro? Use fresh parlsey!)
The juice of one lime or orange (or, lacking fresh limes or oranges, 1/4 cup bottled lime or orange juice)
1 teaspoon kosher salt
Fresh ground black pepper to taste
Cut the mango halves away from the pits. Discard the pits. The quickest way to do this is with a mango cutting from OXO,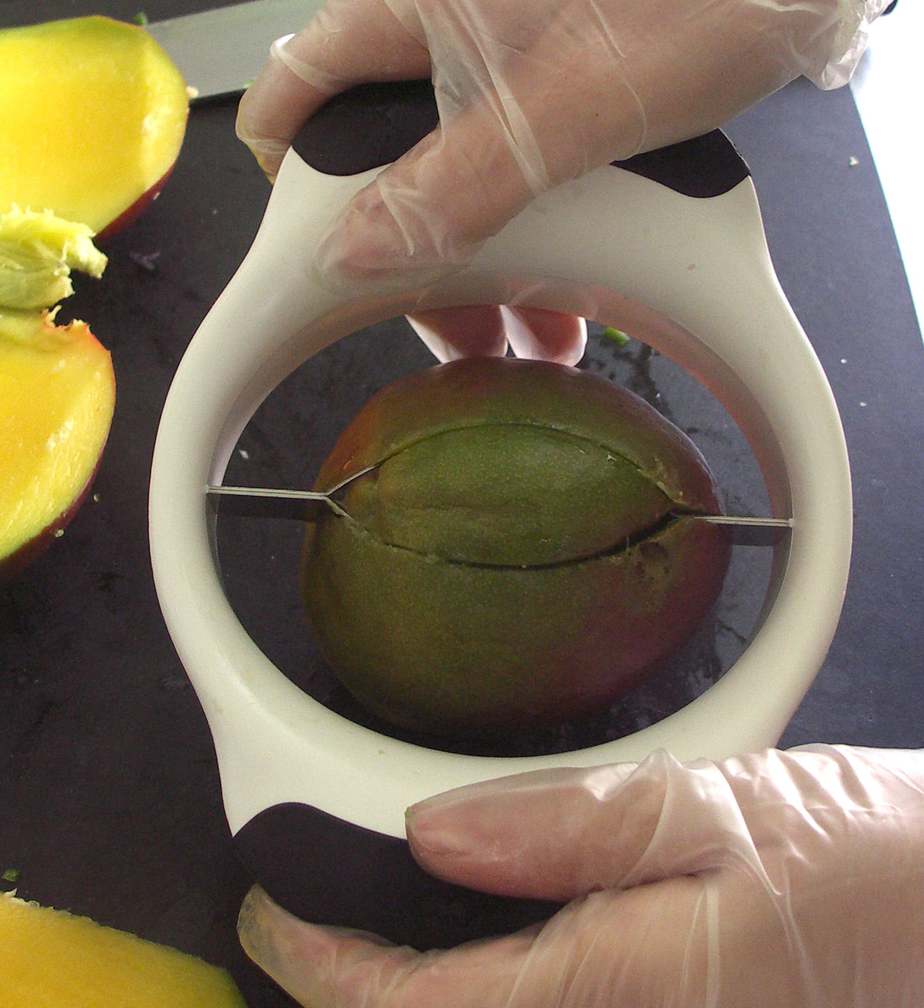 …but you can do this with a knife and a little attention to detail. The mango pit is a slightly flattened oval that runs in the same direction as the slightly flatter sides of the mango. Use a knife to cut slabs from the sides (avoiding the pit) of the mango and proceed as directed. Use a paring knife to get whatever mango flesh you missed from the pits afterward. To make mango cubes most easily you can: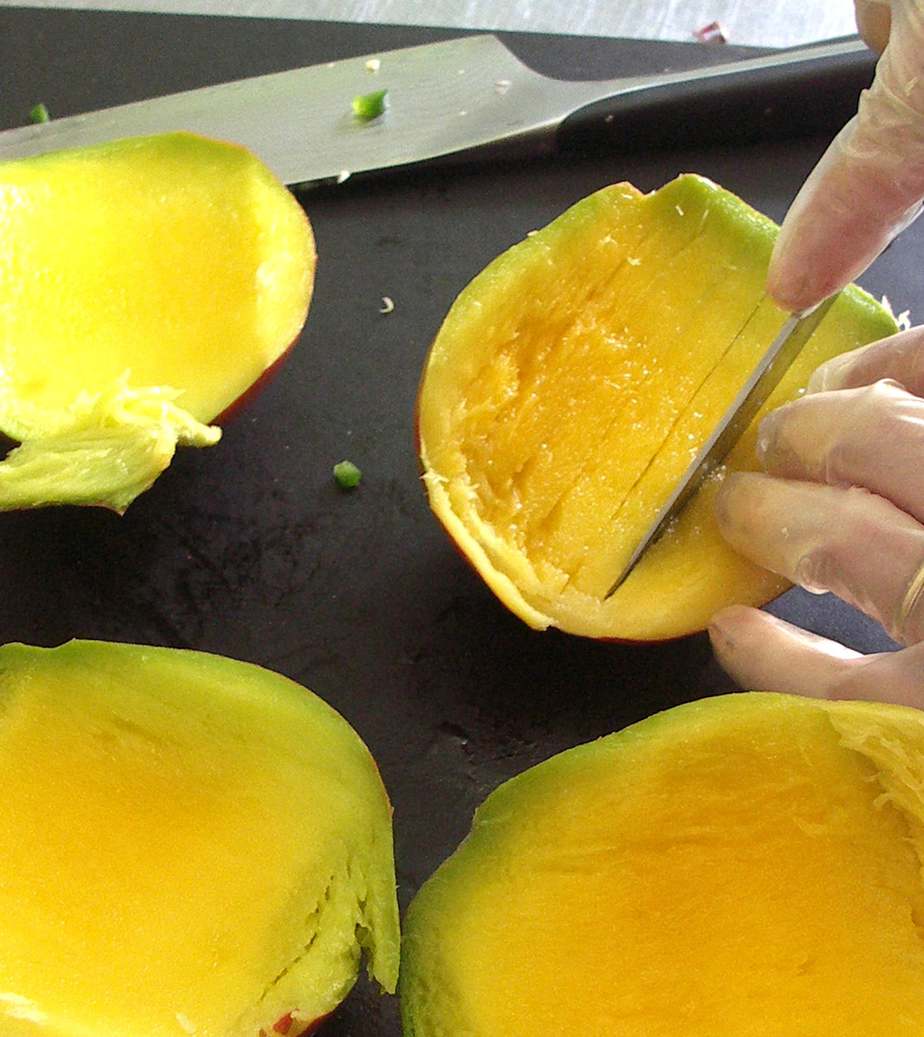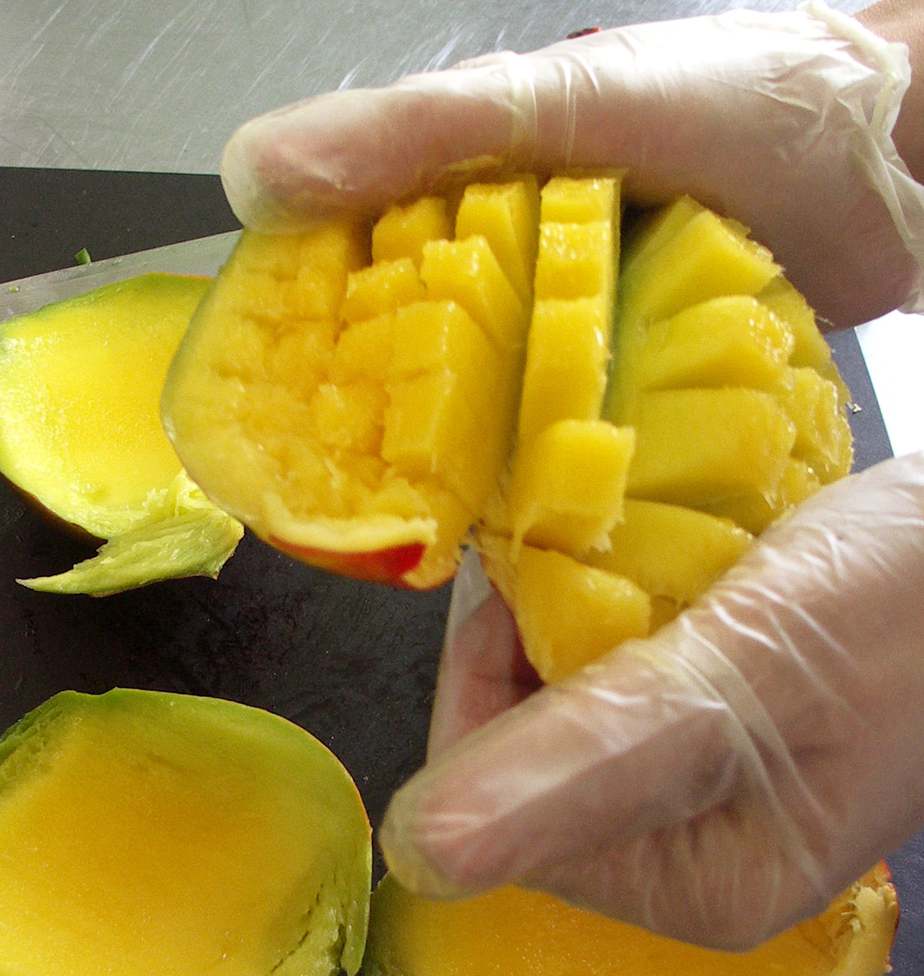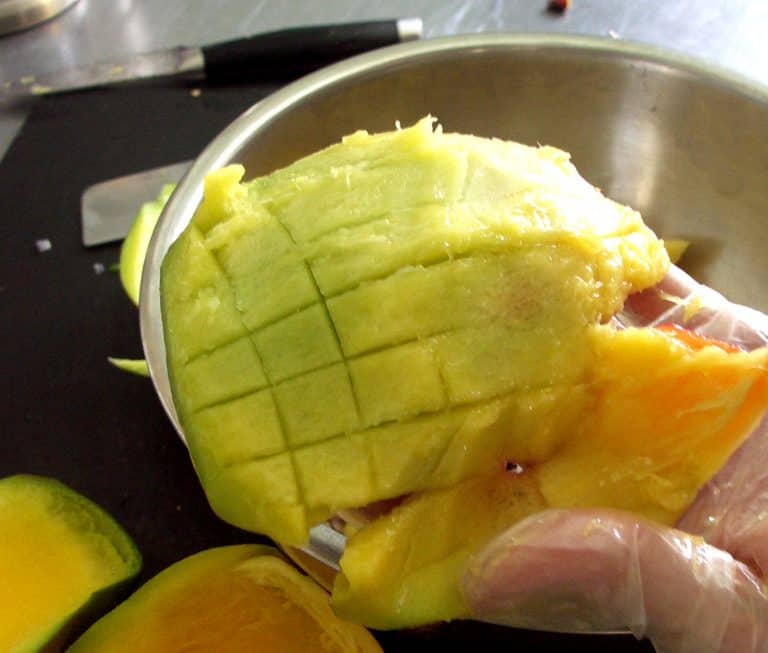 Now on to the onions: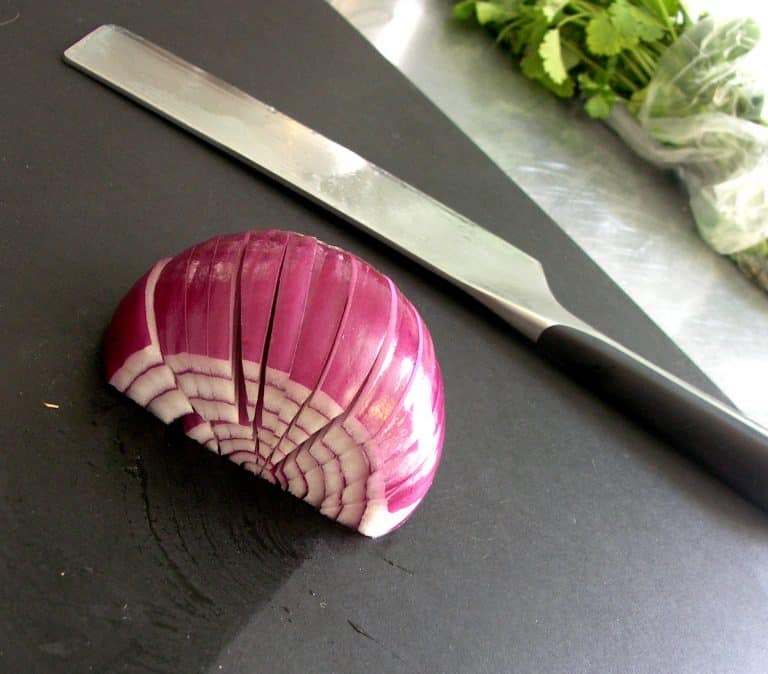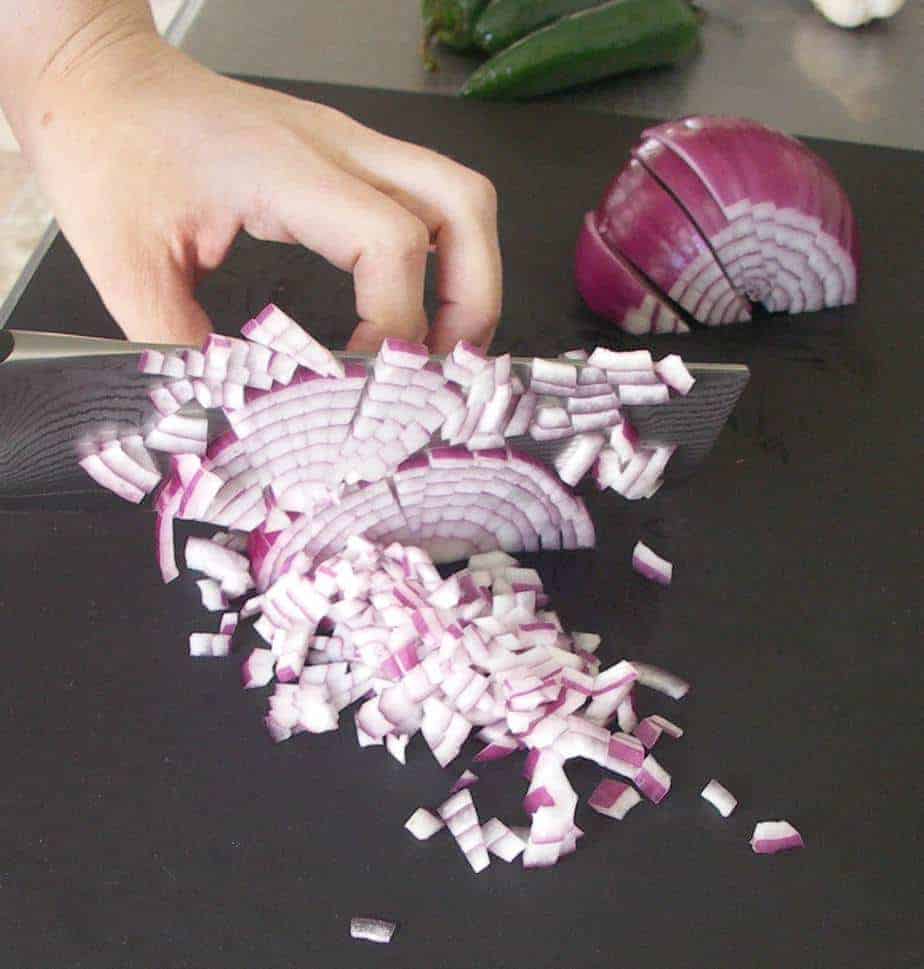 Add the diced onions and minced garlic to a medium-sized mixing bowl.
Let's add some heat. Stem, halve, seed and mince your jalapenos.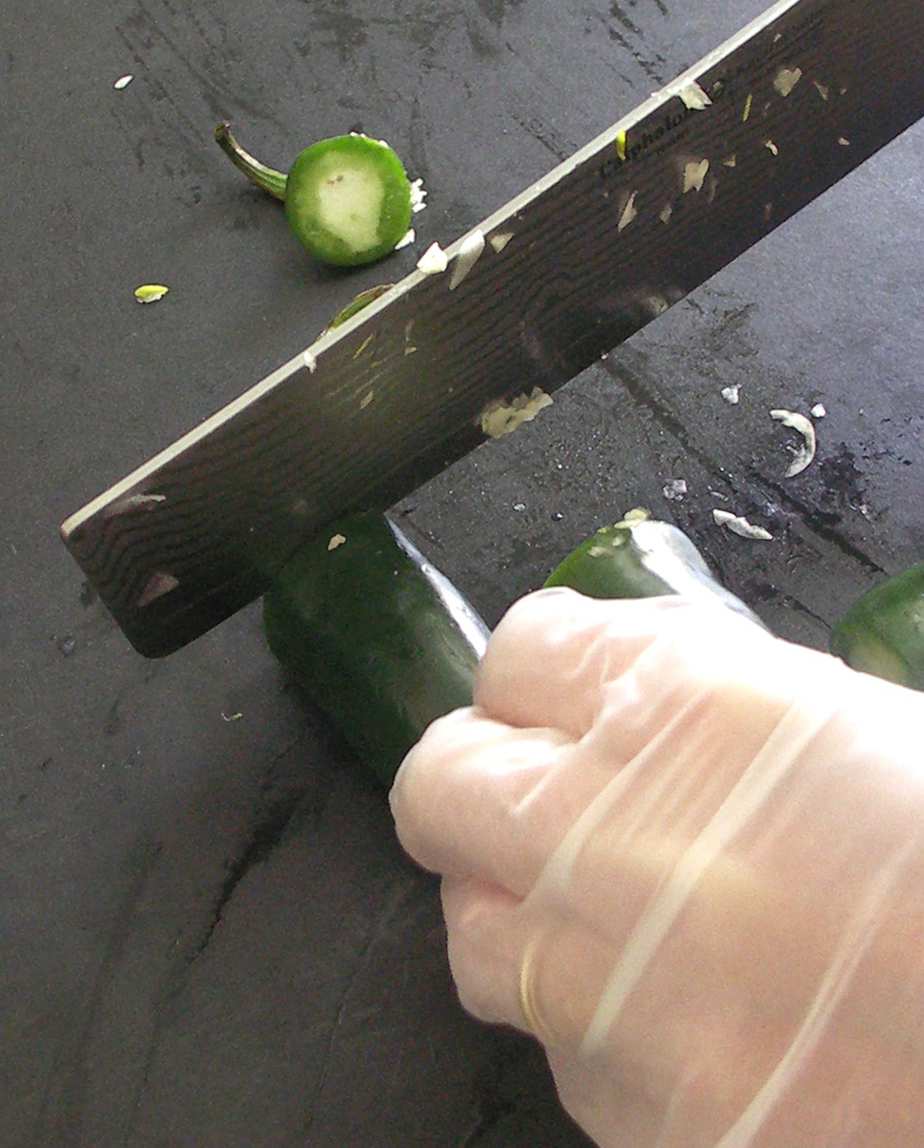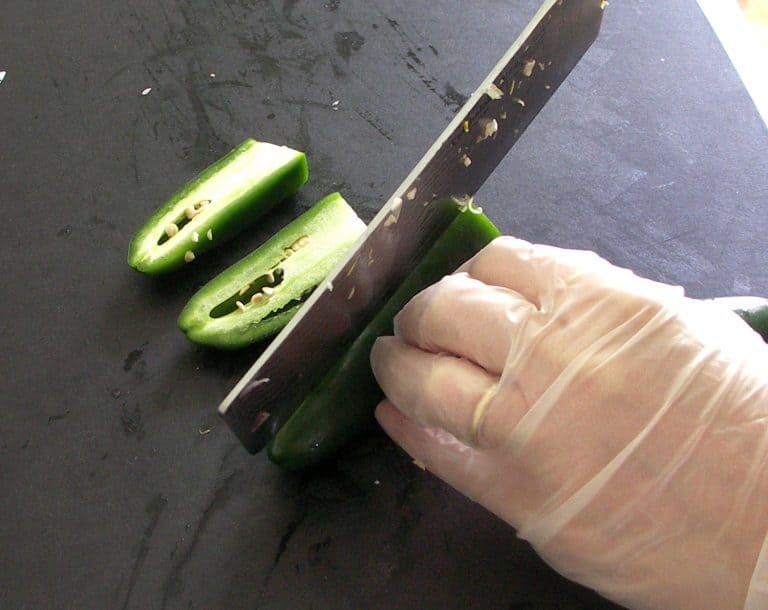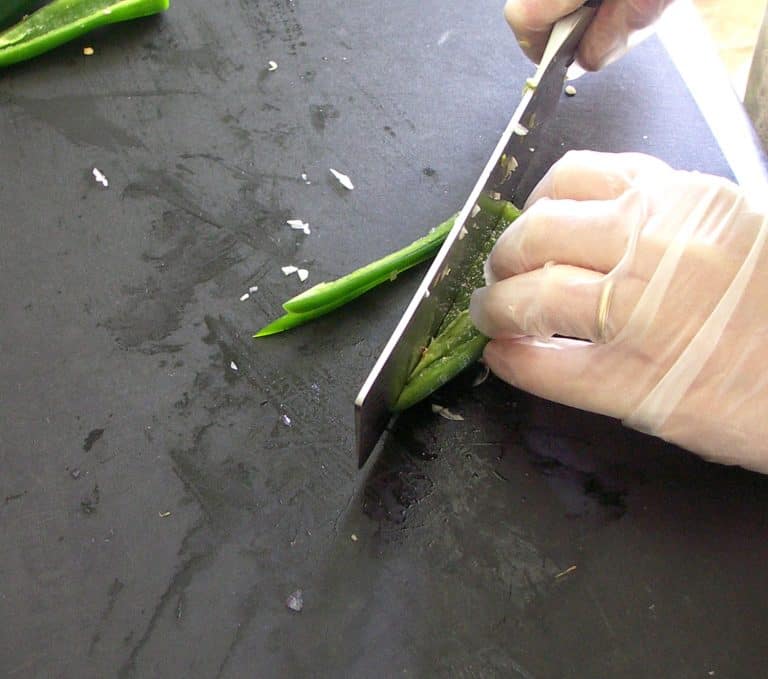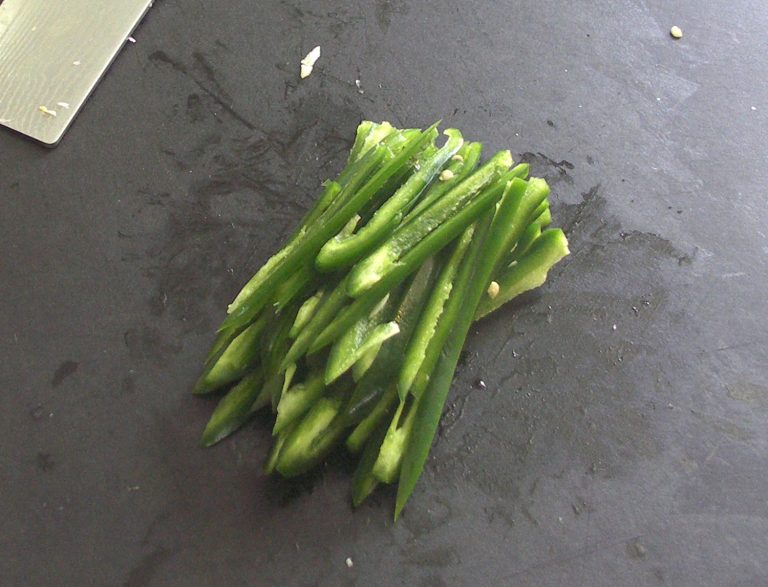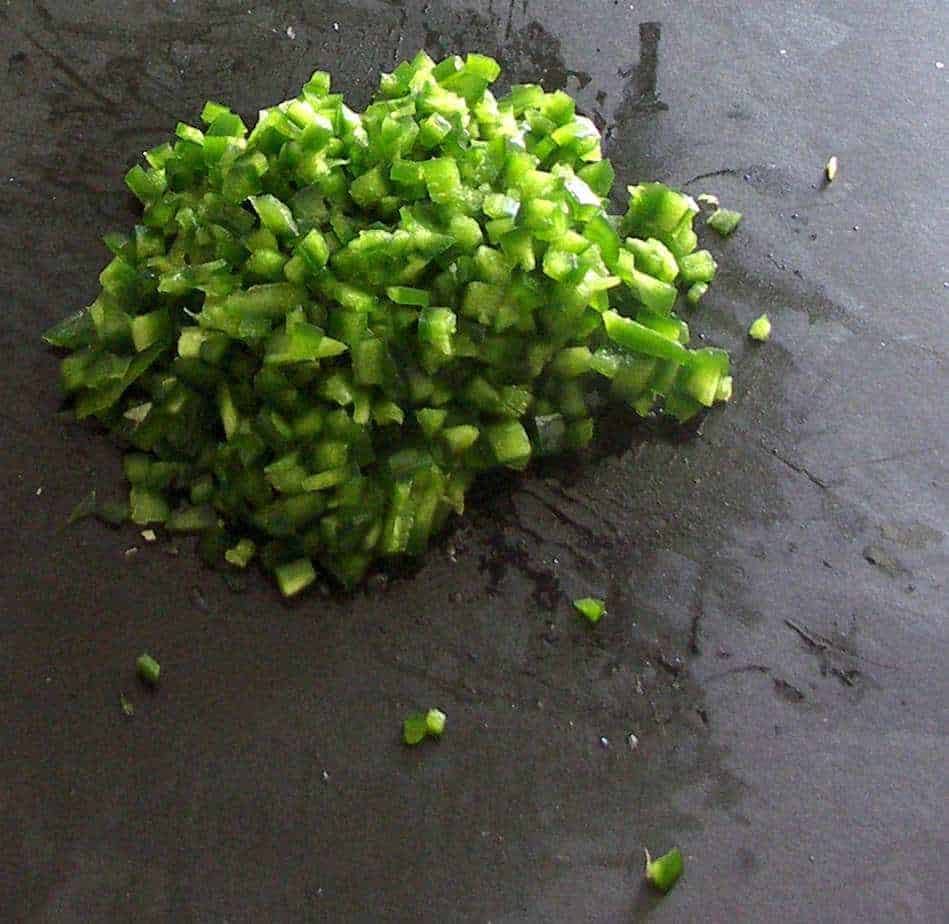 Pull the cilantro leaves from the stems.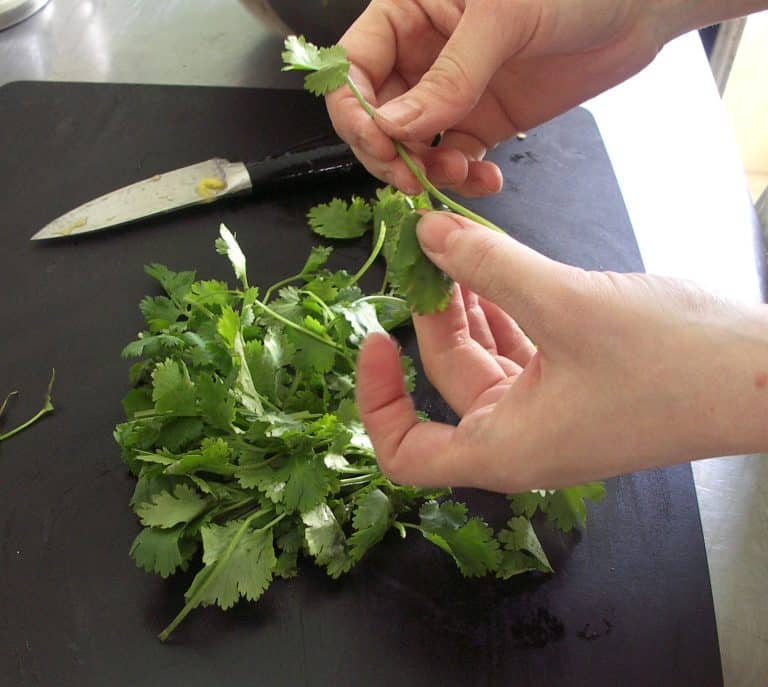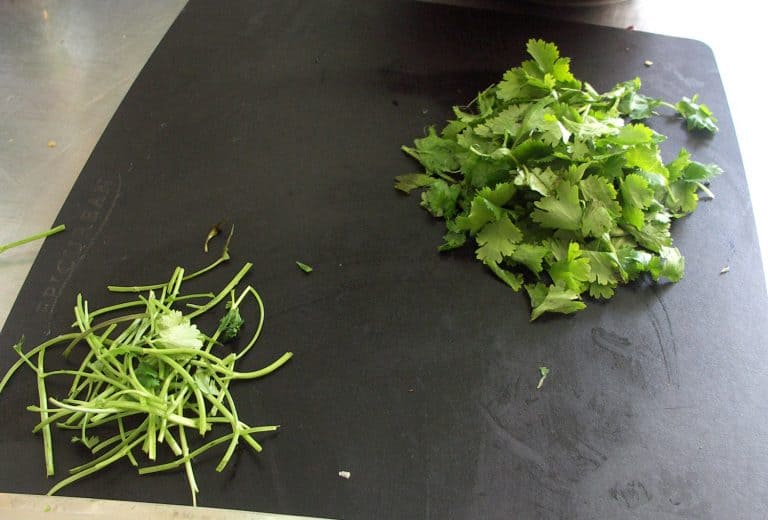 Rough chop the cilantro and add to the onions and garlic along with the mango cubes and diced jalapenos. Sprinkle with salt.
Add lime juice and toss.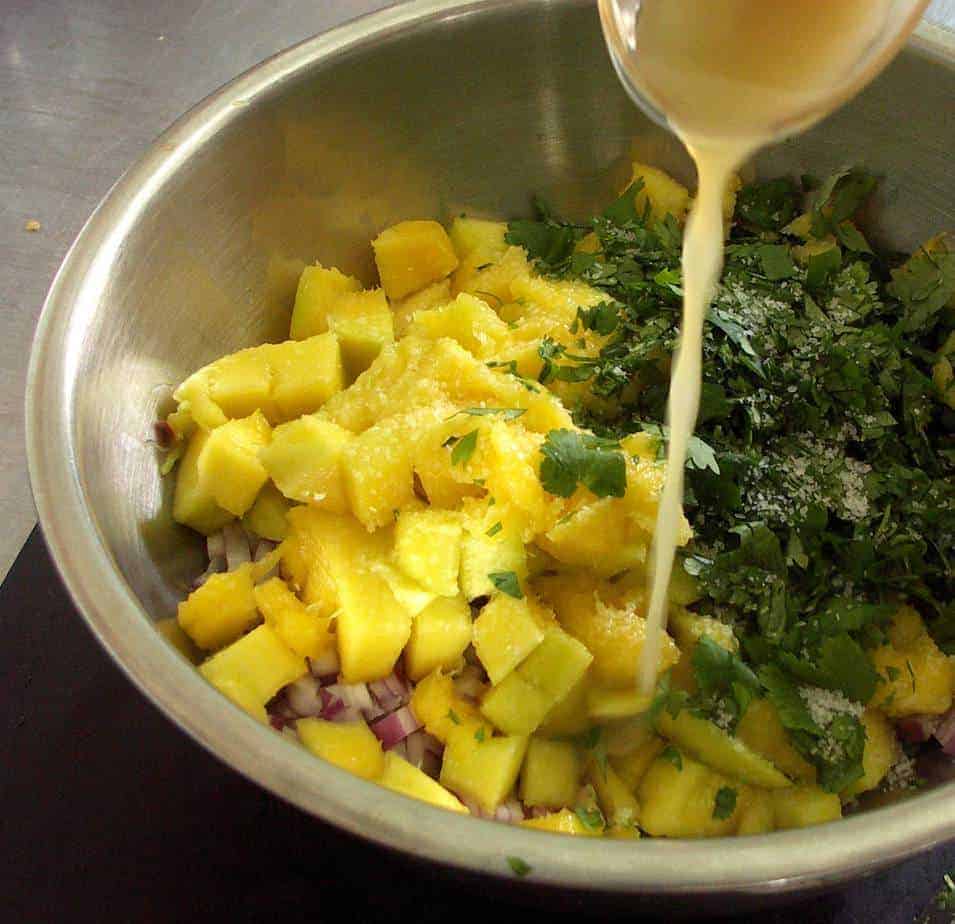 Serve immediately.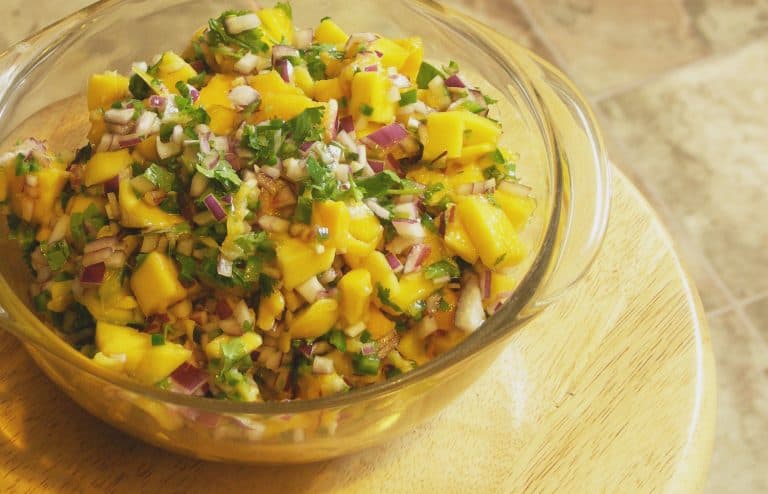 This is best eaten the day it was made for the sake of texture, but it's perfectly delicious out of the fridge the next day. And if you're looking for a milder bite from the onions and garlic, you may want to deliberately refrigerate it for a day before serving. Beware, though… This is seriously addictive. Consider yourself warned.
Food for thought…