Don't misunderstand me, I love pumpkin. That being said, when fall rolls around, I'm not lined up for the pumpkin pastries, cakes, lattes and whatnot. I'm the girl who is elbowing everyone out of the way to get to the ceiling high display of bagged, fresh Ocean Spray cranberries. Oh those gorgeous ruby red orbs of tart deliciousness! It is not possible for me to get enough of them. Obviously it was a no brainer "YES!" when Ocean Spray invited me to take part in their "Bogs Across America" event to discuss and experience the evolution of the Thanksgiving feast.
There is no doubt that Thanksgiving is a day when traditionalism tends to hold full sway. I surprised myself, though, by preferring the "modern" menu offered to us by Ocean Spray; glazed ham, Brussels sprouts with bread crumbs, cranberry sauce with cilantro, and a cranberry topped cheesecake. The truth is, there will still be a turkey at my Thanksgiving table because, as Tevye said in 'Fiddler on the Roof', "TRADITION!" But as Tevye also said, on the other hand, there's a little bit of wiggle room when it comes to the side dishes. That cranberry sauce with cilantro was a revelation. It wasn't overwhelming, but that little hint of cilantro brightened up and deepened the flavours of the sauce. I knew that creating my own version of it would be first on my list when I returned to my home kitchen.
Happily, cranberry sauce is about the easiest thing you can make, and there is no reason whatsoever you can't have more than one version of the classic on your table to suit everyone's tastes. It's as easy as boiling water and sugar together, adding berries, and then adding any flavour boosts you'd like. In this case, I added minced jalapeño peppers, onions, cilantro, lime juice, and a wee bit of sea salt. The results were – um, how can I genteely say that we inhaled it along with the bag of tortilla chips we dipped into it?- exceptionally delicious.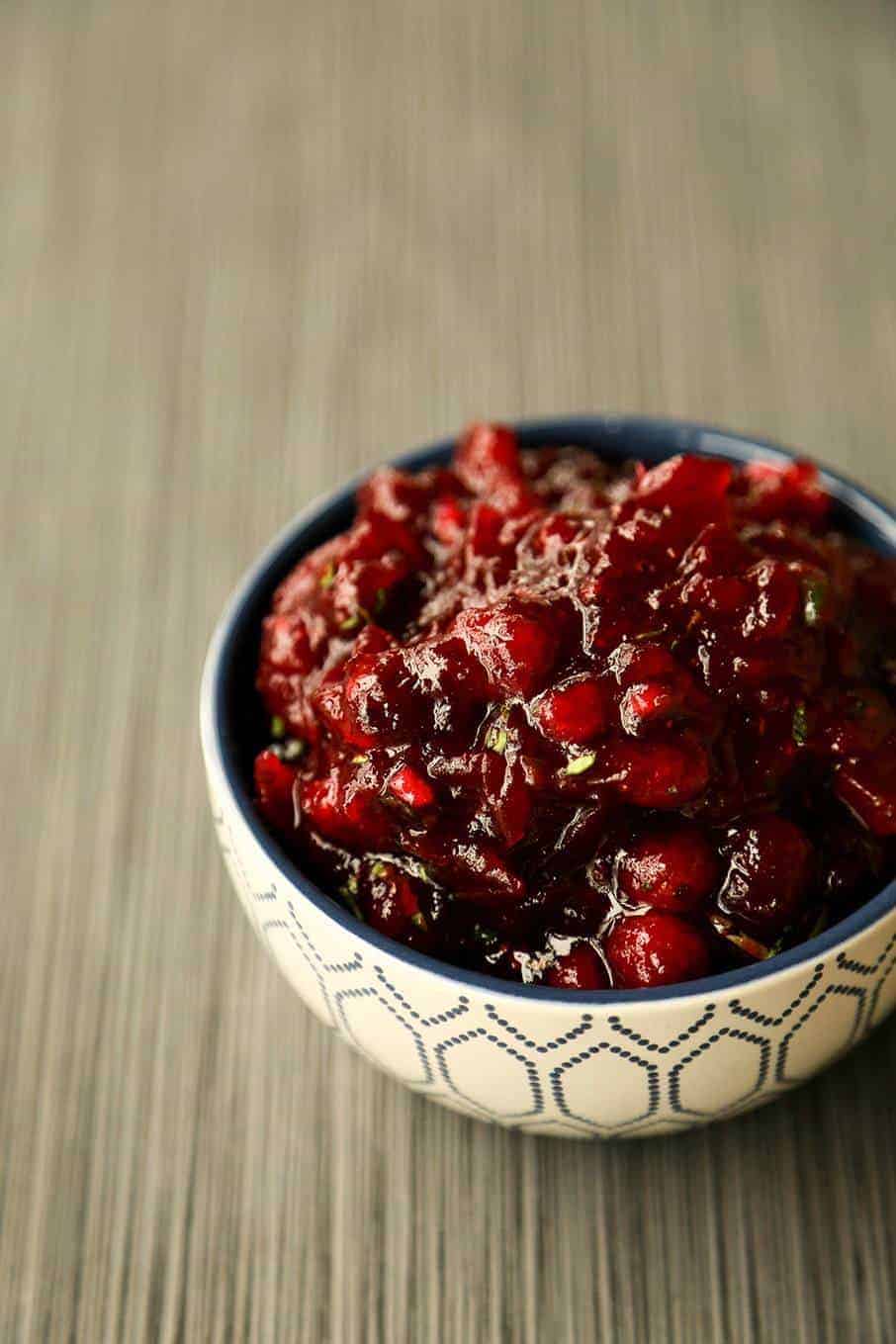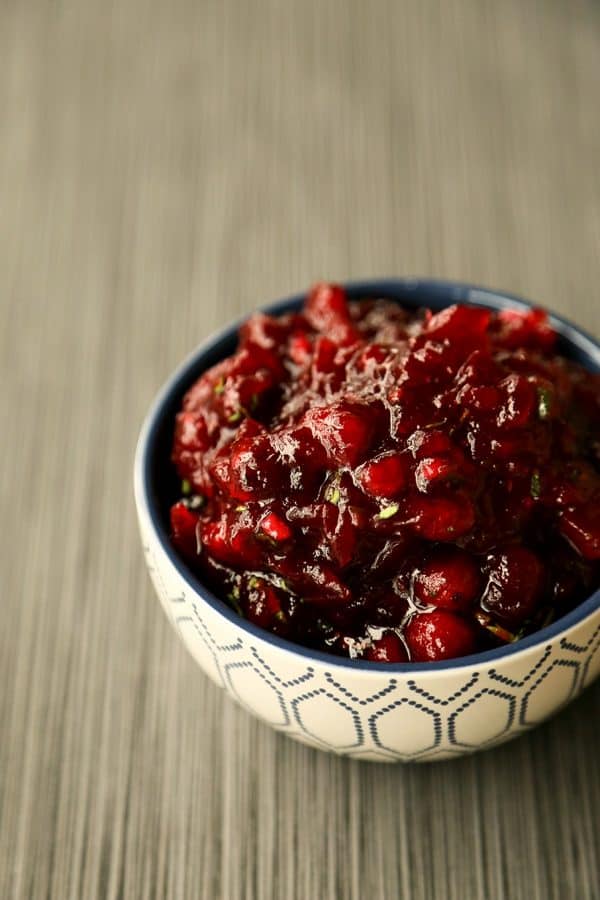 In between bites of the Sweet and Spicy Cranberry Sauce on tortilla chips, my husband and I agreed this would be phantasmagorical on a leftover turkey sandwich, served with broiled fish, or as a dipping sauce for fried chicken. We also agreed that we were perfectly happy just dipping those tortilla chips into it.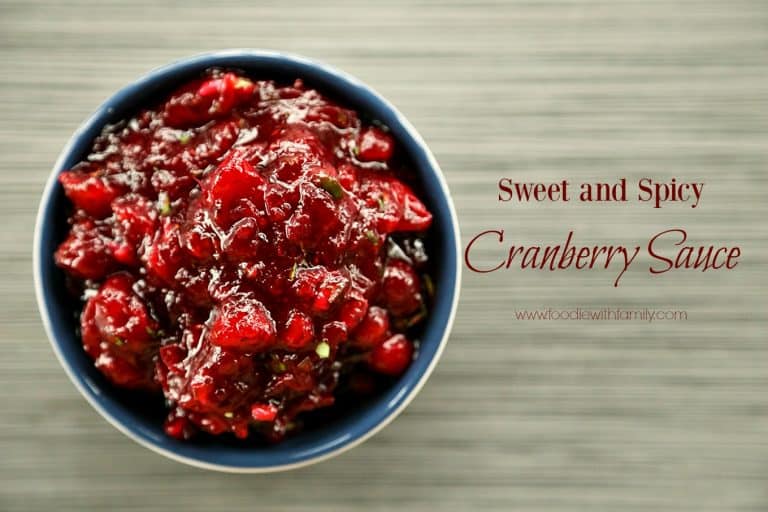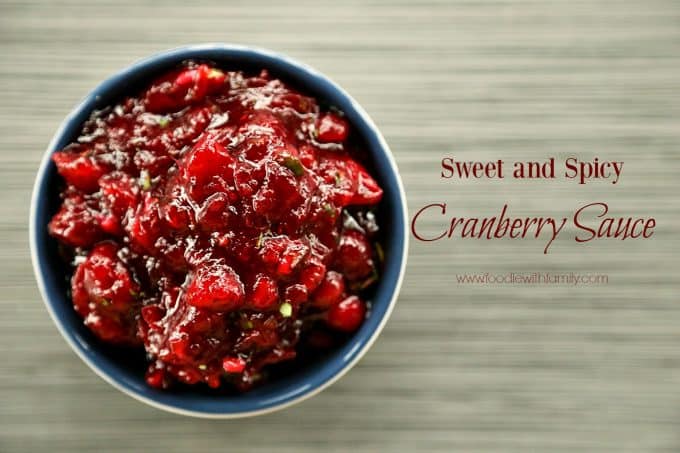 Don't stop with the Sweet and Spicy Cranberry Sauce, though… Ocean Spray has an entire family of wonderful products that can make your Thanksgiving table AND your everyday table a little more exciting. Here are several ways you can connect with them!
Connect with Foodie with Family
facebook | pinterest | instagram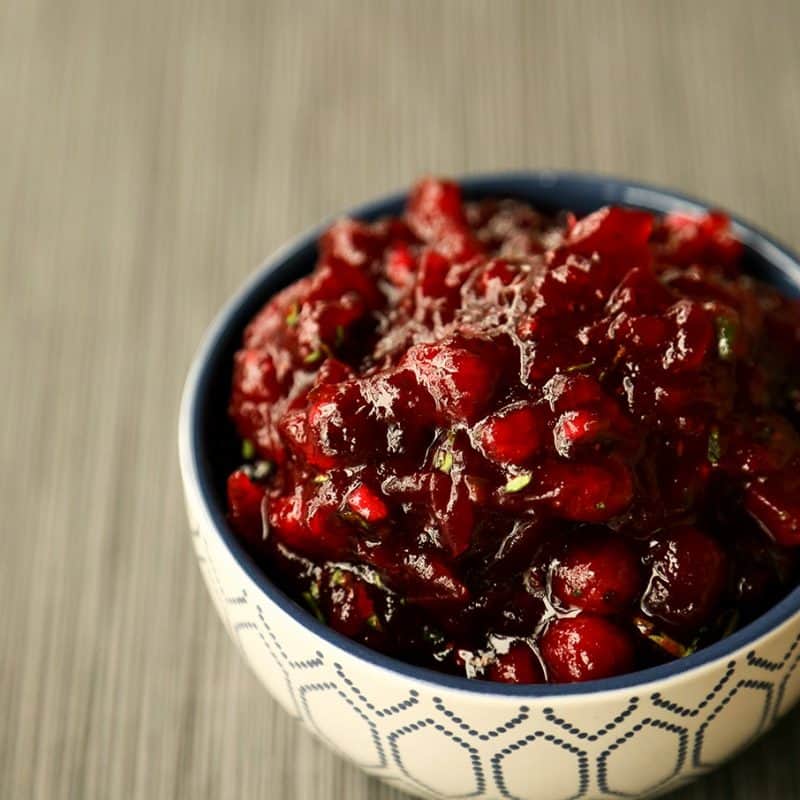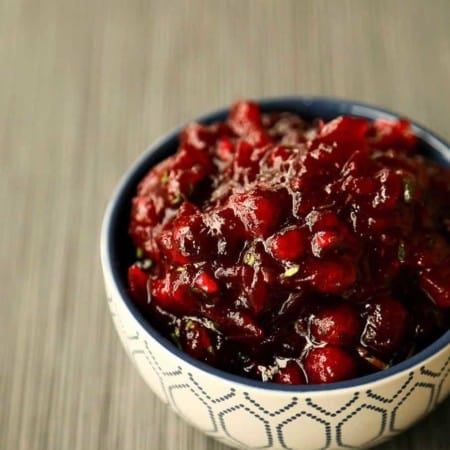 This modern twist on the classic whole berry cranberry sauce takes a turn for the savoury and utterly habit forming with fresh jalapenos, onions, lime juice, and a pinch of cilantro!
Ingredients
3/4

cup

water

1/4

cup

fresh squeezed orange juice

1

cup

sugar

1

bag fresh or frozen Ocean Spray® cranberries

12 ounce

the juice and zest of 1 lime

1

fresh jalapeno pepper

stem and seeds removed, minced

3

tablespoons

minced fresh cilantro

1

tablespoon

minced sweet onion

1/2

teaspoon

sea salt
Instructions
Combine the water, orange juice, and sugar in a medium sized saucepan over high heat. Stir until the sugar is dissolved and bring to a boil. When it reaches the boil, add the cranberries and let it return to a boil. Drop the heat to low and let it simmer until almost all of the berries have burst and the mixture has become thickened. Be sure to stir frequently to prevent scorching. Remove the pan from the heat and stir in the juice and zest of the lime, minced jalapeno pepper, cilantro, sweet onion, and sea salt until evenly distributed. Transfer into a bowl and cover with plastic wrap or transfer to a container with a tight fitting lid and refrigerate until ready to serve. It will continue to thicken as it cools.

This cranberry sauce is good for up to 5 days after it is prepared.
Nutritional information is an estimate and provided to you as a courtesy. You should calculate the nutritional information with the actual ingredients used in your recipe using your preferred nutrition calculator.
 If you like this recipe, you'll love these other ways to use cranberries!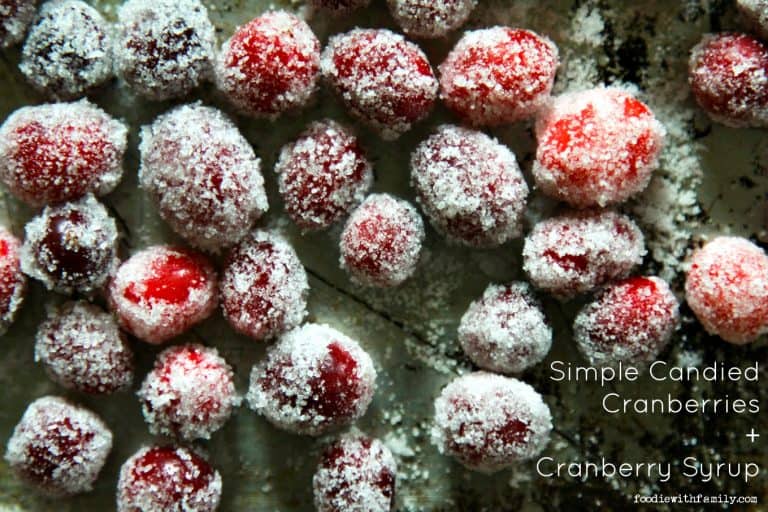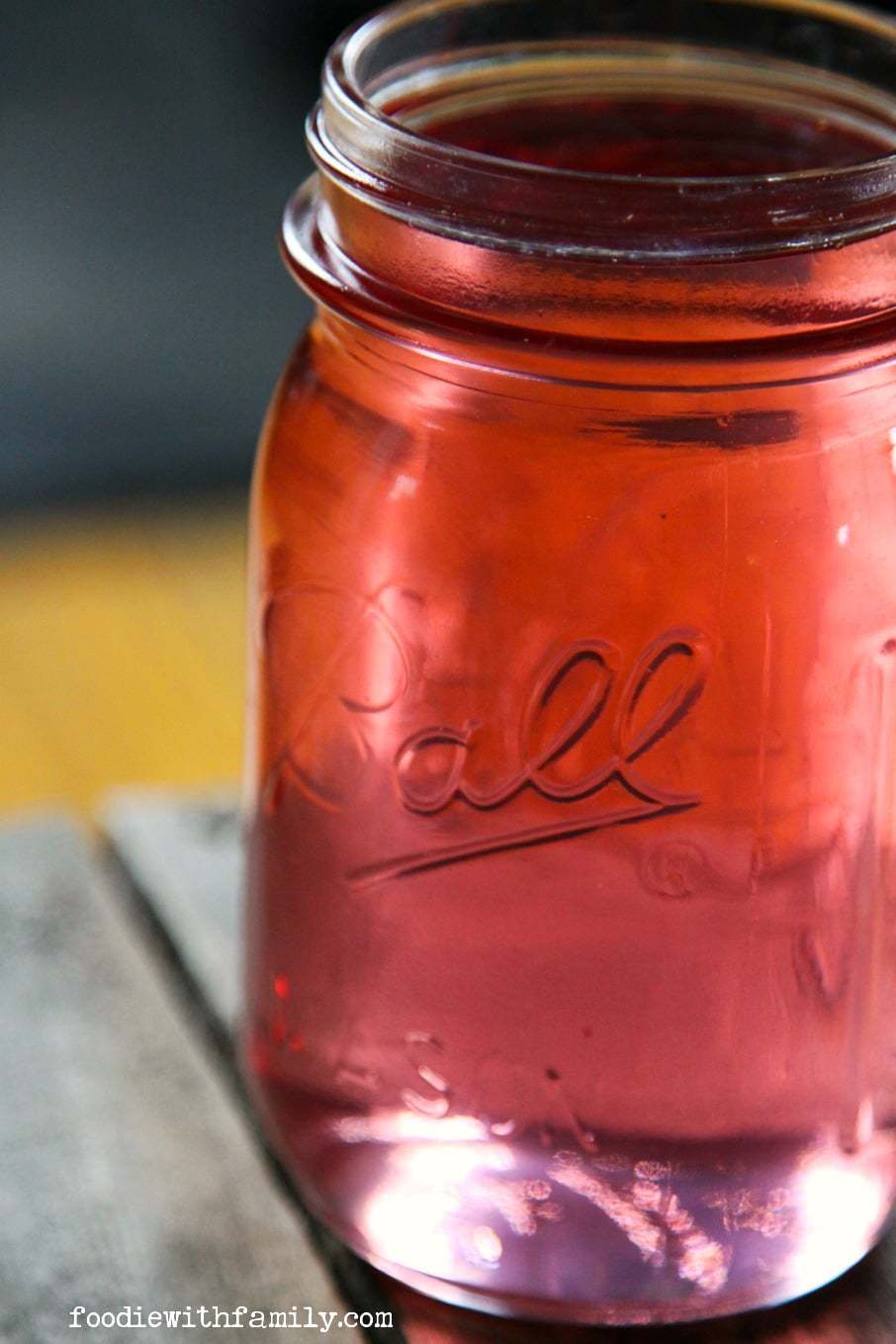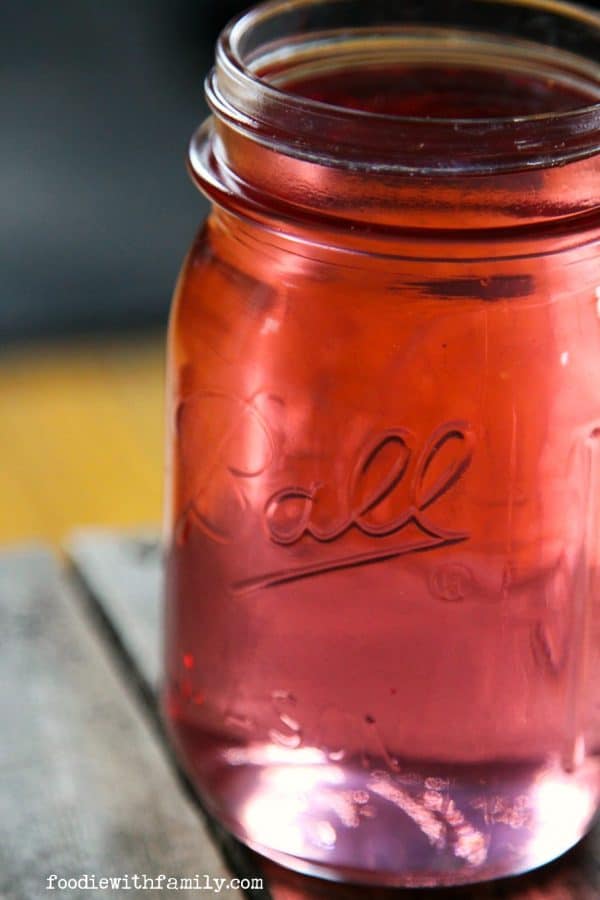 Simple Candied Cranberries + Cranberry Syrup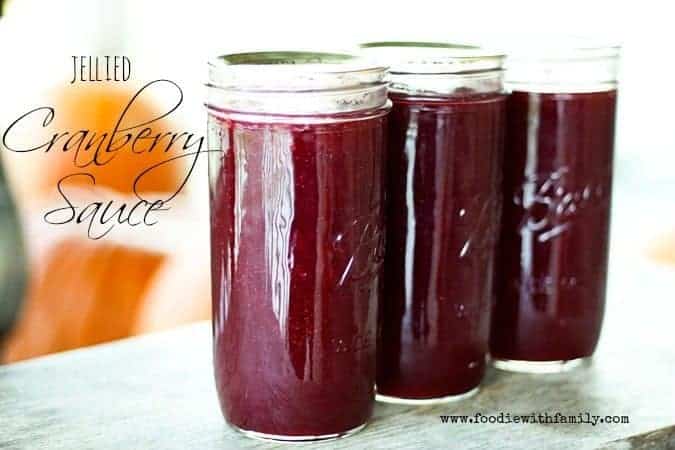 Jellied Cranberry Sauce {canned or refrigerated}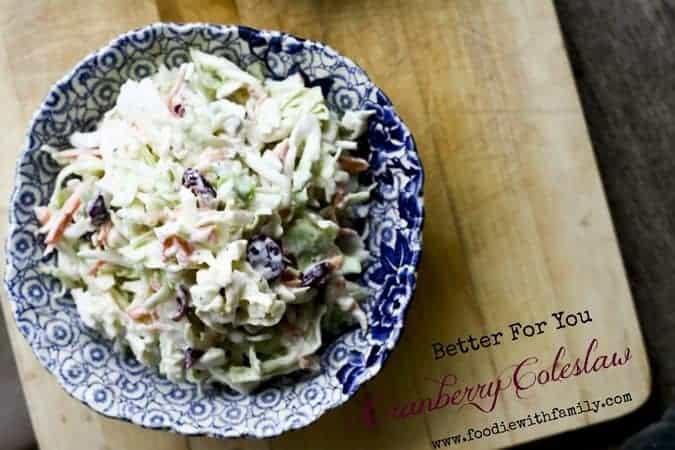 Better for You Cranberry Coleslaw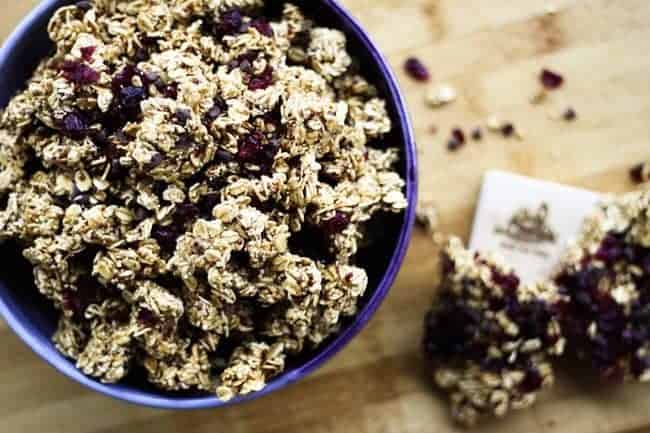 Ancient Grains Cranberry and Dark Chocolate Granola