I am updating this post because like a dork, I forgot my Cook's Notes with some crucial notes about WHY I choose Pomona's Pectin and only that for my jam and preserve making.
My stepmom said to me more than once, "There's nothing wrong with toast and jam for dinner!" She was brilliant, I tell you. Brilliant. Adding to her charms, Val always had the best preserves; whether they were homemade or sourced, they were always exactly what you wanted to eat. This is one of the many reasons I felt incomparably blessed to have her in my life. I'm beyond happy that the first year I made this, she was still here to eat some of it. We dined that evening on Ginger Peach Preserves, freshly made and toasted oatmeal bread, and Earl Grey tea.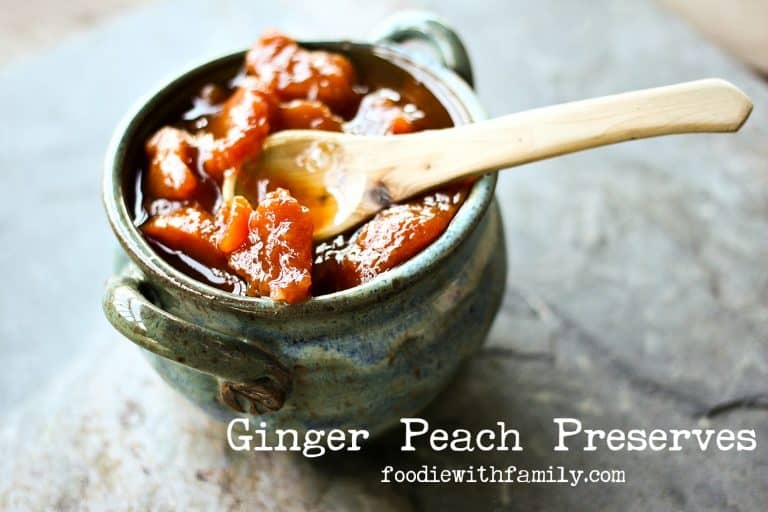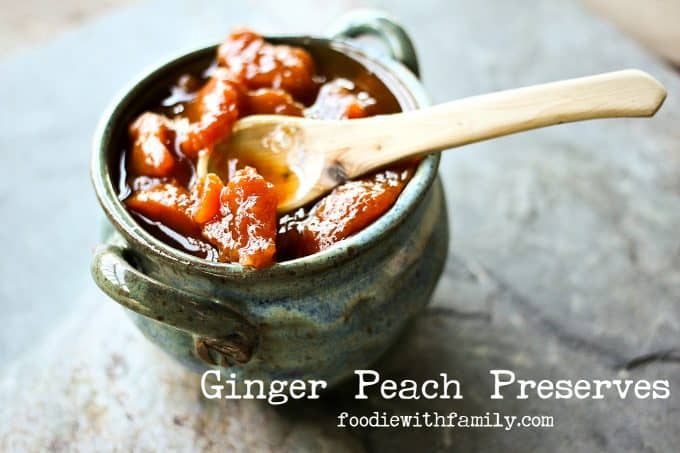 The beauty of preserves, as I see it, is that they have recognizable pieces of fruit suspended in a sweet, thick syrup. There is no doubt what fruit you're about to consume when you sit down to admire a preserve-topped piece of toast or bowl of ice cream. Speaking of ice cream, you really can't do much better to a bowl of vanilla with a generous amount of Ginger Peach Preserves spooned over the top.And these preserves? Shoot. People. We're talking sweet, fragrant, slightly tart peaches paired with luscious, thick ginger syrup. I can't even…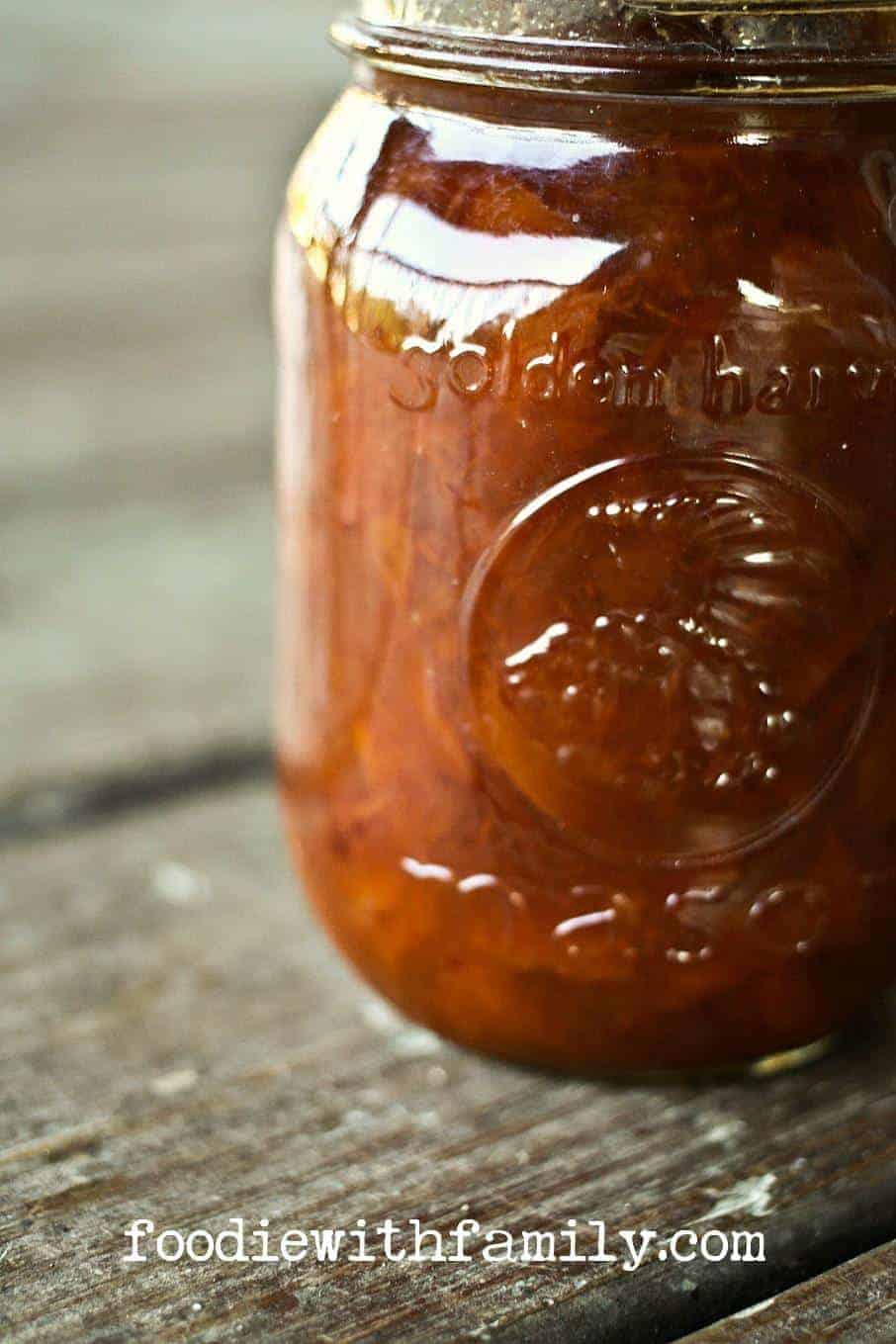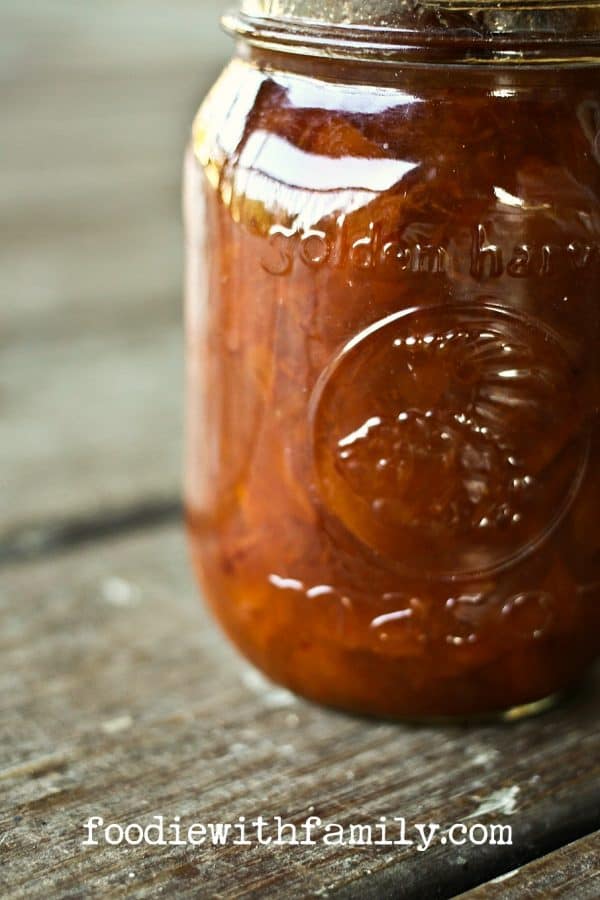 Before anyone says, "I don't can!" let me mention that this recipe stores beautifully in the refrigerator for up to a month but I'd also like to remind you that I've provided a canning basics tutorial for the most beginner of beginning canners right here. Preserves and jams are among the best and most popular starter canning projects for a good reason; they're very forgiving in terms of mistakes. Even a poorly made preserve is generally still very tasty and edible, so brush up that courage and give it a try!
There is such joy in admiring a line of steaming hot jars on a towel lined counter top. It feels like money in the bank for cold, blowy, winter days.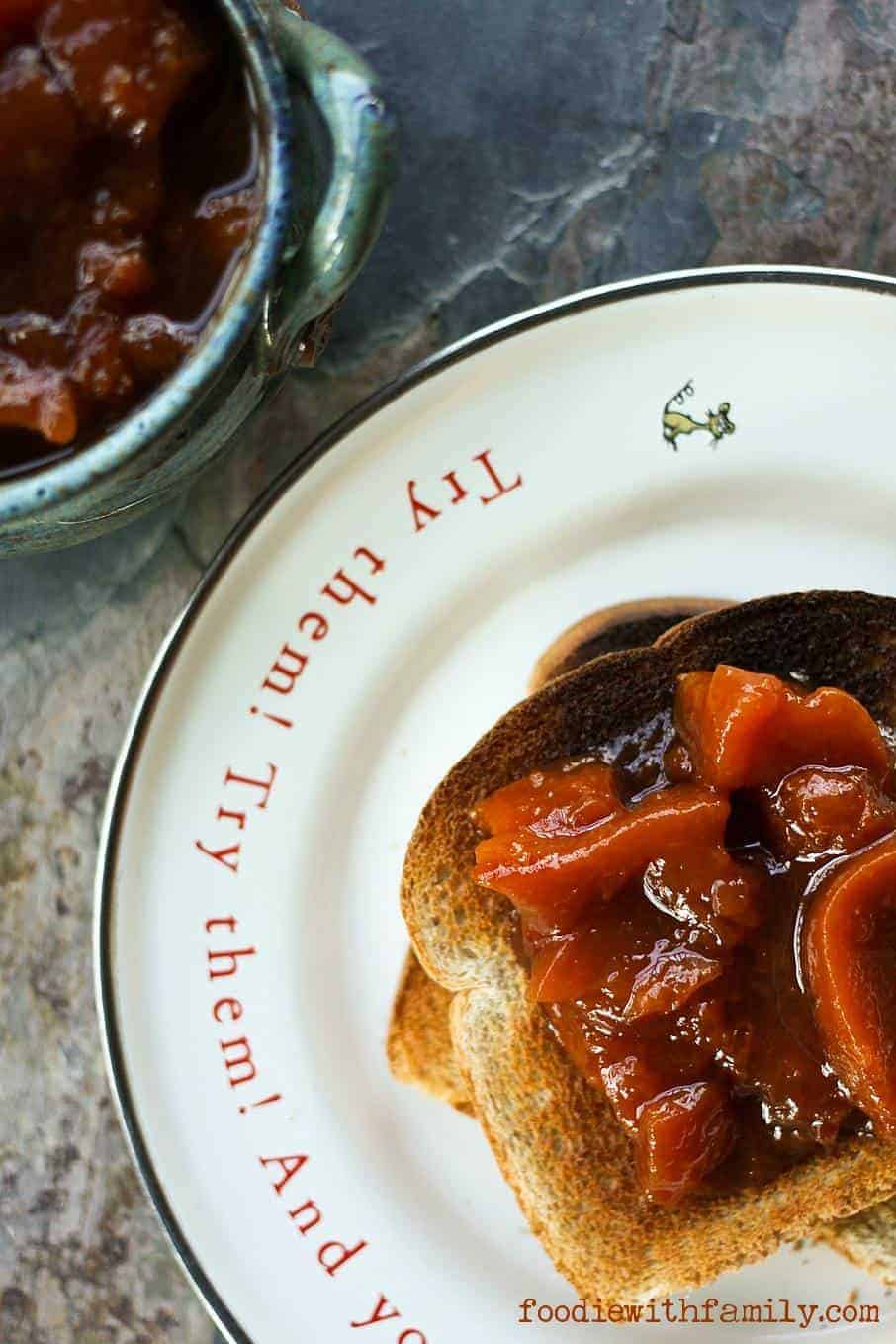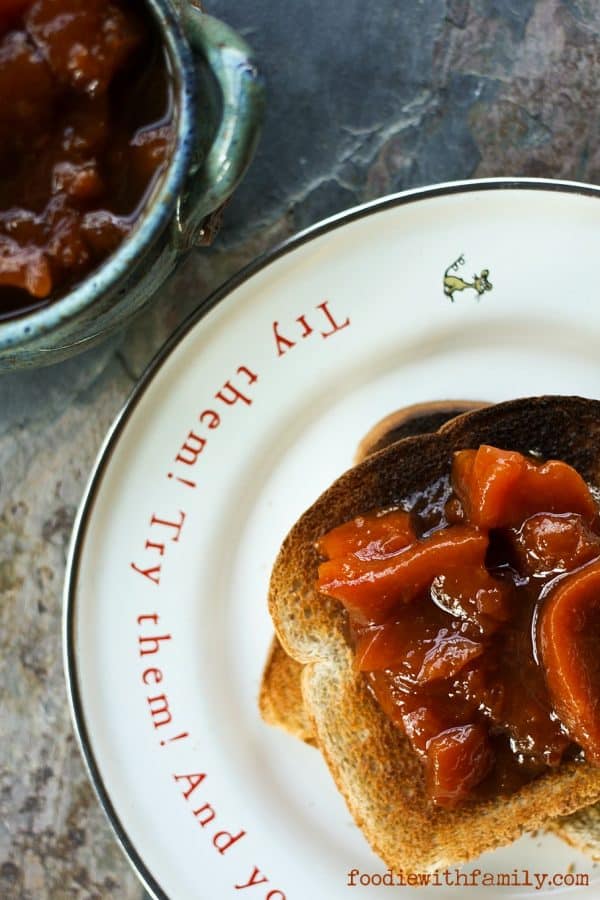 Because when you have jam, all that remains between you and a perfectly acceptable dinner is a loaf of bread and I've plenty of recipes to help you out there. Feel free to peruse the nifty, shiny fresh Recipe Index or use my brand-spanking new search function (both found here!) to find the perfect bread to sit beneath your fabulous Ginger Peach Preserves.
Cook's Notes
You'll notice, I'm sure, two odd additions to the recipe; calcium water and Pomona's Universal Pectin. I do NOT have a recommended substitution for these, as I stand by them 100%. The calcium water comes WITH the Pomona's, so you don't have to worry about purchasing them separately. I'll break down for you WHY it is that I only recommend this product.
Pomonas Universal Pectin, unlike most other commercial counterparts, does not contain any weird preservatives or fillers. This is good news.
Pomona's, unlike most other commercial pectins, allows you creative license to scale up or down any recipe to your heart's content. If you scale up other pectins, the jams or preserves almost inevitably fail.
Pomona's also allows you to make low/no sugar jams, jellies, and preserves with the same product should you wish to do so. If you want to use a grocery store pectin, you'll need to buy a separate, specialized kind of pectin for that.
Pomona's lasts forever and has no expiry date as long as it is properly stored.
Pomona's may seem more expensive if you just compare the box vs. box prices, but with the Pomona's you can make between 3 and 5 batches of your favourite jam and with the major brand pectin, you get one batch per box. That makes Pomona's comparable in all cases and cheaper in most!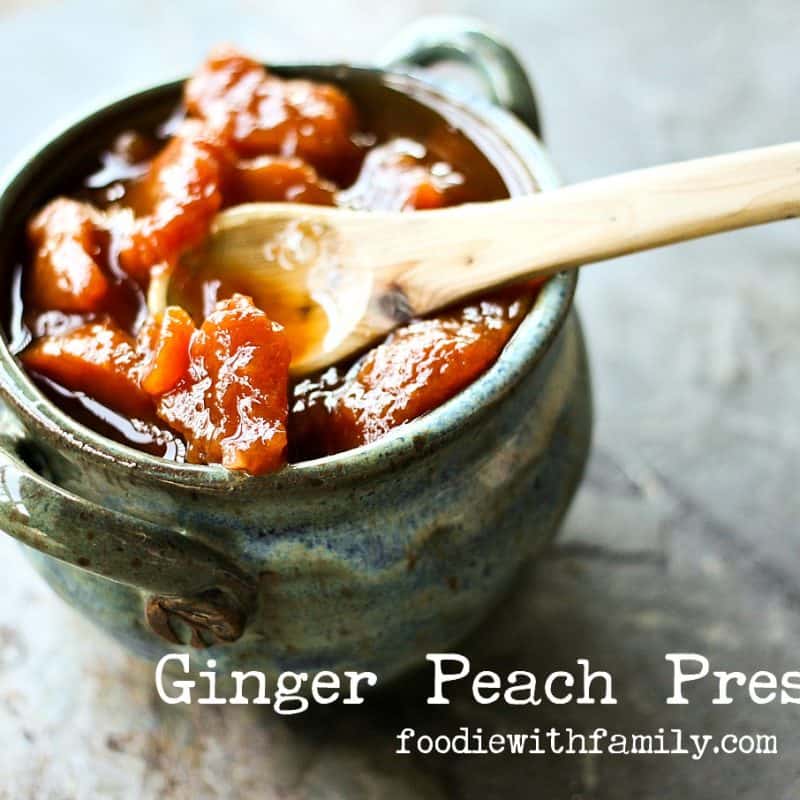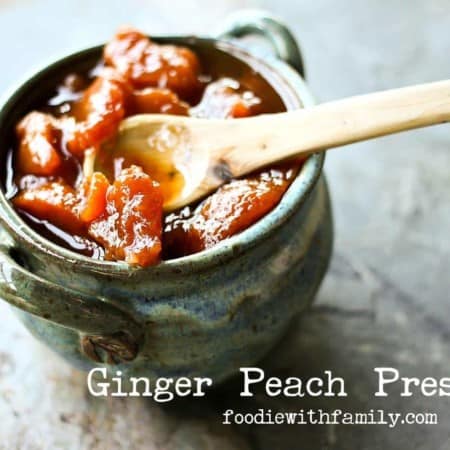 Adapted from Preserving with Pomona's Pectin
Ingredients
2 3/4

pounds

ripe peaches

1-

inch

piece of fresh ginger

1/4

cup

water

1/3

cup

lemon juice

3 1/2

teaspoons

calcium water

1

teaspoon

ground ginger

1

cup

sugar

2 1/2

teaspoons

Pomona's Universal Pectin Powder
Instructions
Bring a canner of water to a boil and sterilize your jars and rings. Put your lids in hot water to wait for you.

Cut your peaches in half, remove the pits and peel them. Cut the peaches into even sized pieces; about 1/2 to 3/4 inch in size. Add the peach pieces, water, and piece of fresh ginger to a heavy-bottomed saucepan. Bring the mixture to a boil over high heat, cover the pan, drop the heat to medium low, and simmer for 4 minutes or until the peaches are softened but still have shape and body to them. Remove the mixture from the heat, fish the ginger piece from the peaches, and scoop 4 cups of the cooked peaches into a liquid measuring cup. Add the dried ginger, lemon juice and calcium water and stir well. You can keep any excess for topping ice cream!

Whisk the sugar and pectin powder together in a bowl until even. Set that aside.

Pour the measured 4 cups of peaches back into the saucepan and bring to a full, rolling boil over high heat. While stirring constantly, slowly add in and incorporate the sugar/pectin mixture. Stir enthusiastically for 1 to 2 minutes to dissolve the pectin and return the preserves to boiling. As soon as they return to a full boil, remove the pan from the heat.

You can pour into jars and store in the refrigerator for up to a month, or you can can the preserves for shelf stability.
To Can Ginger Peach Preserves:
After sterilizing the jars, use a ladle to fill the hot jars to within 1/4 inch of the rim of the jar. Wipe down the rims with a paper towel dampened with white vinegar, put on lids, screw the rings to fingertip tight. Carefully lower the jars into the boiling canner water, add the lid to the canner, and return to a boil. As soon as it reaches a full, rolling boil, process for 10 minutes. After 10 minutes, turn off the heat and let the jars rest in the canner for 5 minutes, then transfer to a cooling rack or towel lined counter top to cool, undisturbed, for 12 to 24 hours. After cooling, wipe clean, label, and store on a shelf.
Nutritional information is an estimate and provided to you as a courtesy. You should calculate the nutritional information with the actual ingredients used in your recipe using your preferred nutrition calculator.