I used to think I despised cherries.
This was some high-heresy for a girl raised awfully close to 'The Cherry Capital of the World'.*  Why I thought cherries were gross I can attribute to two reasons: A) I didn't like the whole spit-the-pit thing. I was a tidy child. B) The only way to eat cherries sans pits, as far as I knew, was maraschino cherries and I still maintain that those are disgusting.
*Nothing like some trivia to de-cobweb the old gray matter. Does anyone out there know which area I mean?
I realized the error of my ways long after moving out of state*. I was at a friend's house when she insisted I try a beautiful red cherry she had picked earlier that day. I was blown away by the intense, tart, sweet flavor. And I didn't even mind spitting the pit. My devotion was deep and instant. But DANG they were expensive. On sale, loss-leader sale even, I couldn't find pre-picked cherries for anything less than $2.99 per pound. I lived much too far from any cherry orchards to make it cost-effective to drive to one to pick my own. Then we moved again.
*I have a  major food regret from my childhood. I wish I hadn't been such an anti-cherry and anti-morel mushroom picky-pants. I had both overflowing in my backyard free for the taking.
I am now fortunate enough to live in Amish country where the bulk-food buying and canning mindsets of my 'Dutch' neighbors combine to provide me with ample and affordable supplies of pre-picked fruits and vegetables at prices that would make grocery store managers reach for the antacids. This year, I pitted sixty pounds of sweet black cherries and I'm still canning my way through thirty pounds of pre-pitted sour cherries. The black sweet cherries rang in at $0.70 per pound and the pre-pitted sour cherries came in at a slightly pricier (but still bargain-basement price of) $1.26 per pound. You already know about the Rum-Soaked Preserved Cherries and the Boozy Cherry Molasses, and I've been promising my Sweet Black Cherry Pie Filling recipe for an (indecently) awful long time. How many of you are waiting out there languishing with a whipped ganache filled tart in hand just hanging on for a pie filling that doesn't taste and look like glorified maraschino cherries and doesn't plop out of a pull-tab can? I am so sorry. I blame my children.*
*Because I can. Yes, I can. A little laughter please? Can't a girl get a little giggle for politico-culinary humour?
Why make your own instead of buying the cheap stuff? For the usual reasons; flavor and health. Store-bought canned pie filling can't hold a candle to homemade in terms of flavor. But just as compelling is the long list of nasty additives and artificial flavors present in the storebought stuff. There are five -count 'em- FIVE ingredients in homemade Sweet Black Cherry Pie Filling, all of which are readily available and pronounceable.
Ah, Sweet Black Cherry Pie Filling. What can't you do? Sure, you can make a good old-fashioned cherry pie with it, but you can also top cheesecakes with it, layer it with brownies and whipped cream in a mean trifle, pour it on top of softened cream cheese to serve with graham crackers or make a deadly no-bake Black Forest Truffle Tart. You want some of this on your pantry shelves. Seriously.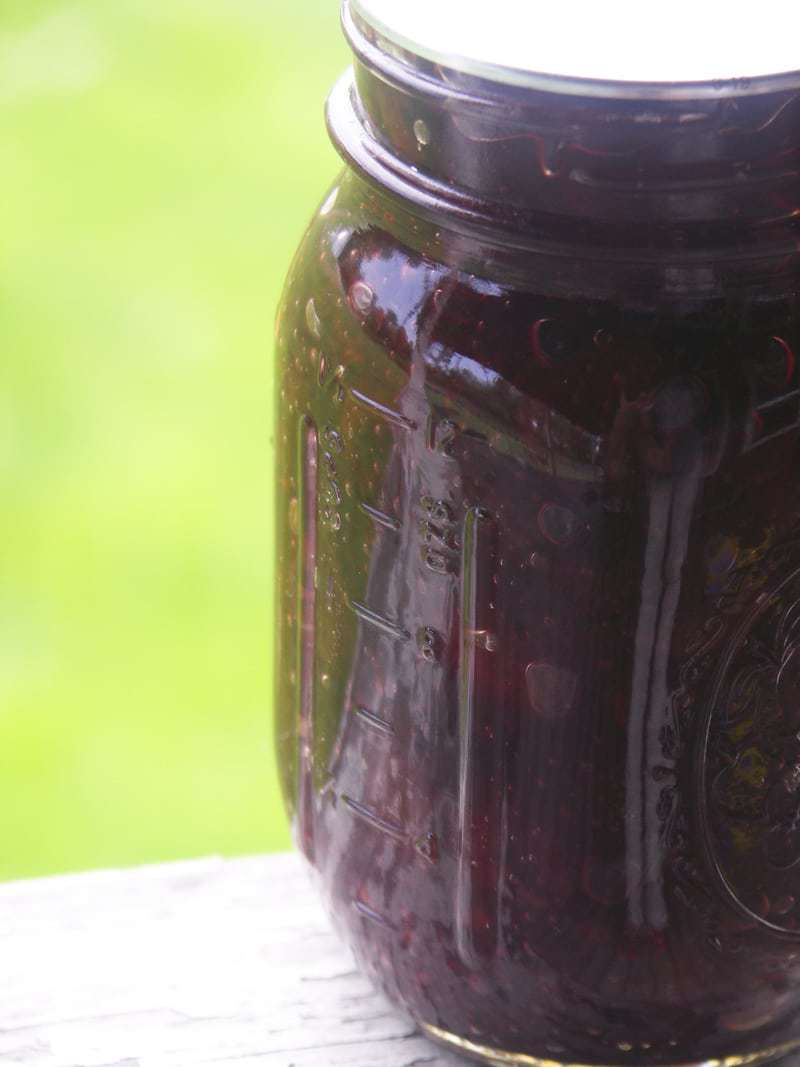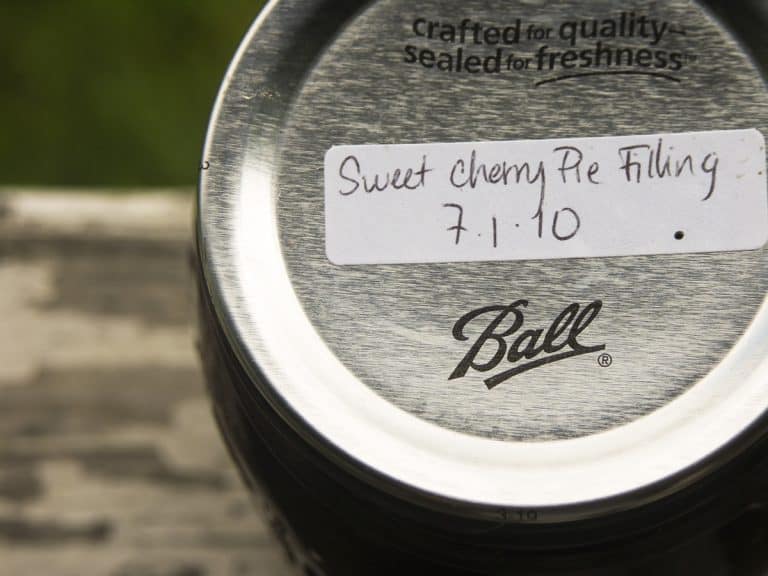 For a printer-friendly, photo-free version of this recipe, click here!
Sweet Black Cherry Pie Filling: Printer Friendly Version
From The Ball Complete Book of Home Preserving (see here for book details!)
Yield: about 8 pint (500 mL) or 4 quart (1 L) jars
Ingredients:
10 pounds frozen sweet black cherries, thawed in the refrigerator for 24 hours.
2 1/2 cups granulated sugar
1 cup ClearJel (Or Thermaflo or Permaflo)
1/2 teaspoon ground cinnamon
1/3 cup lemon juice
Position a colander over a large bowl. Pour partially thawed cherries into the colander, cover lightly with plastic wrap and leave on the counter top, stirring occasionally, until you have collected 7 cups of juice in the bowl. Set aside the juice and the cherries.
Prepare the canner, jars and lids. For more information, see our basic canning how-to's.
In a large stainless steel or enameled stockpot, whisk together the sugar, ClearJel and cinnamon. When it is evenly combined, whisk in 4 cups of the cherry juice*. Place stockpot over medium-high heat and bring to a boil, stirring constantly to prevent scorching. Continue boiling until thickened. Whisk in the lemon juice and return to a boil, stirring constantly. Continue stirring and allow the mixture to boil hard for 1 minute. Add the reserved cherries all at once, stir in gently, and continue stirring constantly while returning to a boil. Remove the pan from the heat.
*You can freeze or can the remaining juice or turn it into Boozy Cherry Molasses. The basic instructions remain the same, just add half as much sugar (by volume) and go forth with the directions from there.
Scoop the hot pie filling into the hot jars allowing 1-inch of headspace to remain between the pie filling and the rim of the jar. Remove air bubbles from the filling by inserting a long, flexible spatula or chopstick into the jars. Wipe the jar rims and position the lids in place. Screw the rings onto the jars to fingertip tight.
Place jars in a canner, cover with hot tap water by at least 1-inch, cover, and place covered canner over high-heat to bring the water to a boil. Once the water is boiling hard, you can begin timing; both pints and quarts must be processed for 35 minutes. After 35 minutes, turn off the heat, remove the lid and let the jars remain in the water for an additional 5 minutes. Remove to a cooling rack or towel lined counter and allow to cool, undisturbed, for 24 hours before removing rings, wiping jars clean and labeling. Processed and sealed pie filling can be stored in a cool, dark place for a year or so.
~~~~
Before I leave you to whipping up your own batch of Sweet Black Cherry Pie Filling I want to let you in on a dirty little secret. I have a treat that I allow myself that I refer to as Mommy's Little Helper. It's the thing that stands between sanity and selling my children to the nearest traveling circus and it is as simple as it is delicious. Just dip a spoon into your resident jar of Nutella (you DO have one, don't you?) and top with a dollop of Sweet Black Cherry Pie Filling. Open mouth. Insert. Oh sure, you could  class it up a little and serve it on graham crackers or chocolate wafer cookies, but then it's not so naughty -and therefore- not so much fun. Danger. It's my middle name.