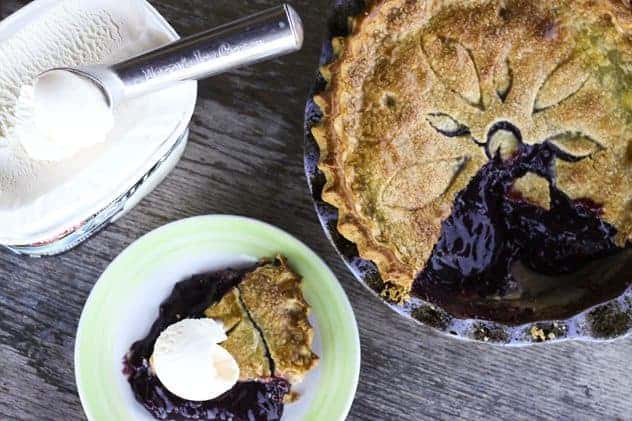 I've been blessed to have the chance to move around a little bit in this great country of ours and see a bit of the world. Although I've lived in rural Western New York longer than I have anywhere else, I was born a Michigan girl and I believe I'll always identify myself as a Michigander. There are, however, a few moments where I'm close to claiming that New Yorker moniker.
It probably comes as no surprise that most of those moments are surrounding food; beef on weck, white hots, wings, salt potatoes and grape pie. Grape pie was -perhaps- the biggest revelation of all of those quintessential New York foods. Made of Concord grapes, it retains that highly perfumed, heady scent that fires up instant salivation. It's the smell that every grape soda and candy in the history of soda and candy has tried and failed to capture. There's something about those fresh Concord grapes that makes my brain absolutely swim with joy. It is pure autumn.
New York is carpeted with vineyards and u-pick grape farms. If you drive through the right area of the state with your windows down in September you will smell that distinctive aroma. The perfume drifting across the countryside combined with the Crayola-tinged leaves and the brisk air is a clear indicator that the season has turned.
Grape pie is a food I used to wait for every single year. That is until I learned to make and can my own grape pie filling. Why this hasn't caught on commercially is beyond me. Grape pie is tart and sweet, juicy and velvety, with the soft, simmered grape skins providing body and texture. It's a little high on the labour side, when you're used to just tossing berries into a pot with sugar and Clear Jel
, but part of the initial joy of the grape pie is the experience of sitting in a circle around two big pots on the front porch slipping the skins from the grapes two at a time. Holding a grape in each hand, we laugh as we gently squeeze the juicy insides into one pot and deposit the grape skins in the other. Maybe it takes us a half an hour? Maybe an hour? Time has a mind of its own with a mug of whatever gets you out of bed in the morning -coffee or tea- wedged between your feet and enjoying that weather and each others' company so thoroughly.
Into the kitchen with the pots… the grape guts simmer until the seeds come free and then are poured through a colander to filter out the pesky seeds. The remaining pulp and juice go into the pot with the skins and just enough sugar, a little lemon juice or citric acid and some Clear Jel
and bubble away 'til boiling and thick. Fill the jars, wipe the rims, add the lids and tenderly lower those jars into the canner. When they've processed, wipe them clean, label them and put them on the shelves for mid-winter attacks of grape pie cravings coupled with reminiscences of autumn splendor.
And geez. Don't feel obliged to make pies only. Grape pie filling transforms into a lovely cake filling or ice cream topping. You wouldn't be too far amiss spreading it on a sandwich and I certainly wouldn't judge if you made turnovers or 'jam' filled cookies with it.
When it's time for the fabled pie you ease your favourite crust into a pie plate, open a jar of the royal purple filling and empty it in. Crimp the edges, cut a few vents in whatever style dings your chimes…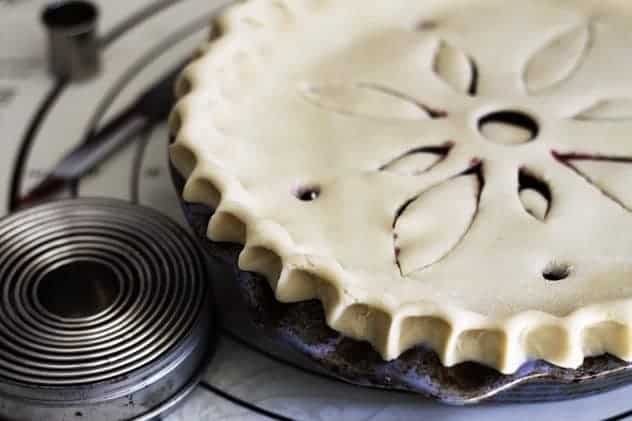 The trickiest part of the whole process comes right now. It's the waiting; waiting for the pie to bake, then waiting for the pie to cool, then waiting that seemingly interminable wait for that wedge of fragrant, sweet, caramelized-sugar dusted crust to be delivered to your hands.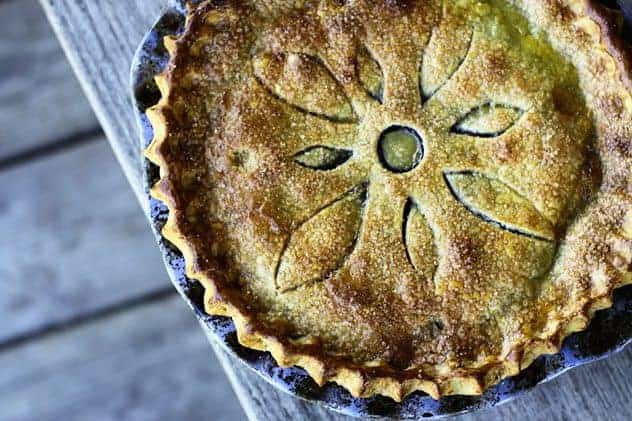 In the end, it is all worth it; it delivers on all of the tantalizing promises of scent and vision. Every second of what sweet torturous anticipation was worth it when your fork drops into a flaky pie crust surrounding thickened, silky grape juice surrounding tender grape skins. Lips and teeth and tongues are stained purple like your finger tips were months earlier when you put up the pie filling. These are the moments that hook you on canning.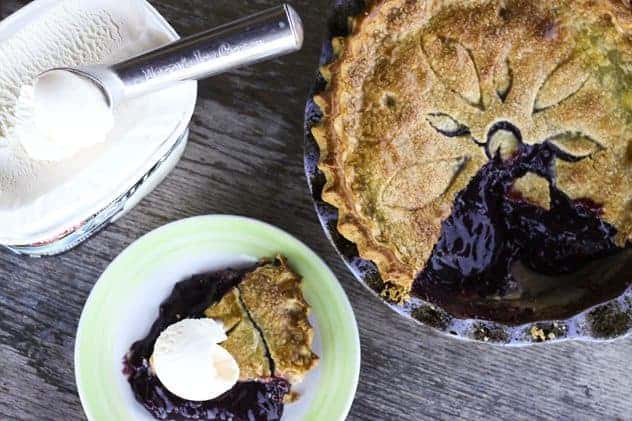 This classic autumnal Western New York pie captures the pure perfumed, robust sweet and tart essence of Concord grapes. Do yourself a favour and serve the pie with a scoop of vanilla ice cream on top. The cool, sweet, vanilla is the perfect foil to the tart, sweet grape pie. It's a match made in heaven.
Ingredients
For the Pie Filling:
22

cups

Concord grapes

washed

4

cups

granulated sugar

1/4

cup

lemon juice

or 1 teaspoon citric acid

1

cup

ClearJel starch

or another brand of the same type of starch
For the Grape Pie:
1

quart

of grape pie filling

Pie pastry for a double crust

1

egg

beaten

raw sugar or granulated sugar for sprinkling over the crust

optional
Instructions
To Prepare and Can Grape Pie Filling:
Working over two pots, take a grape in each hand and gently squeeze it over the first pot. Deposit the grape skins in the second pot. Continue until you have separated all of the grape pulps from the grape skins.

Place the pot with the grape pulps (do not add water!) over medium heat and bring to a boil, stirring frequently, allowing it to boil for 5 to 6 minutes. Put the hot pulp through a food mill or pour it through a colander, pressing to get as much pulp through as possible. Pour the hot, sieved pulp over the reserved grape skins.

In a separate bowl, whisk together the sugar and ClearJel (and citric acid, if using.) Sprinkle over the grape pulp mixture and use a big whisk or sturdy spoon to mix in thoroughly. Put the pot over medium heat, and bring to a boil, stirring constantly, until thick. It should thicken quickly, but it does still need to be bubbling before you can put it in jars.

Place a canning funnel -for neatness' sake- over the opening of a clean, sterilized quart jar and ladle in the hot pie filling leaving 1-inch of headspace. For help on learning how to sterilize your jars, click this link Moisten a paper towel and wipe the rims of the jars so they are spotless. Center a new lid on the jar and screw the ring in place until fingertip-tight.

Place the jars in a canning pot, ensure they are completely covered with water, bring to a boil and process for 30 minutes. When the 30 minutes are up, turn off the heat, remove the canner lid and let the jars rest for 5 minutes before carefully transferring to a cooling rack or a towel on the counter. Let cool, undisturbed, overnight before removing rings, wiping clean and labeling. Store the jars in a cool, dark place for up to two years.
To Make the Grape Pie:
Preheat oven to 425°F. Roll out half of the pie pastry and lay it gently in the pie plate so that it covers the whole plate and drapes a little outside of the top, too. Pour the jar of grape pie filling into the crust and spread it with a spatula. Roll out the second crust to just slightly larger than the circumference of the top of the pie plate. Lay it on top of the pie filling and gather the excess pastry, folding it under to form a neat edge. Crimp with a fork or whatever style you prefer, cut a few vent holes in whatever shapes you like.

Brush the pastry with the beaten egg and then sprinkle generously with the sugar, if using. This creates a deeper coloured crust and a little bit of sparkle.

Bake for 15 minutes, then lower the temperature to 350°F and continue baking for another 30-40 minutes, or until the crust is deep brown and the filling is bubbly. If you find the crust is browning too quickly, you can gently crimp foil around the outside edge to protect the edges.

Carefully transfer the pie plate to a cooling rack and let cool completely -if ever you can make yourself wait- before slicing. The filling will still slump out, but may hold together a bit better if you let it cool first.

For the ultimate Western New York experience, serve each slice of pie with a scoop of Perry's Vanilla Ice Cream on top.

Store leftovers tightly covered at room temperature for up to 3 days.
Nutritional information is an estimate and provided to you as a courtesy. You should calculate the nutritional information with the actual ingredients used in your recipe using your preferred nutrition calculator.