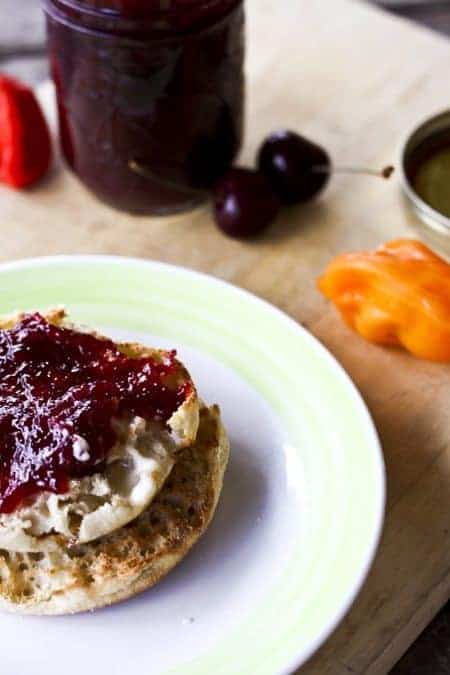 While working my way through the sixty pounds of cherries I had ordered from the Amish store, I got to the point where I was making jam. On a whim, I minced and tossed a little fresh habanero pepper into my regular cherry lime jam.
Whoa.
It was so good I made everyone in the house come taste it right away. I even made the "I only like jelly I don't like jam" crew try it. Now before anyone gets made at me for making a bunch of kids try habanero jam, I'd like to remind you these are MY kids and they were raised on spicy stuff. Besides, it isn't face-meltingly hot, but it has a little background warmth that you can't get without the little kick of habanero. The lime makes the sweet cherries just that much brighter. I'll keep this short and sweet (like a jar of jam) and tell you that this jam is a real winner. In fact, this jam is one of the best I've ever made. And for those of my family and friends who like things REALLY spicy, I'll be making another batch and doubling the amount of habanero because I love you.
Like a lot of long time canners, I like to make jam that you can't buy in stores… or at least that are difficult to find in stores. I like to make them a little healthier while I'm at it. For this reason, I adore Pomona's Universal Pectin.*
*This is NOT a sponsored post. Pomona's has no idea I exist, but they oughta since I have probably paid their electric bill for a couple months with the amount of their pectin I purchase. The point is that I REALLY believe their product is the best. Seriously.
At first glance, it looks like Pomona's is much more expensive than SureJell or Certo or Ball, but if you break it down, you'll probably find that it is equitable or less costly. How is this possible?
Pomona's Universal Pectin makes three to five batches of jam per box of pectin vs. the other leading brand's one batch per box.
With Pomona's, you can double, triple, quadruple each batch of jam and are limited only by the size of your jam pot, the length of your spoon, and the amount of arm power you have to stir. With the leading brand, one batch and you're done.
Pomona's is designed to be a low or no sugar pectin. The range in recipes usually specifies four cups of crushed fruit to three-quarters of a cup up to two cups of sugar, honey, or agave. You can even omit sugar and use stevia, Splenda, fructose, sucanat, xylitol or nothing at all to sweeten it! With the leading brand, that ratio is turned on its head and is usually SEVEN CUPS OF SUGAR to four cups of crushed fruit. Holy moly. That makes my teeth ache!
So where do you lay your hands on this? My sister and order it in bulk together every spring from a local health food distributor. You can find it at most health food stores, through  iHerb.com, PlumMarket.com, and other retailers. Recently, I got a great price on it from PlumMarket.com. Again? I'm NOT an affiliate of any of those places, I just want to share the love. Sometimes my beloved Amazon.com has it, but that's not always a given!
Before you ask, yes, it probably IS possible to make this with another pectin, but I've designed the jam to work consistently with Pomona's. Feel free to tinker with it and try to make it work with another brand of pectin, it just hasn't been tested!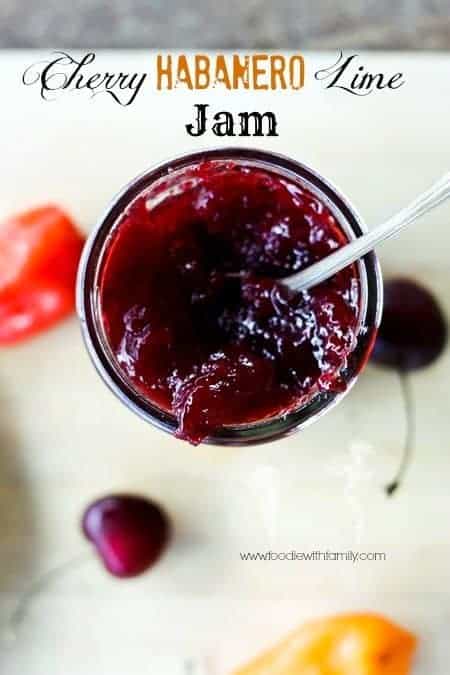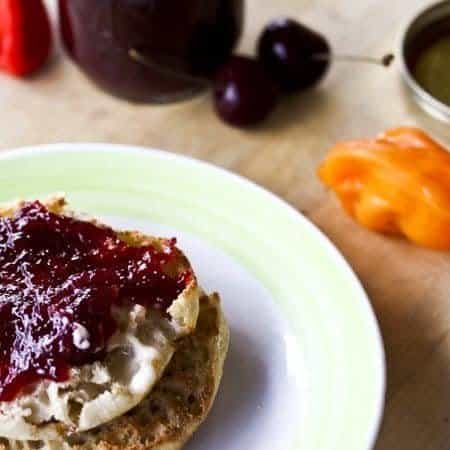 There's no jam like homemade jam and this homemade sweet cherry jam has a little extra kick and sunshine in it courtesy of fresh habanero peppers and lime juice and zest. It's not face meltingly hot, but the gentle warmth from the habaneros will make this jam a welcome addition to the winter breakfast table. The jam also makes a fabulous all-in-one glaze for grilled meats!
Ingredients
4

cups

pitted

crushed sweet cherries

1

to 2 fresh habanero peppers

stemmed and seeded and very finely diced

1/2

cup

fresh lime juice

zest of 2 limes

2

cups

sugar

I used raw sugar, but granulated sugar is also fine here.

4

teaspoons

Pomona's Universal Pectin powder

4

teaspoons

Pomona's Calcium Water

mix is included in packages of Pomona's Universal Pectin
Instructions
Measure your prepared fruit (including the habaneros) into a deep jam pot (remember it will bubble and foam and expand in size greatly as it boils!) with the lime juice and calcium water. Stir it well. Bring the fruit to a boil, stirring frequently to prevent sticking or scorching.

While the fruit is coming to a boil, measure the sugar and pectin powder in a clean, dry bowl and whisk it together. Set aside.

When the fruit comes to a full boil, stir the sugar/pectin mixture in all at once and stir HARD for 1 to 2 minutes to dissolve the sugar and pectin. Return the mixture to a boil and immediately remove from heat then stir in the lime zest.

Fill prepared, sterile jars to within 1/4-inch of the top. Wipe the rims clean, fix new, two-piece lids in place and screw the rings to fingertip tightness. Place filled jars in a canner filled with boiling water so that they are covered by at least an inch of water. Return the mixture to a boil and boil for 10 minutes. Turn the heat off after 10 minutes of boiling and let the jars stand in the water for 5 minutes before transferring carefully to a towel lined counter top or a cooling rack.

Let the jars cool completely before checking the seals. The center of the lids should be sucked down and not pop when pressed gently. Remove the ring from the jars, wipe clean, label clearly and store in a cool, dark place for a year or so. Once a jar is opened, it is good for about 3 weeks, tightly covered in the refrigerator.
Nutritional information is an estimate and provided to you as a courtesy. You should calculate the nutritional information with the actual ingredients used in your recipe using your preferred nutrition calculator.