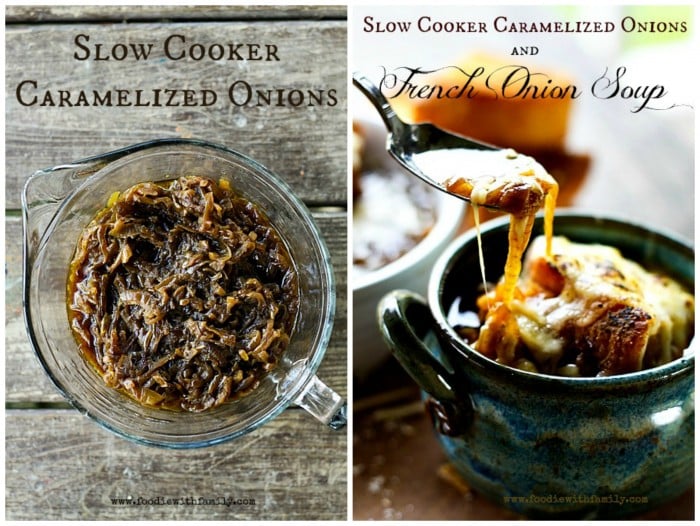 Do you love caramelized onions as much as I do? They're one of those foods that make my eyes roll back into my head just a little bit every time I eat them. They're not at all like the raw onions from which they transformed. This is another piece of culinary alchemy… the long, slow application of heat to a raw, fiery onion to transform them into something meltingly tender, sweet, savoury, and subtle.
I love to tuck them into sandwiches, toss them onto pizzas and salads, stir them into pasta or chip dip, and bake them into bread and stuffing. I use them at least twice a week and sometimes more. I always have a supply on hand for whatever caramelized onion whim might strike.
How do I keep these deep brown, fragrant beauties on hand when they take so long to make?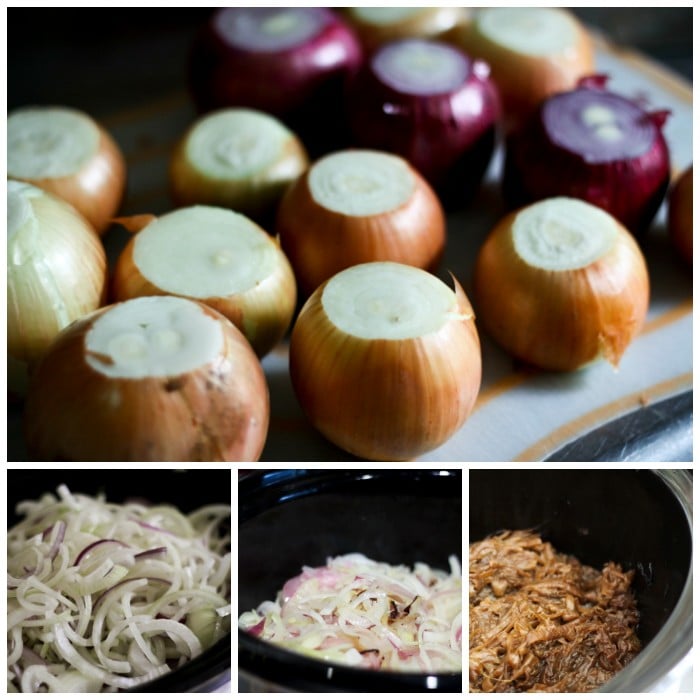 I employ my slow-cooker and make mega-batches. The slow-cooker is the perfect onion-caramelizing vessel for a multitude of reasons.
It cooks at a low enough temperature that after a good stir an hour in, and another good stir three hours into the cook time, you don't have to mess with it any more. Bonus: no need to stand stirring at the stove when you could sit sipping tea and reading books!
It holds a whole mess of onions (technical term) which makes it ideal for big batches of caramelized onions which is really the only logical way to make them because if you're cooking it for that long, you want a lot to show for it, right?
If you want, you can just remove half of the onions at the end of the cooking time, add the remaining ingredients for your French Onion Soup directly to the caramelized onions in the slow cooker, and let it heat up while you prepare your croutons. Voila! Almost instant soup with only one pot dirtied. That is a very nice thing indeed!
I'll admit it, it smells deliciously and strongly of caramelizing onions while it cooks. Just plug in your slow cooker outside. I do this all the time to keep myself from feeling ravenous while it cooks. It also helps keep my super-sniffer husband from being overwhelmed by the smell. Can't just move your stove outside, can you?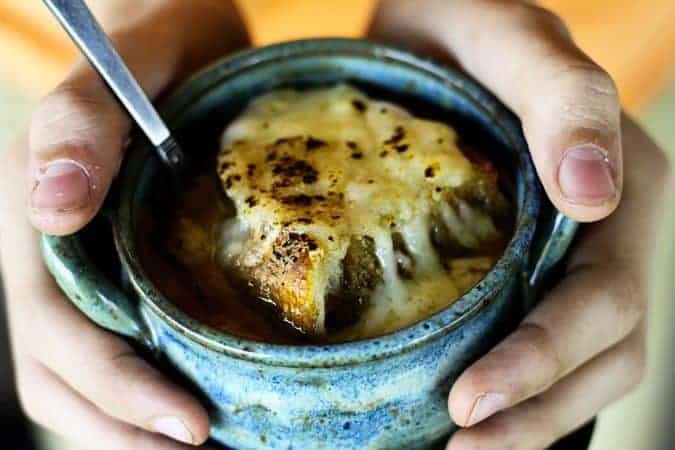 How do I make French Onion Soup from these caramelized onions?
Are you ready for the easiest French Onion Soup recipe of all time? Take half of the onions you caramelized and put them in a pan with 1 1/2 cups each of beef broth and chicken broth, a splash of red wine, and heat it up.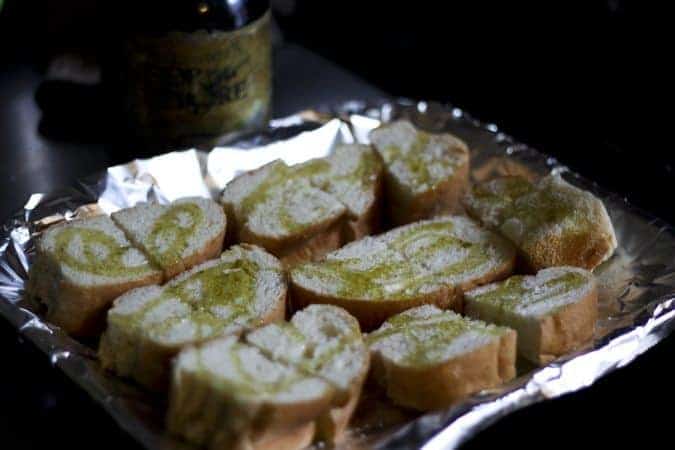 Make some big soup croutons from thick slices of French bread, drop one on a bowl of the soup, cover with grated or thinly sliced Swiss cheese and pop under the broiler until melted, bubbly, and browned in places. Ta da!
Things to make or do with caramelized onions other than French Onion Soup
Caramelized Onion Mashed Potatoes (just stir the onions into your finished mashed potatoes for a flavour explosion!)
Caramelized Onion and Feta Pizza.
Caramelized Onion Grilled Cheese Sandwiches. Just whoa. These are mind bendingly good.
Top a baked potato for mega taste with few calories and little fat.
Mash up with softened cream cheese and cracked black pepper for the ultimate veggie dip.
Serve on thin slices of toasted chewy bread with goat cheese or cream cheese for a gorgeous appetizer.
Toss them with freshly cooked hot pasta and top with grated Parmesan cheese .
Roll out your favourite bread dough, spread a layer of caramelized onions on top, roll it up, let it rise, and bake it.
Top a focaccia with caramelized onions and serve wedges with your favourite soup.
Strew them over the meat in your next deli sandwich.
Serve as a condiment with your next grilled steak, chicken, or pork chop.
What's your favourite way to eat Caramelized Onions?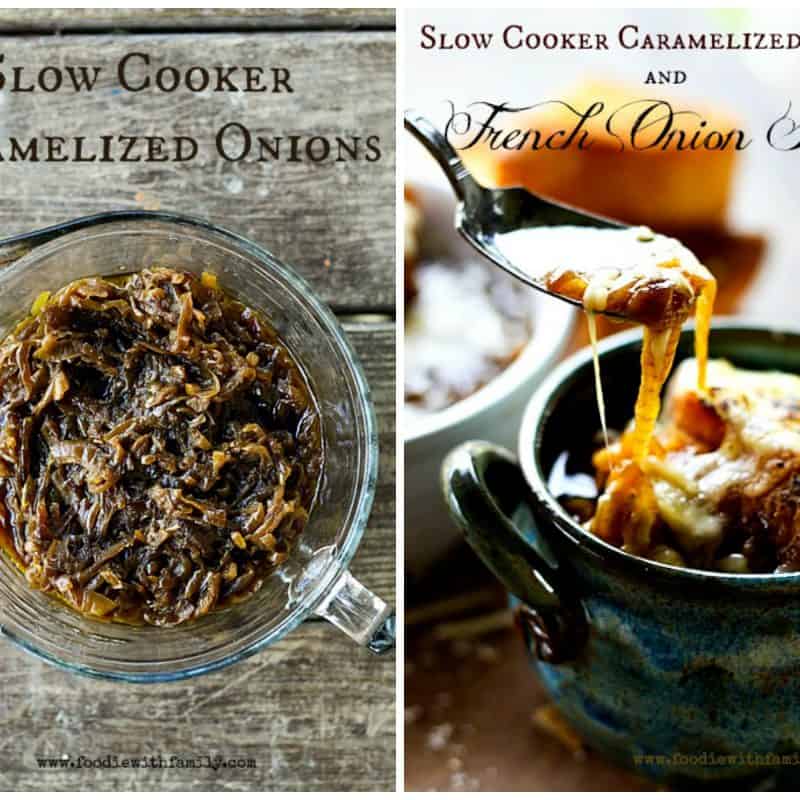 Slow-Cooker Caramelized Onions & French Onion Soup
Rate Recipe
The slow-cooker is the ideal way to make big batches of luscious, brown, meltingly tender Caramelized Onions for whatever purposes you like them. Included is my recipe for perfect French Onion Soup using the caramelized onions as a base.
Ingredients
For the Slow Cooker Caramelized Onions
12

small to medium sized yellow onions

3

medium sized red onions

6

tablespoons

olive oil

1/2

teaspoon

kosher salt

1/2

teaspoon

dried thyme
For the French Onion Soup:
1 1/2

cups

beef broth

1 1/2

cups

chicken broth

kosher salt and black pepper to taste

6-8

slices

French bread

1 to 1 1/2-inches thick each

olive oil for drizzling

6-8

thin slices Swiss cheese

or 1/4 pound grated Swiss cheese, or more to taste
Instructions
To Make the Slow Cooker Caramelized Onions:
Halve, peel, and thinly slice all of the onions. Drizzle 2 tablespoons of the olive oil over the bottom of the slow-cooker's crock. Add about half of the onions, sprinkle about half of the salt over the onions, drizzle another 2 tablespoons of the olive oil, and repeat with the remaining onions, salt, and olive oil. Sprinkle the thyme over everything and then use tongs to toss the contents so the onions are evenly coated with oil. Place the lid on the crock, turn the heat to HIGH, and let it cook for 9-10 hours, stirring and flipping the contents from bottom to top after 1 hour and again after 3 hours. After those stirs, you should not need to keep agitating the contents of the slow cooker unless your cooker runs hot. If you know it runs hot, it wouldn't hurt to move the onions around every couple of hours to prevent scorching. When the onions are deep golden brown to medium brown, turn the slow-cooker off and portion out the onions into freezer safe containers. I tend to do one batch big enough for French Onion Soup, and two smaller containers for pizzas, flatbreads, sandwiches, and whatnot.
To Make the French Onion Soup:
Preheat the oven to 400°F.

You can either remove half of the caramelized onions from the slow cooker and finish making the soup in the crock or you can transfer half of the caramelized onions to a pot to make the soup. Either way, add the beef and chicken broths to half of the caramelized onions over HIGH heat.

While the soup heats, drizzle the bread slices with olive oil on both sides. Depending on the size and shape of the bowls you will be using to serve the soup, you may have to trim the bread to fit. Toast the bread in the preheated oven for about 6 minutes, flipping halfway through the time, or until golden brown and crisp on both sides. Set aside.

When the soup is steaming hot, but not boiling, taste the broth and adjust with salt and pepper if necessary. Ladle the soup into broiler-safe bowls, top each bowl with one or two croutons. Top each crouton with a slice of Swiss cheese or a generous handful of grated Swiss cheese. Put the bowls under the broiler until the cheese is melted, bubbly, and browned in places. Serve immediately.
Nutrition
Calories:
497
kcal
Carbohydrates:
63
g
Protein:
16
g
Fat:
20
g
Saturated Fat:
5
g
Cholesterol:
17
mg
Sodium:
1007
mg
Potassium:
577
mg
Fiber:
6
g
Sugar:
13
g
Vitamin A:
155
IU
Vitamin C:
24.5
mg
Calcium:
248
mg
Iron:
3.3
mg
Nutritional information is an estimate and provided to you as a courtesy. You should calculate the nutritional information with the actual ingredients used in your recipe using your preferred nutrition calculator.