Icy cold, super thick, fudgsicles frosties smoothies that shock you with their secret ingredients! What makes them so thick and creamy can be your secret! These do great double-duty as fudgesicles when frozen into forms.
I've been on a bit of a blender bender lately. After getting a gorgeous, shiny, powerful new workhorse of a blender, can you blame me?
I am a regular troll on blender recipe sites and found one that sang out, "MAKE ME!" on the recipe portion of the Blendtec website. Fudgesicle Frosty? Sign me up.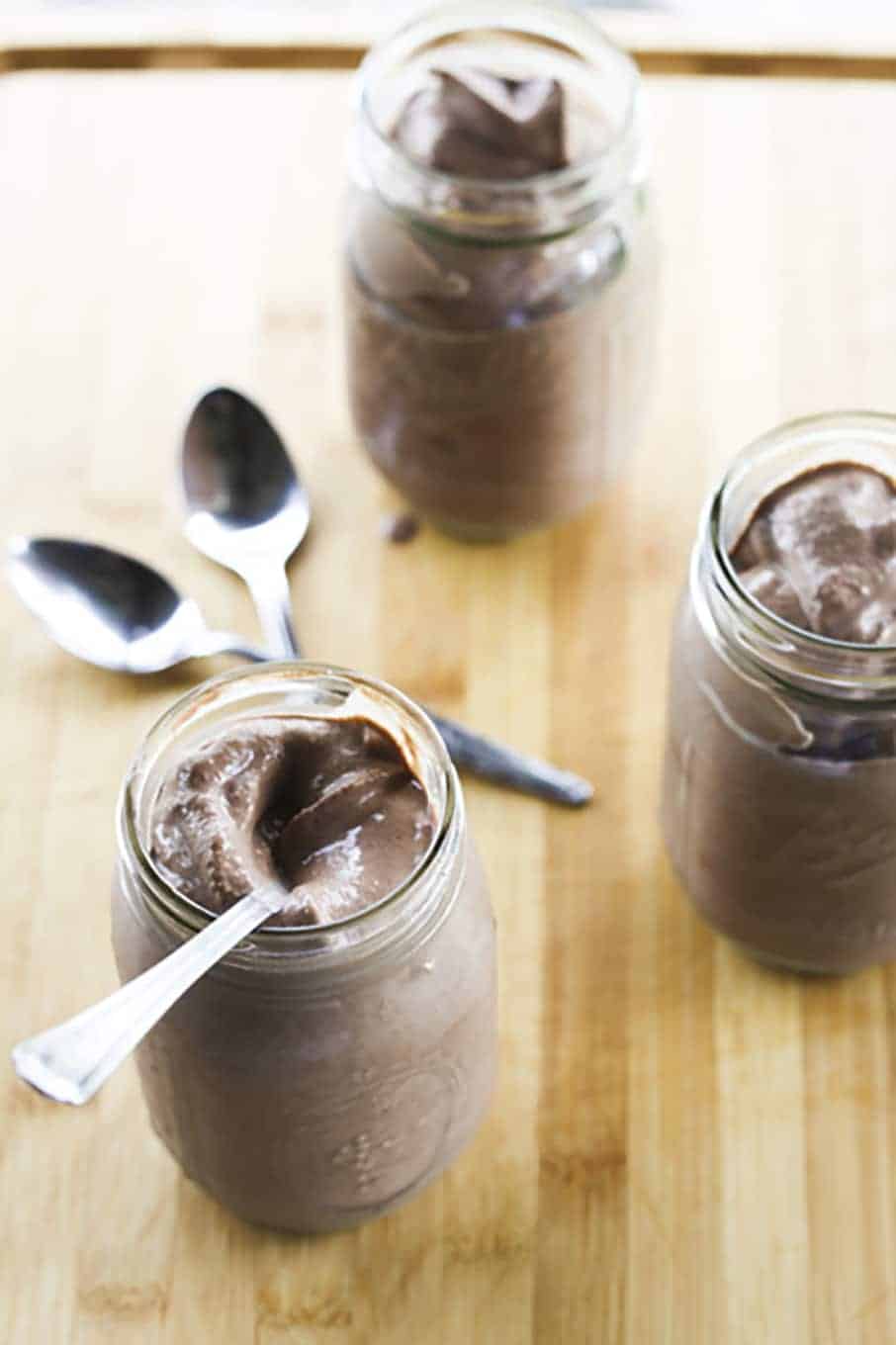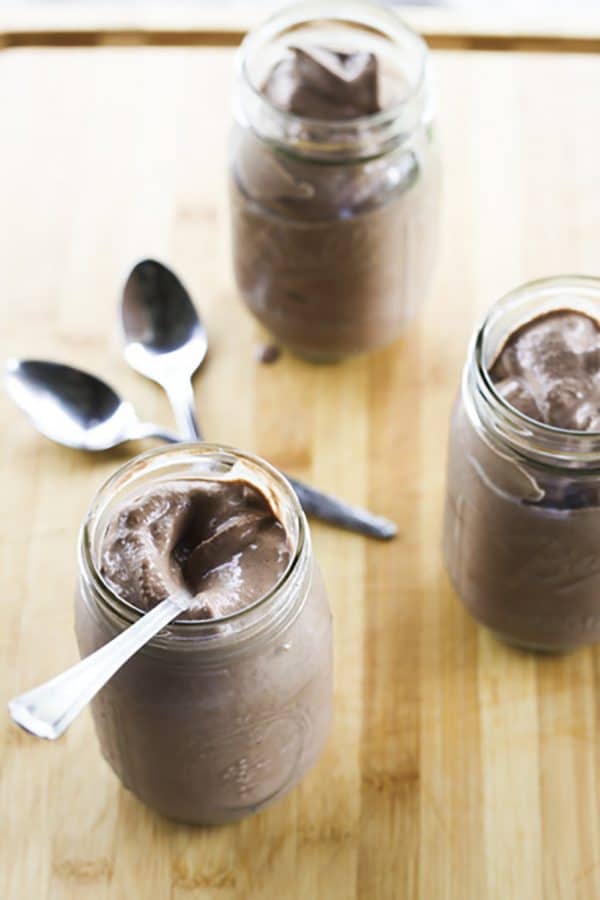 Side note: Try saying blender bender ten times fast after eating a Fudgesicle Frosty. I dare you.
A little tinkering later (because I can) and I poured -scooped, really, because it was so good and thick- two jars full of the smooth, chocolatey, creamy, icy cold mixture, deposited a spoon in each one and sashayed into the living room.
I'm not much given to sashaying. I'm more of a saunterer or, when tired, lumberer. Sashaying means I'm up to something. And I was. Mm hm.
I popped a jar into my husband's hands and casually said, "Hey. Want a Fudgesicle Frosty?" He eagerly took his jar and lit in before catching the fact that I wasn't taking my eyes off of him. "These taste just like Frosties. Hang on. Are you alright?" he asked between bites, "You have a weird look on your face."
I arranged my face so that it looked angelic and said, "Oh, I'm fine! Isn't this goooood?"
And that's when he was fully onto me.
"What is in this thing? It's good, but the way you're looking at me I KNOW something's up." quoth he.
Me: "AVOCADOSCOCONUTMILKCOCOAPOWDERANDDATES." (pause for breath) "ANDABSOLUTELYNOSUGARWHATSOEVER!!!!!!!!!! BWAHAHAHAHAHA!"
He looked from his jar to me and back again. He hesitantly took another bite, worked it around a little and looked at me appreciatively.
"This is really, really good. Are you sure there's no sugar? Seriously? And no cream? I could've sworn this was incredibly bad for me. It really does taste like Frosties. Wow. Do we have any more in the jar?"
I don't mean to imply that my husband doesn't like healthy food, it's just that he has this notion in his head that healthy food has to taste like sacrifice. No bread, no fat, no sweets, no nuttin. I take giddy delight in disproving that notion.
I promise giddy delight in your home, too, if you make these. I modified the Blendtec recipe to increase the number of dates and omit the agave nectar. If you'd prefer it a bit sweeter, you can add the agave nectar back into the mix, but we liked it sweetened with dates only.
Even after The Evil Genius and I both had double servings, we still had some left, and so I did what any self-respecting tightwad would do. I froze it. I didn't freeze it in one giant chunk, however, I froze it in popsicle moulds. The resulting fudgesicles were outstanding.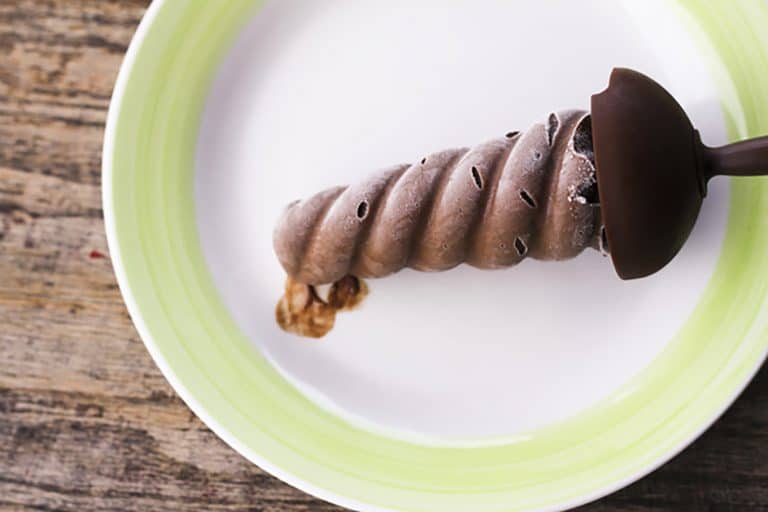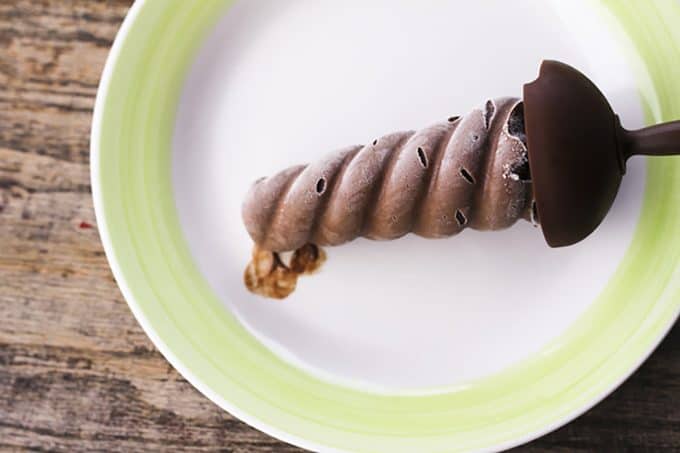 Shortly thereafter, I made a batch of Fudgesicle Frosties and poured them into half pint jars, leaving about three quarters of an inch of headspace in each jar. I lidded and froze those, then packed them as the "ice packs" in a picnic basket to take on a field trip.
By the time lunch rolled around, they were thawed enough to be spooned from the jars and the rest of our lunch was nice and cold. We have already repeated that twice and we are full of plans to repeat it repeatedly and repetitively until the warm weather runs out on us.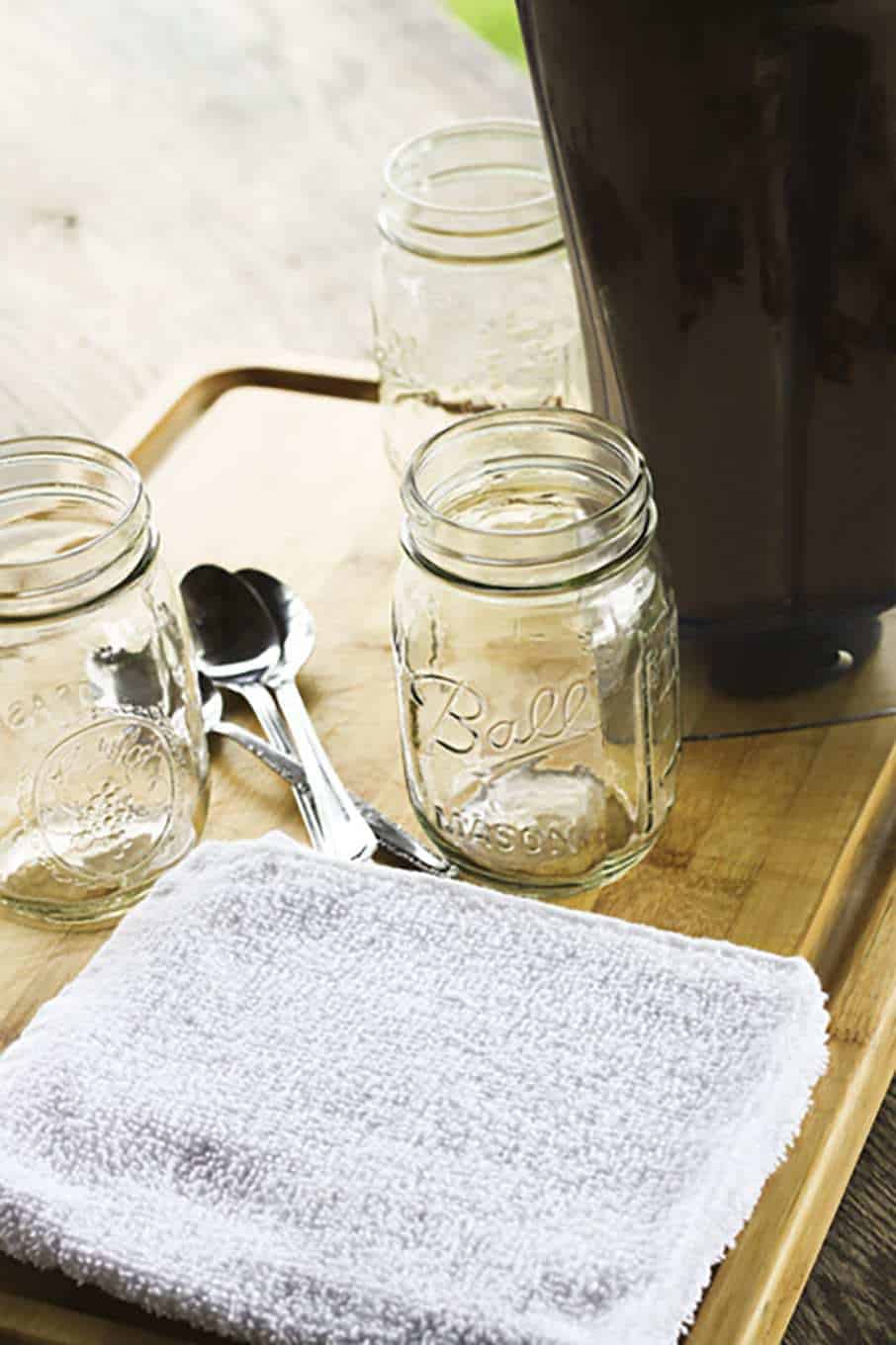 This is my final piece of braggardly behaviour today. You know those kids of mine who won't touch vegetables with a ten-foot pole?
They love these. Can't get enough of 'em.
And if you guessed that I haven't told them what's in them, you're absolutely right. They're still over the moon that mom let them have fudgesicles for breakfast. Let's just keep this between you and me and the fence post, alright?
If you're in the market for more naturally sweetened smoothies or goodies, I've got you covered. Try out our Naturally Sweetened Creamsicle Smoothies and Joy's Prize Winning Secret Ingredient Tropical Icebox Pie.
Frudgesicle Frosties
Fudgesicle Frosties were tested in a Blendtec blender which is probably most most used kitchen appliance through the summer months. That thing could blend a whole chicken if I took a mind to try it… which I won't.
The point is that if you are in the market for a blender, this is the one I'd recommend every single time, price notwithstanding. Yep. It costs more, but it is totally worth saving up for!
If you make this in a less robust blender, make sure the motor isn't struggling. You could also try making it in a food processor if your blender protests.
This is a good place to use a slightly less than perfect avocado if you have one. I don't mean you can use one that is black and mushy, but you can definitely toss an avocado in here that wouldn't pass the delightfully pleasing to the eyes test.
A few folks have mentioned the calorie count in the recipe. Guys. It's a dessert. And honestly, the calories are all good-for-you ones from nutritious sources.
They're not empty calories at all. I will never, ever believe that something is bad for you by virtue of calories.
If you're restricting calories, have a smaller quantity. Fudgesicle Frosties are so worth the indulgence!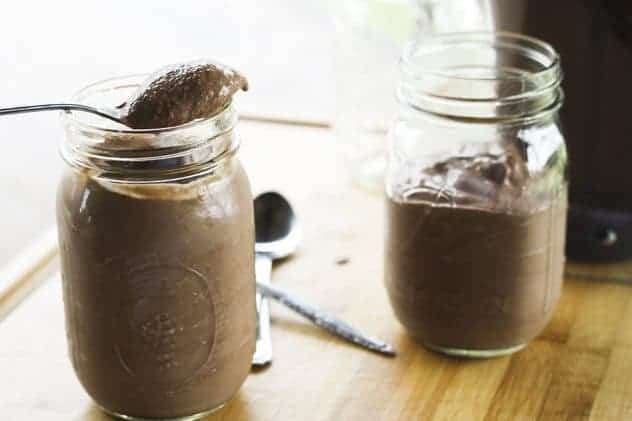 Fudgesicle Frosties (Fruit or Agave Sweetened)
Rate Recipe
Icy cold, super thick, fudgy frosty smoothies that shock you with their secret ingredients! What makes them so thick and creamy can be your secret! These do great double-duty as fudgesicles when frozen into forms. Adapted from
Blendtec Blender Recipes
Ingredients
1

can

13.5 ounces approximately, full-fat, unsweetened coconut milk

12

pitted dates

1/2

of a ripe avocado

pitted and peeled

1/3

cup

unsweetened cocoa powder

3

cups

ice cubes
Optional:
1/4

cup

agave nectar or very mild honey for added sweetness
Instructions
Add the coconut milk, dates, avocado and cocoa powder to the carafe of a powerful blender. Fix the lid in place and blend on high until smooth. You may need to use a tamper to move the ingredients around to get them fully blitzed and smooth. (If your blender does not have a tamper, stop the motor, remove the lid and use a spoon to move it around a bit. When the mixture is smooth, taste it. If you find it is not sweet enough, add the agave nectar or mild honey to taste and blend again until combined.

Add the ice cubes and blend, moving the ingredients around if necessary, until smooth and very thick. Divide into glasses and serve with spoons.
To Make Fudgesicles:
Spoon or scrape the mixture into popsicle moulds or small, disposable paper cups. Add the popsicle handles or sticks and freeze for 6 hours, or until frozen solid.
To Pack for a Picnic:
Pour the blended mixture into half-pint jars, leaving 1/2-inch of headspace in each jar to allow for expansion when it freezes. Place the frozen jars in your lunch bag or picnic basket as the ice-source for your food. By the time lunch rolls around, they should be perfectly spoonable and the picnic lunch should still be chilled.
Nutrition
Calories:
161
kcal
Carbohydrates:
33
g
Protein:
2
g
Fat:
5
g
Saturated Fat:
1
g
Sodium:
13
mg
Potassium:
369
mg
Fiber:
6
g
Sugar:
23
g
Vitamin A:
39
IU
Vitamin C:
3
mg
Calcium:
26
mg
Iron:
1
mg
Nutritional information is an estimate and provided to you as a courtesy. You should calculate the nutritional information with the actual ingredients used in your recipe using your preferred nutrition calculator.

Originally published on June 6, 2012.