Ah, bacon. Is there anything you don't improve? You're great in baked goods, soups, stews, adult beverages, cookies, dip, on meatloaf, popcorn, dipped in chocolate, and much, much more. One of my guys' best-loved ways to eat bacon is candied. In fact, my kids all have t-shirts that say "Bacon is Meat Candy". Okay, I bought those t-shirts FOR them, but they wear them, and that's saying something. What t-shirts do they NOT wear? Well, for starters, they don't want anything to do with the t-shirts emblazoned with "Las Vegas" that my husband brought back from a business trip because -in the words of my eldest son- they "don't want to seem unsavory". Unlike bacon.
Ba-dum-bum.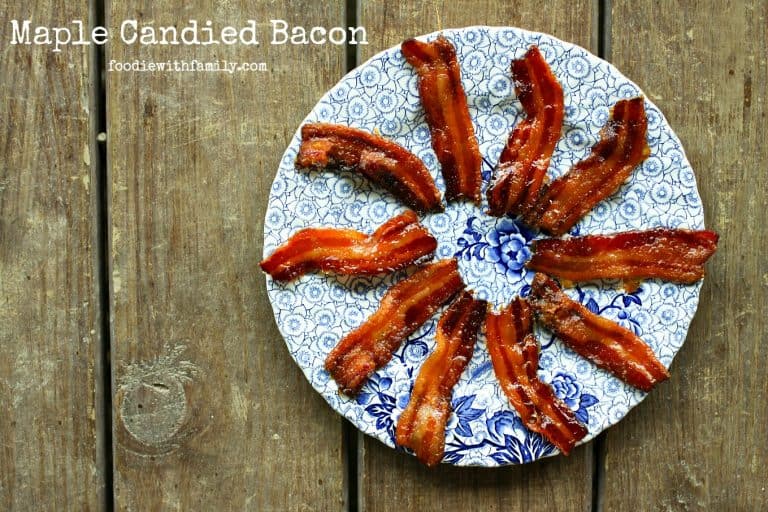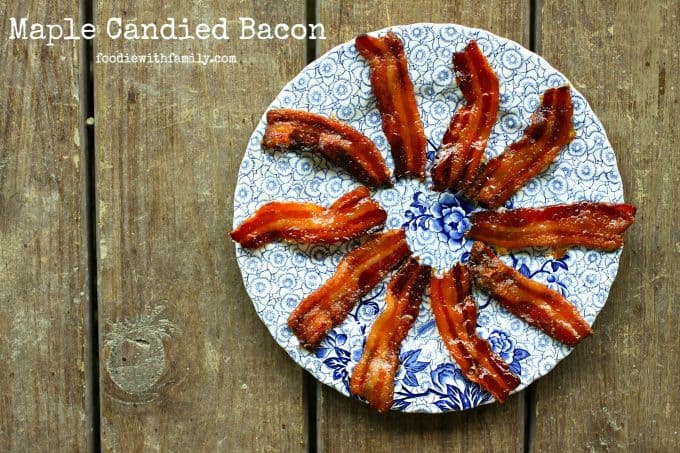 Candied Bacon is a rules-breaker. It's not a main dish, it's not a dessert; it's the perfect snacky amalgam of salty, sweet, chewy, and crunchy and it's pure bacon heaven. And I know perfectly well that you can purchase it at specialty stores, but PLEASE don't just go buy it. We're talking about $6.99 for 3-ish ounces at the lowest prices I've seen. Going to a specialty butcher and buying a pound of GOOD bacon and a 1/2 cup of granulated maple sugar will only set you back $12-ish… maybe you'll be out $20 if you buy a bigger container of maple sugar, but even so? You'll end up with a full pound of stuff that BLOWS away the packaged stuff. And if you DO buy the bigger container of maple sugar, you'll be all set for a recipe coming up very soon that YOU WILL WANT TO BE READY TO MAKE. (That's a very direct hint, friends. Be prepared. Oh shoot, I'm terrible at secrets. It's Maple Frozen Custard with little bits of this Maple Candied Bacon in it.)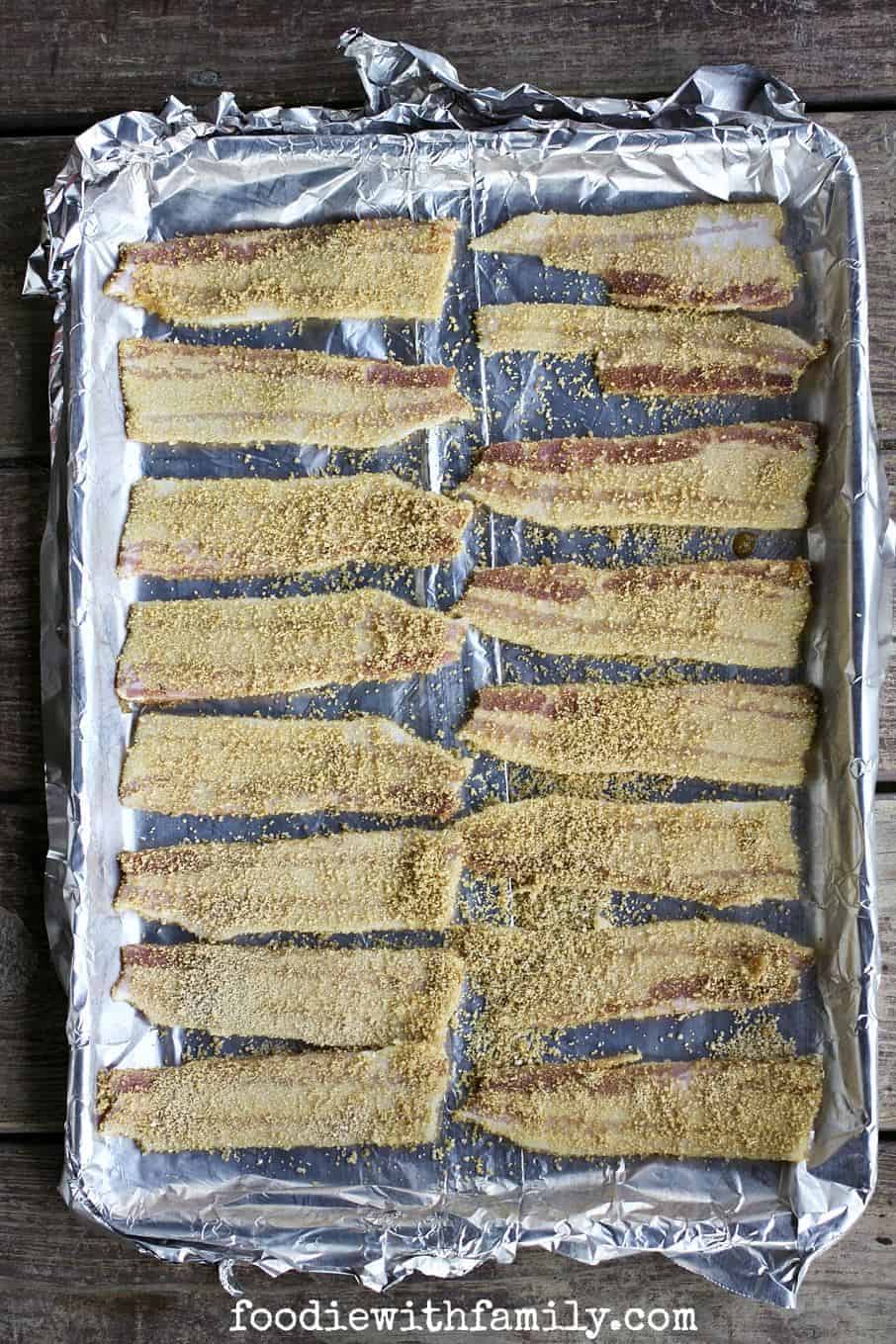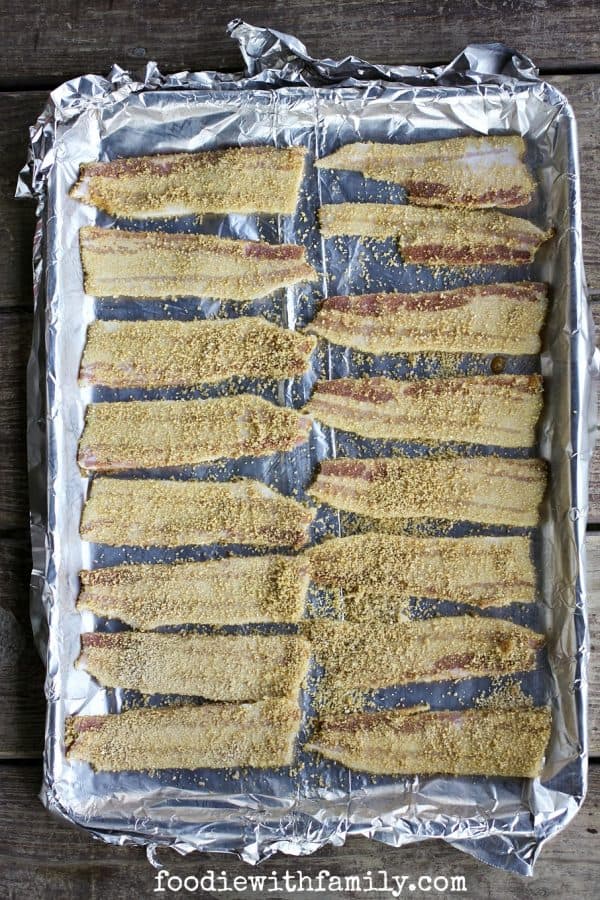 Maple Candied Bacon is almost embarrassingly easy to make. All you do is drag those thick slices of bacon through maple sugar and put them on a pan and stick said pan in a cold oven. Yes. A cold oven. Let's get into these Cook's Notes so you know what's happening!
Cook's Notes
The better the bacon you start with, the better the candied bacon will be. Wherever you get your bacon and whatever your preferred brand, please do use thick cut! That way the sugar is caramelized at the same time the bacon hits perfection.
On the topic of bacon, if you candy homemade bacon (as I did here) you'll be extraordinarily happy with yourself. I surely was.
I most often buy maple sugar locally. There are some great producers around me. When I run out and they have no more for me, though, I am perfectly happy to buy it from my darling Amazon.com. Here's an affiliate link for the one I buy:
Not willing to splurge on maple sugar? You can sub in brown sugar in a pinch, but it won't be Maple Candied Bacon then! Hi! I'm Captain Obvious!
I'm not joking about putting the pan in a cold oven. This helps reduce shrinking and funky misshaping of the bacon as it cooks because it comes up to temperature WITH the oven. Trust me. I bake my 'regular' bacon this way, too. I think you probably will, too, when you see how well this works!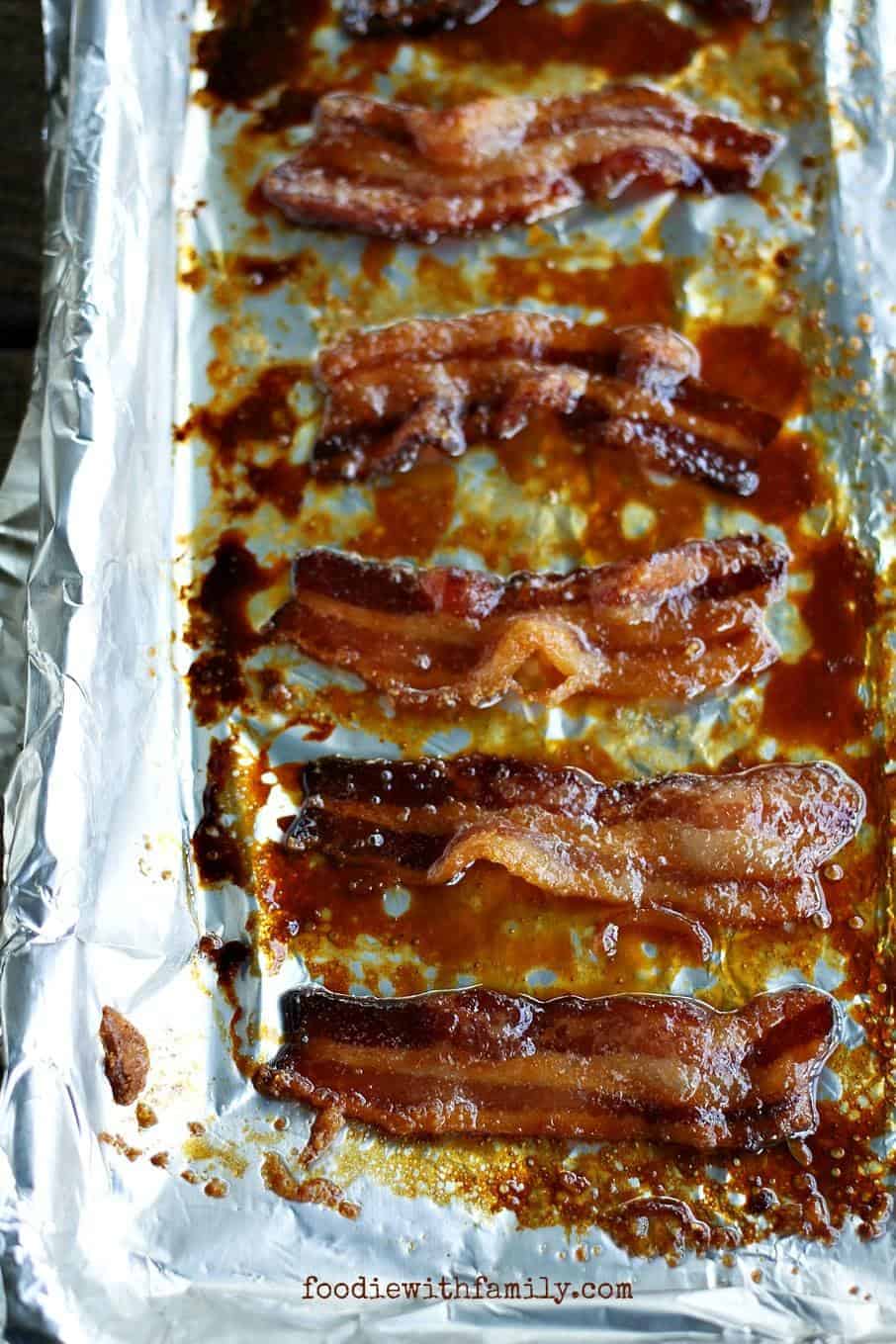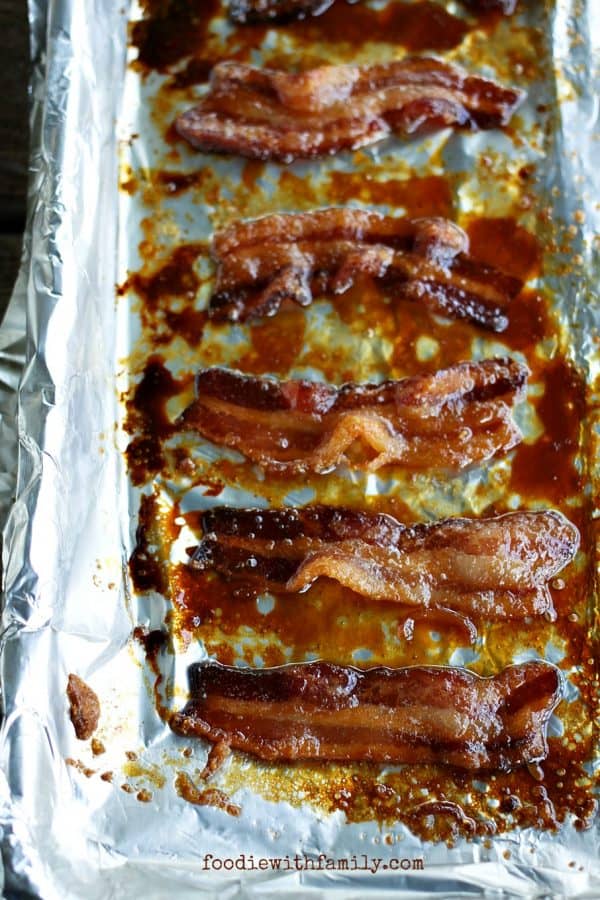 Watch the bacon pretty closely toward the end. It goes from slightly underdone to WHOA CHARCOAL! pretty quickly. It's better to err a little on the underdone side and blitz it quickly in the microwave to finish it than waste a whole batch.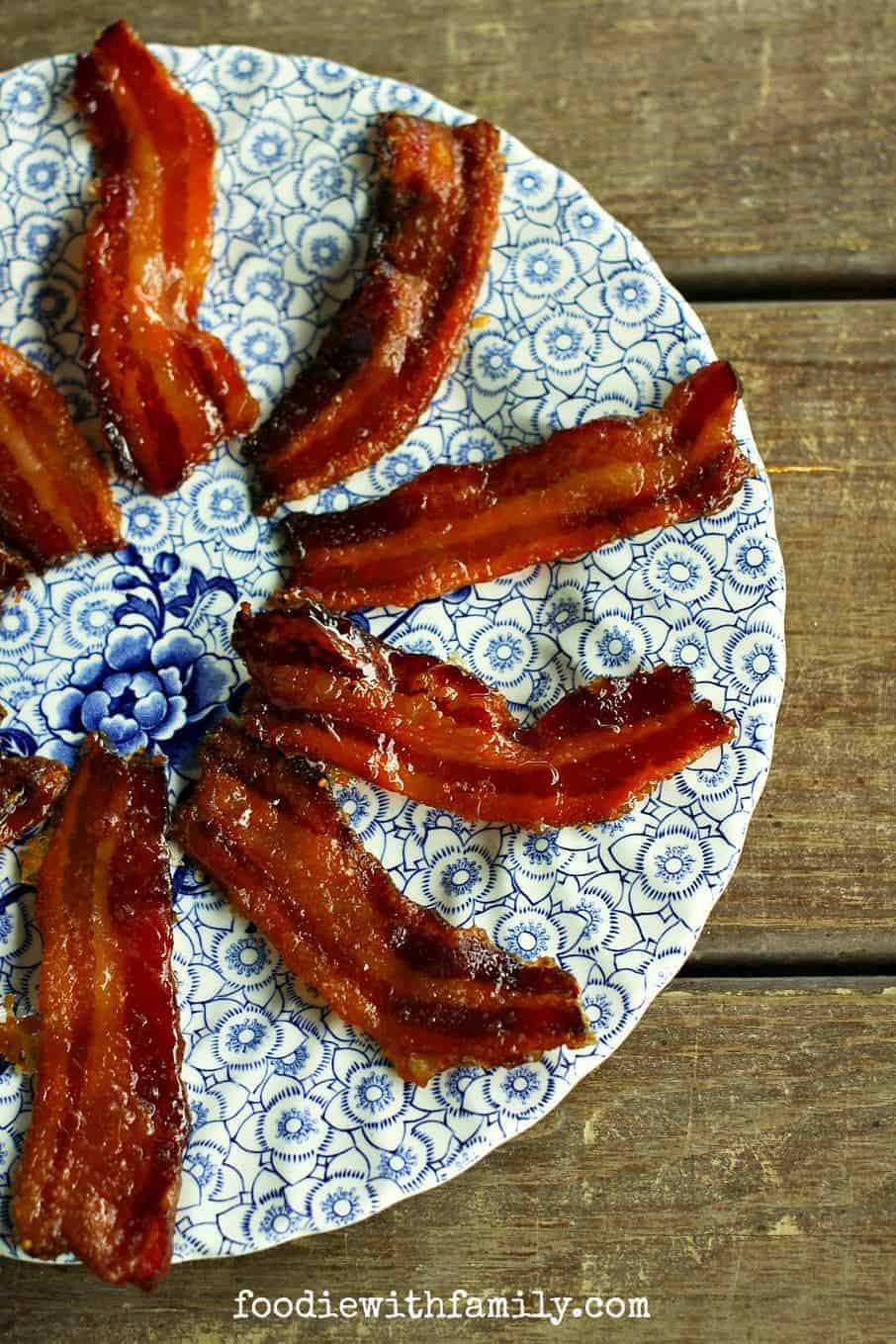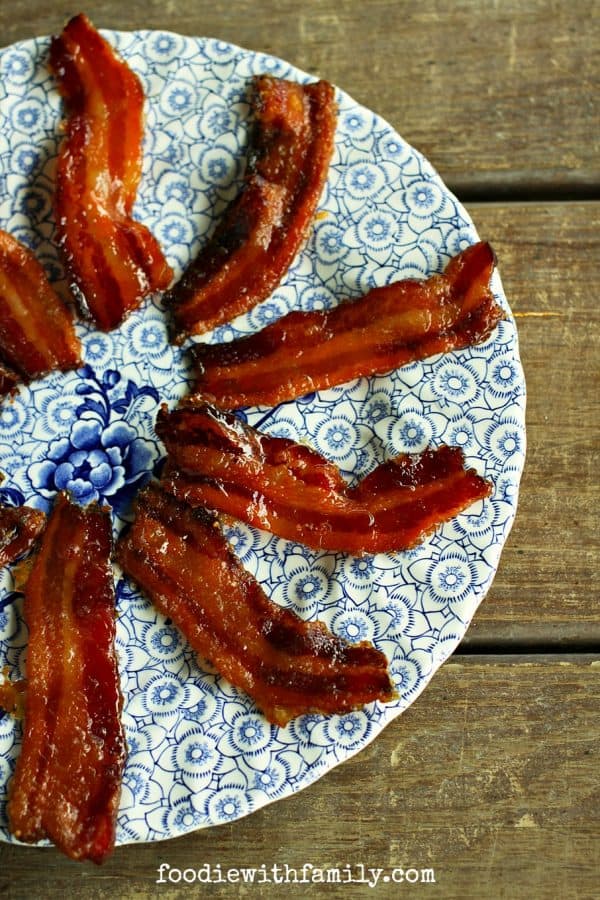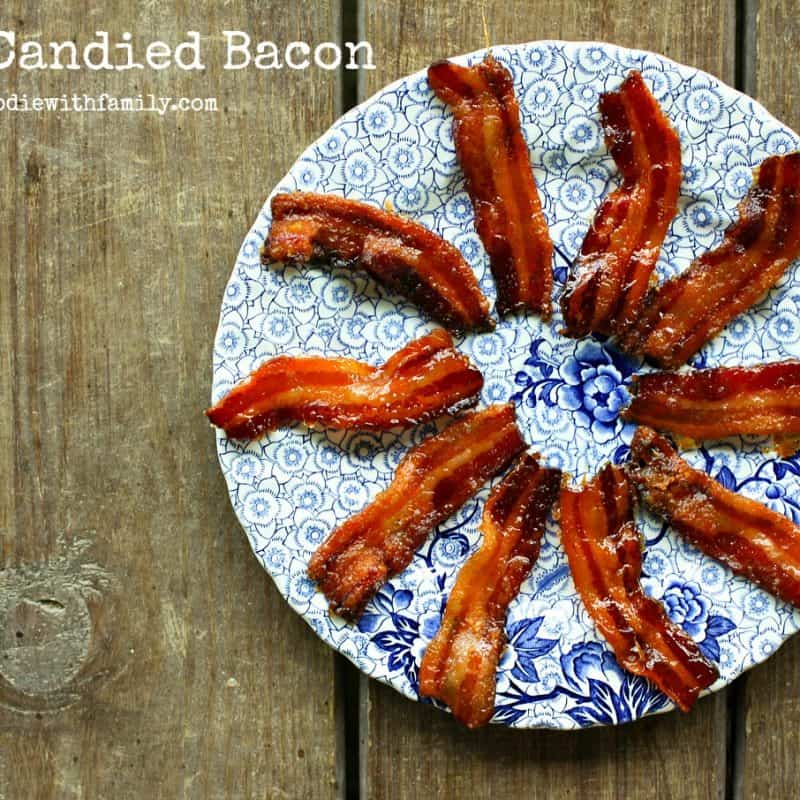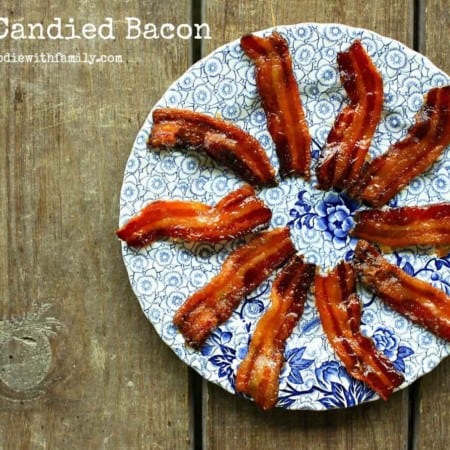 Ingredients
1

pound

thick cut bacon

1/2

cup

granulated maple sugar

Also needed:

heavy-duty aluminum foil
Instructions
Line a half sheet pan with heavy-duty aluminum foil (dull side up!). Pour the maple sugar into a pie plate and dredge the bacon slices through, one at a time, pressing the bacon into the sugar and flipping to coat both sides. Lay them in a single layer on the foil lined pan, arranged so that they don't overlap at all.

Place the pan in a cold oven and set the heat to 325°F. Set the timer for 30 minutes. After 30 minutes, check the bacon. If it is done, it should be a deep mahogany colour and the sugar should be fully melted. Use tongs to transfer each slice, one at a time, to a clean porcelain, glass, ceramic, or pottery plate. Do not eat while hot from the oven or you may burn your mouth with the molten sugar/bacon fat. Let it cool at room temperature. After it is completely cool, you can eat immediately or wrap leftovers in foil and refrigerate for up to three weeks.

Refrigerated candied bacon may lose its gloss. To make it shiny again, place on a plate and microwave, uncovered, for 30 seconds at a time, until shiny again.
Nutritional information is an estimate and provided to you as a courtesy. You should calculate the nutritional information with the actual ingredients used in your recipe using your preferred nutrition calculator.
Save