What do you get when you cube and brown up leftover cooked beef in a cast-iron skillet, scrape that out then sautée onions and peppers, transfer that to a bowl, then build layers of tortilla chips, two kinds of cheese, the browned beef, and sautéed onions and peppers, then bake it until the cheese is melted and gooey? You get a big old, crispy edged, molten cheese, beefy good skillet of Cheesesteak Nachos. That's what you get. And my friends? They're good.
Okay, that's a lie. They're awesome. I mean they're REALLY amazing. They're eat until you hurt good.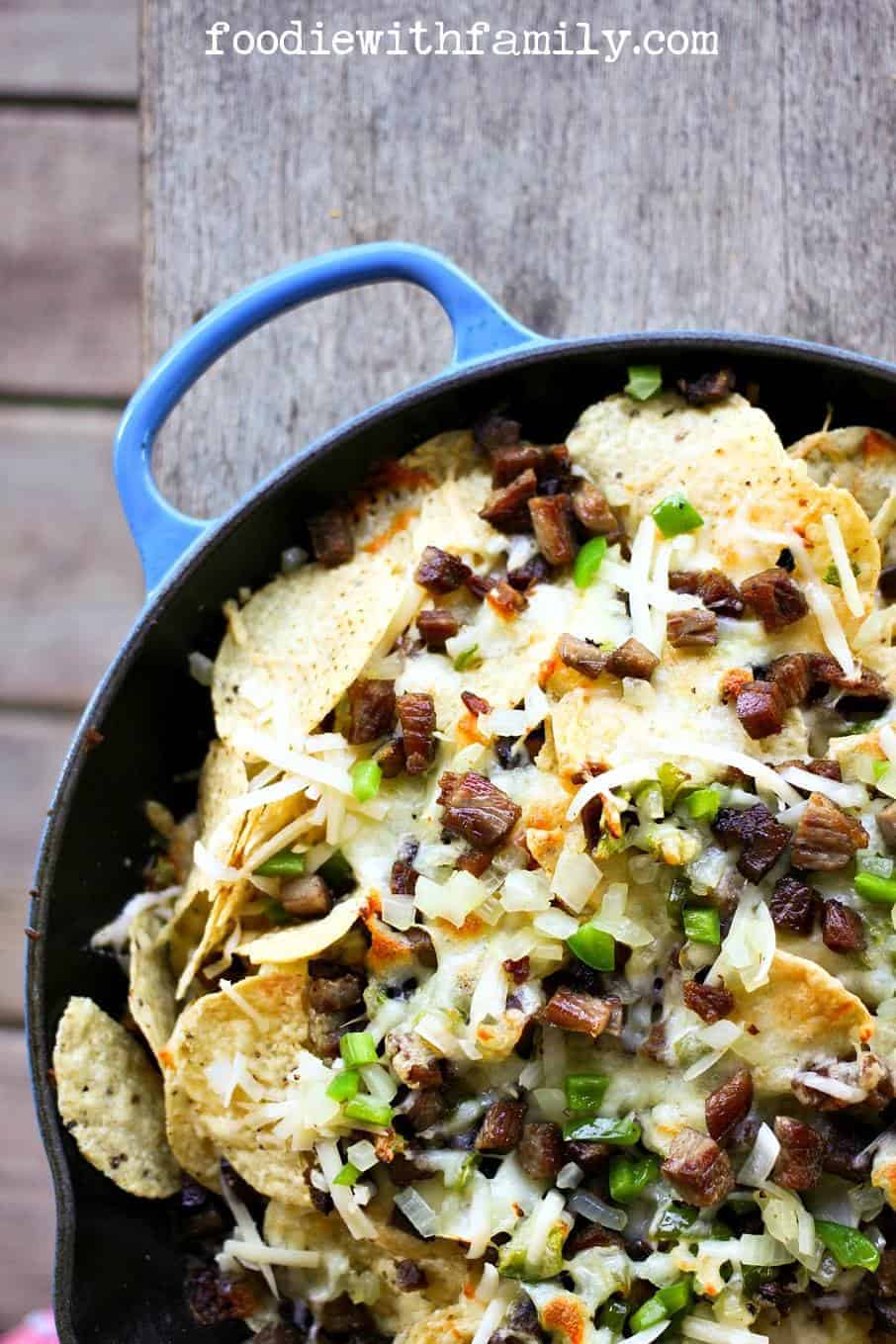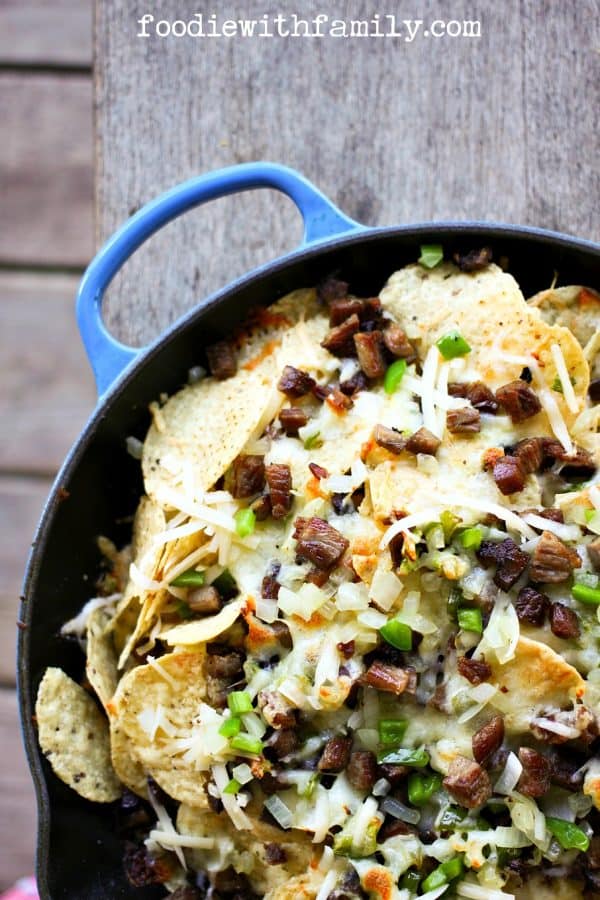 The funny thing is that my three kids who "don't like vegetables" still wanted to try these on for size. Granted, they only had a couple of chips before the vegetable phobia grabbed back 'hold of them, even so… I got them to voluntarily consume SOME green stuff. The other two? The ones who love vegetables? Well, let's just say I'm glad I got my own plate before calling them to the pan, because I wouldn't have stood between them and this skillet for love nor money.
I used leftover smoked beef brisket on these nachos, but I believe it would be straight up fabulous (and probably even more cheesesteak-esque) if made with leftover steak or pot roast. In short, I'm kind of thinking just about any old leftover beef would work beautifully.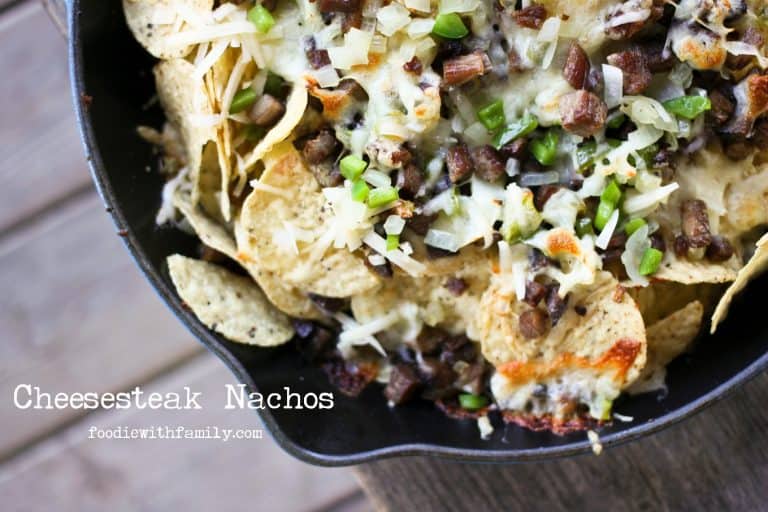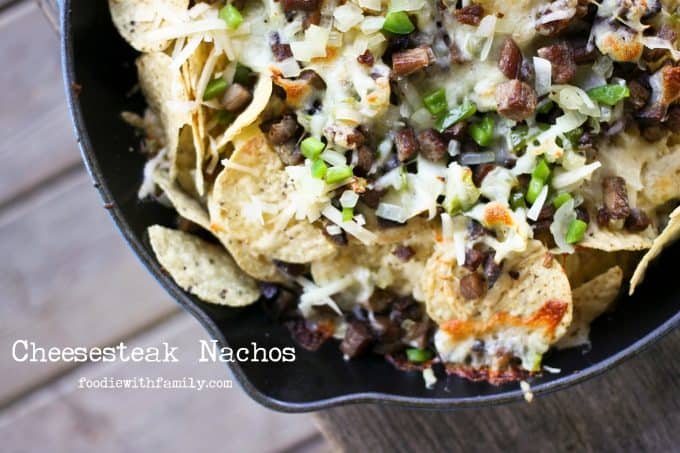 In keeping with my dear stepmom's dictum of "There's nothing wrong with ______ for dinner!" -meaning whatever we had a craving for that night- I declare that there is ABSOLUTELY NOTHING WRONG WITH NACHOS FOR DINNER! I'll admit that I served this with a giant salad, but in my book, that makes this complete! Between the salad and the nachos, dinner took a grand total of 10 minutes of hands on time. Between school and activities starting back up this time of the year, time is more precious than money.
Cook's Notes
I mentioned that I used smoked beef brisket for these nachos, and while that was lovely, I'm certain that using just about any fully-cookedpiece of beef will work beautifully. The deja food treatment would give leftover pot roast, boiled brisket, or steak (leftover steak? What IS this concept?) a whole new glory.
You have some serious options when it comes to cheese. While a traditional cheesesteak is made with a combination of provolone and American cheese (or cheese whiz depending on where you get it), I'm not loving the idea of cheese whiz on me nachos. I kept the provolone and augmented it with a bit of sharp cheddar for bite. Go with whatever combination of cheese makes your heart go pitter pat!
I'm a big old fan of raw onions piled on nachos, but it doesn't really work in this context, so we use the skillet in which we plan to bake the nachos to sautee the onions and green peppers a little first. This lends to the overall cheesesteak-ery of the whole thing.
Speaking of baking nachos in skillets, we need to take a little care in our skillet choice. Be sure to pick one that is oven safe up to 425°F. It should say whether it's oven safe ON the pan… You don't want to fudge on this one or you may find yourself with a bubbling mound of fume-expelling plastic on the floor of your hot oven from a melted handle. Cast iron is a great choice for this dish as is anodized aluminum or stainless steel.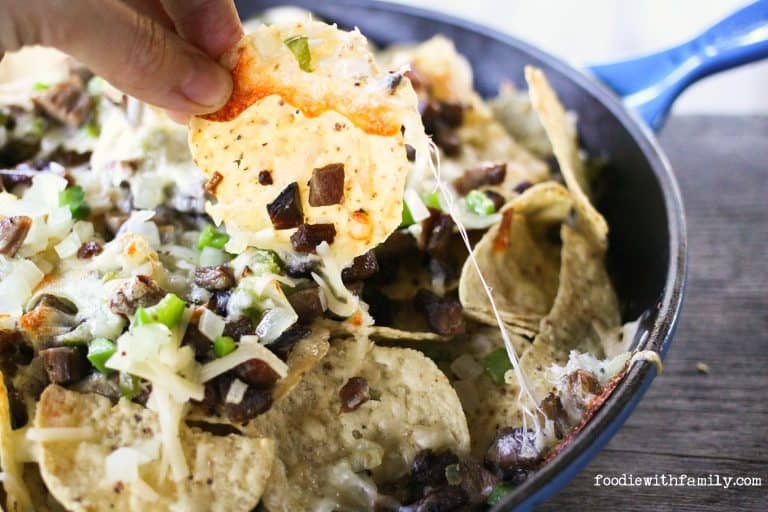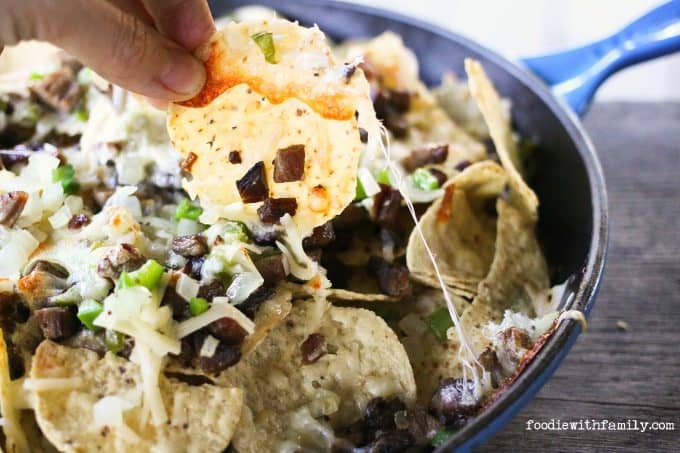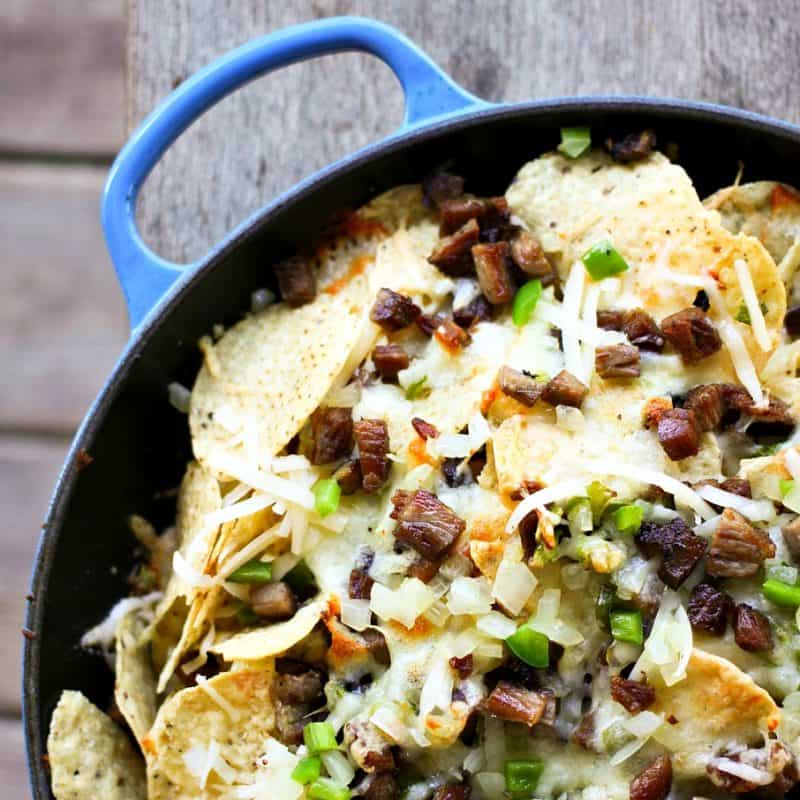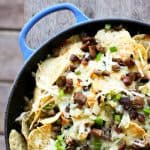 Print
Cheesesteak Nachos
Ingredients
2

teaspoons

vegetable or canola oil

divided

2

cups

cubed

leftover, fully cooked beef

1

onion

peeled, trimmed of the root and blossom ends, and diced

1

green pepper

stem and seeds removed, and diced

1

garlic clove

peeled and minced or pressed through a garlic press

1

bag tortilla chips

3

to 4 cups shredded cheeses

See Cook's Notes
Optional but tasty:
barbecue sauce for serving
Instructions
Preheat the oven to 375°F.

Swirl 1 teaspoon of the oil into a heavy-bottomed skillet over medium-high heat. Add the cubed beef and fry until the beef has some crispy edges, stirring occasionally, for 3 to 4 minutes.Scoop the beef cubes onto a plate, add the remaining oil, and the onion, pepper, garlic, and a pinch of salt and lower the heat to medium low. Cook the mixture, stirring frequently, until the onion is mostly translucent, 3 to 4 minutes. Remove the pan from the heat.

Scoop the onion mixture into a separate bowl and then add about 1/3 of the tortilla chips to the pan.Sprinkle 1/3 of the cheese, 1/3 of the onion mixture, 1/3 of the beef, and then repeat the layers until you've used everything up.

Slide the pan into the oven and bake for 15 minutes, or until the cheese is bubbly and golden brown in places on top. Serve hot or warm with a bottle of barbecue sauce.