Check out all of our wonderful Sweet Potato Recipes here!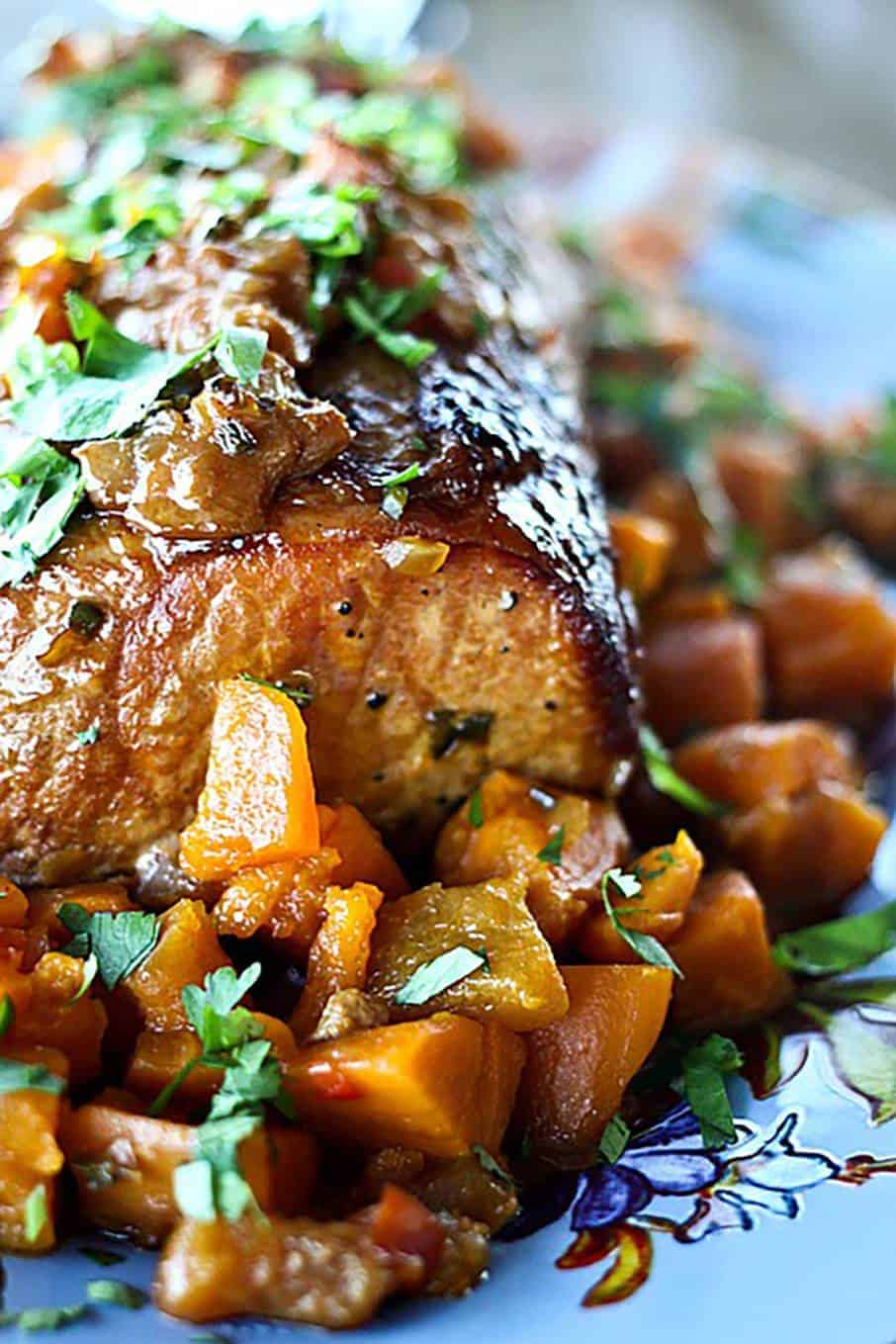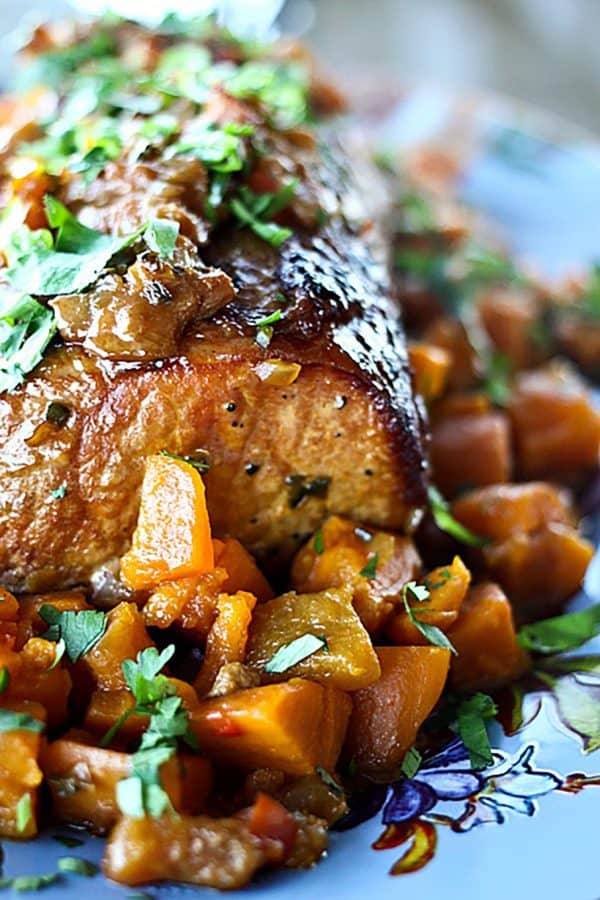 I am at a loss of words.
See that pork roast up there? It's just so… So… So… Perfect.
And the effort that went into it? It's embarrassingly simple. It's the kind of recipe that somehow just doesn't seem like it should work. When my best friend of almost twenty five years (*GASP* 25 years?) told me about the recipe, I thought, "Sounds convenient and tasty. I'll have to give it a try!" but at no point did I think it was going to come out of the slow-cooker looking and tasting worthy of the most discerning company.
It all starts with a simple boneless pork roast, sprinkled all over with salt and pepper, browned on all sides in a pan*, then nestled on a bed of cubed sweet potatoes and topped with a jar of peach salsa. The lid and heat are applied for a handful of hours, and at the end of it, you get a perfectly done, fork-tender, moist, garlicky, pork roast with a pan sauce of slow-cooked sweet potatoes and peaches.
*Technically, this is optional. As Ali told me, it depends on "the time and energy available" you have when you're making it. But as she also said, "Searing makes the meat taste much better." She's right, you know. If it's against your religion to sear meat before it goes into the slow-cooker, by all means, don't do it, it won't be awful, but it won't be sublime and it won't be as pretty. (Stepping off my soapbox now.)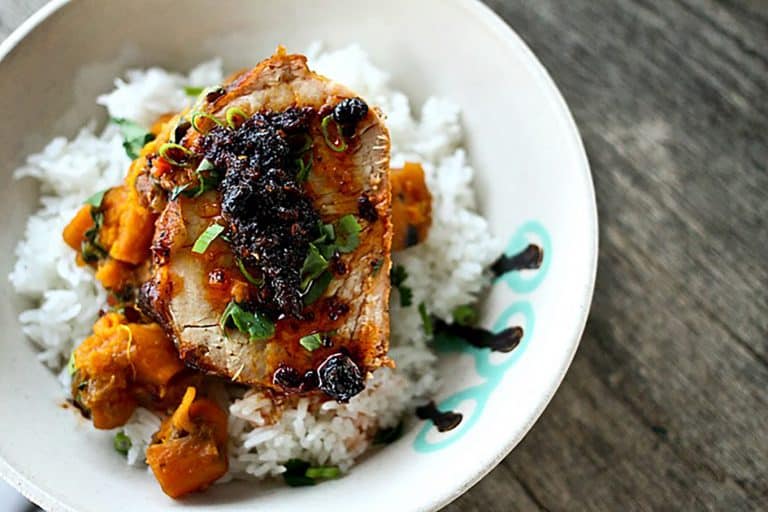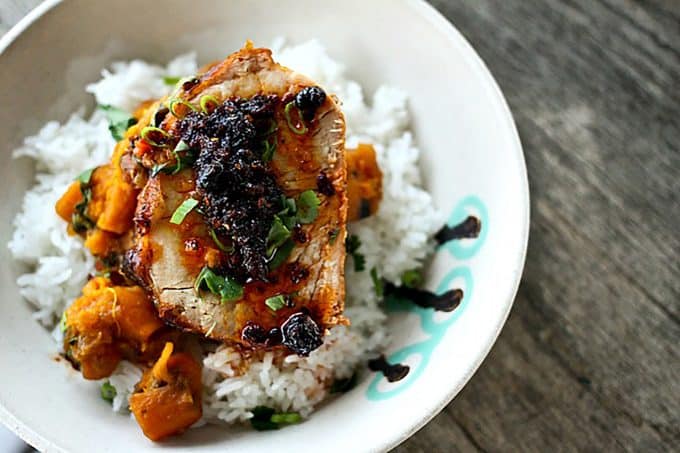 And WHABANG! Hot rice goes into a bowl, spoon some sweet potatoes and peach on top, add a luscious slice of the roast pork, and top with some chopped green onions and cilantro or parsley. If you're feeling like something a little extra special, spoon a little hot chili sesame oil or spicy Chinese black bean sauce. Or both.
This got enthusiastic thumbs up from everyone. EVERYONE. Granted, I surgically removed all traces of sweet potatoes and peaches from the no-veg contingent's servings, but still… EVERYONE. That's no small potatoes (sweet or otherwise).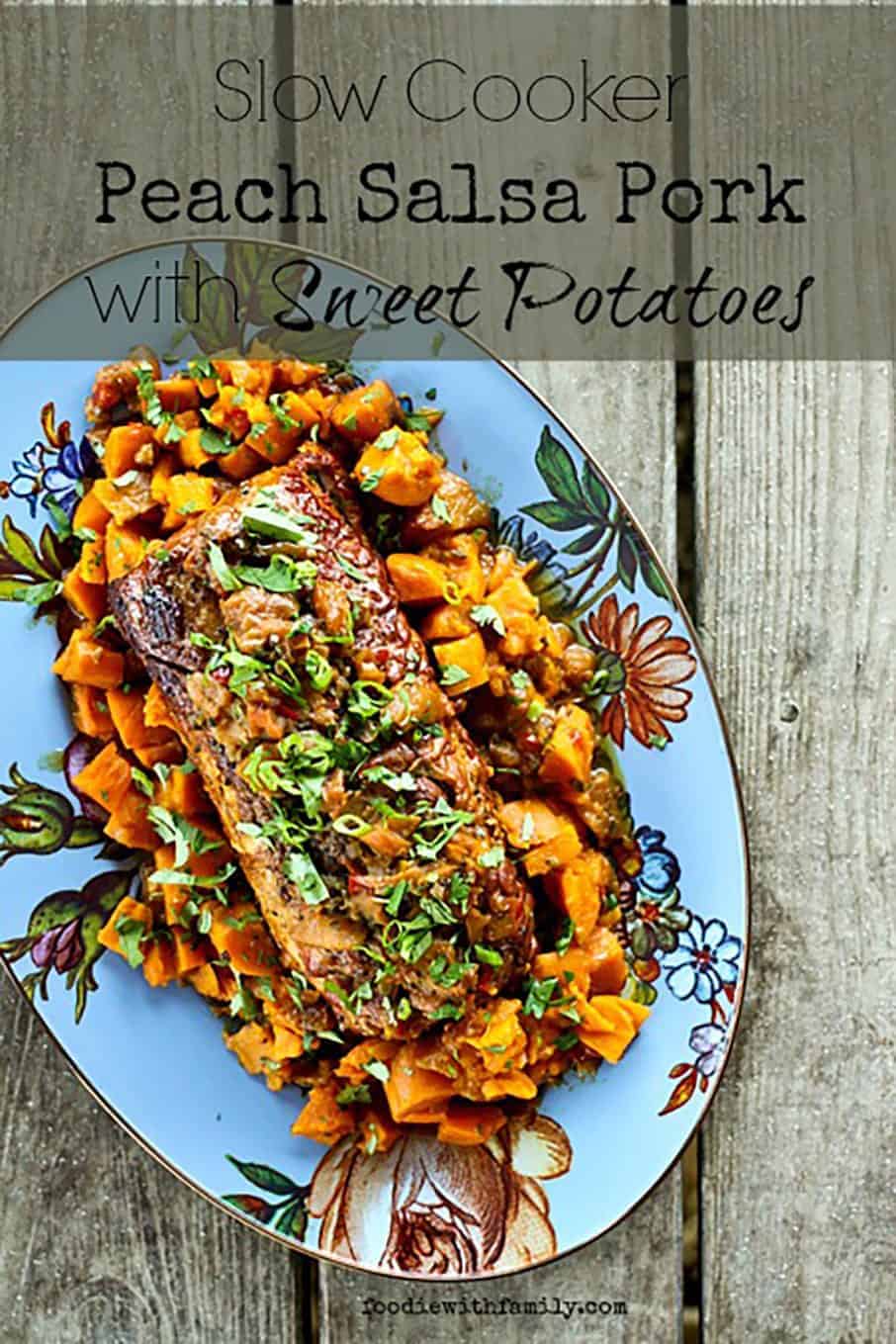 Cook's Notes
Someone always asks whether they can use a boneless roast when I post a recipe for a bone-in cut of meat, so I'm going to assume someone will ask the opposite here. Yes. You can use a bone-in cut. It may take a bit longer to cook, so just factor that in when you are figuring out when you'd like to eat.
PRO TIP: Taste your salsa before you use it. Is it super garlicky and spicy? If it isn't, you may want to boost the garlic and spice quotient in the recipe by adding a handful of peeled garlic cloves and a chopped jalapeno to the slow cooker. If you are blessed with a multitude of peach salsas from which to choose, pick one you'd like to eat straight from the jar that is super flavourful. I use the peach salsa I put up each summer and love it. Trader Joe's makes a DARNED fine peach salsa but it may require a few extra cloves and a minced hot pepper.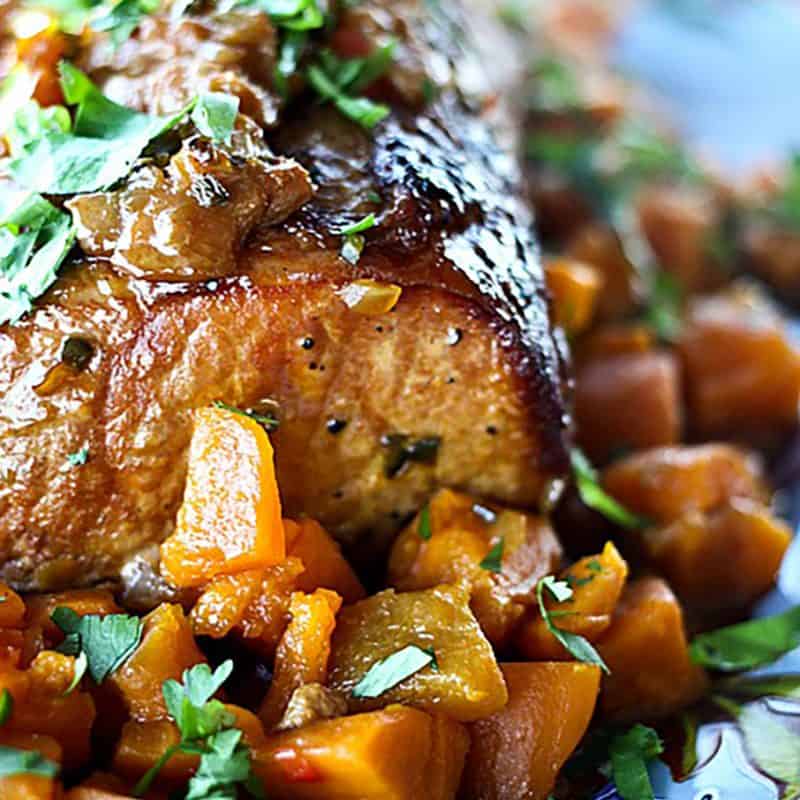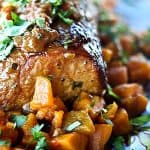 Print
Slow Cooker Peach Salsa Pork Roast with Sweet Potatoes
Perfectly done, fork-tender, moist, garlicky, pork roast with a pan sauce of slow-cooked sweet potatoes and peaches make up this company ready dish. And all this comes from your hand-dandy slow-cooker! Recipe courtesy of Alison Santora.
Ingredients
1

boneless pork roast

2 to 2-1/2 pound

kosher salt and cracked black pepper

1

tablespoon

peanut

canola, vegetable, or olive oil

5

small peeled sweet potatoes

about 1-1/2 lbs, cut into 1-inch chunks

2

cups

peach salsa

*See notes
To Serve:
hot cooked rice

chopped cilantro or parsley

finely chopped green onions

Optional: spicy sesame oil and Spicy Chinese Black Bean Chili Sauce or Chili Garlic Sauce
Instructions
Scatter the cubed sweet potatoes in the bottom of a slow-cooker crock. Put the lid in place and set the slow-cooker to HIGH.

Sprinkle the pork roast generously with kosher salt and cracked black pepper on all sides.

Place a heavy-bottomed stainless steel or cast-iron skillet over high heat. Swirl the oil over the bottom of the pan. Carefully place the pork roast in the hot pan and do not move it until it releases easily from the pan and is deep golden brown on the side that just cooked. Rotate the roast to an un-browned area and repeat. Do this until you have browned the entire surface of the pork roast. Use tongs to set the pork roast on top of the cubed sweet potatoes. Pour the peach salsa over the top, put the lid in place, and cook on HIGH for 4-5 hours or LOW for 7-9 hours. The pork roast is done when it measures 145°F on an instant read thermometer inserted into the thickest part of the roast.
To Serve:
Slice the pork roast in 1-inch thick chops. To plate the dish, add some hot, cooked rice to each bowl, spoon some of the sweet potato and peach salsa with pan juices over the rice, and top with green onions, cilantro or parsley, and -if using- spicy sesame oil and chili sauce.
Notes
*If your peach salsa is very garlicky, it will probably stand as enough garlic in the recipe. If it is mellow, you may want to bump up the garlic quotient by adding about 3 peeled, chopped cloves to the crockpot with the rest of the ingredients.
Nutrition
Calories:
460
kcal
|
Carbohydrates:
21
g
|
Protein:
64
g
|
Fat:
11
g
|
Saturated Fat:
3
g
|
Cholesterol:
172
mg
|
Sodium:
639
mg
|
Potassium:
1524
mg
|
Fiber:
3
g
|
Sugar:
6
g
|
Vitamin A:
12045
IU
|
Vitamin C:
5
mg
|
Calcium:
65
mg
|
Iron:
2.4
mg
This post originally published February 8, 2014.
Save
Save
Save