Love this Korean Inspired Simple Roast Beef? Check out our other fabulous Korean Food Recipes!
Raise your hand if you're on the hunt for a great appetizer for Thanksgiving! Raise your other hand if you want it to be something OTHER than turkey! I know there are a few of you out there who -like me- love that turkey, but need a little variety in the proteins at their Thanksgiving feast. This Korean Inspired Simple Roast Beef is JUST the thing to keep your holiday meals exciting.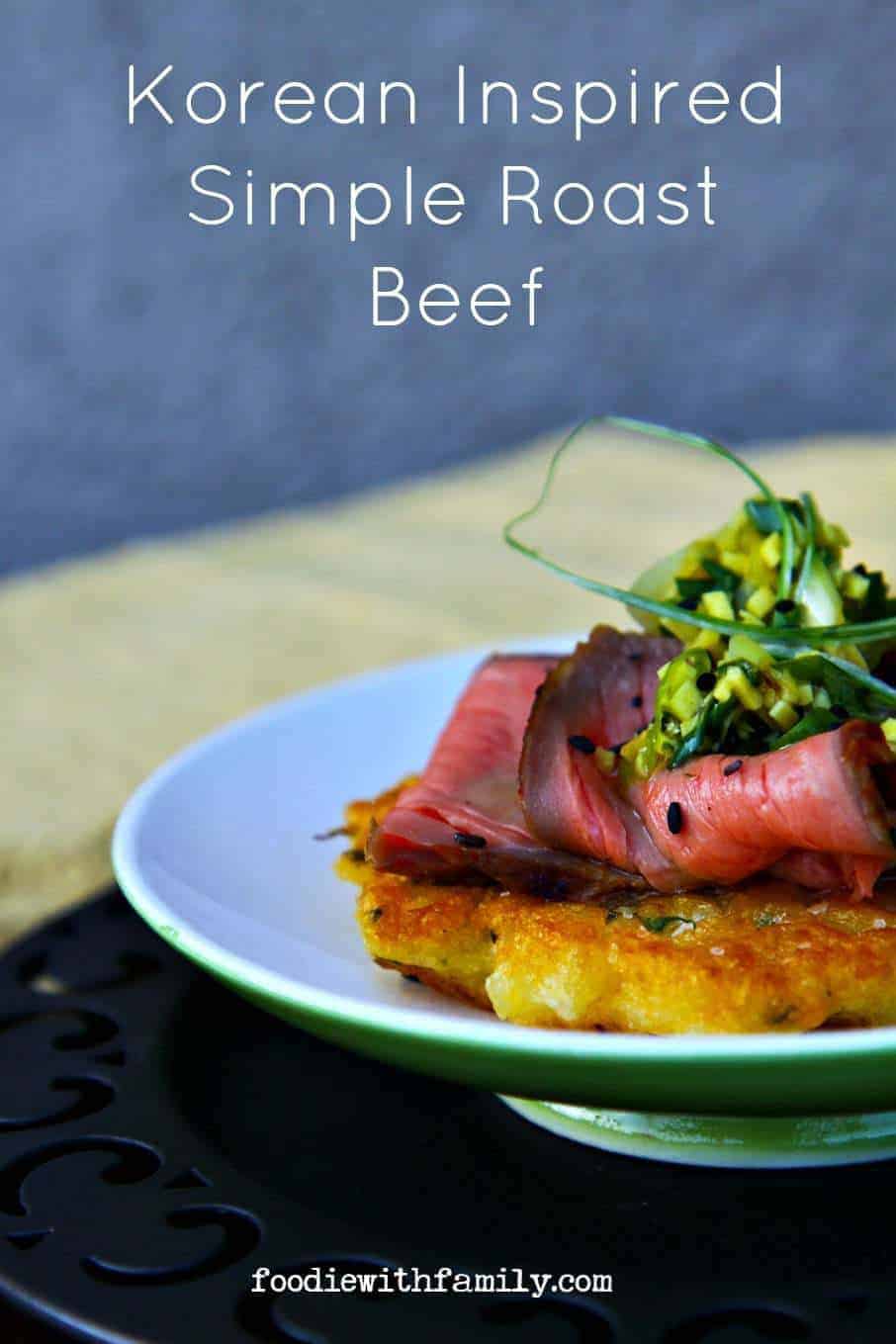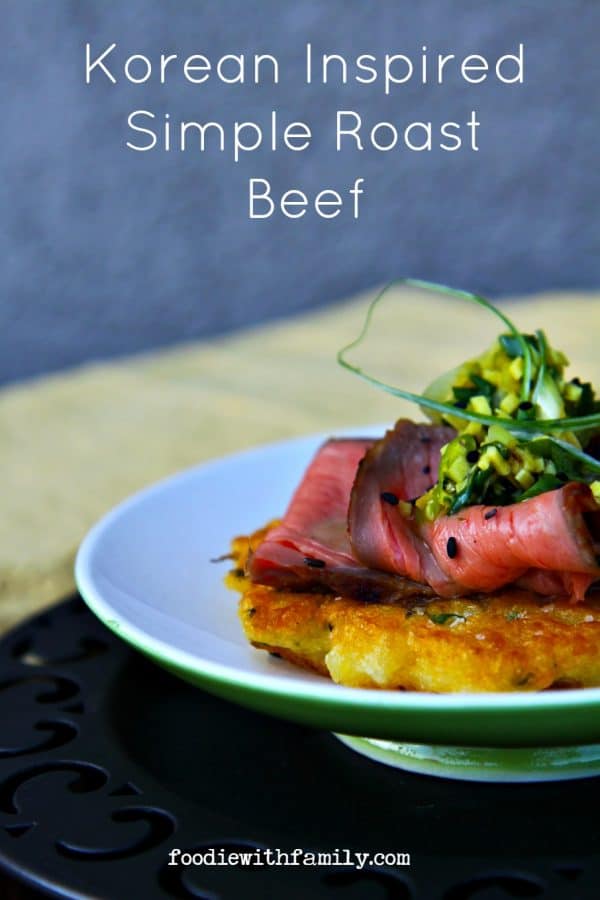 It's versatile, too. You can serve it thinly sliced on Savoury Rice and Egg Pancakes (minus the cheese) and top it with Ginger Scallion Sauce as I have here, or you can slice thinly and serve with cheese and crackers, make lovely sliders with horseradish, or use leftovers with leftover sliced turkey for sandwiches, in pepper steak, or in fried rice. You start with a humble cut of beef -top round- sliced into 1 pound logs (a technique cribbed from the great Chef Michael Ollier of the Certified Angus Beef® culinary team) then dry rubbed in a mixture of brown sugar, salt, Korean chili pepper powder, and black sesame seeds and left to soak in all that goodness overnight. The next day, you simply quickly sear the beef in a cast-iron or heavy-bottomed skillet and roasted quickly to perfection in the oven. After roasting, it's tented with foil and left to rest so the juices can redistribute. The whole searing/roasting/resting process takes about an hour. Easy, easy, easy! And oh, the flavours!!!
Cook's Notes
The method behind taking such a humble cut of beef as Top Round and turning it into a succulent, tender roast is a simple one, but you do need to do two important things.
1) Cut the roast lengthwise (along the grain) into logs that are roughly 1 pound each. This gives you the surface area to let more of the flavours of your rub soak in AND gives you more control over cooking it.
2) When you slice the finished roast, you absolutely, positively MUST slice them ACROSS or against the grain. This shortens the fibers your teeth have to chew, making it more tender. It's not-negotiable!
The rub is comprised of brown sugar, kosher salt, granulated garlic, black sesame seeds, and Korean chili powder. None of these is expensive, but a couple are tough to find, so I've given you Amazon links to each of the trickier products.
Resting the roasted beef is not negotiable! If you slice into it fresh from the  oven, all the juices will run out and you'll have dry, sad roast beef. Patience is rewarded!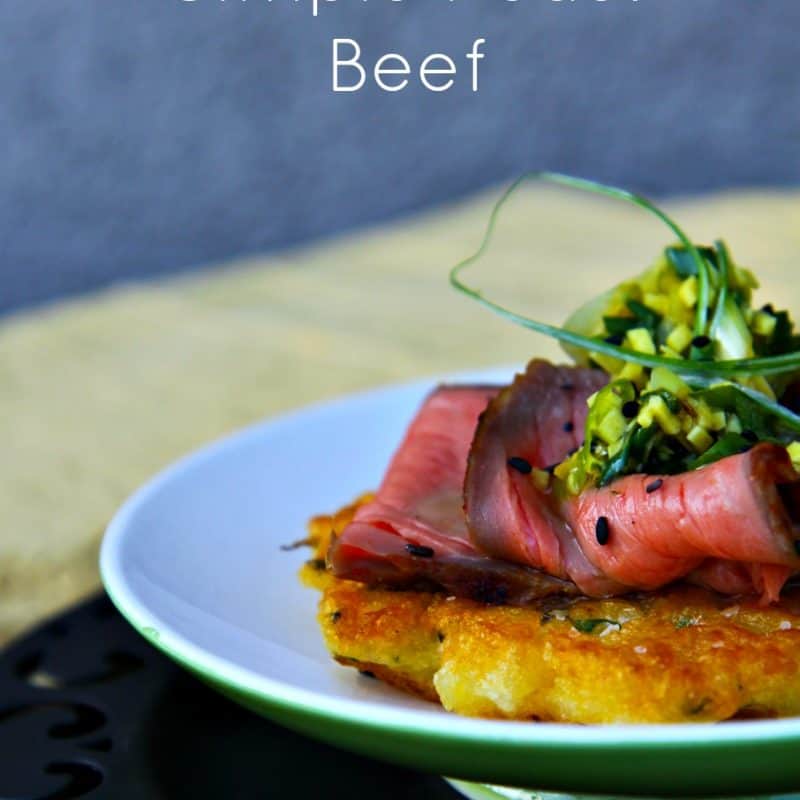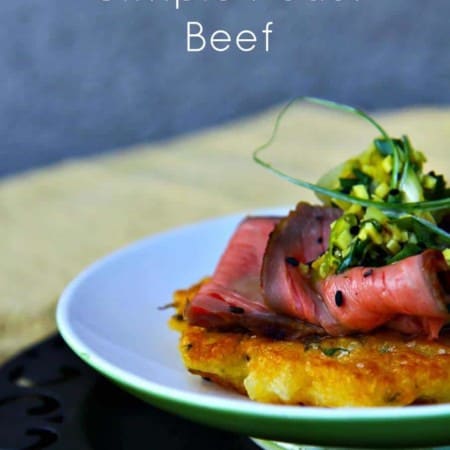 Ingredients
1

top round beef roast

Preferably Certified Angus Beef Brand, about 3 pounds

1/2

cup

brown sugar

1/4

cup

kosher salt

1

tablespoon

Korean chili pepper powder

1

tablespoon

black sesame seeds

2

teaspoons

granulated garlic

1

tablespoon

neutral oil

canola, grapeseed, or vegetable
Instructions
Cut the top round roast lengthwise into 1-pound(ish) logs. Set aside. In a small mixing bowl, use a fork to combine the brown sugar, kosher salt, Korean chili pepper powder, black sesame seeds, and granulated garlic. Rub it all over the the beef logs, put them on a rimmed plate, cover tightly with plastic wrap and refrigerate overnight.

The next day, preheat the oven to 450°F. Position a roasting rack in a roasting pan and set aside.

Heat the neutral oil in a cast-iron or other heavy-bottomed skillet over high heat until shimmering. Use tongs to gently lay the beef logs into the pan. It should sizzle audibly when placed in the pan. Let them sear for about a minute on each side, turning with the tongs, until the surface is brown in colour. Use the tongs to transfer the beef to the roasting pan. Roast for 15 minutes at the 450°F, then drop the temperature to 325°F and continue roasting until an instant read thermometer measures 120°F in the thickest part of the beef. Remove the pan from the oven and lightly tent with foil. Rest the beef for at least 10 minutes to allow the juices to redistribute before slicing thinly across the grain.
Nutritional information is an estimate and provided to you as a courtesy. You should calculate the nutritional information with the actual ingredients used in your recipe using your preferred nutrition calculator.
Last month, I had the pleasure of traveling to Wooster, Ohio to spend a couple of days at the headquarters of Certified Angus Beef®. Several other bloggers and I had the opportunity to work with the fantastic culinary, creative,  and public relations staff of CAB, picking their brains, cooking with them, and learning more about the 10 criteria that define Certified Angus Beef®. They even brought in their photography team to shoot some of the dishes we made. Have a look at what their team did to gussy up  my Korean Inspired Simple Roast Beef!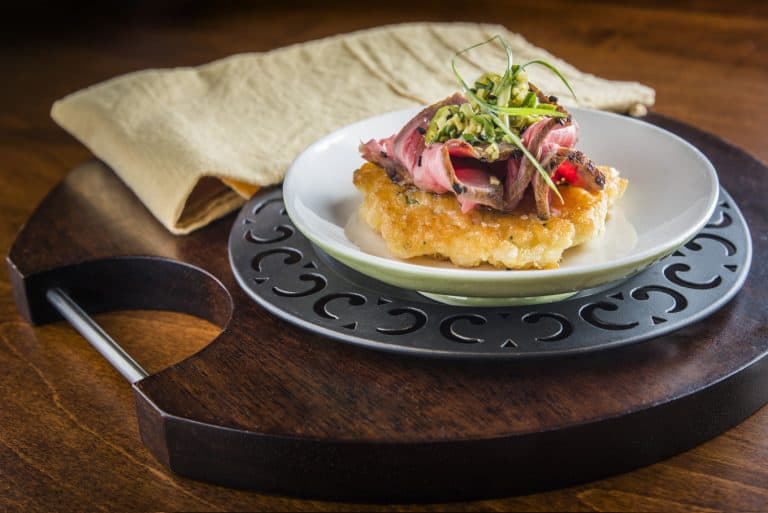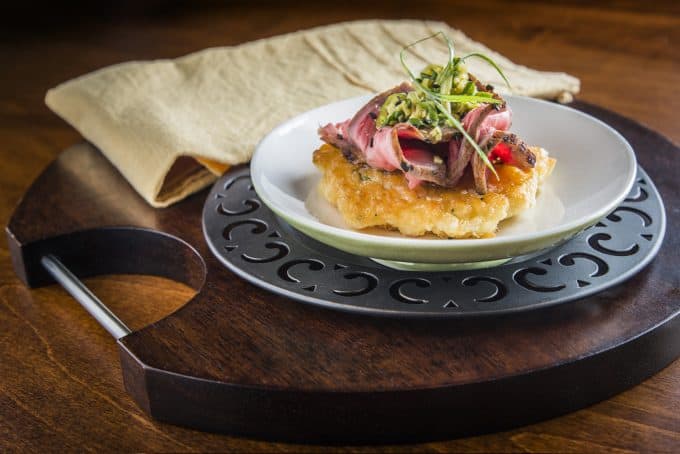 Did you know that they are not actually cattle ranchers and they're a not-for-profit organization? Their raison d'être is to inspect and judge beef according to their stringent quality specifications ensuring that there is a product at market that consumers can trust to provide quality with every single purchase. You can read more about those 10 specifications and what they mean to you as a consumer here.
The weekend was a riot and I learned an amazing amount of information that I'm looking forward to sharing with you over the coming months. I'm telling you, when you buy CAB products, you can rest assured both that you're getting a great cut of beef (whichever cut you choose) and that you're supporting some awesome people, to boot. Those same awesome people have offered an AMAZING giveaway package.
The Giveaway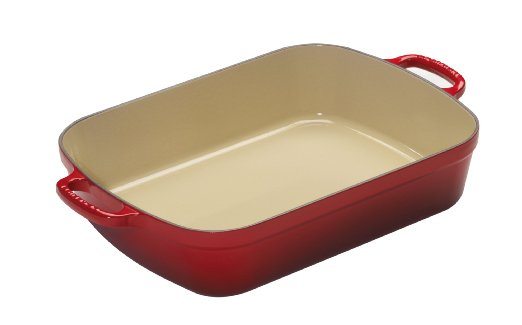 One (1) Certified Angus Beef® Brand Cattleman's Premium Collection Steak package containing a premium selection of four 12-oz. strip steaks, four 8-oz. filet mignons and four 10-oz. ribeyes and one (1) Le Creuset 7 quart roasting pan.
How to Enter
Leave a comment on this post telling me what your favourite cut of beef is! Entries will be accepted through November 14th, 2014 at 10:00am EST. The winner will be notified by email and will have 24 hours to respond, or an alternative winner will be chosen.
Disclosure: I was not compensated to develop this recipe or post this piece. Certified Angus Beef ® gave me a Le Creuset roasting pan and has offered to give away a pan to one Foodie with Family reader. I am crazy impressed by their organization and the product they put their names on, otherwise this post would not be published! Big thanks to all the fine folks at Certified Angus Beef® and Le Creuset for this generous giveaway!
This is my tenth post in my commitment to post every. single. day in November for NaBloPoMo (National Blog Posting Month). Follow the craziness all month as I share recipes, family anecdotes, and throw a couple of giveaways in for good measure!