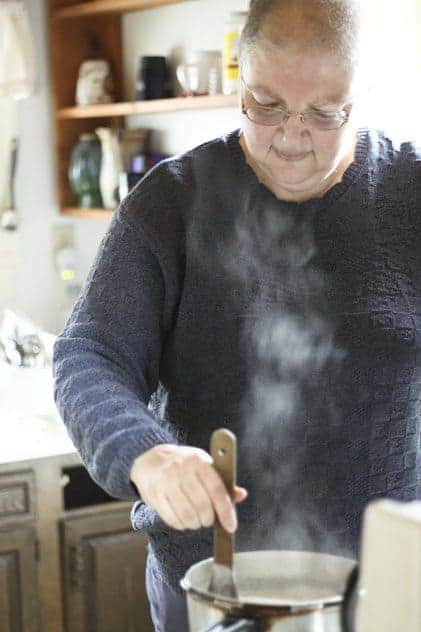 In honour of my stepmother's passing -more affectionately known as my bonus mom- Foodie with Family will remain quiet the rest of this week. In the spirit of Val, I'll be back ready to feed you next week. Below is the obituary my siblings, dad and I wrote together.
On Saturday December 22nd (her favorite day of the year) Valerie concluded her struggle with cancer and slipped away while in the loving embrace of her family. Her passing very much reflected her quiet and peaceful nature.
Valerie Lynn Mills Daly was born on August 4, 1955 in Oneonta, NY to Earl and Dawn Mills. She grew up the oldest of four siblings in Baldwinsville, where she graduated high school. She attended Houghton College, where she studied theology and raised her two children, Nathaniel Earl Thach and Christina Khemasanine Thach. In 1992, Valerie married James Daly and her family grew to include three more children, Rebecca, Jessamine and Luke Daly. Valerie and James lived and worked together running Camp Asbury United Methodist Church Camp in Silver Lake, NY where they watched their children grow up and begin families of their own. Valerie moved with Jim to Harrisburg, PA and continued to work with the United Methodist church for some years. During this time they would spend the early Fall weeks coming to the Upper Peninsula with their dog, Ginger, camping in all of their favorite spots along Lake Superior. The first time Valerie crossed the Mackinac Bridge she said, "I think I just came home." Valerie and Jim soon had the chance to make their stay in the Upper Peninsula permanent when Jim accepted the position of Camp Manager at Camp Michigamme. Their home on the Peshekee River has been a special place for their brothers and sisters, children and grandchildren to come and spend time with them.
Valerie spent her life in the service of others, and had an insatiable hunger for literature, science, and the general pursuit of knowledge. Valerie filled her home with a rotating collection of thousands of books, many of which have been donated to local libraries in both New York and Michigan. She instilled this love of learning in her children, as her son Nathaniel has been working as a Teacher in South Korea and her daughter Christina is a Librarian in Richmond, Virginia. Valerie had an incredible ability to make those around her feel valued and loved, and many have been drawn to her table for long conversations and laughter over soup and muffins and tea. Those in her company found her laughter gratifying and contagious and her singing -whether at church or to herself in the kitchen- soothing and lovely. Her ability to turn a pun was unparalleled. She extended her generous spirit to those she didn't know personally by being an active member of Kiva and making micro-loans to those who are starting their own businesses in developing countries such as Cambodia and Armenia.
Valerie was diagnosed with breast cancer in June of 2009. Her many friends and family members have been a constant network of support for her through this part of her journey. The family is grateful for this support and the invaluable work of those who have provided her medical care throughout this time.
Valerie Lynn Mills Daly is survived by her husband, James Daly, and her children Nathaniel (Sun Hwa) Thach, Christina (Kevin Thrasher) Thach, Rebecca (Dan) Lindamood, Jessamine  (Jeremy) Daly-Griffen, and Luke (Elvi Jo) Daly. She is survived by her parents, Earl and Dawn Mills, and her siblings Michael Mills, Marcia Mills, and Gerri Jalosky, as well as all of her nieces and nephews. Valerie is also survived by her grandchildren Liam, Aidan, Ty, Leif, Rowan, Willow, Ezra, Hazel, Soliegh and Penelope.
If you wish to make memorial gifts Valerie suggested that we list the Central UP Food Bank,  1710 Ash, Ishpeming, MI 49849, 906- 485-4988. She also suggested you consider KIVA.org as a recipient. Valerie was passionate about helping women better their circumstances and Kiva was her favorite way to do that.