Pepperoni Pizza Gnocchi; because some days call for pillowy gnocchi sauteed in a little garlic butter, mixed with brick red pizza sauce, melted mozzarella, and pepperoni, and topped with more mozzarella and pepperoni that is then broiled until bubbly and browned like a magnificent pizza.
The truth? This came about as a braces friendly alternative to my boys' favourite comfort food after two of my guys had big braces adjustments.
On the trip to our orthodontist, they had been talking about how hungry they were and how badly each of them wanted pizza. On the drive home, they both requested pudding.
One said mournfully, "Well, I wish we were having pizza, but it would hurt too much to chew it!"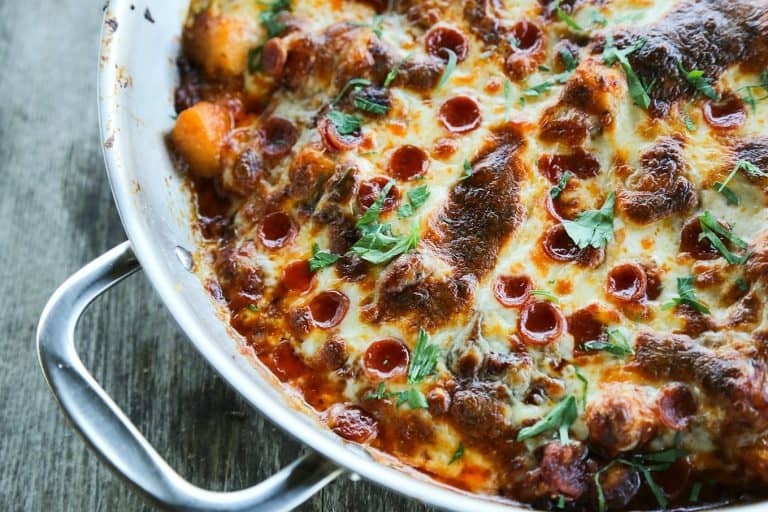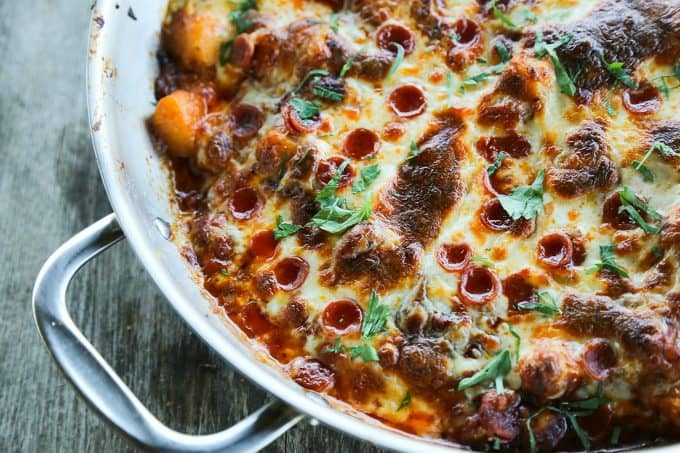 Every mom has their kryptonite. I'm pretty tough and am pretty generous with my "no" as a parent, but I have a really hard time seeing my kids want to eat something and not be able to for whatever reason.
I decided to make them a pizza they could eat, and that's how Pepperoni Pizza Gnocchi came to be.
It's really the best of the world of pizza combined with the best of pasta for an easy-on-the-teeth version of everyone's favourite comfort food.
Pizza gnocchi is all the flavours of pizza in pillowy gnocchi sauteed in a little butter; garlicky pizza sauce, pepperoni, stirred into the gnocchi, covered with a generous layer of melted mozzarella, pepperoni, and a shower of fresh parsley.
Clearly it's not just for those with braces; the rest of our family very enthusiastically dove into this pan, and I realized a little too late that I probably should have made a double batch.
Mercifully, Pepperoni Pizza Gnocchi is pretty fast, so I had a second batch going in no time and my braces boys had stomachs full of their longed-for pizza despite their sore jaws.
I know there are far greater achievements and I know I've failed as a mom many times, but these are my parenting win moments, friends. I take those minor wins whenever I can get them! What are your greatest "minor" parenting victories?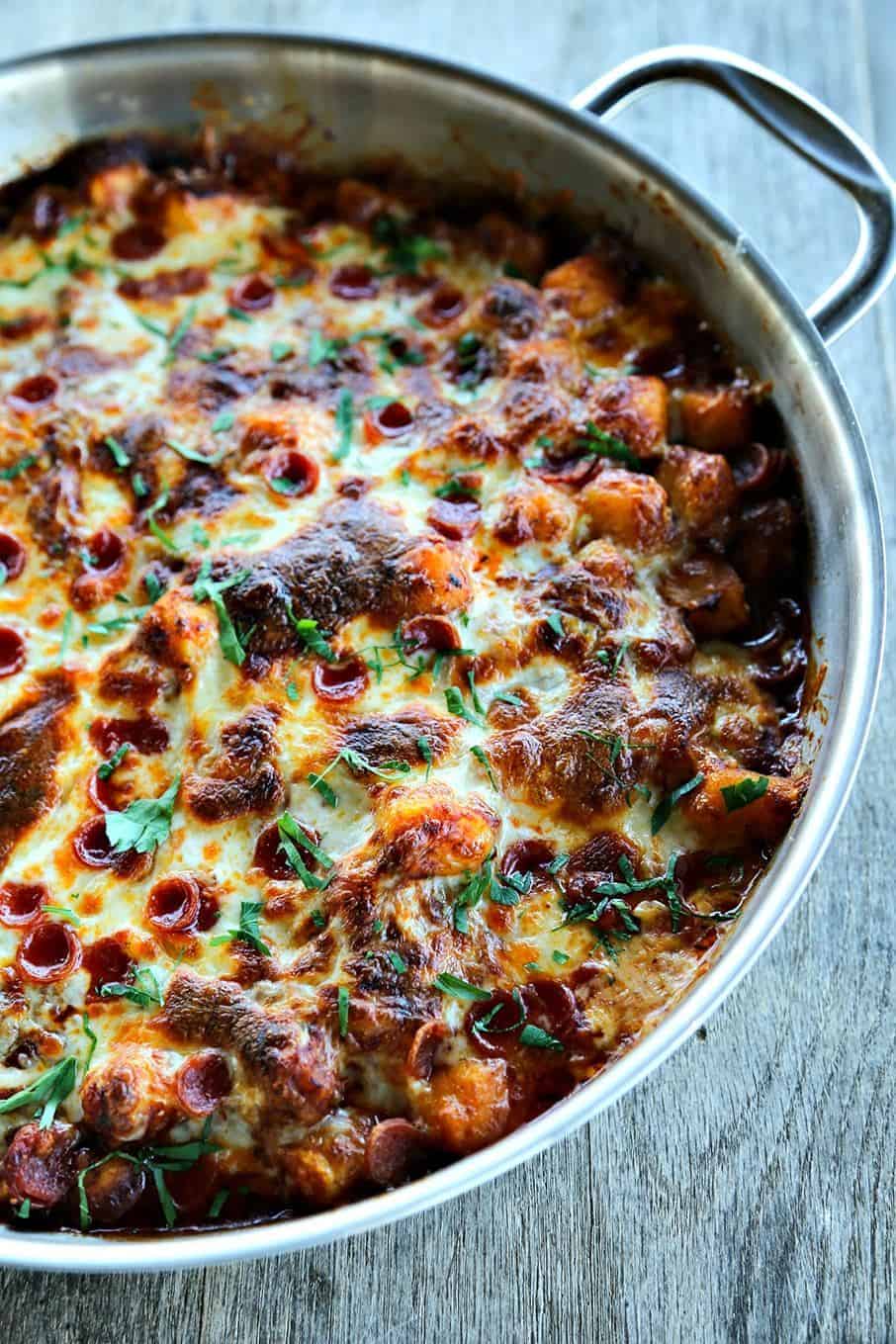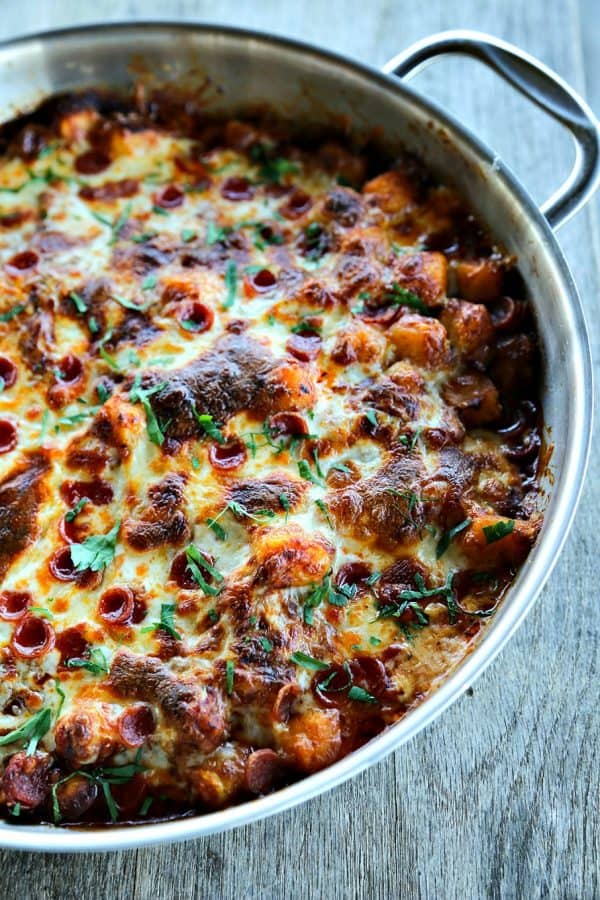 Pepperoni Pizza Gnocchi
I love to use my canned pizza sauce from Not Your Mama's Canning Book, but I have also made this with slightly thinned Best Thing Tomatoes and Slow-Cooker Homemade Pizza Sauce. These are my preferences, but a nice, thick, commercial pizza sauce will also work here.
Please grate your own mozzarella for this. The stuff that comes pre-grated in a bag is tossed with anti-clumping powder that not only keeps it from clumping, but also keeps it from melting into that lovely, long, stringy, creamy cheese we love so much.
On the subject of pepperoni, I used adorable tiny Hormel mini pepperoni I found at Wegman's. You're welcome to use larger pepperoni if you prefer or can't find the little ones.
Just use the equivalent amount by weight. I used four ounces of the tiny pepperoni, so four ounces (about 1/4 of a 1 pound package) of sliced pepperoni should suffice.
Do not overcook your gnocchi when you boil it. If anything, undercook it by a minute (if making dried gnocchi) or by 30 seconds (if using fresh gnocchi.) This is because it will continue to cook in the sauce after being sauteed in the butter with the garlic.
DO use an oven-safe pan like this one because you're going to pop it under the broiler to get that bubbly, browned crust.
Use these to make Pepperoni Pizza Gnocchi:
Are you looking for more wonderful twists on pizza? Check out Pizza Bialys, Figgy Pig Pizza, Smoked Salmon Cucumber Pizza, Pizza Soup, Supreme Pizza Party Bread, Skinny Jeans Pizza, Pizza Salad, and Pickle Pizza.
Connect with Foodie with Family
facebook | pinterest | instagram | twitter
How simple is Pepperoni Pizza Gnocchi? Just look!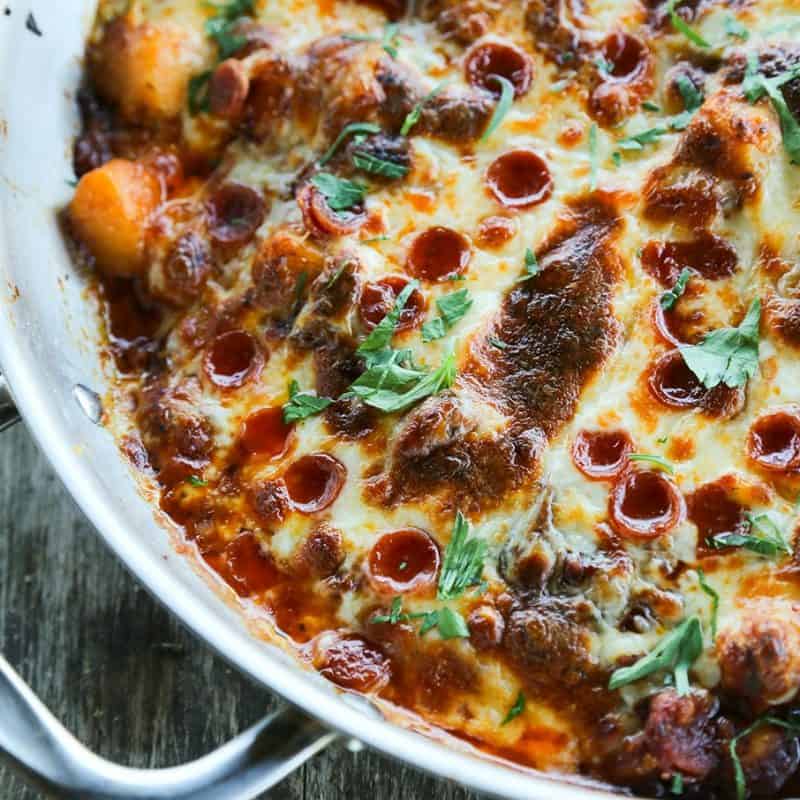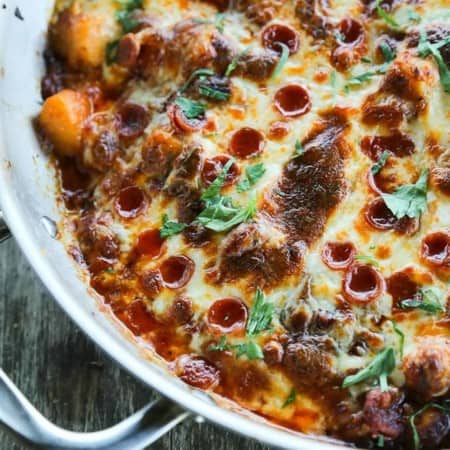 Pepperoni Pizza gnocchi is all the flavours of pizza in pillowy gnocchi sauteed in a little butter; garlicky pizza sauce, pepperoni, stirred into the gnocchi, covered with a generous layer of melted mozzarella, pepperoni, and a shower of fresh parsley.
Ingredients
3

tablespoons

butter

3

cloves

of garlic

minced or pressed in a garlic press

2

pounds

gnocchi

cooked slightly underdone according to package directions and drained

2

cups

pizza sauce

1/3

cup

water

1/2

cup

mini pepperoni

or 4 ounces sliced pepperoni

1

pound

part-skim mozzarella

grated
Optional for garnish:
fresh parsley

torn or chopped
Instructions
Melt the butter over medium heat in an oven-safe skillet or everyday pan. Stir the garlic into the butter and cook just until fragrant. Raise the heat to medium high and add the gnocchi all at once, not stirring right away. When the bottoms of the gnocchi have turned golden brown, gently turn them over and saute another minute.

Add the pizza sauce, water, and half each of the pepperoni and grated cheese. Stir to distribute everything evenly and let the sauce begin bubbling. Scatter the remaining cheese and then the remaining pepperoni over the gnocchi.

Transfer the pan to the oven, about 6 inches under a broiler on HIGH. Broil until the cheese is melted, bubbly, and browned in some places. Scatter chopped or torn parsley over the gnocchi and let stand about 3 minutes before serving.
Nutritional information is an estimate and provided to you as a courtesy. You should calculate the nutritional information with the actual ingredients used in your recipe using your preferred nutrition calculator.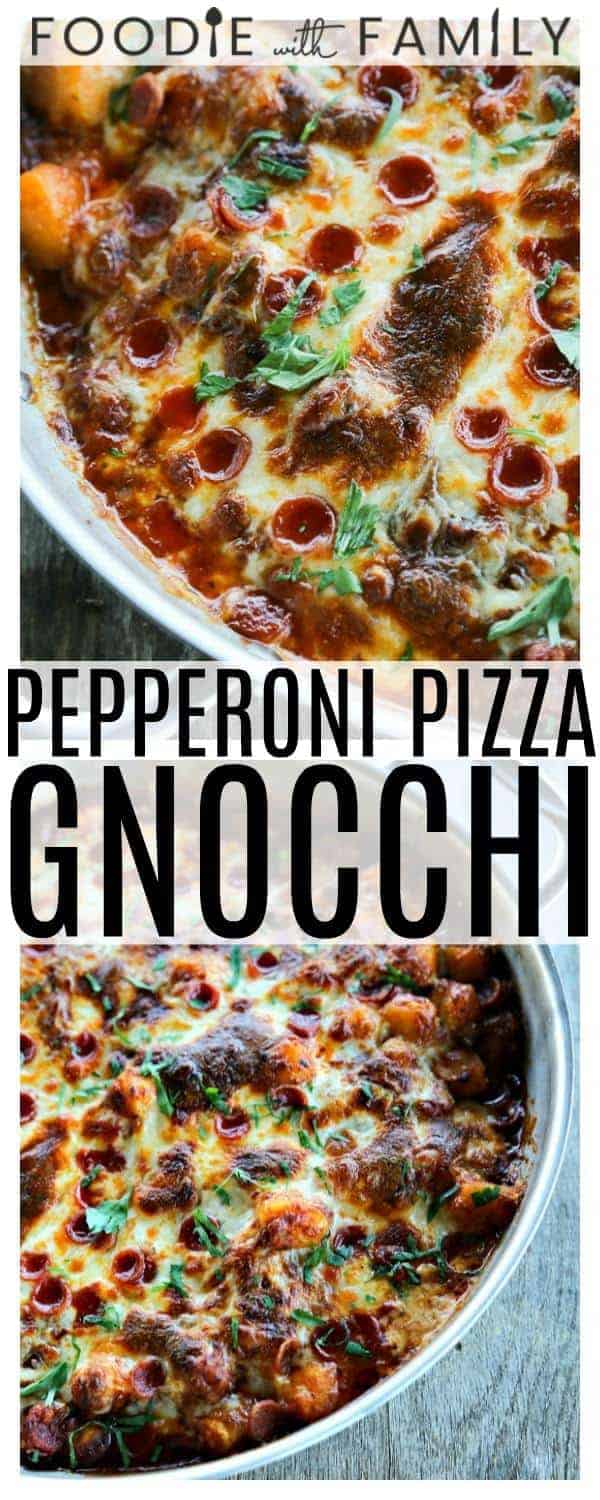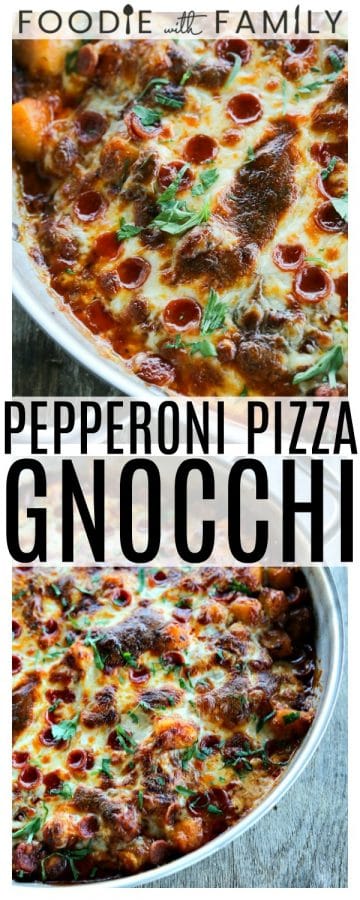 This post was originally published in February 2017, updated in October 2018.