Best Thing Tomatoes are truly the easiest and best way to preserve all of your ripe tomatoes. This intense, concentrated puree of tomatoes, garlic, onions, and herbs gives serious depth of flavour to every dish its in and on.

My friend Caroline and I tend to talk food. We have ample opportunity to gab while our sons are in ballet class together.
We both drive from quite a distance for the kids to attend the conservatory; far enough away that it is not merely inconvenient for us to drive home while the dudes dance, but rather ridiculous. We use our time wisely.
She is a fiendishly talented baker/cake decorator and cook, and so we use our time to make each other horribly hungry by talking food. One day she shared an accidental success with me.
She had plunked a couple of trays of tomatoes she got for a song into the oven to roast them and then promptly forgot them. She went about her day, leaving the house and running errands until she realized that it had been hours upon hours since she put them into the heat.
When she took the trays out and saw the blackened areas around the edges of some very sad and dried out looking tomatoes, she thought she'd wasted the whole lot. In a fit of yankee thrift and ingenuity, she tossed the contents into the blender with a little balsamic vinegar and wine just to see if it could at least be salvaged to the point of edibility.
Not only was it edible, but Caroline had -according to her account- just discovered The Best Thing to Do with Tomatoes. Ever.
Best Thing Tomatoes? Really?
She brought me a sample. If anything, she had underrepresented the power of Best Thing Tomatoes.
It was intense. It was full of concentrated tomato paste. It was like tomato paste, if tomato paste were a seriously beautiful thing that people craved.
While she had been generous enough to give me enough Best Thing Tomatoes to play around a bit, I needed more. I had to make my own, so I procured the ingredients and and set about firming up quantities and times.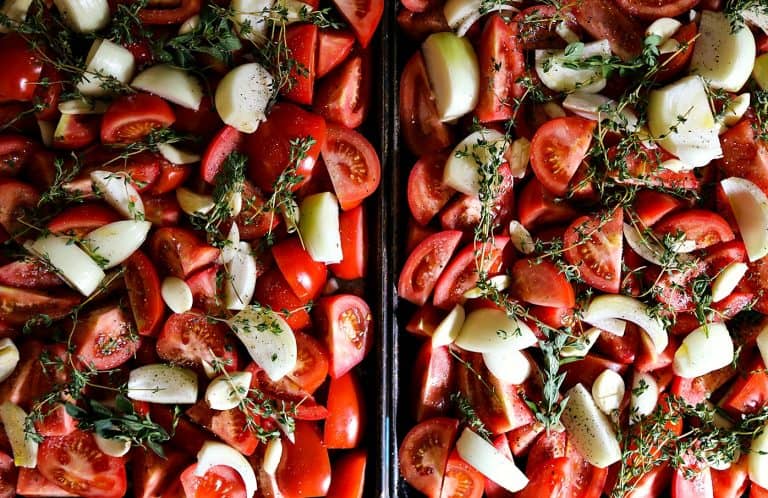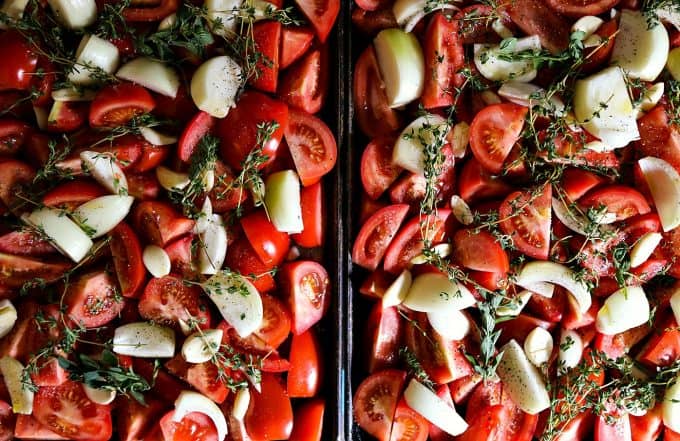 The truth is that it was every bit as simple as coring and quartering a bunch of tomatoes, chopping a couple onions, peeling a head's worth of garlic, and tossing it all together with some salt, pepper, and olive oil, then banging the whole tray into the oven and basically forgetting it.
The only problem is that I stayed home to observe the process whereas Caroline had been running around doing stuff. Why is this a problem?
Because, in short, it smelled so good while it roasted and concentrated that I wanted to gnaw off my own leg to settle the brutal hunger it inspired. I'm here to tell you that you have a good 2 hours before you need to even consider looking at the goods (as long as your oven is pretty well calibrated temperature-wise.)
So you can do yard work, run a quick errand or two, or otherwise extricate yourself from temptation's way while it does its thing. Don't worry. It'll work out.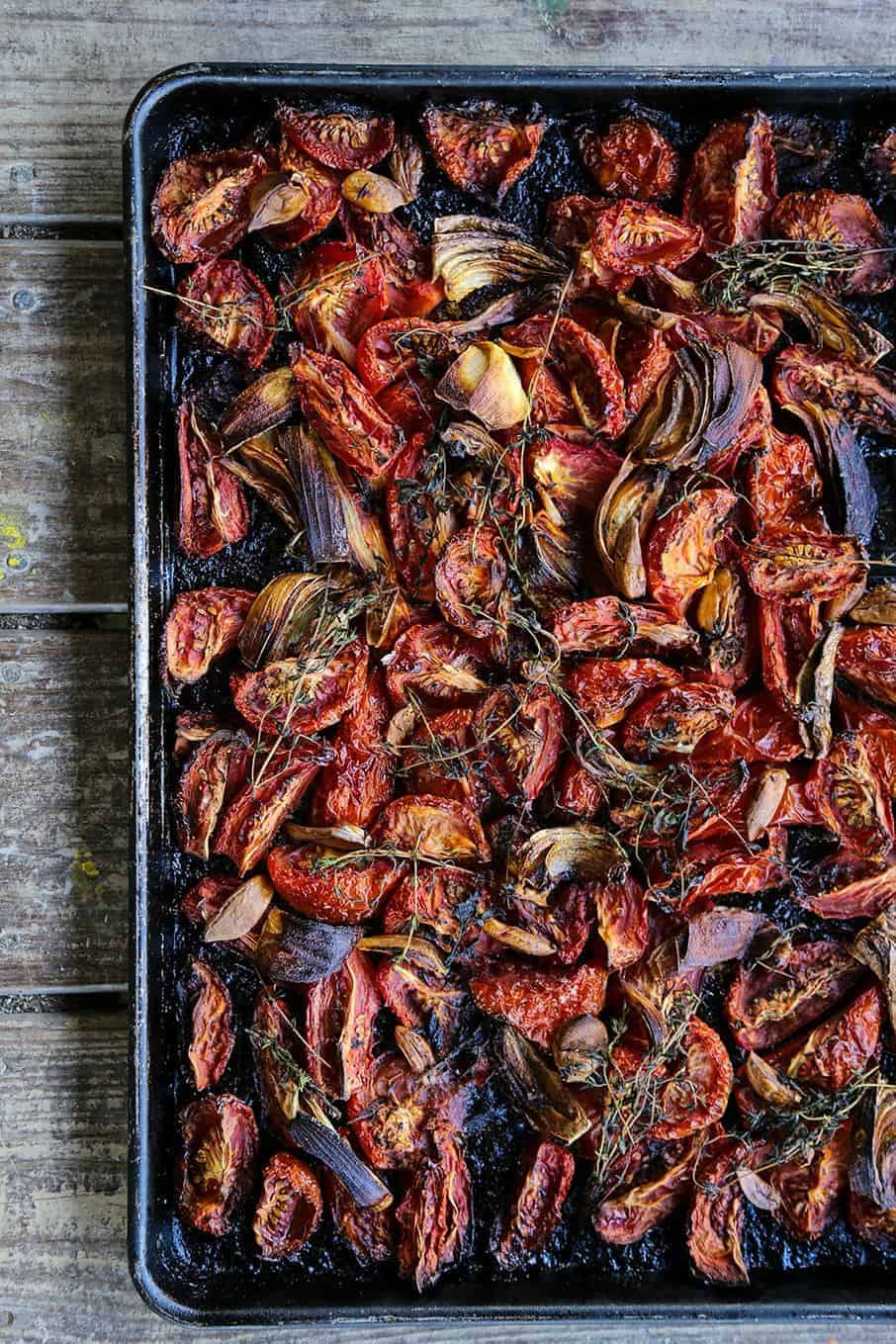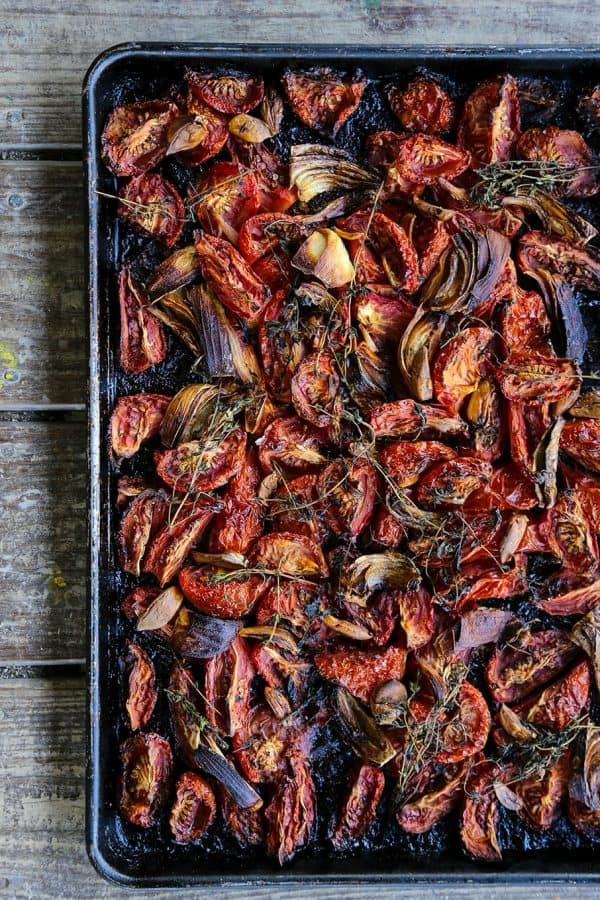 …I'm also here to tell you that even though Caroline warned me, I did indeed wonder whether I had cooked them too long and let them go a little too far. You can see how dark they are. The answer?
No. It was perfect. Perfectly perfect.
It was absolutely The Best Thing to Do with Tomatoes. Ever. They WERE Best Thing Tomatoes Amen.
Are you wondering what to do with Best Thing Tomatoes? Oh boy… do I have a list for you.
How to use Best Thing Tomatoes:
Use in any recipe that calls for tomato paste. Simply sub in an equal amount for a far greater depth of flavour.
Use as a stand alone pizza sauce, or thin slightly and use as pizza sauce as desired. Use as a dip for bread sticks, too!
Toss 1/4 cup of Best Thing Tomatoes into a hot sauce pan and thin with a little pasta water. Toss the cooked pasta with the sauce, and garnish with a scandalous handful or three of your favourite grated cheese.
Pop on a fistful of chopped fresh parsley for a ridiculously easy pasta dish. Oh hey… you can even throw some leftover shredded or cubed chicken if you want to go nuts.
Add a spoonful or three to your soups near the end of cooking. Heck, add 1/2 cup to soups and stews at the beginning of cooking for REAL tomato goodness.
Spread on toasted Italian bread, top with a fried egg and a sprinkling of grated Asiago or Romano cheese for a hearty breakfast or serve with a salad for a light lunch.
Use as a dip for Fried Mozzarella Sticks, Prosciutto Arancini, or Crispy, Gooey Fresh Mozzarella Steaks. Dollop on top of Baked Pizza Frittatas.
… How would YOU serve Best Thing Tomatoes?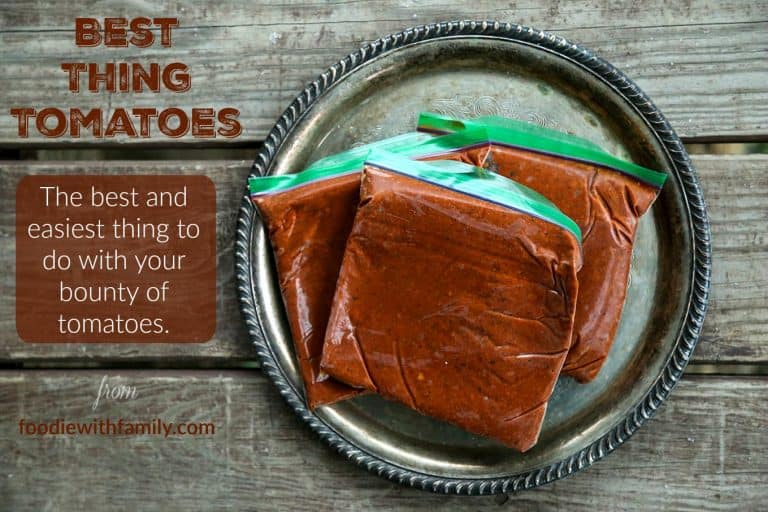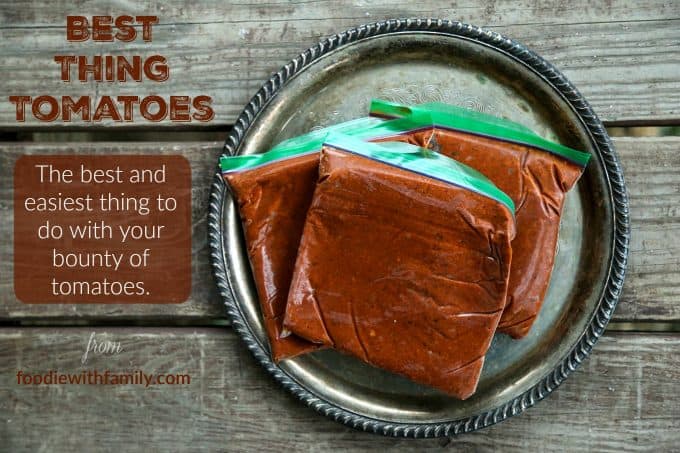 Cook's Notes
PLEASE NOTE: This recipe is designed to be made in a standard oven. If you have a convection oven (as a couple of cooks have discovered), this will cook on average 30% faster, so you will need to check your tomatoes much earlier and much more often.
I'm telling you, if you do this right, you are VERY likely to wonder whether you've ruined a perfectly good bunch of tomatoes and wasted all that time in the oven. See the photo higher up in the post for proof.
It's okay. Put it in the blender with the wine and you'll be a happy camper.
Speaking of wine… I love this made with Pinot Noir and/or Pinot Grigio. I also love it made with a little diluted balsamic vinegar.
You choose. It's hard to go wrong.
If you're sharp-eyed, you'll notice that my "before" photo shows herbs that haven't been stripped from the stems but that I advise you to do just that before roasting. This is because I spent a few minutes POST roasting stripping now toasted herbs from their stems.
I'm here to tell you it is significantly easier and less messy to do so before roasting. Live and learn, right?
When the Best Thing Tomatoes have been puréed, you have a couple of options. My preference is to add about 1 cup to each of several sandwich sized zipper top bags.
I squeeze out as much air as possible, flatten the bags and freeze until solid. I transfer those frozen bags to a gallon sized zipper bag for storage.
Another handy option is to divide the Best Thing Tomatoes between little, 8-ish ounce sized jars or tupperware/gladware containers, fix a lid in place, and freeze. Whichever way you do it, please be sure to label either the large zipper top bag or the small containers.
Things that are frozen look surprisingly similar to completely different frozen things. Strawberry Puree and Best Thing Tomatoes? Not interchangeable.
Connect with Foodie with Family
facebook | pinterest | instagram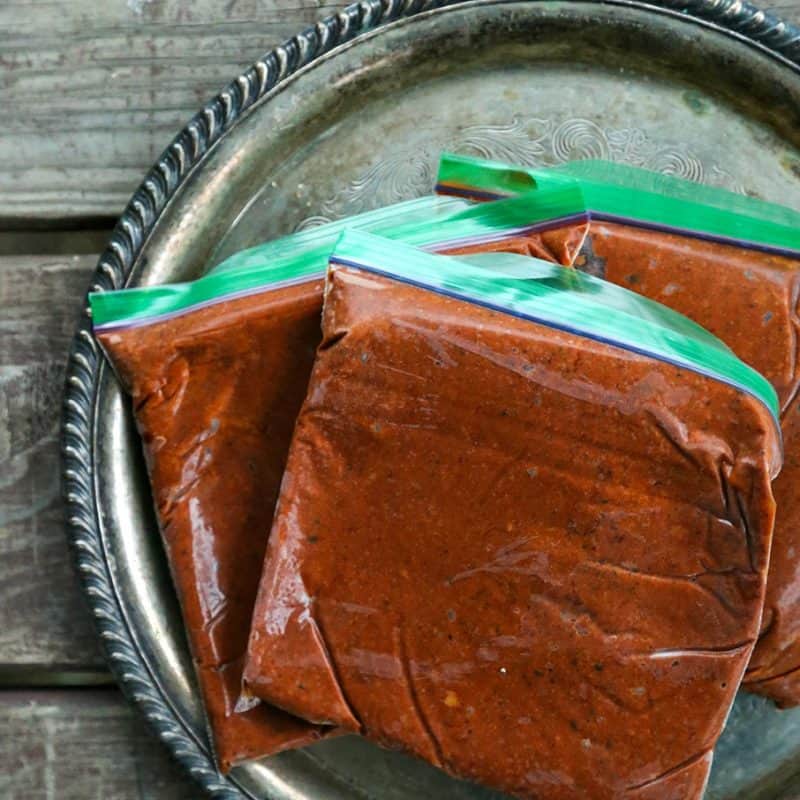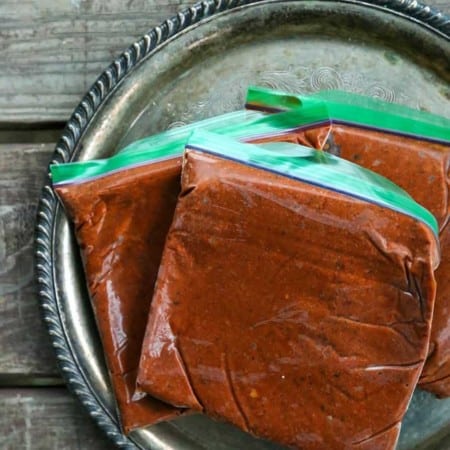 Thick, concentrated, brick-red, umami-bomb, roasted tomato puree. This is as easy and as wonderful as preserving tomatoes can get.
Ingredients
Per Half Sheet Pan:
3

to 4 pounds roma tomatoes

cored and quartered

3

to 4 pounds beefsteak or vine ripe tomatoes

cored and quartered

2

onions

peeled, root end removed, cut into wedges

1

head garlic

peeled and left whole

1

bunch thyme

leaves stripped from the stems

1

bunch oregano

leaves stripped from the stems

1

tablespoon

kosher salt

1

teaspoon

freshly ground black pepper

1/4

cup

extra virgin olive oil
Also needed:
1

cup

to 1 3/4 cups pinot noir or pinot grigio

or 3/4 cup balsamic vinegar mixed with 1/2 cup water
Instructions
Put the tomatoes on the rimmed half sheet pan. Scatter the onion wedges, garlic cloves, stripped herb leaves, salt, and pepper over the tomatoes. Drizzle the olive oil evenly. Place the pan (or as many sheet pans as you can do at once) in the oven and turn the heat to 350F.

Roast for at least 4 hours and 30 minutes* (see notes), or until the tomatoes have shriveled and are deeply caramelized and smell strongly, there is some blackness around the edges, and the onions and garlic are caramelized. Remove from the oven and scrape the contents directly into a blender or food processor. Pour in the wine or balsamic and water mixture. Blend or process on high until smooth. Divide between small freezer bags or snack sized re-sealable containers and freeze for up to a year.
Notes
IMPORTANT NOTE: This recipe is NOT engineered for being cooked in a convection oven. If you have a convection oven, you will need to watch the tomatoes far earlier for doneness.
If you have a categorical dislike of anything with a little char, you may want to start checking your tomatoes around 2 hours. I definitely prefer them far more done (closer to the 4.5 hour mark) because of the super concentrated flavour it gives the resulting paste.
Nutrition
Calories:
44
kcal
Carbohydrates:
3
g
Protein:
1
g
Fat:
3
g
Saturated Fat:
1
g
Sodium:
351
mg
Potassium:
82
mg
Fiber:
1
g
Sugar:
1
g
Vitamin A:
231
IU
Vitamin C:
5
mg
Calcium:
6
mg
Iron:
1
mg
Nutritional information is an estimate and provided to you as a courtesy. You should calculate the nutritional information with the actual ingredients used in your recipe using your preferred nutrition calculator.
Save