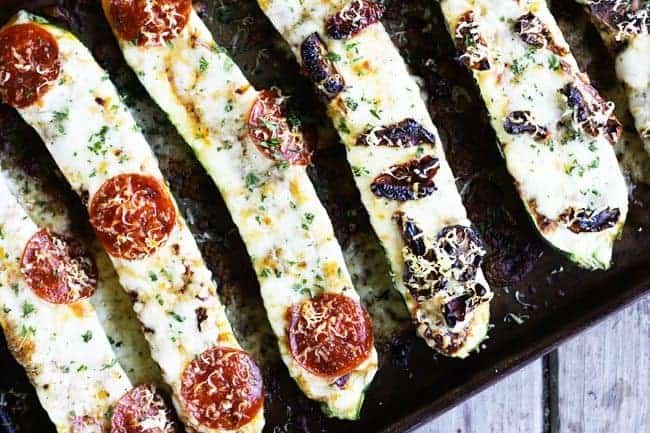 Have you ever tried jamming yourself into a pair of skinny jeans? I did last month.
Ugh.
Let's just say the results were less than what I'd hoped to see after the work that went into pulling them up. Shoot, getting them off was as tough as getting them on in the first place. I needed to take a nap and eat some chocolate to salve my soul after that experience.
This, in part, led me to the grudging conclusion that PERHAPS I can't eat the way I used to when I was *GACK* younger. Don't get me wrong, I'm pretty fit. I work hard at it… but the effect of eating eight tacos or as many pieces of pizza for dinner is now less than desirable unless you've lost all your chairs in an oddly targeted fire and have nothing to sit on and are trying to pad your posterior for greater comfort. I think my point is clear.
I will not give up eating WHAT I want, I just have to show a little more control around it. In other words, I need to consume less of it. And we are coming into warmer weather which means we're on the go a little more and feel a little less like spending hours in a hot kitchen producing food that makes us feel VERY full indeed. (Sometimes. On the other hand, I'm looking forward to my annual Fried Chicken Birthday Feast at the end of blazing-hot July.)
Satisfy Pizza Cravings on Busy Nights the Healthy Way!
Tasty food that is fast, healthy, and doesn't make you feel weighed down is the order of the day. Skinny Jeans Pizzas to the rescue! These pizzas use good ole zucchinis (which are about to become abundant to the point of being nearly viral) cut in half lengthwise and topped with some classic pizza toppings; mozzarella  and Romano or Parmesan cheeses, sun dried tomatoes,  and pepperoni are what we use, but put whatever you'd like on a pizza on top. Much like 'real' pizza, this is customizable! Here's the thing… these can be as healthy or as indulgent as you'd like. Load as much or as little grated cheese on them as you want! Ditto the pepperoni. Those sun dried tomatoes? Pile them on! Just be sure you have a little cheese over them or they're likely to scorch a bit. Handily, you don't have to soak the tomatoes if you put them next to the pizza sauce on the zucchini. This is because they'll absorb some of the liquid given off by the sauce and zucchini as they cook.

One pan, thirty minutes, super healthy, totally satisfying.
Important Note! Let's be real here… If I eat eight of these like I would slices of pizza, I won't be fitting much more quickly into those skinny jeans… But I don't NEED eight halves of zucchini and furthermore, I don't think I could eat that many. Even if I did eat eight halves, though, I'd still come out ahead of regular pizza in the calorie count. And goodness people, I'm not replacing or giving up regular pizza in our menu rotation; it's my life blood! I am, however, looking for ways to maintain my healthy weight instead of creeping upward as I was doing. These more than satisfy that pizza craving on busy nights in a waist-line friendly way when the alternative to homemade is dialing it in to the local pizza place. Moderation, moderation, moderation!
…Except for dark chocolate.
XO
Rebecca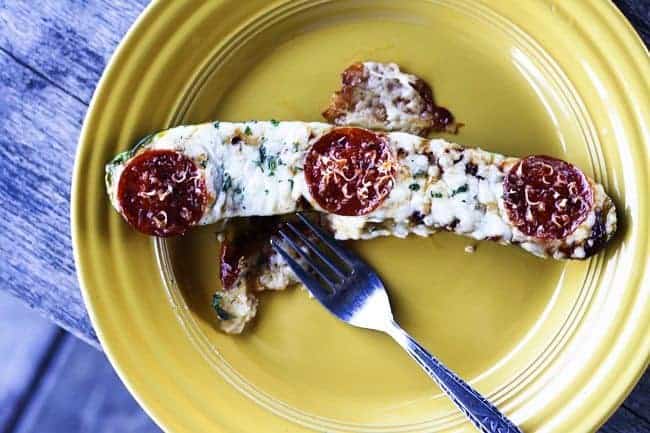 One pan, thirty minutes, super healthy, totally satisfying. Top halved zucchinis with pizza sauce, shredded cheese, and sun dried tomatoes. If pizza just isn't pizza without pepperoni for you, add a couple of slices. Bake 'til bubbly and satisfy your pizza cravings the fast and healthy way!
Ingredients
3

medium sized zucchini

about 8-inches long

1/4

cup

plus 2 tablespoons pizza sauce (Homemade or purchased

1/2

to 1 cup shredded mozzarella cheese

1/4

cup

shredded Romano or Parmesan cheese
Optional Toppings:
sun dried tomatoes

Homemade or purchased

thin pepperoni slices

minced fresh parsley and/or basil
Instructions
Preheat oven to 425°F.

Line a rimmed baking sheet with foil and spray lightly with nonstick cooking spray ~or~ use an unglazed stoneware rimmed baking sheet. Set aside.

Slice the zucchinis in half lengthwise. Remove a little disc from any protruding parts of the zucchini to help it lie flat on the pan without rocking from side to side. Arrange the zucchini halves -skin side down- on the prepared baking sheet.

Spoon 1 tablespoon of pizza sauce on each zucchini half and spread it evenly over the top. If using sun dried tomatoes, arrange them over the pizza sauce, reserving a couple for the top. Scatter the shredded cheeses evenly over all of the zucchinis. If using pepperoni, put no more than three pieces on each zucchini half.

Place the pan in the hot oven and immediately lower the temperature to 375°F. Bake for 30 minutes, or until the zucchinis are tender, but still have enough body to be lifted from the pan without falling apart.

If desired, garnish with minced parsley and/or basil immediately before serving.
Nutritional information is an estimate and provided to you as a courtesy. You should calculate the nutritional information with the actual ingredients used in your recipe using your preferred nutrition calculator.