Tacos. I am sure there are folks out there who don't like them, but I'm hard pressed to figure out why, given the incredible variety of tacos that exist. Today's Jicama Tacos are a perfect and delicious example of the wonderful world of tacos. Jicama Tacos are my latest preferredway to scratch that taco itch that I would like to say I get from time to time, but should more realistically describe as the driving force in my life. I am motivated by tacos. When I take all that I love in tacos -the interplay between textures, temperatures, flavours, and spice levels- and stuff it into a crisp, cool, crunchy, slightly sweet slice of fresh jicama? Shoot. I am one very happy girl. My version of Jicama Tacos comes together in a flash because it takes advantage of pulled pork (which you  may have on hand from this recipe, this recipe, this recipe, or THIS recipe…), refreshing Cucumber Sweet Onion Salsa, fresh cilantro and radish matchsticks, a squeeze of lime juice, and a little drizzle of whichever hot sauce dings your chimes.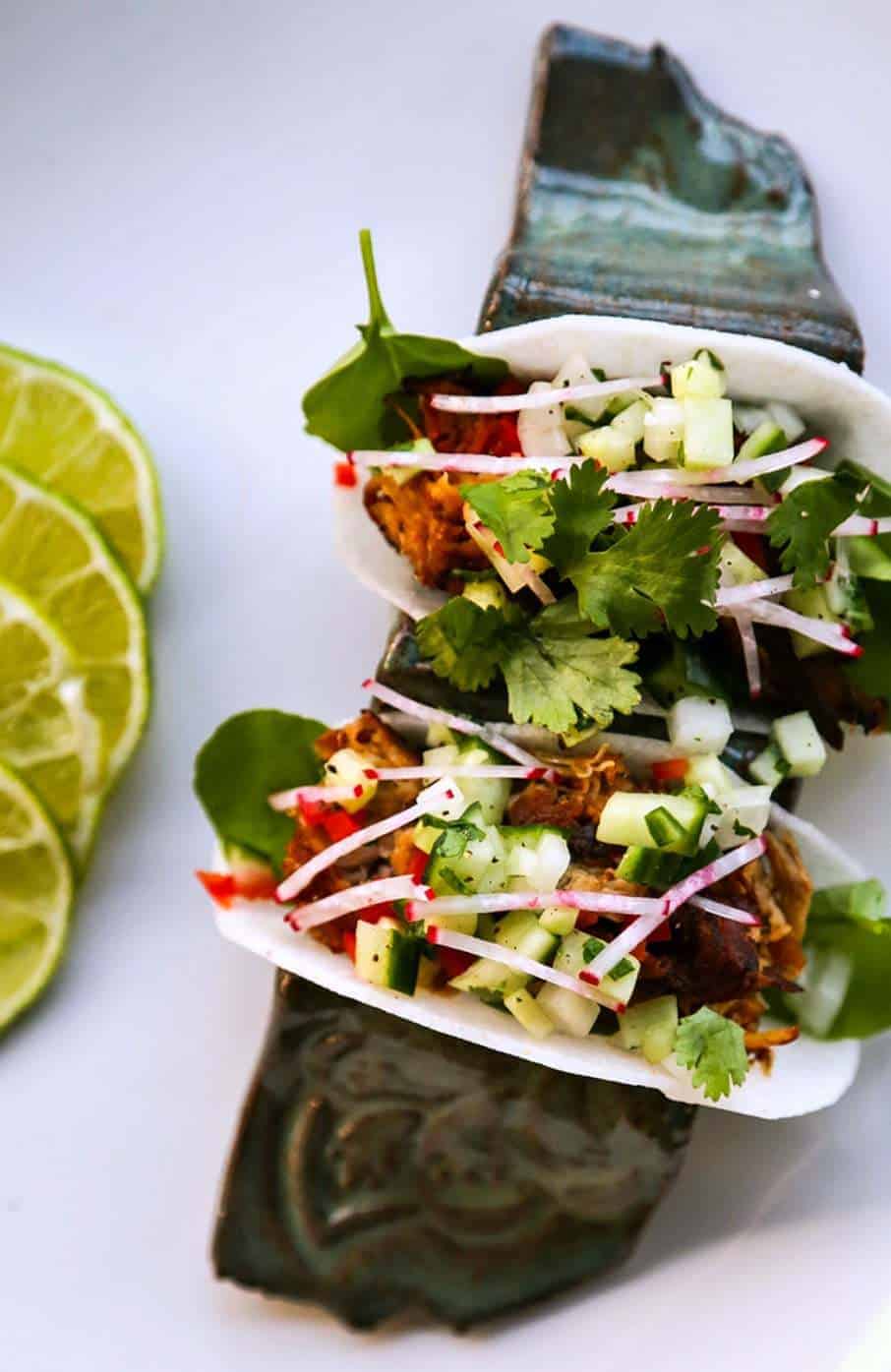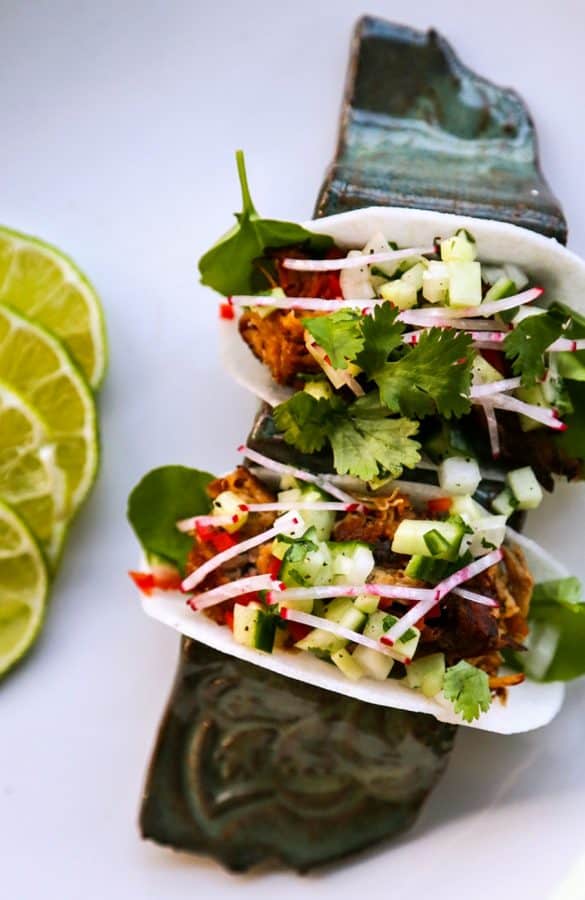 The light, crisp, refreshing nature of fresh jicama makes these Jicama Tacos a great hot weather option. You still get your taco desires sated, but don't feel weighed down by them. And here's a bonus for your friends who are grain-free in their diets: jicama is a great grain-free alternative to corn or flour tortillas! I don't know if they're technically considered paleo-diet friendly because paleo I am not, but I've seen some sources who say they are and some who say they aren't. What is not in question, though, is that jicama is 100% gluten-free, grain-free, egg-free, and dairy-free, so there's that if you need it. And even if you DON'T need to worry about any or all of that, please make Jicama Tacos simply because they are a delightful dish.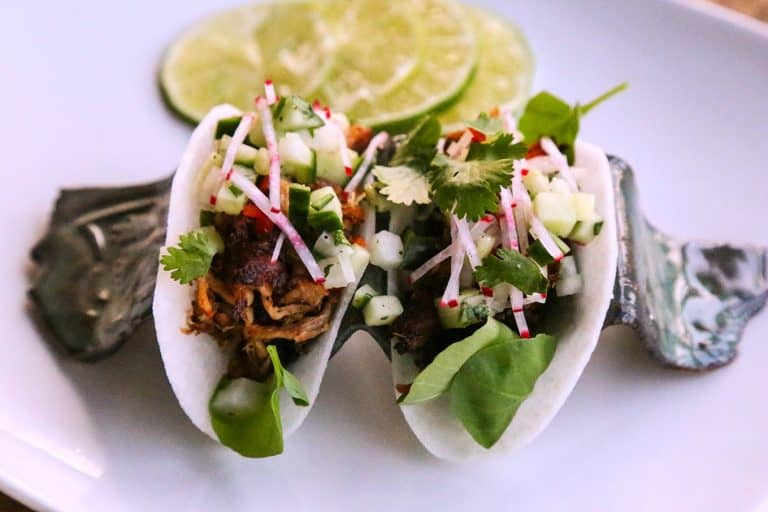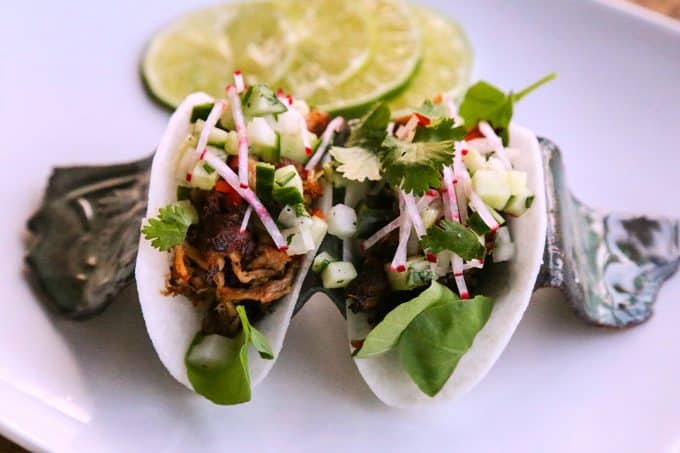 Cook's Notes
Jicama isn't hard to use, you just have to know how to approach it. Start by cutting a disc from the bottom and top of the jicama so that it can stand stead on a cutting board instead of rolling around dangerously. The next step is to peel it. This can be done most easily with a good, sharp vegetable peeler. If you're so inclined, peel it with a paring knife instead.
I always, always, always use a mandoline or v-slicer and cut-proof glove to break down my jicama into thin-enough-to-fold but thick-enough-to-hold slices. Is this necessary? Mmmmm, the jury is out. Even with my excellent knife skills, I find it much easier to do it this way. If you're terrified of a mandoline, and you have a food processor with a wide chute and slicing blade, you could get some decent slices for jicama tacos, but you won't be able to do that lovely whole circle you can get when you mandoline slice a jicama. All that aside, if you feel more ninja with a knife, slice it by hand! Test the slice to be sure it is foldable. You won't be able to fold it in half fully, but you should be able to cradle a couple of bites worth of taco fillings in it.
As for the taco fillings, I'm specifying my current favourites here. Feel free to play with this a bit, though! If you have any leftover meats, salsa, etc…, give them a whirl here. Jicama Tacos are a classic example of why I harp on people to make the large amount of pulled pork in this recipe, this recipe, this recipe, or THIS recipe. If you have made that huge batch, and portioned the pork out into meal-size amounts, and frozen them, you're only as far away from Jicama Tacos as it takes to thaw the meat, make the Cucumber Sweet Onion Salsa, slice up a few radishes and your jicama, lob a lime into wedges, and ferret out a bottle of hot sauce. This is a payoff recipe, friends. Go to it; collect your reward for cooking ahead of time!
Do you NEED a taco holder? No. You don't physically need one. It is the only way I've figured out to assemble them before serving them, but you could easily just serve the jicama slices, crisped pork, Cucumber Sweet Onion Salsa, cilantro leaves, lime wedges, and radishes in bowls at the table and allow everyone to assemble their own. If you want a taco holder, however, Amazon sells them. The one pictured above was from my favourite pottery shop and was originally intended for use as a business card holder, but as we all know, business cards aren't as tasty as tacos. It was a no brainer.
Normally, I shy away from calculating serving sizes on recipes because, well, my guys eat FAR LARGER amounts of food than recommended serving size portions. In this case, though, I do have a couple of suggestions. If you're using Jicama Tacos as an appetizer -because they make a lovely meal starter- I'd advise counting on having 2 to 3 per person. If you're looking at this as a main dish -which is how I most often serve them- my husband, eldest boys, and I eat up to 6 each. Don't look at me like that. They're little. And tacos.
Connect with Foodie with Family
facebook | pinterest | instagram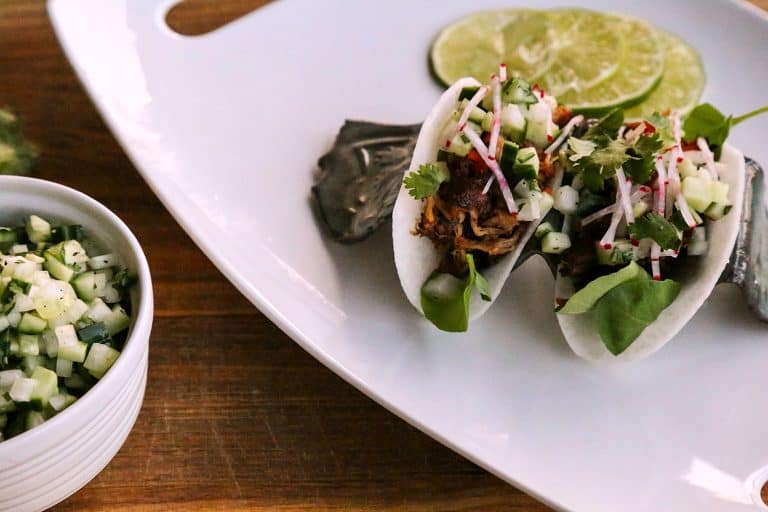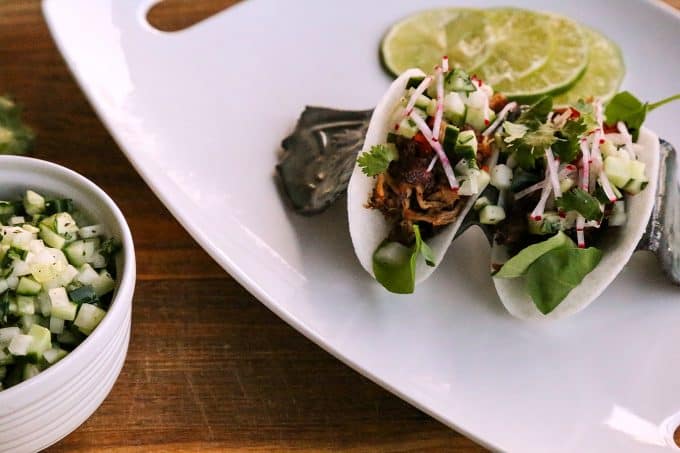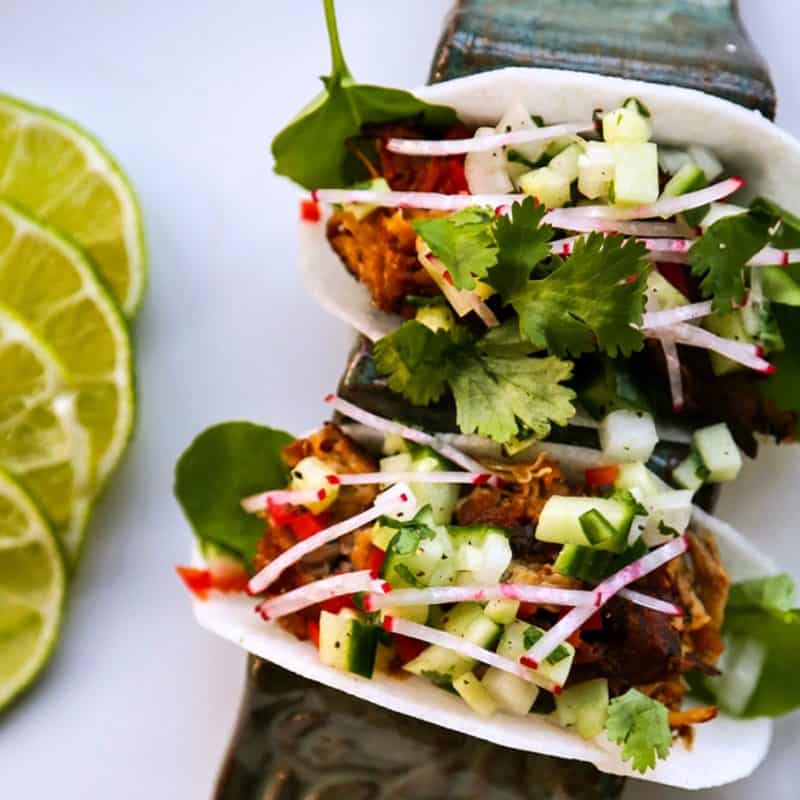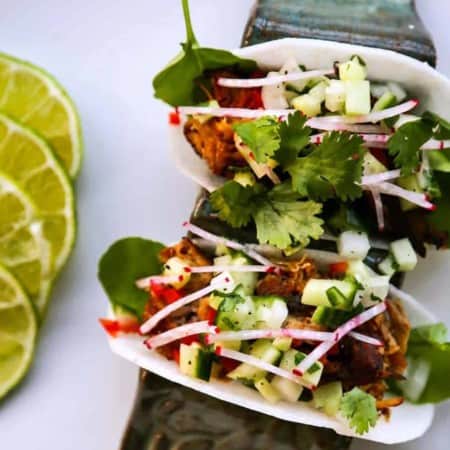 Crunchy, refreshing slices of raw jicama cradled around crisped pork carnitas, Cucumber Sweet Onion Salsa, cilantro, radishes, and hot sauce.
Ingredients
1

teaspoon

neutral oil like canola

grapeseed, or peanut oil

1

cup

leftover pulled pork

12

paper thin slices of peeled

raw, whole jicama

1/2

cup

Cucumber Sweet Onion Salsa

2

radishes

scrubbed and sliced paper thin or into matchsticks

1/4

cup

fresh cilantro leaves

hot sauce

to taste
Instructions
Place a heavy-bottomed skillet over medium high heat and drizzle in the neutral oil. When the pan is hot and the oil is shimmery, toss in the carnitas. Break them up slightly with a sturdy wooden spoon and allow them to heat up thoroughly and become crispy in places. Remove the pan from the heat. Using

a taco holder

to hold them, gently fold a jicama slice into a taco shape. Divide the crisped pork between the jicama shells, then do the same with the Cucumber Sweet Onion Salsa, radishes, and cilantro leaves. Serve with hot sauce at the table.
Nutritional information is an estimate and provided to you as a courtesy. You should calculate the nutritional information with the actual ingredients used in your recipe using your preferred nutrition calculator.