For as long as I can remember, I have been nutty over cucumbers; cold, crunchy, refreshing cucumbers. I like them just about every which way I've had them. I can't say the same is true of onions. I thought I didn't like them for a long time as a kid. In fact, I can remember the first time I ate an onion and realized that I really DID like them. It was when my mom made a summer salad of cucumbers, raw onions, and homemade Ranch dressing. I went bonkers over it. The cucumber and onion combination just speaks to me. Maybe it's saying, "You have dragon breath. Go home." I don't know, and I don't care. It is just delicious. While looking for an idea to top some fabulous tacos I had in the works, it occurred to me that I should try a simple salsa of two of my favourite crunchy ingredients, and so was Cucumber Sweet Onion Salsa born.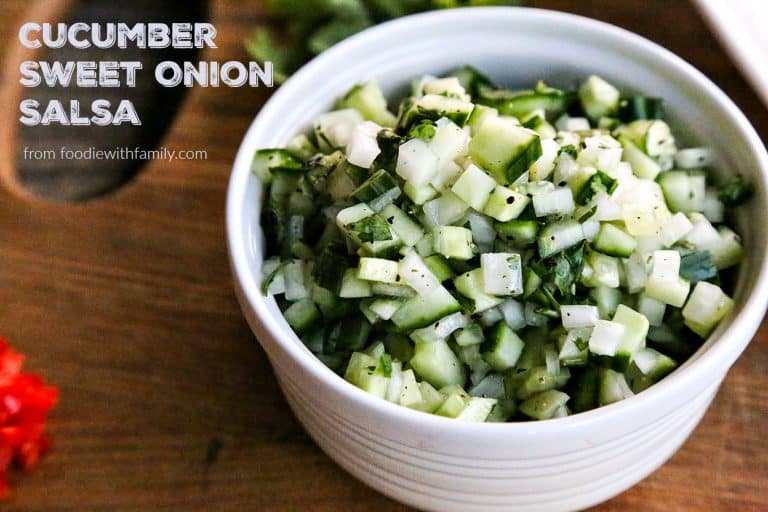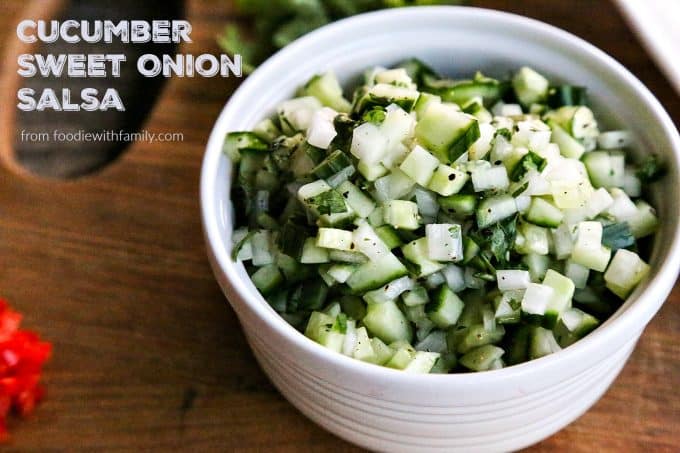 Cucumber Sweet Onion Salsa is a classic example of simplicity yielding some of the tastiest results in the kitchen. It was as easy as an English cucumber and a Vidalia onion diced into tiny cubes and tossed with cilantro, salt, pepper, and fresh lime juice. The result, though, was a fresh, crisp, cooling, salsa with the raw onion bite tempered by tangy lime juice. In short, it was the perfect taco topper. When the tacos had all been eaten, we carried on eating the Cucumber Sweet Onion Salsa on tortilla chips. Then later that evening, I just plain ate it with a spoon.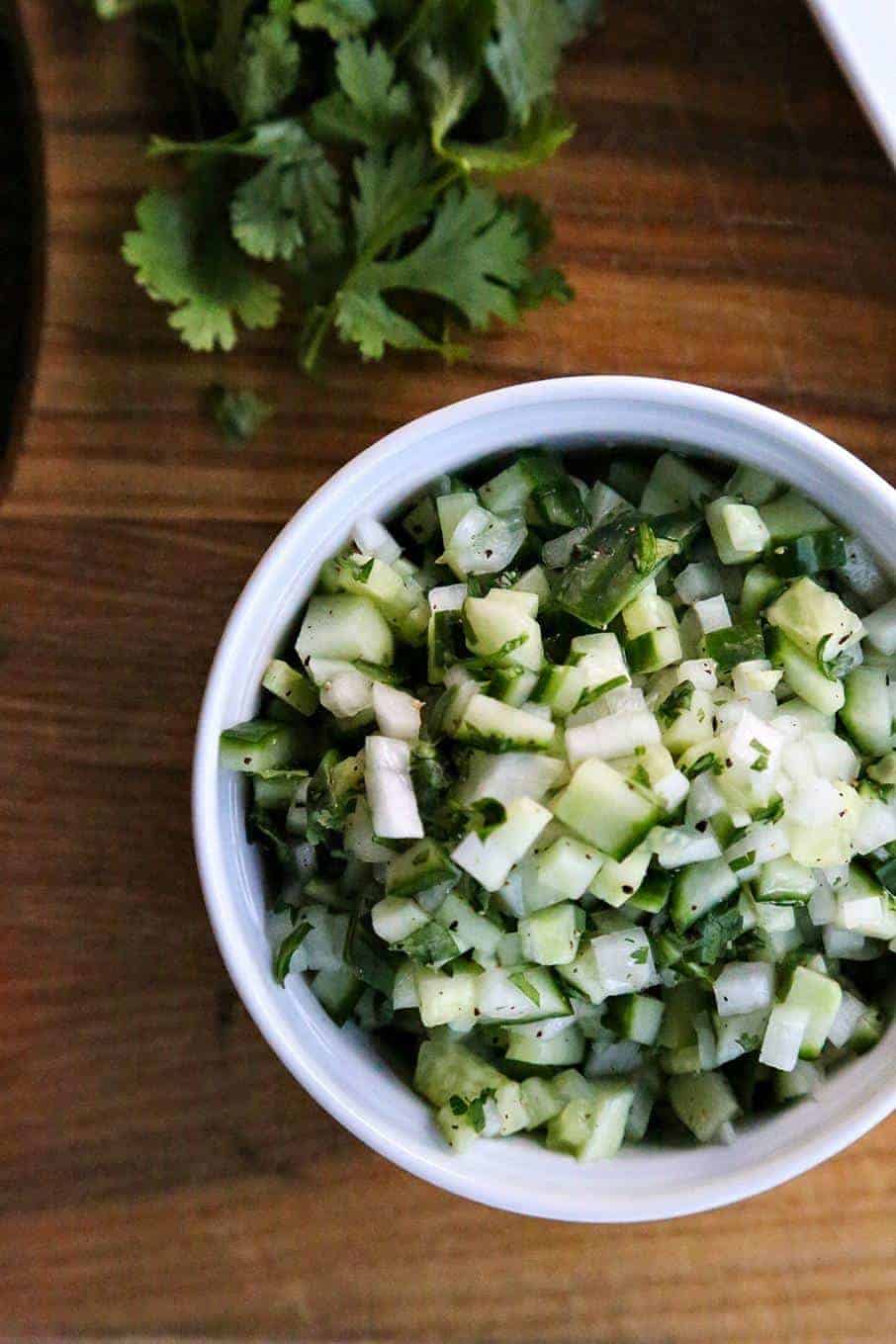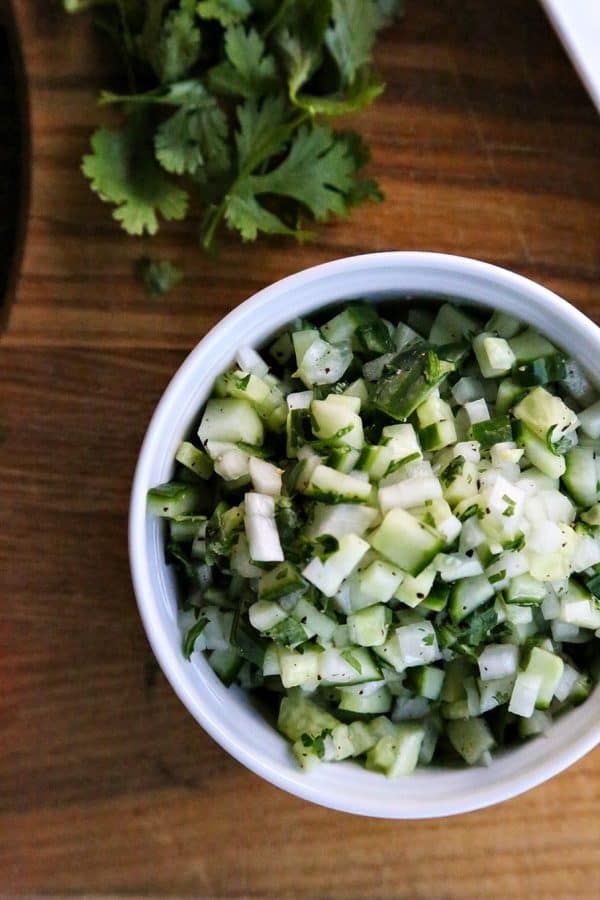 Cook's Notes
If you really want to diminish the sharpness of the raw onion, you can cover the diced onion with cool water for about 20 to 30 minutes before straining. Doing this once should render most any onion palatable when raw. If you're very sensitive to raw onions, do this a couple more times before straining, rinsing, and then tossing with the cucumbers, salt, pepper, and lime juice. HANDY TIP: If you're going to use raw onion a couple of days in a row, you can chop and soak enough onions to use up to three days in advance.
Obviously, Cucumber Sweet Onion Salsa is a pretty simple recipe to double, given that it calls for 1/2 each of most of the ingredients. While I'm a big proponent of making a huge batch and eating off of it for a couple of days, I don't do that with this recipe because I think this is a salsa that is best eaten within 24 hours of being made. The salt added to the mixture will cause the cucumbers to release liquid, which will make the works a little soupier the longer it sits. You can, of course, strain off the liquid, but I like that fresh crunch in the first days. I prefer simply to make as much as we will eat in a day, wrap the other half of the cucumber, onion, etc… and then make another batch the next day. It really is a fast recipe to prepare, so this doesn't trouble me.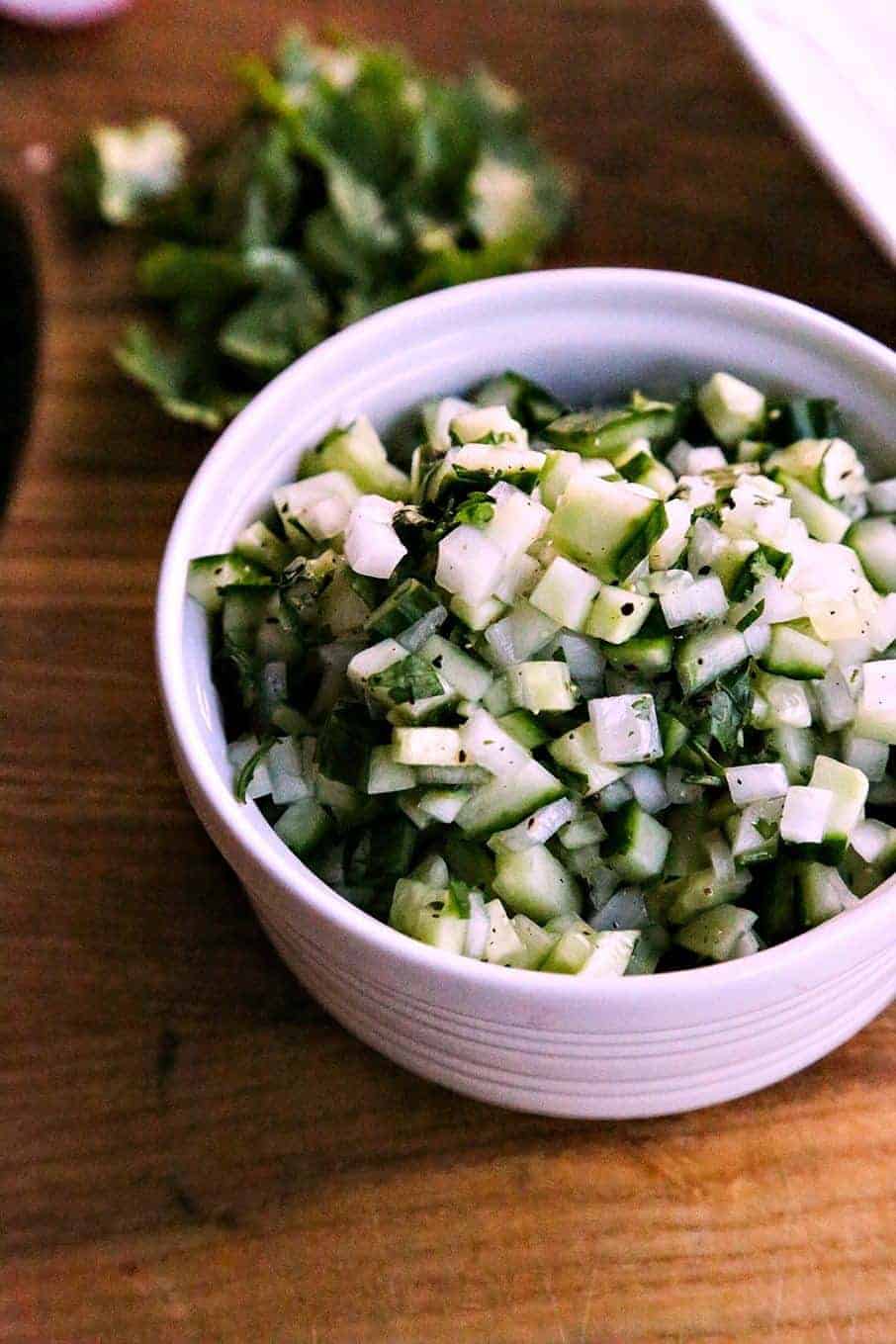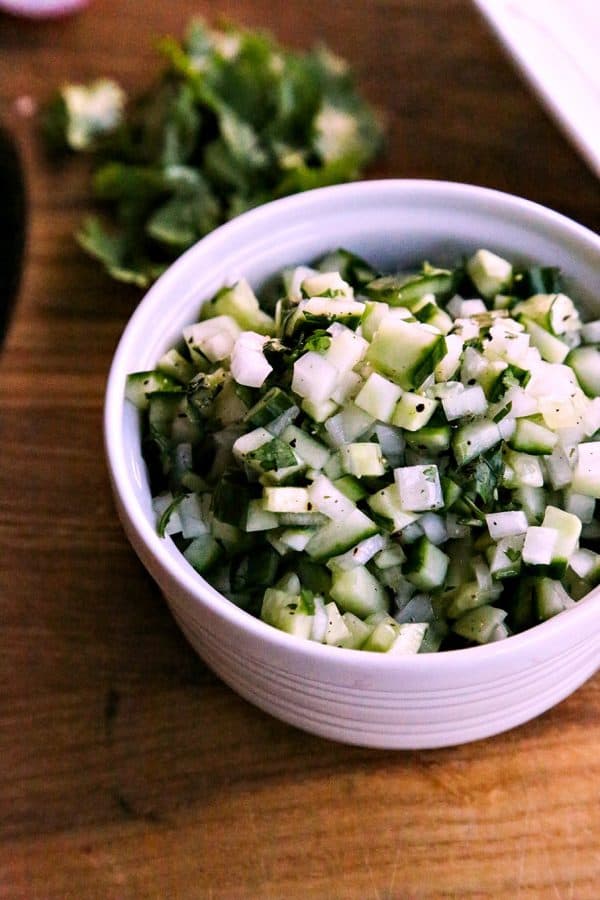 Connect with Foodie with Family
facebook | pinterest | instagram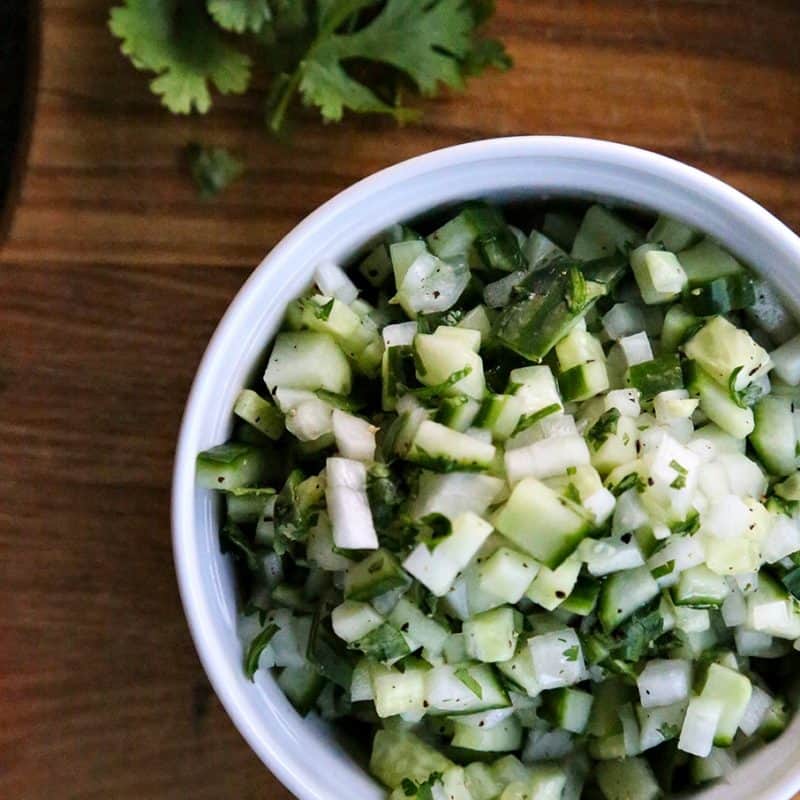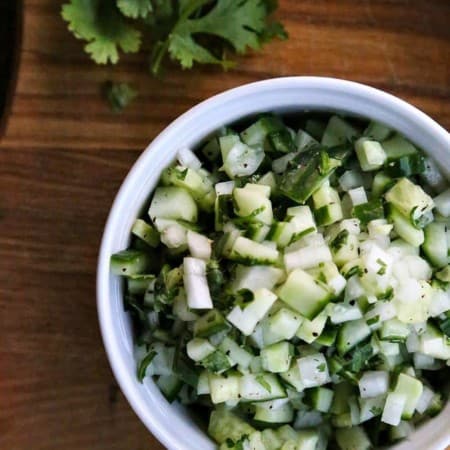 Crunchy, refreshing, cooling salsa made of seedless cucumbers, sweet onions, cilantro, and lime juice. As easy as it is fresh and tempting!
Ingredients
1/2

English cucumber

seedless, diced or chopped into 1/4-inch pieces

1/2

Vidalia onion

or other sweet onion, peeled and diced or chopped into 1/4-inch pieces

1/2

bunch cilantro

finely chopped

the juice of 1/2 a lime

1/2

teaspoon

kosher salt

1/2

teaspoon

coarsely ground black pepper
Instructions
Toss all of the ingredients together and cover lightly. Refrigerate for 20 minutes before serving.
Nutritional information is an estimate and provided to you as a courtesy. You should calculate the nutritional information with the actual ingredients used in your recipe using your preferred nutrition calculator.