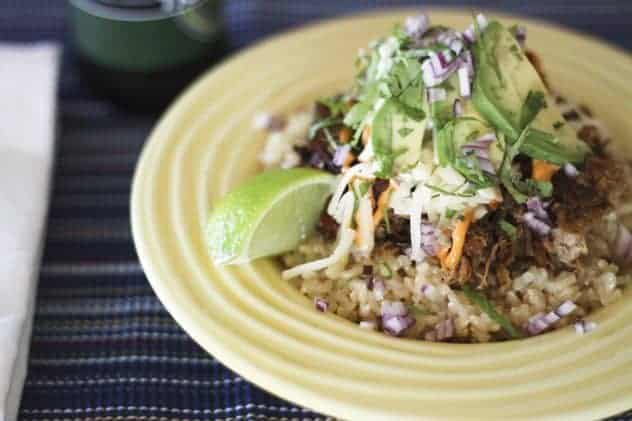 Let me tell you about last week. It was busy. Oh, it was biz-ay. B to the HOLY-COW-HOW-WILL-I-GET-ALL-THIS-DONE to the U-S-Y, man. Or wo-man. Woah, man.
I was hauling my rear (and a bunch of children to boot) all over this stretch of God's country in my big ugly purple van. I drove people here. I drove people there. I dropped people off. I picked people up. In fact, I went one place with my five boys and came home with seven, only three of whom I had birthed. I balanced brooms in the kitchen to show off the awesome wackiness of the solar flares. I spent the entire week wondering how we could possibly make it to all of our commitments.
On the subject of solar flares, I'd just like to say one word. WEIRD.
Okay, I have a couple more words. Did you balance your broom? I'm not even kidding. Did you know that during solar flares you can take a broom –even a raggedy old angled one like mine- and balance it with no support? Go on. Test it. All the cool kids are doing it. You know you want to. (As a homeschooling mom, I have to practice my peer pressure skills so my kids don't have to miss out on all the good stuff.)
I'm still not entirely sure how we did it, but we did manage to get to everything we had on the schedule and threw in a big family get together on Saturday for good measure. The biggest yeehah of them all, though,  the icing on the cake, was when the entire family (including those who had come to visit earlier in the day) went to watch a battle of the bands in which my fourteen year old bass-playing eldest son and my eight year old "Animal" drummer participated. It started at eight o'clock at night.
Did you catch that?
As in the same night as the time change. In other words, my  husband and I and our fourteen, twelve, ten, eight and six year olds were in a large auditorium full of big, loud, boomy amplifiers and microphones and screaming rock guitars (and some screaming vocalists) along with my sister, her husband and their eight, six and two year olds, and my mother. Nana was banging her head. At least I'm fairly certain she meant to and wasn't being thrown back against the wall by the sub-woofer.
This brings me to another point. Can I talk about how much I despise this time change? They are taking an hour from me! Who decided that was a good idea? Do they not know how much I'm trying to cram into a day?
When we were in the process of moving to where we live now, I joked with friends that in order to buy the home, we had to convert to the Amish faith. Since moving here, I've gotten to know many Amish and one of the most fascinating things I learned was that they don't  "do" the time change. Well, hallelujah. I think I'll convert after all.
Solar flares, time changes, extra kids, battles of the bands, and go, go, GO! I hit my freezer food bank pretty hard this week. And on the subject of a stash of food…
You all know I love me some pulled pork. In fact, one of the all-time most popular posts ever here on Foodie With Family is my Cuban Pulled Pork recipe. It tastes wonderful and it makes enough to stash away three or four meals worth of food (even for a family our size!) It is so good. So good, in fact, that for a very long time (longer than I care to admit), I didn't make pork shoulder in any other way. Why?
Because IT WAS SO GOOD!
You know what? It's still that good, but I realized something really crucial. Expanding the pork shoulder repertoire does not mean I love the Cuban Pork any less. It just means I have more opportunities for eating pork!
Pork shoulder is the busy person's best friend. You wouldn't think it to look at that massive cut of meat, would you? You look at the marbled hunk of meat with that bone down the center and think, "All that work! Who has time?" You do! I promise. It is one of the most economical cuts of meat and requires so little hands-on time that it's almost criminal not to take advantage of it.
For this Slow-Cooker Cola Pulled Pork, we begin with the same method used in the Cuban Pork recipe; cook overnight in the slow-cooker, chill during the day, shred the pork, reduce the pan juices, and pour it over the pork. Instead of our well loved Cuban spices and juices, we add cola, onions and chipotles in adobo. Rawr. Then we diverge a bit more… Instead of baking the pork, we press a goodly amount of the shredded pork into a super hot pan until it's crispy brown around the edges. Flip it over, make it crispier and then? And then. Oh, then.
This, my friends, is the stuff of dreams. Crispy pork carnitas.
We can serve that crispity yet juicy, delectable, slightly spicy and sweet, flavour-packed pork on tostadas, pizza, in tacos, or like we're doing today on Carnitas Rice Bowls. You cannot possibly imagine a meal that is this easy to throw together can taste this incredible.
This is good enough to bump itself into the rotation with my beloved Cuban Pork.
And much like Cuban Pork, it makes enough to feed a massive crowd ~or~ sock away several meals worth of already cooked meat. With that in the freezer, like all of our other Make Ahead Mondays recipes, dinner is just minutes away.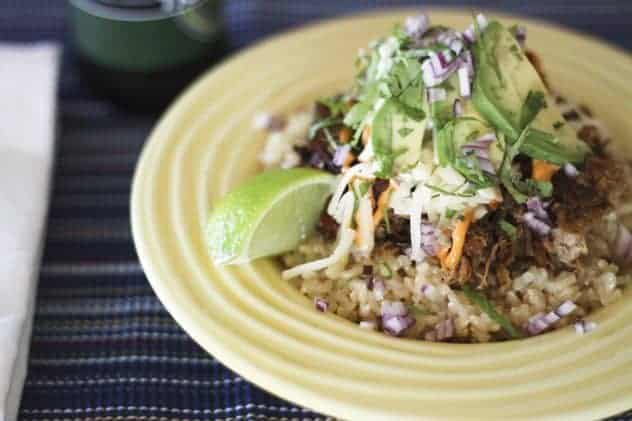 Slow-Cooker Cola Pulled Pork and Carnitas Rice Bowls
Rate Recipe
Slightly spicy, smoky and a little sweet, this slow-cooker cola pulled pork is so easy to make you'll be shocked and is so good that you'll be thankful it yields enough for several meals-worth to be stored in the freezer. One of our favourite ways to use it is on Carnitas Rice Bowls; hot cooked rice piled with the crispy "little meats" and a variety of flavourful toppings. Go wild and really pile it high. This meal pleases all ages and is easy on the wallet.
Ingredients
For the Slow-Cooker Cola Pulled Pork:
3

large onions

6-9

pound

bone-in pork shoulder or pork butt

2

small cans of chipotles in adobo

2

12 ounce bottles or cans of your preferred cola (I like Mexican Coca-Cola.)

For Each Serving of Carnitas Rice Bowls:

½-3/4

cup

slow-cooker cola pulled pork

1

teaspoon

canola

peanut or vegetable oil

1 to 1 ½

cups

hot

cooked rice
Optional, but oh-so-tasty:
salsa

shredded pepper jack or Cheddar cheese

sour cream

sliced or diced avocado

finely diced red onion

chopped cilantro or parsley

lime wedges
Instructions
o Make the Slow-Cooker Cola Pulled Pork:
Cut the stem and root-ends from the onions, cut the onions in half and remove the peels. Arrange the halved onions over the base of the slow-cooker. Position the pork roast –fat layer facing up- on top of the onion halves. Pour the cans of chipotles in adobo (with all the sauce) over the pork shoulder then pour the colas over the chipotles. Cover the slow-cooker and cook on 'LOW' for 8-9 hours.

Cool the pork roast (still in its juices in the slow-cooker insert) completely until the pork fat congeals around the roast on top of the cooking juices. Scrape away and discard the fat. Transfer the pork roast to a cutting board and pour the remaining contents of the slow-cooker into a sieve positioned over a saucepan. Push the contents of the sieve with a spoon to extract as much liquid as possible. Set the saucepan over medium high heat and bring it to a boil. Let it boil and reduce until it is about ¼ of the original volume.

Pull the cooled pork roast apart and scrape excess fat from the meat. Use your hands or two forks to shred the pork. To get smaller pieces of pork, you can chop through the pile of shredded pork with a large knife a couple of times. Put the pulled pork into a large mixing bowl, pour the reduced pan juices over the top and toss until the juices are evenly distributed.
To Freeze to Serve Later:
Divide the pulled pork between zipper top bags in meal-sized portions. Try to squeeze as much excess air from the bag as possible before sealing. Try to flatten the bag so that it takes up less room in the freezer. Freeze for up to 8 months.
To Serve from Fresh:
Put a heavy-bottomed skillet over high heat and add the oil to the pan. Swirl to coat, then pile the pulled-pork in the center of the pan. Use a spatula to press the pork into the pan. Fry until the pork is brown around the edges. Use a spatula to flip the pork until crisp on the other side.
To Serve From Frozen:
Thaw the pulled pork in the refrigerator or in the microwave. Put a heavy-bottomed skillet over high heat and add the oil to the pan. Swirl to coat, then pile the pulled-pork in the center of the pan. Use a spatula to press the pork into the pan. Fry until the pork is brown around the edges. Use a spatula to flip the pork until crisp on the other side.
To Assemble the Carnitas:
Put the hot, cooked rice in a bowl, use a spatula to place the crispy pork on top. Pile any or all of the toppings on the crispy pork.
Nutritional information is an estimate and provided to you as a courtesy. You should calculate the nutritional information with the actual ingredients used in your recipe using your preferred nutrition calculator.