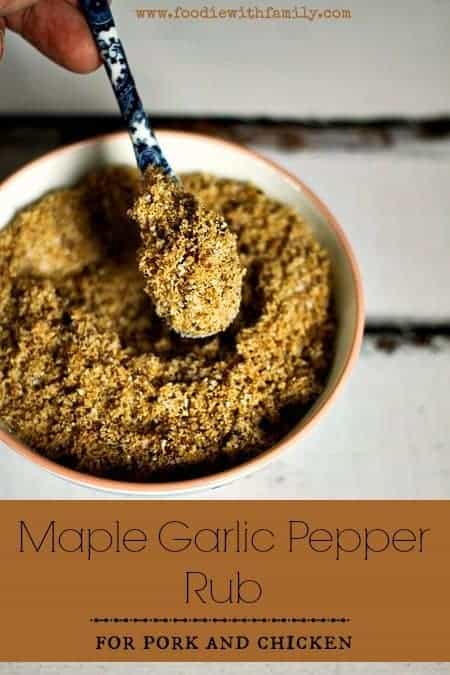 A couple of weeks ago, I had the privilege of judging a Cooking with Maple Syrup contest at the Genesee Country Village & Museum in Mumford, NY. The winning entry was a maple glazed chicken recipe that I'll share at a future date. Today, though is all about one of the ingredients in the recipe.
The recipe for the chicken called for a maple garlic black pepper rub that was bought from a farm stand. Try as I might, I couldn't get my hands on this rub and it wasn't available for mail order, so that left me with the option I often like to take anyway: Make It Myself. It was pretty easy, the name of the rub specified all of the ingredients so it was just a matter of sussing out ratios. I'm awfully glad I did it, because this stuff is beyond delicious on chicken and pork whether pan-fried, roasted, broiled, or grilled.
There's something so perfect about the sweet and salty, peppery, garlicky rub. It delivers just enough of each of the components without being too much of any of its parts. Speaking of its parts, though, we need to talk maple sugar for a minute. It's crucial here. Have you ever had maple sugar? Maple isn't just for pancakes, friends. Maple sugar is pure maple sap that's boiled down even further than maple syrup or maple taffy and to the point where almost all of the water is evaporated from it leaving a solid sugar. Since childhood, pressed maple sugar candies have been my favourite candy in the entire world. Ah, the beauty of having grown up in maple country…
Maple sugar dissolves on the tongue into maple syrup much in the way cotton candy dissolves on the tongue. If you haven't had maple sugar or maple candy, I highly recommend you remedy that A.S.A.P. You will thank me.
If you live in maple country, it's pretty easy to lay your hands on maple sugar and maple syrup… just keep your eyes peeled for "maple products sold here" signs on the side of the road. If you don't, my best friend forever Amazon.com can get you what you need. (Affiliate links below:)

…and if you should want to try maple candy, which is just pressed maple sugar (Psst. These make WONDERFUL and HEALTHY options to tuck into kids' Easter baskets!) they have you covered, too!

Cook's Notes:
There really is no substitute for maple sugar here. It's the distinctive maple flavour that helps boost this rub into the awesome category.
For optimal flavour, keep this rub in a tightly lidded jar in a cool, dark place up to 6 months.
Unless you have a very thin cutlet of meat you're rubbing and cooking, you will not want to cook things rubbed with this over super high heat. The sugar content is such that it may scorch. It does very well as a rub for items to be braised, slow roasted, or grilled over indirect or low heat/coals.
Ingredients
1/2

cup

pure maple sugar

2

tablespoons

kosher salt

1

tablespoon

granulated garlic

1

tablespoon

cracked or coarsely ground black pepper
Instructions
Mix all ingredients together and store in a cool, dark place in an airtight jar.
Nutritional information is an estimate and provided to you as a courtesy. You should calculate the nutritional information with the actual ingredients used in your recipe using your preferred nutrition calculator.