I'm a sucker for a weeknight meal that comes together in a flash and delivers major flavour and Easy Garlic Ginger Crispy Pork Noodles are most definitely a shining example of all things good and fast.
We're talking about taking a pound of ground pork and a bag of rice noodles and transforming them into positively irresistible, flavourful crispy pork and tender noodles in a gingery, garlicky sauce with quick stir fried bell peppers and green onions.
Our dish is tossed together in the same skillet in which you made the crispy. It only takes a handful of ingredients and a few minutes, but the taste is huge.
It is like everything you love about takeout Chinese food in a far less expensive and far more nutritious package.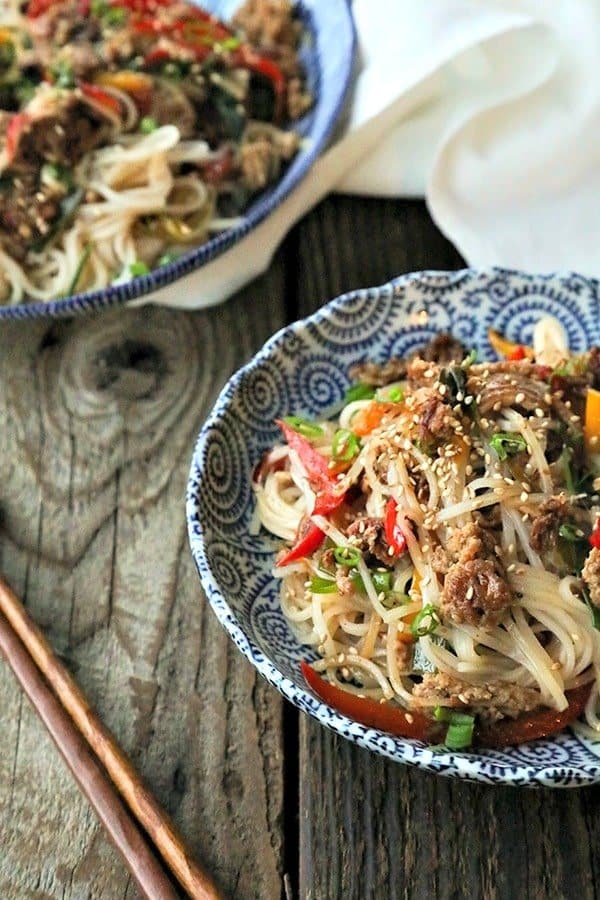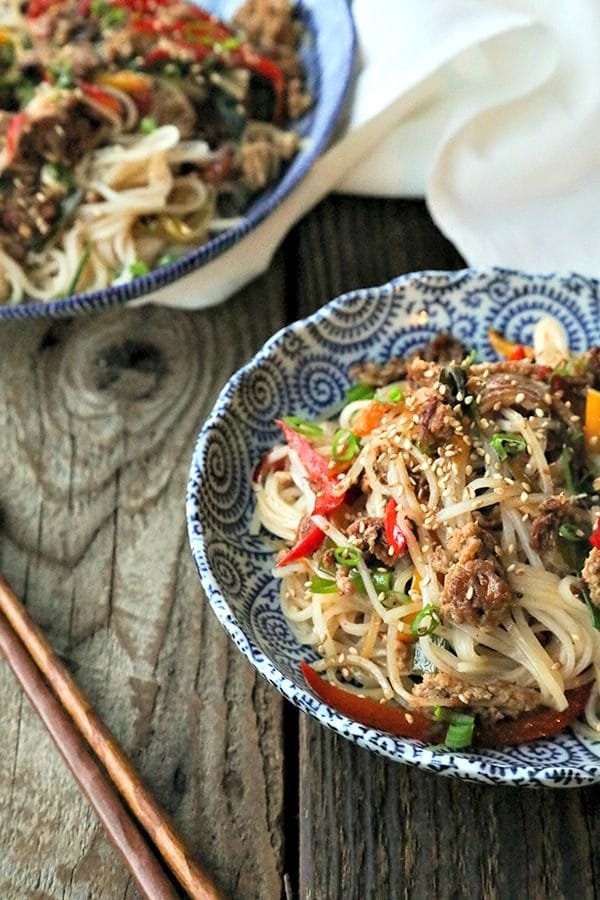 Which type noodles should I serve with the Crispy Pork?
Crispy Pork goes well with just about any type of long noodle whether it's made from wheat flour like linguine or sweet potato starch like Korean glass noodles. My personal preference, though, is for the type of rice noodles that are called stir-fry noodles or medium rice stick noodles.
Their flavour is neutral, so they don't assert themselves in the flavour mix, and they soak up the luscious, fast sauce just perfectly without becoming mushy. Rice noodles also reheat like a dream.
If you can't find them and don't want to order them, though, linguine noodles cooked to al dente according to package instructions will do the job fine!
The key to your noodle choice for crispy pork is that the noodles are al dente before they go into the sauce, otherwise they can be a little too soft in the finished product.
If you're like my husband, though, and actually like your noodles soft (EGADS!), you can cook them a little longer in the sauce to soften them up. But you're wrong. Like my husband. Bless ya.
What kind of oil should I choose for crispy pork?
You have a couple of options here. You want to use an oil that has a high smoke point because it takes a couple of minutes over a high flame to get those crunchy little flavour deposits on the pork.
For a taste most like takeout Chinese food, the best oil to choose is peanut oil. If you don't have the budget for peanut oil or have an allergy, any neutral, high smoke point oil like refined coconut oil, grapeseed oil, pure olive oil (but not extra virgin!), canola, or vegetable oil can be used with good results.
What kind of pork do I use for my crispy pork noodles?
You're going to love me for this, I hope. All it takes for a full, generous batch of crispy pork noodles is a single pound of ground pork. The beauty of this crispy pork recipe isn't just in its explosive taste, but also in the ease of preparation.
What kind of pan do I use to make Easy Garlic Ginger Crispy Pork Noodles?
Before you start anything else in our crispy pork recipe, you'll want to make sure your bell peppers, green onions, and garlic are chopped and you have a pot of boiling water ready to cook your noodles according to package directions.
To get your pork super crispy, you'll need to start with a stainless steel or cast-iron skillet over high heat. A non-stick pan is not suitable because most non-stick pans are not meant to be used over anything higher than medium heat.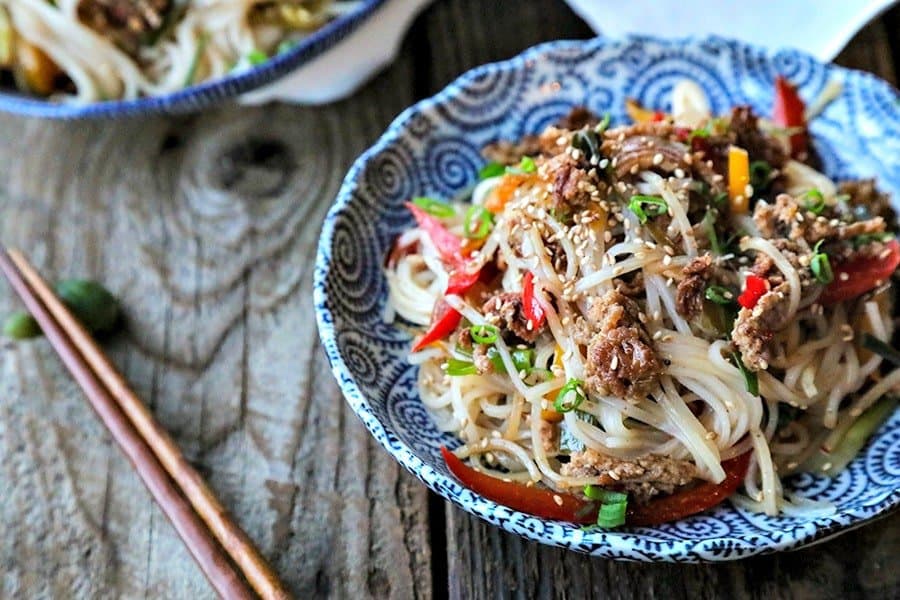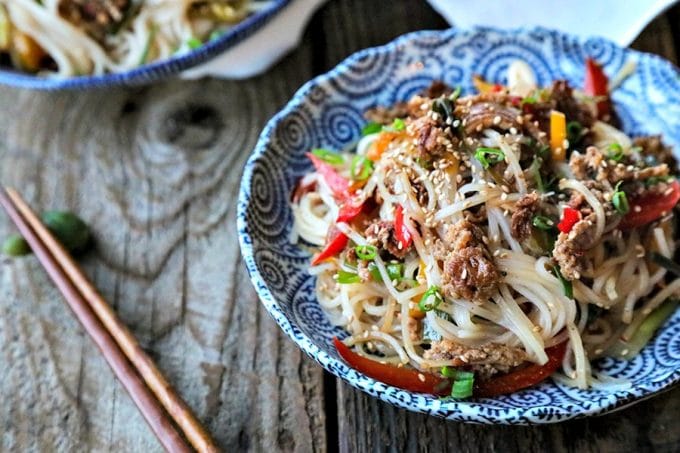 Cook's Notes for Easy Garlic Ginger Crispy Pork Noodles
Don't let the long looking ingredient list freak you out, 7 of the ingredients are ones I'm willing to bet are already in your pantry! And the rest are so easy. Just get all of your ingredients measured or cut before starting and you'll be so amazed how quickly this goes!
Drizzle in your oil into the hot pan and swirl. Then you simply scatter your ground pork into the pan. Sprinkle it with the salt, black pepper, red pepper flakes, and grated or chopped ginger, or partially dehydrated chopped chili peppers and ginger like the ones you can buy in the produce department at your local grocery store.
Now you use a fish spatula or heat-proof silicone spatula to mash the seasonings into the pork and spread it out into a giant patty that covers the bottom of the pan as much as possible. You really want to maximize the amount of pork coming into contact with the hot pan and oil. This, in turn, ups the delicious crispy bits that you're going to love so much.
Now do NOT touch that pork for at least 4 minutes. Trust me. You can put that time to good use by cooking your noodles.
After 4 minutes, use a flexible spatula to lift the corner of the pork patty which should release easily from the pan. If it is crispy and deeply browned on that side, flip it over. It may break as you flip it, but you should be able to get it to go in a couple of large pieces.
Once you've flipped the whole thing, you can start breaking it up into bite sized pieces with your spatula. This is another reason you don't want a non-stick pan; using a metal spatula of any sort would scratch the non-stick finish which could end up flaking off into your food.
When the crispy pork is completely broken up, transfer it to a plate, add the bell peppers, green onions, and garlic and stir fry just until the bell peppers are crisp tender and have taken on a tiny bit of colour, about 1 minute. Now you'll move those veggies to the plate with your crispy pork, add all of the sauce ingredients and bring to a raucous boil.
As the sauce boils for a minute, scrape the bottom of the pan to release any delicious browned bits you may have missed. Then all at once, add your drained noodles along with the crispy pork and vegetables. Toss to distribute the ingredients and coat them evenly with the sauce, and kill the heat. Garnish and eat with gusto!
Should you have leftovers, they are equally good cold or reheated.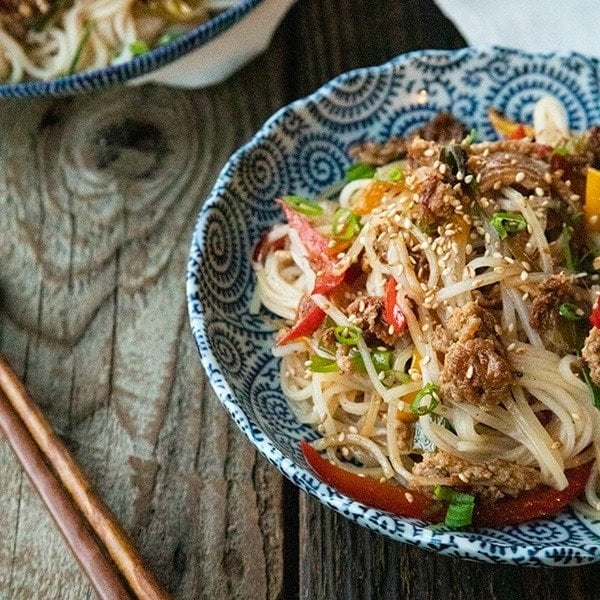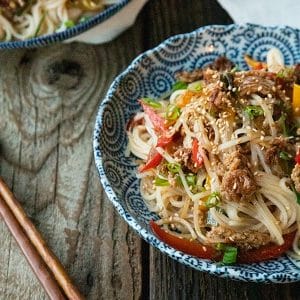 Easy Garlic Ginger Crispy Pork Rice Noodles
Rate Recipe
Easy Garlic Ginger Crispy Pork Noodles are going to be your new favourite dinner. Crazy simple. Crazier delicious. And easy on your pocketbook to boot. This delicious meal-in-one whips up in less than 30 minutes.
Ingredients
1

pound

ground pork

2

tablespoons

peanut oil

or another neutral oil

1

tablespoon

grated ginger

or partially dehydrated ginger from the produce section at the grocery store

1

teaspoon

crushed red chili flakes

or 1 tablespoon partially dehydrated chopped red chiles from the produce section at the grocery store

1

teaspoon

kosher salt

1

teaspoon

black pepper

8

green onions

trimmed of the root ends, cut into 2 or 3 inch long segments, white portions cut in half lengthwise and kept separately.

1

red bell pepper or yellow bell pepper, or a mix of both

seeded, stemmed, and thinly sliced

6

cloves

garlic

thinly sliced

1/3

cup

rice wine vinegar

1/4

cup

low sodium soy sauce

1

tablespoon

sriracha

or Asian chili garlic sauce

1

teaspoon

sesame oil

1

teaspoon

honey

or brown sugar

14

ounces

rice noodles

or about 1 pound of linguine, either cooked to al dente according to package instructions, then drained and rinsed
Optional for garnish
sliced green onions

toasted sesame seeds
Instructions
Place a 10 or 12 inch stainless steel or cast-iron skillet over high heat. Drizzle in the oil and swirl to coat. When the oil is shimmery and the pan is too hot to comfortably hold your hand a couple of inches from the surface, scatter in the ground pork.


Sprinkle the salt, pepper, grated ginger, and chili flakes over the pork, then use a flexible, heat-proof spatula to press and spread the pork into a patty that covers the surface of the pan, if possible.


Let it fry, undisturbed for 4 minutes. After 4 minutes, use your flexible spatula to lift the corner of the pork patty. It should come away from the surface of the pan easily and be deeply browned and crisp looking. If not, fry for another minute or so, checking it often.


When it is deeply browned, flip it over in as few pieces as you can. It may break up as you do this, but it should be in big pieces. Fry for another 2 minutes, then begin breaking it up into bite sized pieces with your spatula. When it is fully broken up, transfer to a plate.


Return the heat to the pan, add the bell pepper, white part of the green onions, and sliced garlic to the pan. Stir-fry for about 1 minute, or until the bell pepper strips are crisp tender. Transfer these to the plate with the crispy pork.


Return the pan to the heat one more time and add the rice wine vinegar, soy sauce, sriracha or chili garlic sauce, sesame oil, and honey or sugar to the pan and stir, bringing it to a hard boil. As it boils, scrape the pan to release any delicious browned bits stuck to it.

Let it boil no more than 1 minute, adding in the noodles, crispy pork, and stir fried vegetables, and green portions of the green onions all at the same time, tossing to coat and distribute everything.


Remove the pan from the heat, garnish with additional green onions and sesame seeds, if desired. Serve immediately.


Store leftovers in a tightly covered container in the refrigerator for up to 3 days. Leftovers are delicious cold or reheated.

Nutrition
Calories:
775
kcal
Carbohydrates:
91
g
Protein:
24
g
Fat:
32
g
Saturated Fat:
10
g
Cholesterol:
81
mg
Sodium:
1457
mg
Potassium:
540
mg
Fiber:
3
g
Sugar:
3
g
Vitamin A:
1320
IU
Vitamin C:
47.1
mg
Calcium:
62
mg
Iron:
2.7
mg
Nutritional information is an estimate and provided to you as a courtesy. You should calculate the nutritional information with the actual ingredients used in your recipe using your preferred nutrition calculator.