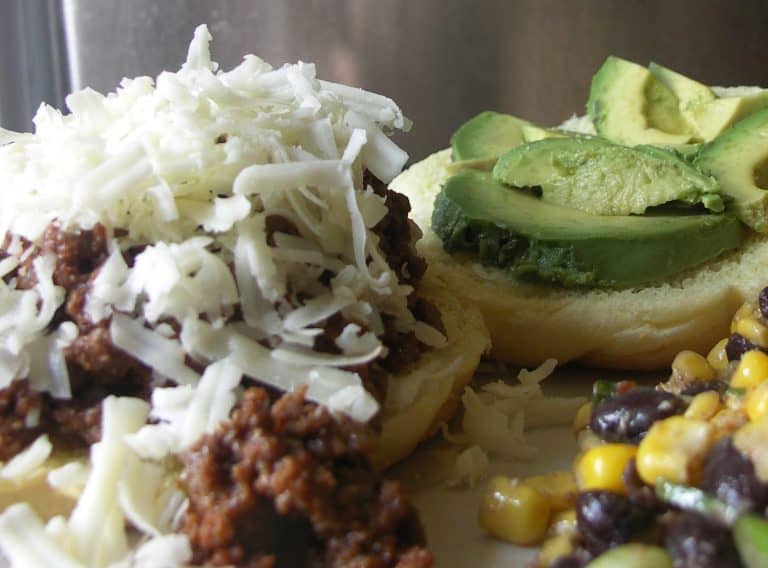 If a sloppy joe's and a taco's eyes met across a crowded room… If they were to fall in love and pledge themselves to each other in holy matrimony…
If they were to have a baby… It would be -well, besides being weird- delicious. And it would be what we had for dinner last night. But all weirdness aside, let me backtrack a bit.
I had an awesome childhood. I grew up in camps. Literally. My father was (and still is) a camp manager.
All of my school-aged years were spent living at a summer camp/winter retreat site. First at Lake Louise United Methodist Camp and then at Camp Asbury.
In the summers the lake was teeming with swimmers, boats and fishermen, and the meadow was filled with raucus camp kids who came in from all over the state. I spent the summers swimming and fishing in the most beautiful lake in Michigan and gawking at all the cute boys at camp.
Can you think of a better (or worse, depending on whether you're the child or the parent) place for a boy-crazy teenage girl to live? They bused kids from the city to my backyard. The grandeur of nature combined with a fresh crop of teenage boys every week. The advantages of living where we lived were not lost on me!
The summer also meant that my family ate most of our meals in the dining hall with the campers. And that meant that we ate what the campers ate.
Most weeks the menu was the same and weeknight dinners looked something like this: roast beef, tacos, pizza, sloppy joes, fish night, and every night a salad bar. (When we got the new salad bar we were REALLY living. Although I still do not look back fondly on sneeze-guard cleaning duty.)
Those meals, eaten as often as they were, came to represent my youth. So for me, at least, pizza, sloppy joes and tacos (The holy trinity of camp food) are a reminder of wondrous years spent sitting under the bright, blue sky on the end of the dock and dappling my toes in the cool, clean water of Thumb Lake.
So basically, pizza, sloppy joes and tacos became the ultimate in memory-associated comfort food. Kind of a lofty association for sloppy joes and tacos, but I never claimed to be sensible…
Every now and again, in a fit of nostalgia, I feel compelled to whip up a giant batch of sloppy joes.
And since, in days of yore, we fed in excess of a hundred campers at most meals, a pot of sloppy joes doesn't look right to me unless it's huuuuuuuuuuuge. A couple years into marriage, I noticed that The Evil Genius was not sharing my enthusiasm for my semi-annual foray into sloppy joe nirvana.
I cornered him. "Do you dislike sloppy joes?" I believe he sensed that this was a pivotal moment in our relationship and wisely remained silent. "Why don't you like sloppy joes?" I asked him.
He continued to stand mute. Time passed and I still didn't understand why he didn't get misty eyed over a sloppy joe. Then I got clever.
"What do you think of sloppy joes?" I asked. Caught unawares, he replied, "Meh. It's sweet spaghetti sauce on a bun."
Shock. Flabbergastedness. I had recognized that he did not love sloppy joes, but this was something else entirely. This had to be remedied.
I tried every possible sloppy joe recipe I could lay my hands on, even *gasp* the stuff in a can. I tried making the world's spiciest homemade sloppy joes chock-a-block with habanero peppers.
Nothing doing. And then, yesterday…
Yesterday afternoon I sat down to read a book for just a few minutes. I got a little lost in reading and when I glanced up at the clock I realized that it was less than an hour away from when the family would descend on the table like ravenous beasts and start drooling and snarling at each other if there wasn't food visible on the horizon.
I grabbed a large quantity of ground beef (*More on this later…) and fell back on what I could do in my sleep. Sloppy joes. BUT, being out of the all important carrots and celery and diced tomatoes I had to improvise.
I called upon another old faithful: taco flavors. I threw some enchilada sauce seasonings, a can of tomato paste and some water in with the browned ground beef and in less than 15 minutes, I had a pot of taco flavored sloppy joes simmering away on the stovetop.
When The Evil Genius called for his evening check in before the long drive home and asked, "What's for dinner?" I responded, "Taco Joes," without much hope of enthusiasm from him.
And I wasn't wrong. He said, "What? Taco joes? Alright. Nice night… I'll hit some golf balls when I get home." In the grand tradition of tacos, I figured the toppings were just as important as the filling, so I whipped up a corn and black bean marinated salad, shredded a monster pile of super sharp cheddar cheese and sliced some luverly avocados to serve alongside or on the sandwiches.
I gathered the crew at the table. Based on the chilly reception that sloppy joes usually get around here from nearly everyone but me, I expected perfunctory eating, clearing of the table and darting back to the golf balls, bike riding and pretending-to-be-a-robot. But they all loved it.
They went back for seconds. And thirds. Slightly smoky, garlicky, and tomatoey, the taco-meat like flavor of the filling was perfect.
And it wasn't even the teensiest bit sweet. I had finally done it. After 13 years of marriage, I had finally found a sloppy joe recipe that my husband loved. And thus, were Taco Joes born…
*Remember I said 'more on that' regarding the amount of beef I cooked? And do you also remember that I said that sloppy joes needed to be made in huge batches? Well, here's the moment.
This last bit is going to push any of you who don't already think I'm insane for throwing talk of entrees mating and producing hypothetical children and then eating them, nostalgia for my lost childhood, and sloppy joes into the same post, into the "she's-a-nutter" camp. (Camp. Sheesh. I just couldn't come up with another word for it. I'm sorry. I'll lay off the camp talk now.)
I cooked six pounds of beef last night. On purpose. I reasoned (cut the snickering) that I could save myself some time on future meals by making a massive batch and freezing it in serving size portions.
In hindsight, after seeing how well the Taco Joes were received, I am very glad I made enough to feed a regiment. Even for a family our size the (small amount of) work I put in last night yielded enough for at least 5 meals.
And don't think you'll be stuck eating Taco Joes for 15 nights in a row. It freezes like a dream and makes fantastic taco meat, nacho or taco pizza topping, or meat for taco soup.
How nice would it be for you to know that you have an almost-instant meal tucked away in your freezer? It was good enough to convert The Evil Genius, so I think I'll win a few of ya'll over, too.
Please make a batch of this soon. They're delicious and oh so simple to make. You'll be a happy camper. (I just couldn't resist that one. Can you blame me?)
Taco Sloppy Joes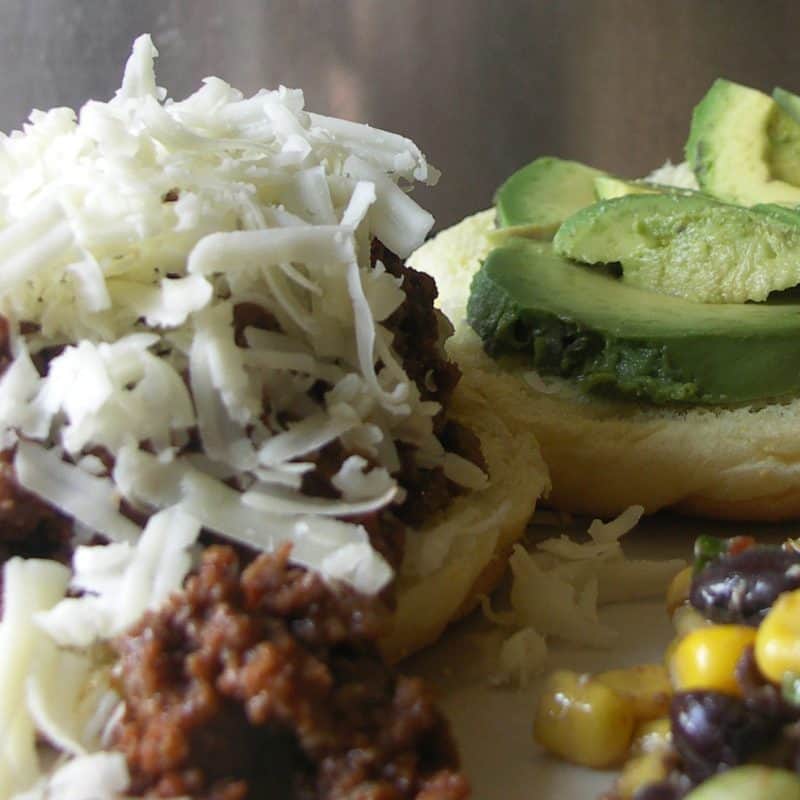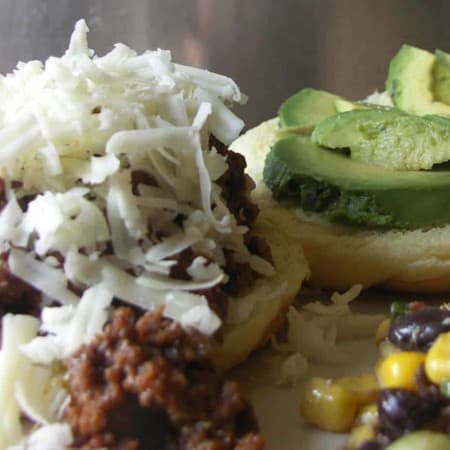 Ingredients
2

pounds

super lean ground beef

3

cups

cold water

1

6 ounce can tomato paste

salt and pepper

to taste

12

sandwich buns or bread

1

avocado sliced

1

cup

salsa

2

cups

shredded cheese

2 to

matoes

sliced

1

sweet onion

sliced
Instructions
Break up and brown the ground beef in a large soup pot over medium high heat. When just browned and no longer pink, add the water, tomato paste and taco seasoning and stir well. Bring to a boil, stir well, and lower heat. Stirring frequently, simmer for about 30 minutes, or until very thick. The goal for simmering this is to create a thick meat filling that holds together when scooped onto a bun. It should not have sauce running off it, but should still be very moist.
Nutrition
Calories:
375
kcal
Carbohydrates:
33
g
Protein:
25
g
Fat:
16
g
Saturated Fat:
6
g
Cholesterol:
64
mg
Sodium:
1052
mg
Potassium:
680
mg
Fiber:
4
g
Sugar:
8
g
Vitamin A:
1104
IU
Vitamin C:
12
mg
Calcium:
201
mg
Iron:
4
mg
Nutritional information is an estimate and provided to you as a courtesy. You should calculate the nutritional information with the actual ingredients used in your recipe using your preferred nutrition calculator.