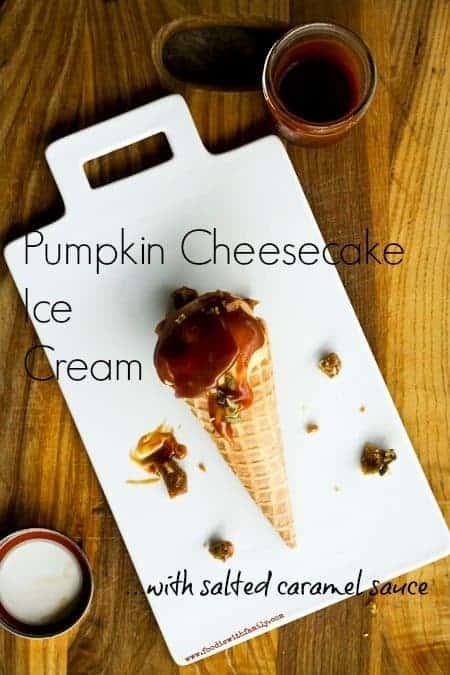 It's no secret that I am BONKERS for fall and the food that goes with it. I can't even handle how much I love it. I love everything about it… the food, the weather, the movies. Shoot, I even do Snoopy's happy dance when I think about pumpkins and leaves falling to the ground.
When our temperatures dropped precipitously last week, I knew I couldn't wait one minute longer. I drove to the store at eight thirty at night (no mean feat considering we live miles not minutes from the nearest grocery store) and grabbed all three cans on the shelf. Apparently whoever stocks them does not share my impatience for autumn and it's attendant yummies. I got home, arranged my cans of pumpkin on the kitchen counter so I'd see them first thing in the morning, and went to bed with visions of pumpkin rolls, pumpkin bread, pumpkin cookies and pumpkin everything dancing in my head.
When I woke up the next morning it was EIGHTY SEVEN DEGREES with seventy percent humidity. I'm pretty sure I pouted. Then I got creative. I  wasn't going to heat anything up AND I was going to get my pumpkin fix, dadburnit.
I decided to make super silky Pumpkin Cheesecake Ice Cream. Can I get an amen?
How to get rich, smooth ice cream without making a custard first
If you've spent much time making ice cream, you may be wondering how I got a velvety smooth, rich ice cream without making a custard base (and by extension, standing over a double boiler whisking an egg-based custard until it thickened, then waiting for it to cool down in the refrigerator or an ice bath.) It's because I employed two secret weapons: CREAM CHEESE and my BLENDER. Am I hearing another amen yet? It's ridiculously simple to make a fantastic ice cream in little longer than it takes your ice cream maker to do it's thang.* It's the cream cheese that does the trick, really… Not only does it make it taste like cheesecake from heaven, but it also thickens, smooths out, and otherwise improves the final product.
*"Doing it's thaaaaaang" is what my seven year old calls the process of turning liquid to deliciousness in the ice cream maker.
After the thang is done, you can either eat your soft serve confection that tastes exactly like pumpkin cheesecake in ice cream form or pack it into a container and stuff it in the freezer for a couple of hours. You will spend this time -in all likelihood- drumming your fingers on the counter and snitching bites from the container in the freezer. At some point, you may decide to quit snitching (so it'll harden enough to scoop already, dangit!) and contemplate your serving options. While thinking of serving options, I decided it was most definitely time to gild the lily and made Salted Pepita Brittle and a killer caramel sauce (also lightly salted) to put on top.
Yeah. Um, I realize that's pretty over the top, but what I want to know is whether anyone objects.
Moving on…
A Word about Raw Sugar in Caramel Sauce:
I highly, strongly, truly recommend you use raw sugar in this caramel sauce. It gives an extra depth of flavour that is just not available in white sugar. It gives the caramel extra oomph and colour. Please don't skip using this. It only calls for one cup, you could even get that by emptying packets of sugar-in-the-raw if that's the only way you can buy it. Luckily, you don't need to be reduced to that because Amazon.com has it available here.
So here's the deal. Make the ice cream. You don't HAVE to put the Salted Caramel ~OR~ the Salted Pepita Brittle, but I do recommend trying at least one of them on the ice cream. Why? Because it is so. darned. good. It's everything wonderful about autumn in a package you can eat right now without martyring yourself to prepare it. Go on, I dare you to make it and tell me it isn't easy!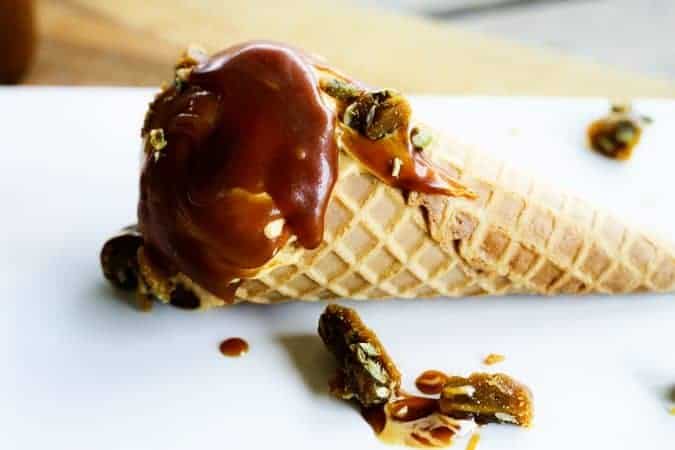 What's your favourite part of fall? Is it weather? Food? Football? School? Are you a fall fan, too, or are you yelling at me to cut it out already because we're not even officially IN fall? Talk to me!
Cook's Notes
Homemade ice cream, unlike commercially available ice cream, does not have air whipped into it. This makes it a denser product that is best consumed within a couple of days of being made for optimum texture. Beyond that it's best blended into milkshakes. Like that's a sacrifice.
If you cannot find unsalted butter for the caramel, salted may be used, but you will have to reduce the sea salt added by half. Unsalted butter gives you much greater control over the finished product, so I highly recommend starting with it!
P.S. Stir leftover Salted Caramel into coffee, lattes, hot tea, over pancakes or waffles or ice cream, or simply on a spoon. Life is hard sometimes Caramel helps.
Connect with Foodie with Family
facebook | pinterest | instagram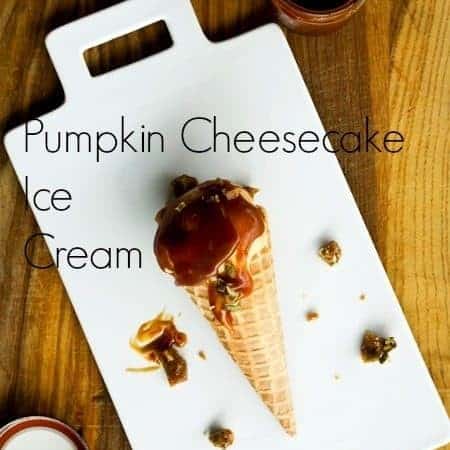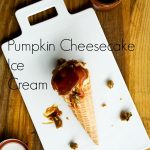 Print
Pumpkin Cheesecake Ice Cream | Mix and Freeze Recipe (No cooking needed!) Bonus: Salted Caramel Sauce
Pumpkin Cheesecake Ice Cream is silky, sweet, and redolent with fall flavours like pumpkin, cinnamon, ginger, nutmeg and cloves. It's just what you need to get through the occasional freakishly hot days of early fall! There's no cooking necessary to make the ice cream base either! Top it with the bonus Salted Caramel Sauce or some seriously habit forming Salted Pepita Brittle and you'll be in heaven!
Ingredients
To Make the Pumpkin Cheesecake Ice Cream:
1

can pumpkin IMPORTANT! Do not use pumpkin pie filling

15 ounce

1

can evaporated milk

well shaken

1

brick 1/3 less fat cream cheese

8 oz, or regular cream cheese, softened to room temperature

1 1/2

cups

raw sugar

1 1/2

teaspoons

ground cinnamon

1/2

teaspoon

ground ginger

1/4

teaspoon

freshly grated nutmeg

or 1/8 teaspoon ground nutmeg

1/8

teaspoon

ground allspice

1

pinch ground cloves

1 1/2

cups

heavy cream
Optional:
Garnish with salted caramel sauce and/or Salted Pepita Brittle

see ingredients below
Bonus Salted Caramel Ingredients:
NOTE: You will need a candy making

that goes over 350°F, deep fry, or instant read thermometer for this!

1

cup

raw sugar

6

tablespoons

UNSALTED butter

still cold, cut into 1/2-inch cubes **See Notes

1/2

cup

heavy cream

1

teaspoon

flaky sea salt
Instructions
Add the pumpkin, evaporated milk, cream cheese, raw sugar, cinnamon, ginger, nutmeg, allspice and clove to the carafe of a blender (or the work bowl of a food processor fitted with a metal blade.) Process on high until smooth, stopping to scrape down the sides as needed. When it is perfectly smooth and evenly blended, add the heavy cream and pulse until it is evenly mixed into the pumpkin puree but not longer. You don't want to turn the cream to butter!

Pour into your ice cream maker and freeze according to manufacturer's instructions. It will be the texture of soft serve when it is done in the ice cream maker. You can either serve as is, or pack into a freezer safe container with a tight fitting lid and put into the freezer until firm, about 3 hours.
To Make the Salted Caramel Sauce:
Pour the sugar into a clean, dry, heavy-bottomed saucepan (of at least 2 quarts capacity) over medium high heat. Use a whisk to keep stirring it as it begins to melt from the heat. Continue whisking slowly until all the sugar has melted and the temperature reaches 350° on an instant read or candy making thermometer. Remove the thermometer and add the butter cubes, whisking until they're fully melted and incorporated. Don't worry if the sugar clumps, it will loosen back up and melt again.

Remove the pan from the heat and slowly drizzle in the heavy cream while still whisking until it's fully mixed in. This will bubble up and look threatening when you do this. This is when you're grateful you didn't use a smaller pan than I specified!

Whisk in the sea salt flakes until even, then pour into a clean jar with a tight fitting lid. Refrigerate until thickened. The Salted Caramel Sauce stores well for up to two weeks.
This was originally published September 11, 2013.