This post was sponsored by Ocean Spray® but all opinions and ideas remain my own. I just really like the stuff!
My mom always packed the most wonderful lunches for me when I was in school. She's always been pretty keen on keeping things nutritionally sound, but she also has a keen sense of food adventure, so my lunches were the objects of envy among my classmates.
I've heard all sorts of stories from adults and kids alike that the items in their lunches were like a type of currency at school. I can't recall ever trading out my lunchbox contents because mom rocked that game. That being said, I don't actually have to pack lunches on anything like a regular basis for my homeschooled kids. This summer was my first experience with a daily lunch when my youngest was at a full-day ballet intensive for weeks on end. I got a trial by fire that time because the conservatory had a couple of requests regarding lunches. They were only allowed water as a beverage, no desserts, and no nuts as there were some students with nut allergies who attended. Whoa. Those of you who do this year long have a whole new respect from me.
On the plus side, my mom's years of packing delicious, nutritious food for me wasn't wasted. I know how to put together a great lunch with a simple formula. If you use this Lunchbox Mix-and-Match Formula, it'll be as easy as 1.2.3.4.5!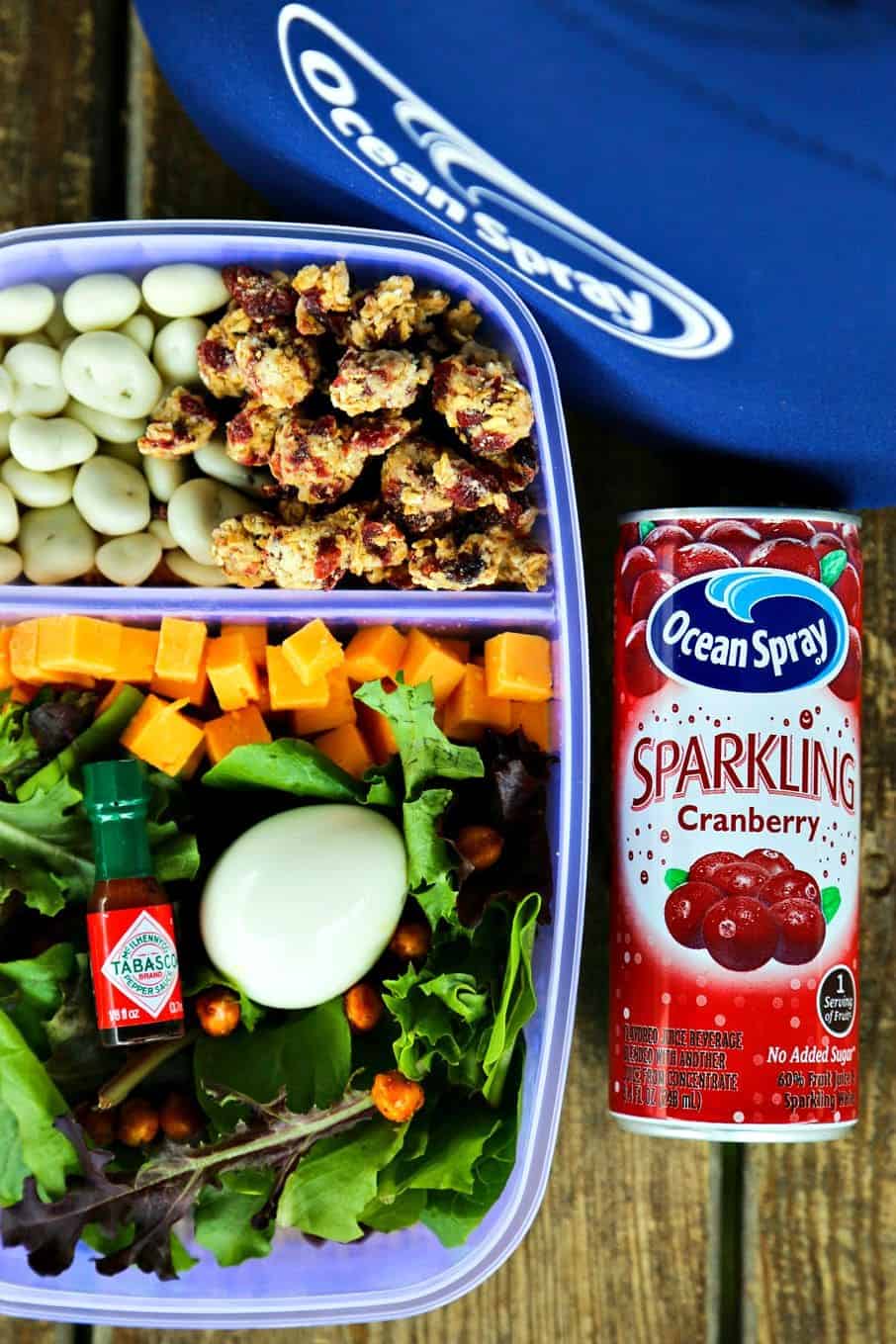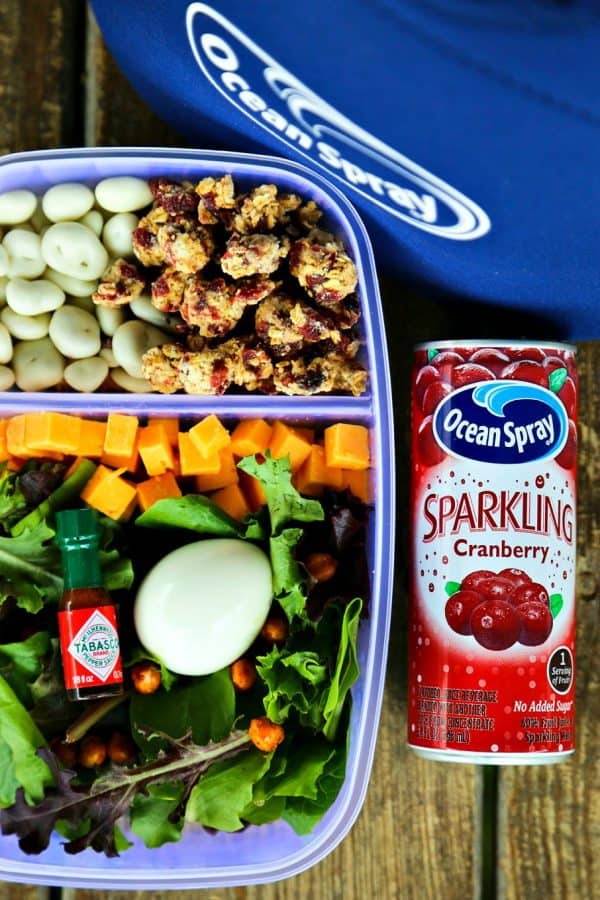 Lunchbox Mix-and-Match Formula
Pick a protein. Whether it's peanut butter, hard-boiled egg, filet of fish, grilled chicken, turkey sandwich, cheese or tofu cubes or what-have-you, make sure there's some protein in there. This helps keep a body healthy! On cold days, packing a thermos of hot stew or soup is a real balm for the soul as well. I loved cracking open steaming hot thermoses of chicken soup or vegetable beef soup.
Pick a beverage. Undoubtedly, water should be part of your lunch equation whether you're noshing at a ballet conservatory or school lunch table. It's the stuff of life, folks. If the rules are a little looser where you're eating, toss a bottle of juice in there as well or a sparkling juice option. I love Ocean Spray Sparkling Cranberry or Cranberry Juice Cocktail for this. It gives you an extra burst of Vitamin C to help keep you healthy and it feels festive!
Pick a carbohydrate. While there are many options here from pretzels to chips to bread, my favourite source of carbs in a lunchbox has to be dried fruit. Whether you stash fresh or dried fruit (or a combination thereof) in the lunchbox, you will reap all the benefits fruit has to offer and get a burst of energy from a healthy source of carbohydrates.
Pick a vegetable. Believe me, I get it… there are picky eaters out there. Even my pickiest eaters have SOME form of vegetable they'll ingest, though. For one, pickles would do it. Three out of five love salads as long as Ranch dressing is involved. Another isn't keen on anything but Cauliflower popcorn. I don't think it matters much which vegetable it is as long as there's a vegetable in there! In a pinch, I'd even call salsa a veg!
Pick something fun. It doesn't have to be a ho-ho to be fun, folks! My kids all like a little oomph with their food, so I like to pack hot sauce. A little bottle of hot sauce can brighten up my guys' days. For the sweet tooth in your family, Craisin Fruit Clusters are little nuggets of granola and dried cranberries that pack massive treat credentials into their bite-sized package. It is undeniably fun, filling, and gives you a hearty dose of whole grains, too!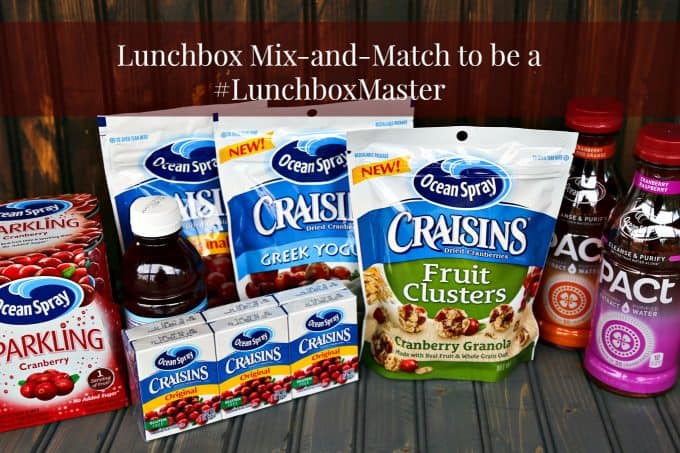 If you need some more inspiration to help rock the lunchbox whether you're refueling yourself or your family, you can visit Ocean Spray on the internet for tips, recipes, and nutritious offerings that will help you become a lunchbox packing pro. If you share your best lunchbox tips and tricks on Twitter and include "#LunchboxMaster" in your tweet, you'll be entered to win an Ocean Spray® Ultimate Master Lunchbox Set. Contest ends September 18th. Visit OceanSpray.com for inspiration to help you master the lunchbox!