Is there anything more comforting than the aroma of a stew or soup bubbling away while you putter around the house? Beef Curry Stew – or curried beef stew- is super high on the comfort scale.
It is filled with tender beef cubes, potatoes, carrots, and onions all slow-cooked in a flavourful gravy made with soul-warming curry spices. While I don't object to stew made in a slow-cooker, this stew perks away gently in the oven.
It really is no less convenient to bake your stew rather than plunk it into a slow-cooker and I think it develops a deeper, richer flavour. You get some added benefits aside from that, too.
Beef Stew
The best beef to use for beef stew is a matter of preference. I choose to use top round or bottom round because it is a lean beef cut that becomes meltingly tender in the long, slow braise that is favoured for beef stew.
These are both economical cuts where I live. But as importantly, everyone at my table loves beef and how satisfying beef stew is as a meal any time of year.
Beef. It's what's for dinner!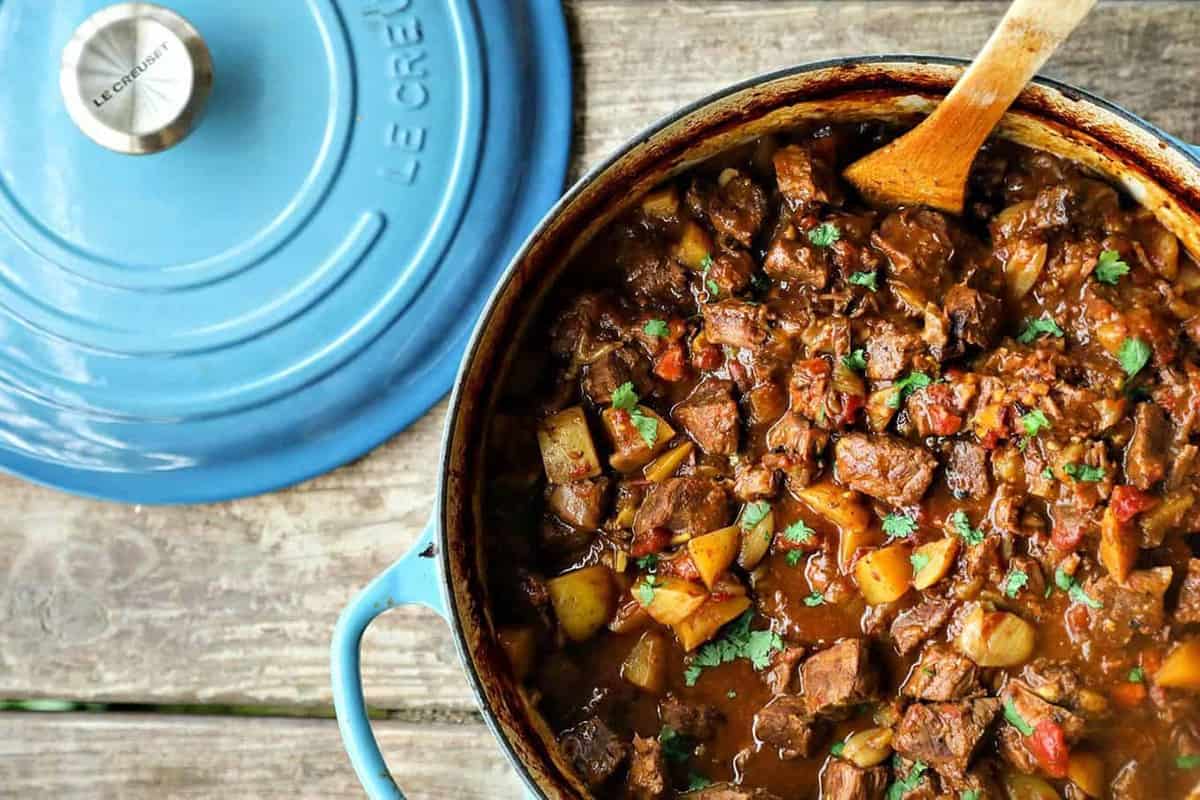 Beef Stew in Oven
The entire dish is made in one pot from the browning of the beef to the baking of the stew. And as I mentioned, it's a better end product.
There's something about the dry heat of the oven that super-concentrates the flavours in your stew, making it beefier, more savoury, and, well, just plain tastier. And if you're anything like us and the teensiest bit parsimonious about turning on the furnace or starting up the wood stove before November, then you get the added benefit of putting a little heat into your home with the oven baking method.
…but back to this oven-baked Beef Curry Stew, friends. It's the kind of stew that you eagerly anticipate all day long when you know you get to have it at night.
And mercifully, it tastes even better on the day after it's made, so it is tailor made for large batch cooking on the weekend and eating off of for a couple of days. Even better, it freezes and reheats like a dream.
Keeping a couple of containers of Beef Curry Stew – Beef Stew in Oven stashed in the freezer is like having money in the bank for those busy nights when you need to feed your body and soul but just don't have time to put in in the kitchen.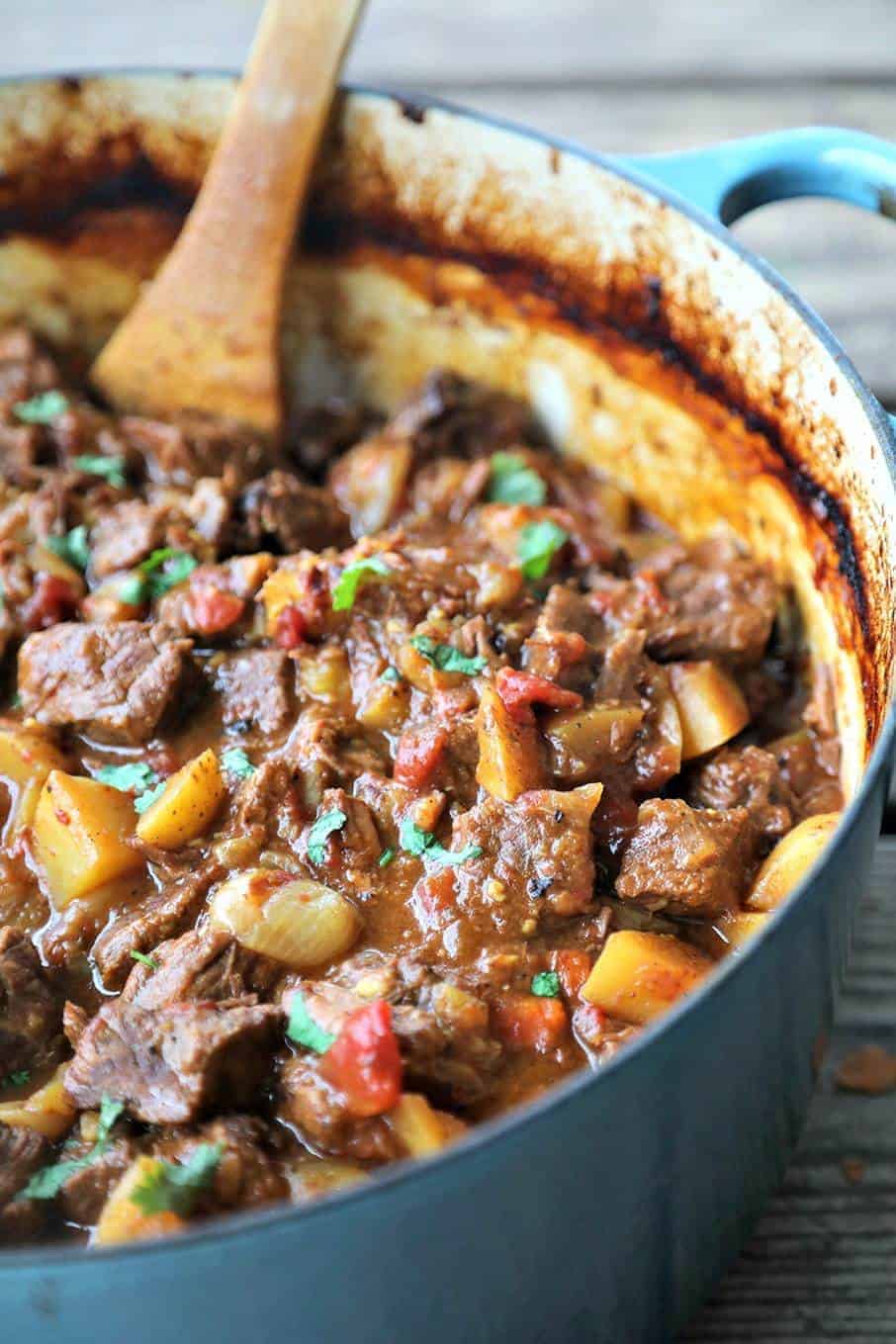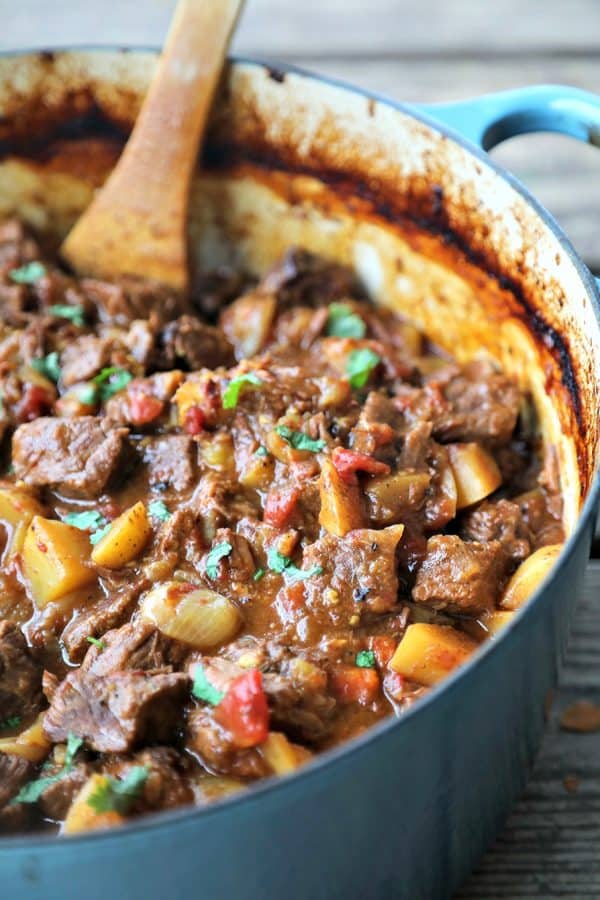 Dutch Oven Beef Stew
This recipe is pretty fuss-free, but you should not skip the browning of the meat. That's an integral part of the flavour building.
And don't fret the build up of stuff on the bottom of the pot as you brown it, because that will all incorporate into your final gravy and gives a major boost to the savouriness of the final dish. The only thing you want to avoid is a layer of charred flour, so keep stirring!
Be sure you use a heavy dutch oven or soup pot that has an oven safe lid. You'll want to use one that has a capacity of at least 5 quarts to allow for bubbling inside the pot.
Use these to make Curried Beef Oven Stew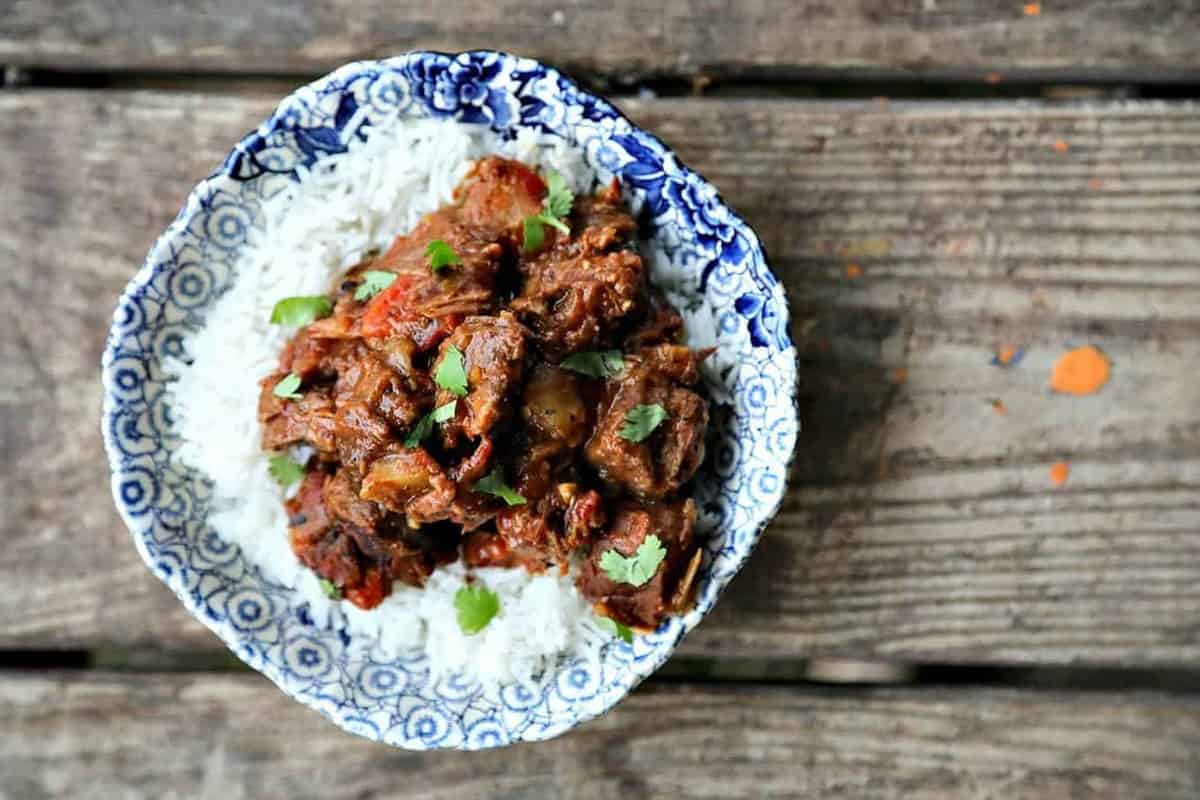 Beef Curry Stew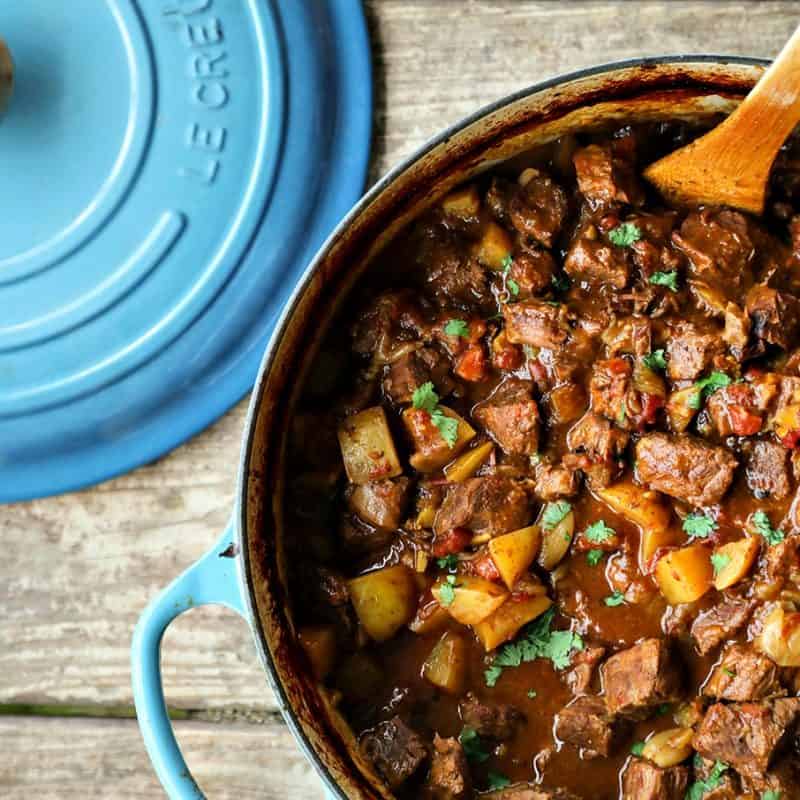 Beef Curry Stew – or curried beef oven stew- is filled with tender beef cubes, potatoes, carrots, & onions slow-cooked in a flavourful gravy made with soul-warming curry spices that simmer away gently in a dutch oven in your stove.
Ingredients
2

pounds

top round beef, cut into 1/2-inch pieces

1/3

cup

all-purpose flour

2

teaspoons

coarse kosher salt

1

teaspoon

freshly ground black pepper

3

tablespoons

olive oil or sunflower oil

plus a little more if needed

2

tablespoons

curry powder

2

tablespoons

brown sugar

2

tablespoons

chopped garlic

1

tablespoon

grated fresh ginger or ginger paste

1

quart

beef stock

1

can

(14.5 ounces) diced tomatoes, preferably fire roasted

2

cups

fresh, peeled or frozen pearl onions

3

large carrots, peeled or scrubbed and cut into 1/2-inch pieces

2

ribs

celery, scrubbed and cut into 1/2-inch pieces

1/4

cup

low sodium soy sauce

1

tablespoon

fish sauce

2

whole

bay leaves

2

pounds

golden potatoes, scrubbed and cut into 1/2-inch pieces
Instructions
Preheat the oven to 325°F.


In a small bowl, use a fork to combine the flour, salt, and pepper then sprinkle over the beef cubes on the cutting board. Toss to coat evenly.

Place your dutch oven over medium high heat and add in about one tablespoon of the oil. Heat until shimmery. Add in enough beef cubes to cover the bottom of the pan without crowding it. Without stirring, let them brown on the first side, about 3 minutes, then flip the pieces. Continue browning on each side. Transfer to a plate with an edge to hold juices. Repeat with the remaining oil and beef, taking care not to crowd the pan, until all the cubes have been browned.
Return the cubes to the pan after the last batch, sprinkle the curry powder, brown sugar, garlic, and ginger over the beef and stir to coat. Cook, stirring a couple of times, until the curry is fragrant, about 1 to 2 minutes. Pour in the tomatoes with their juices and the beef stock and raise the heat to high. Bring the contents of the pot to a boil, stirring and scraping the bottom of the pan to release all the flavourful browned bits into the sauce.
Stir in the onions, carrots, celery, soy sauce, fish sauce, and bay leaves, cover the pot, and place on a rimmed baking sheet in the oven. Bake, covered, for 2 hours, stirring at the one hour mark. Stir in the potatoes, re-cover the pot, and bake for another 1 hour and 30 minutes, or until the beef and vegetables are all quite tender.
Remove the bay leaves and serve alone or over rice with chopped fresh parsley, cilantro, or green onions.

Nutrition
Calories:
199
kcal
Carbohydrates:
20
g
Protein:
16
g
Fat:
6
g
Saturated Fat:
1
g
Cholesterol:
35
mg
Sodium:
681
mg
Potassium:
716
mg
Fiber:
3
g
Sugar:
5
g
Vitamin A:
1981
IU
Vitamin C:
17
mg
Calcium:
53
mg
Iron:
3
mg
Nutritional information is an estimate and provided to you as a courtesy. You should calculate the nutritional information with the actual ingredients used in your recipe using your preferred nutrition calculator.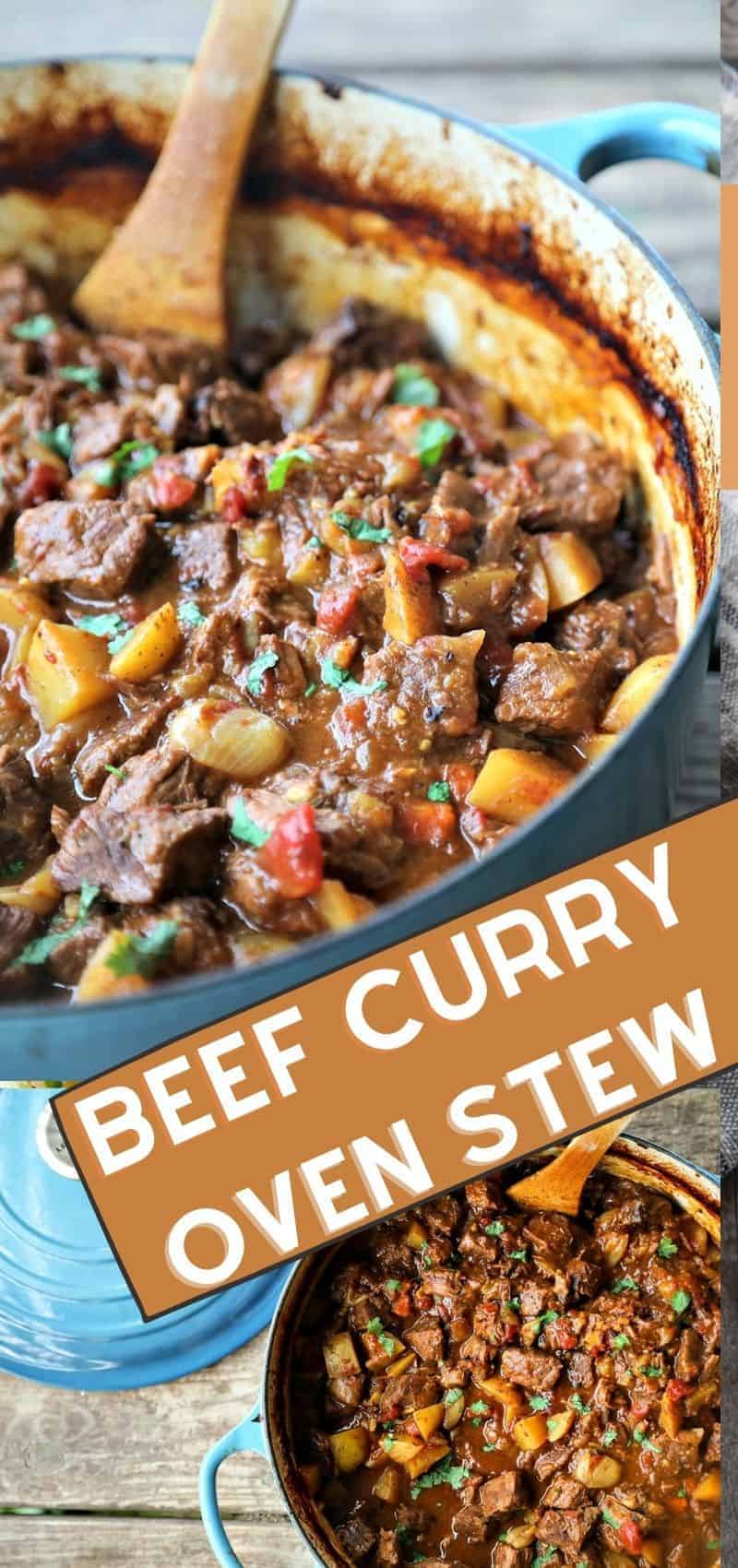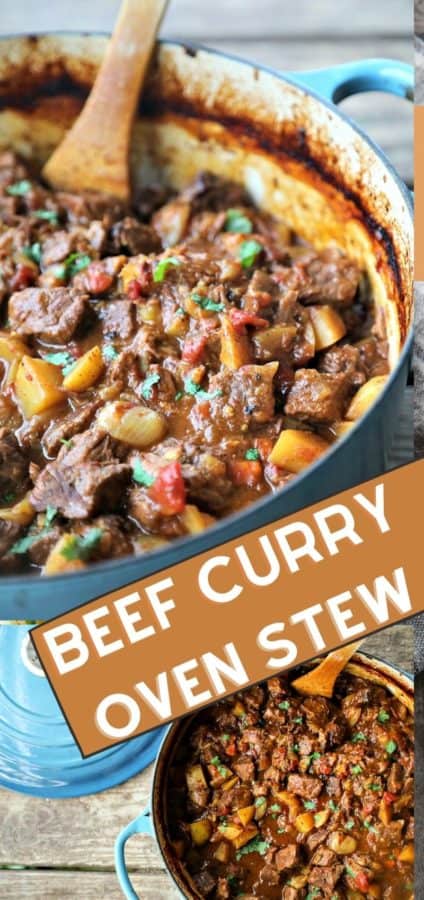 Looking for more great homemade recipes like beef stew recipe Dutch oven style? Try these!
Save
This post was originally published October 22, 2017, then revised for clarity and republished April 2021.