Disclosure: I was provided with this all-inclusive trip to Tuscany by DaVinci Wine. As usual, all opinions and recipes are my own. All photography is mine, unless otherwise noted.
I spent a great deal of my trip to Tuscany as a DaVinci Storyteller feeling like there was no way I could possibly remember everything I wanted to remember about the people, the history, the scenery, the art, and the food. The first day I was in full note-taking and photo-snapping mode, and then it hit me… I needed to set those things down and absorb what Tuscany was handing to me. Oh sure, I still grabbed my phone to keep notes and my camera to document some moments, but I focused far more on getting the bigger picture that was in front of my face. A picture of the resiliency, tenacity, hospitality, and joy that was abundant in every part of the Tuscan life.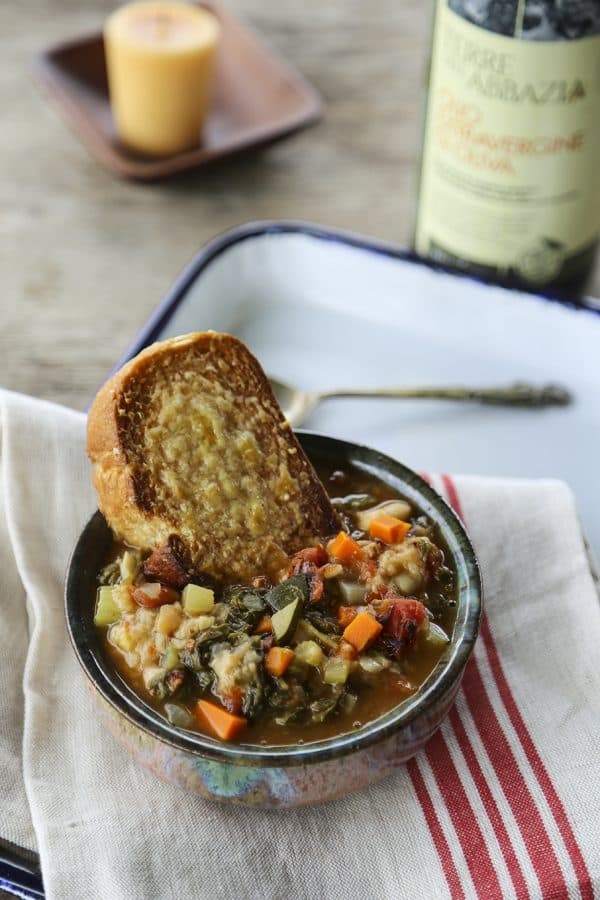 Ribollita – Tuscan Vegetable Bean Soup was a perfect example of all of those things.
Tuscany's great respect for its own history has extended to its rich culinary tradition of making use of ingredients that are seasonal and grow readily in the Tuscan region. Our translator and tour guide, Carolina, was an invaluable fount-of-knowledge who was able to hold forth on art history, agronomics, and economics, but the most wonderful thing she was able to do was put it all into interlocking perspective; the kind of perspective only available to someone who has lived through all sorts of conditions among her people. She explained that Ribollita -an old peasant dish- was one born of privation and hardship during an era when not one scrap of edible food could go to waste. Tuscan bread was originally made without salt, which means that the time period during which it would taste fresh and be chewy was relatively short. Rather than waste one single crumb of the bread as it grew staler and harder to bite, the enterprising Tuscans would make a soup to eat on the first day it was made. The next day they would re-boil it (and Ribollita actually means re-boiled), tearing up the now stale bread and tossing it into the boiling soup to thicken it into a hearty dish designed to fill and nourish the hard-working Tuscan people. Carolina also noted that due to its humble beginnings that Ribollita was sometimes considered out of fashion or sniffed at by the more culinarily sophisticated. Because Italy has had some recent challenges to its economy, chefs -doing what great chefs and cooks have done throughout history- have turned back to these humble and honest, uncomplicated foods, and elevated them to the status of restaurant worthy dishes.
The beauty of this is deep and universal. So many of the foods that are globally loved got their start in the kitchens of economically depressed, creative cooks who took what little they had and turned it into something of beauty that didn't taste like privation; it tasted liked sustenance and respect for what their land gave them. It's hard to match amazing food with such back story, isn't it?
For more photos of my trip to Tuscany as a DaVinci Storyteller and more of what I learned from my new Tuscan friends, scroll below the recipe!
Cook's Notes
Don't be deterred by the long ingredient list, None of this is very complicated, and the vast bulk of the work is in the chopping of the vegetables. Once all your goodies are cut up, it's a matter of adding them in in a certain order.
Yes, there are a GREAT MANY vegetables in the soup. That is part of the charm. It makes quite a large batch of soup, but the beauty of that is that you can eat off of it for a couple of days and it truly improves upon sitting.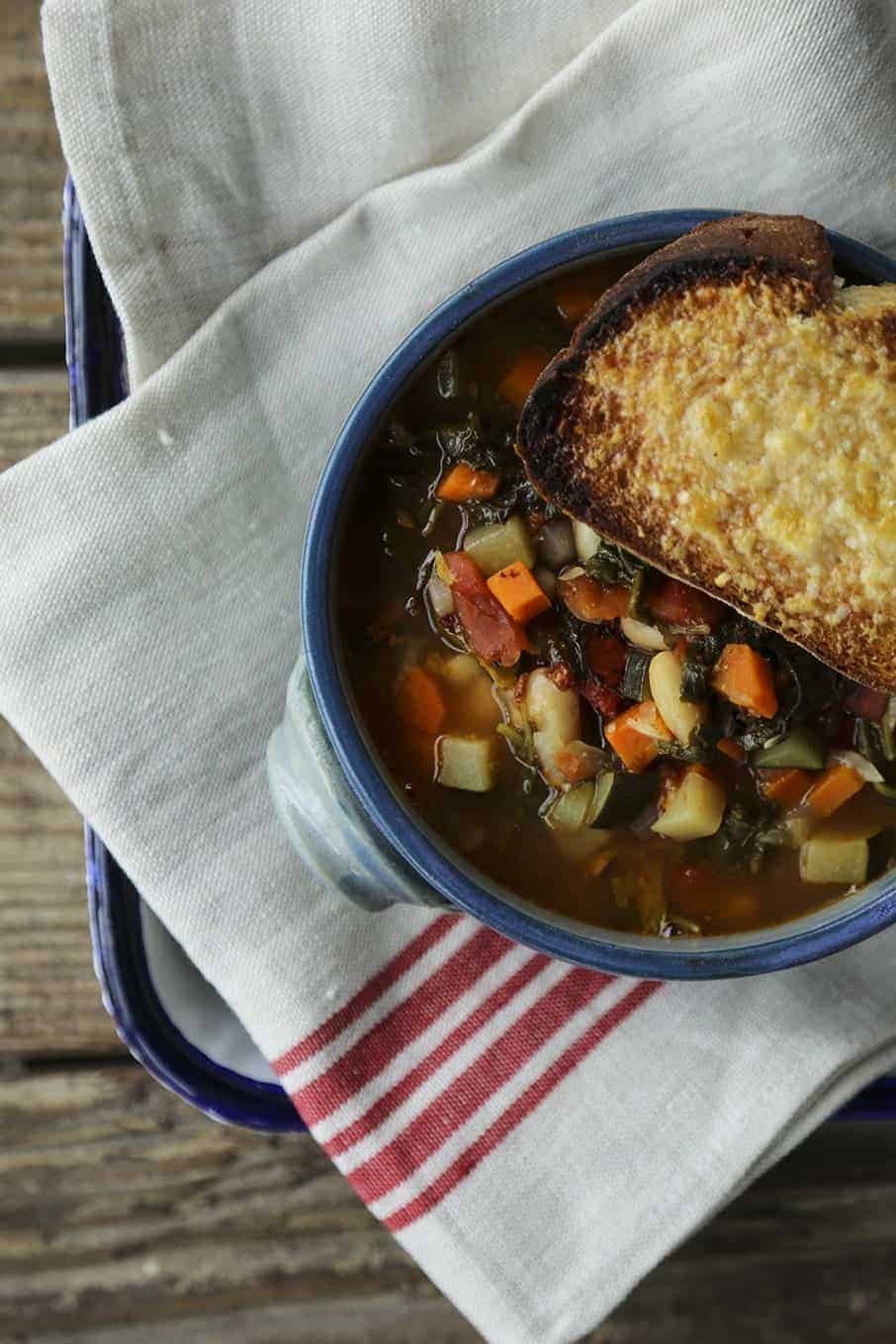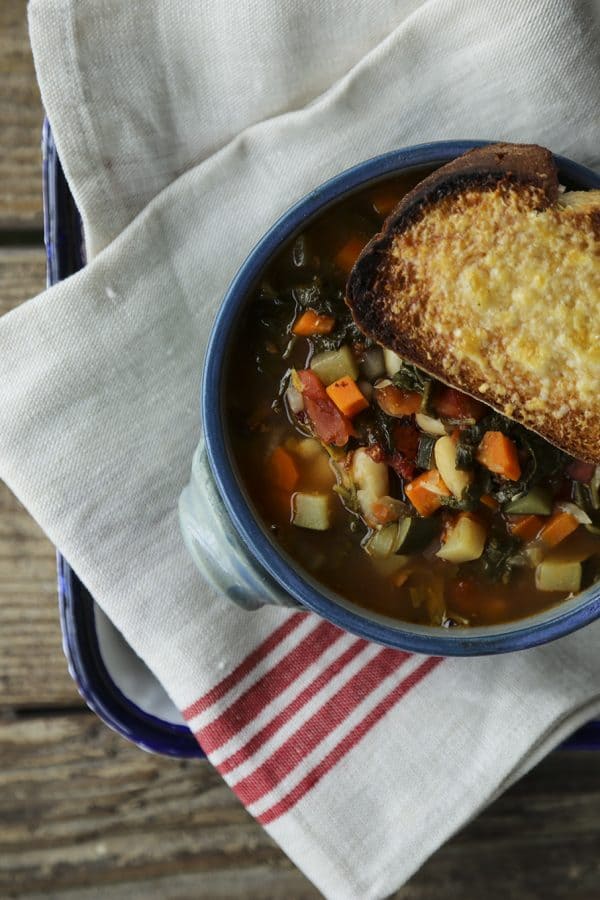 Speaking of the soup sitting, it is traditional for the soup to be made on day one, then re-boiled (hence the ribollita name) while adding the bread to thicken it on day two. It is absolutely divine this way. It's also delicious if you eat it on day one without the bread, but shhhh… don't tell my Tuscan friends I said that!
Ribollita- Tuscan Vegetable Bean Soup is made quite thick in Italy. It has a texture and thickness that is more what we would generally refer to as a stew.
The Parmesan Soup Croutons, on the other hand, are not at all traditional with Ribollita- Tuscan Vegetable Bean Soup, but I really like them, so they stay at my house. If you want to omit them, you'll still have a wonderfully tasty soup.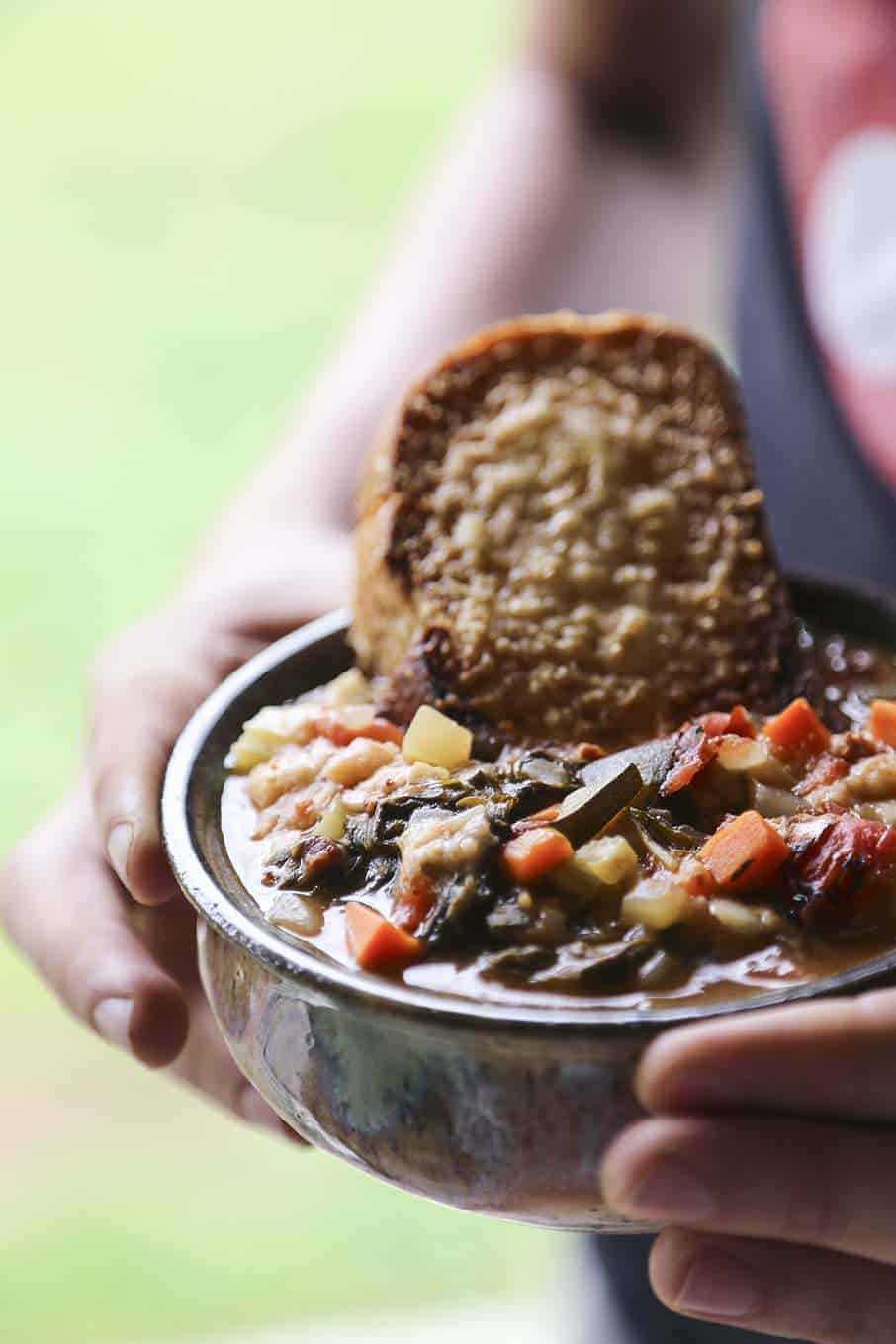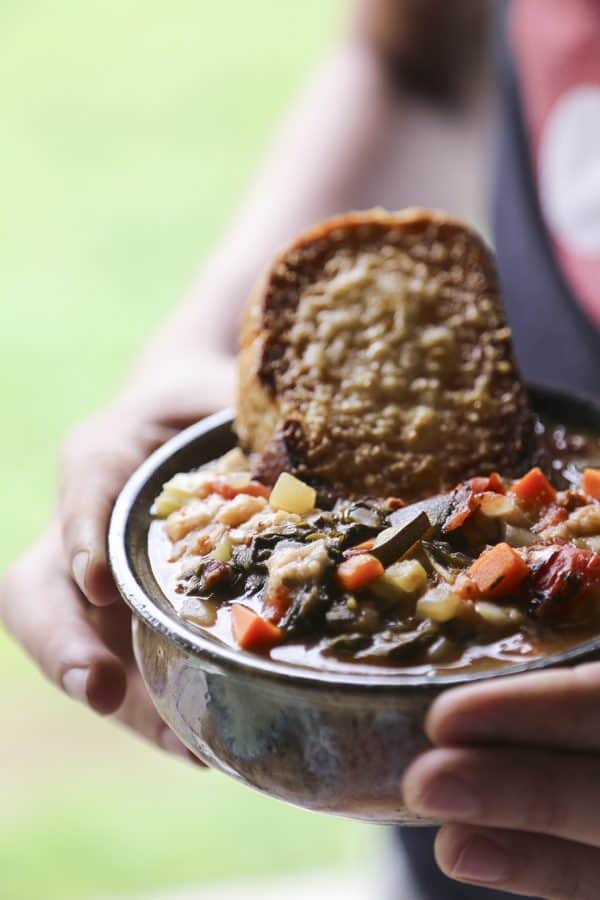 Connect with Foodie with Family
facebook | pinterest | instagram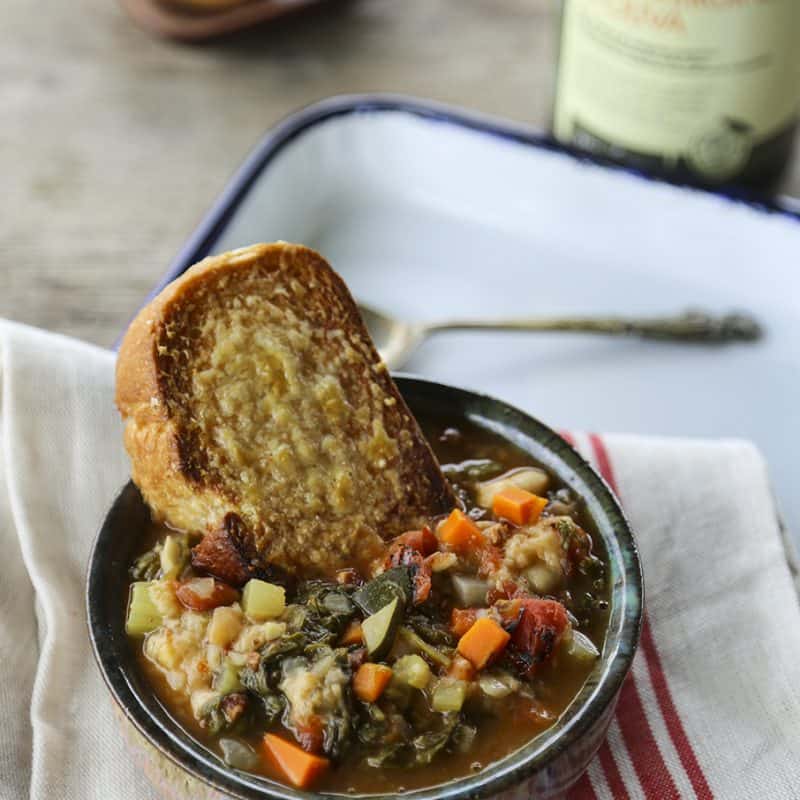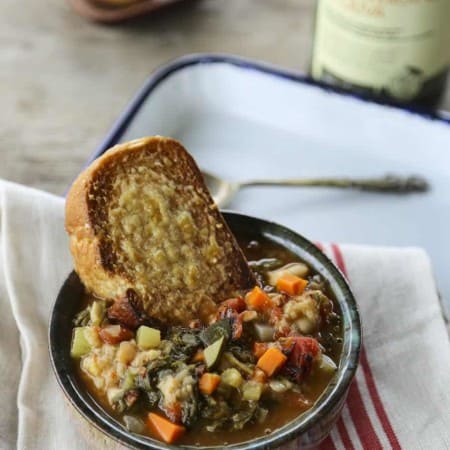 Ribollita - Tuscan Vegetable Bean Soup is a bowl brimming with fresh vegetables, tender cannellini beans, and flavourful broth thickened with Tuscan bread and has its origins as a peasant dish.
Ingredients
For the Ribollita:
4

ounces

pancetta or bacon

diced

2

tablespoons

pure olive oil

1

large yellow onion

peeled and diced into 1/4 to 1/2-inch cubes

2

large carrots

scrubbed and diced into 1/4 to 1/2-inch cubes

2

ribs of celery

with leaves if available, scrubbed and diced into 1/4 to 1/2 inch cubes

3

large cloves garlic peeled and minced or pressed through a garlic press

1

teaspoon

kosher salt

pinch of crushed red pepper flakes

1

medium zucchini

scrubbed and diced into 1/2 inch cubes

2

cups

cooked cannellini beans

or 1 can, drained and rinsed

1

can diced tomatoes

14.5 ounces

2

tablespoons

tomato paste

11

ounces

baby kale or chopped kale

4

cups

chicken stock or broth

1

sprig fresh rosemary

or 1/2 teaspoon dried

1

sprig fresh thyme

or 1/2 teaspoon dried

1

sprig fresh parsley

or 1/2 teaspoon dried

Optional but tasty: the rind of a hunk of Parmesan cheese

4 1-

inch

thick slices of stale Tuscan or Italian bread with the crusts removed

cut into small cubes

4

large fresh basil leaves

chiffonade of basil, stacked up, rolled up tight then cut into thin strips
For the Parmesan Soup Croutons:
6

to 8 slices of fresh Tuscan or Italian Bread

3/4-inch thick

extra virgin olive oil

2

tablespoons

of freshly grated Parmesan cheese per slice of bread
Instructions
Place the pancetta in a large pot placed over medium heat. Cook, stirring frequently, until the pancetta is golden brown and the fat has rendered out into the pan. Add the olive oil, then add the onion, carrots, celery, and garlic, kosher salt, and crushed red pepper flakes. Stir and drop the heat to medium low. Sweat the vegetables, stirring frequently, until they begin to soften, 7 to 10 minutes. Stir in the zucchini and cook for another 3 minutes. Add the cannellini beans, diced tomatoes, and tomato paste. Stir well, then add the kale, chicken broth or stock, rosemary, thyme, parsley, and parmesan rind. The kale may be mounding above the top rim of the stock pot. Don't worry. It will shrink to almost nothing! Raise the heat to medium high and bring to a boil. After it boils, drop the heat to medium low and let it simmer gently for 20 minutes.

Remove the sprigs of thyme and rosemary, then add the bread cubes and stir. Continue to simmer for 10 minutes, or until the bread has fallen apart and thickened the soup. Remove from the heat and stir in the chiffonade of basil.
To Prepare the Parmesan Soup Croutons:
Turn the broiler of your oven on HIGH. Brush both sides of the pieces of bread with extra virgin olive oil. Place on a rack 6 inches under the broiler and toast until golden brown. Flip the bread over, mound the top of each slice of bread with 2 tablespoons of freshly grated Parmesan cheese and return the pan under the broiler until the cheese is bubbly, melted, and golden brown in places.
To Serve the Ribollita:
Ladle the Ribollita into serving bowls and top each serving with a Parmesan Cheese Crouton.
Nutritional information is an estimate and provided to you as a courtesy. You should calculate the nutritional information with the actual ingredients used in your recipe using your preferred nutrition calculator.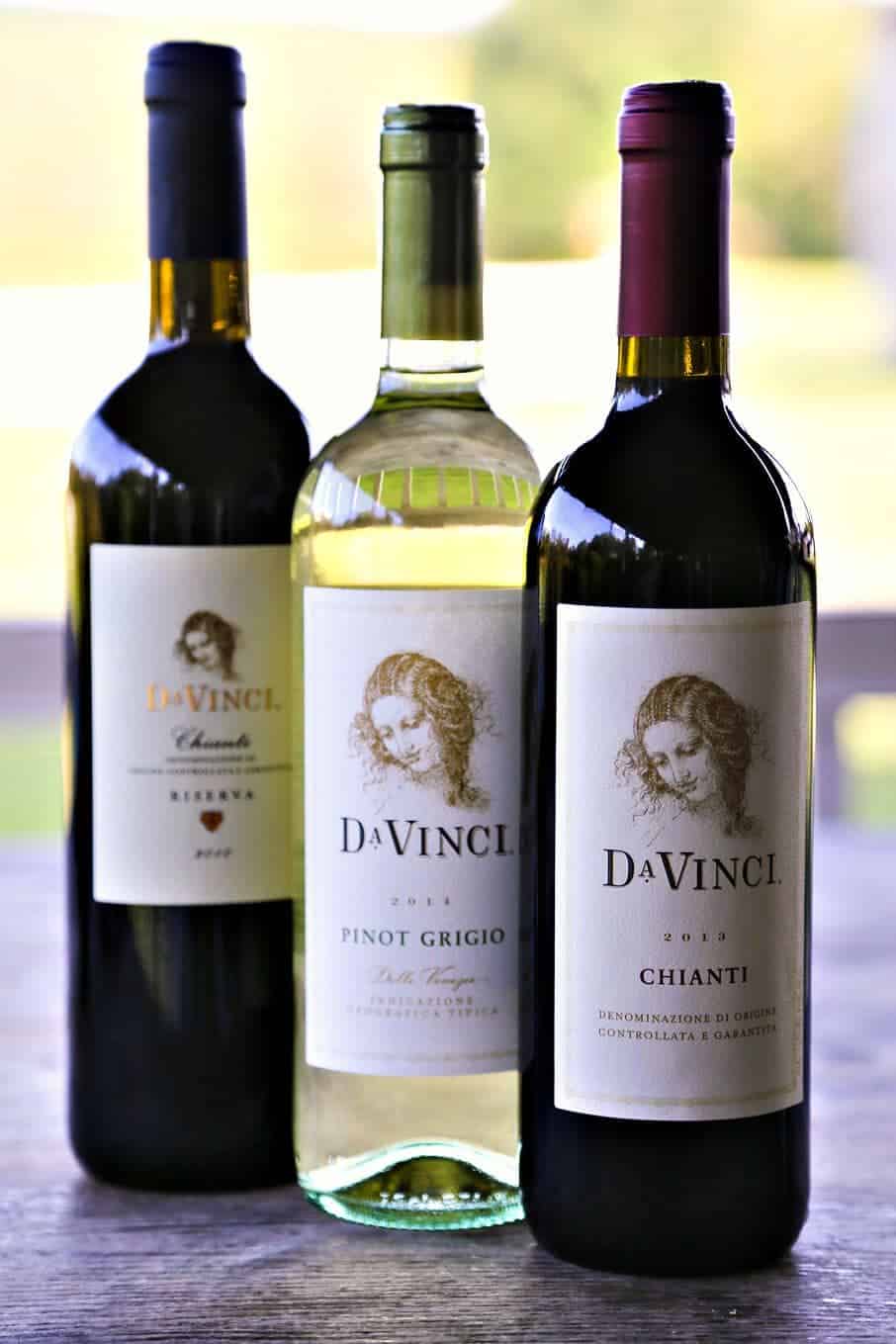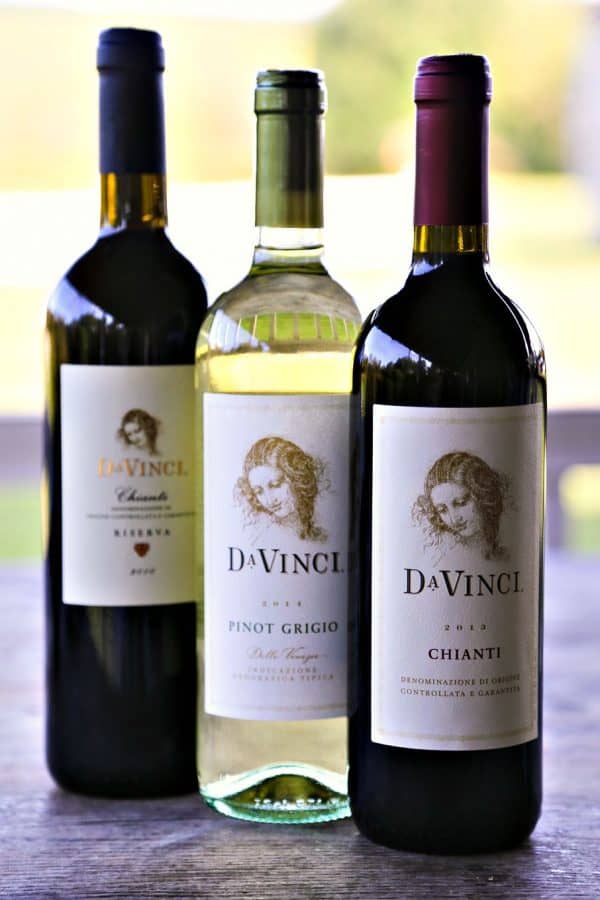 These are three of DaVinci Wine's most popular offerings in the United States: the Chianti, Pinot Grigio, and Chianti Riserva. You can learn more about DaVinci Wine and connect with them on
facebook
and
Pinterest
.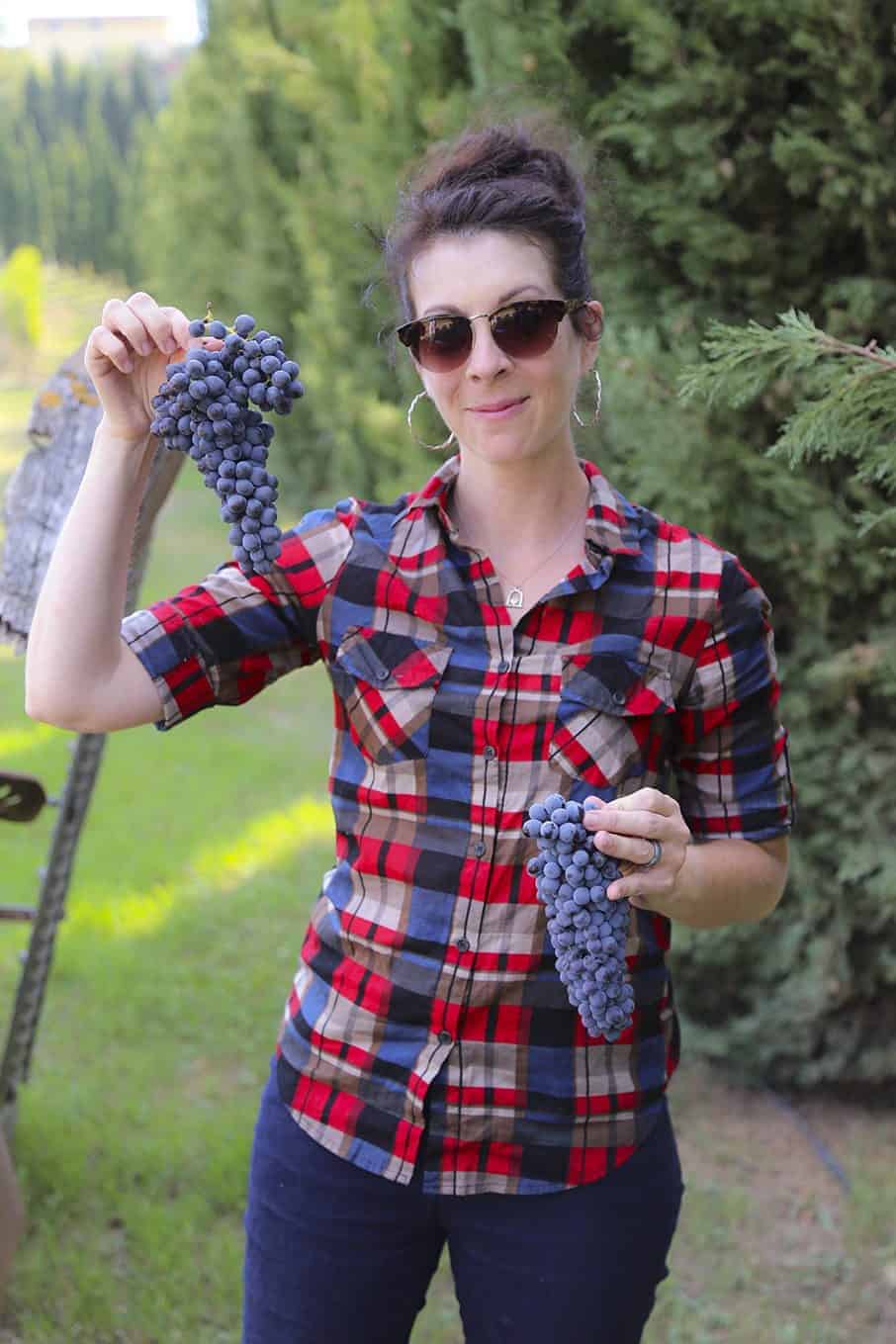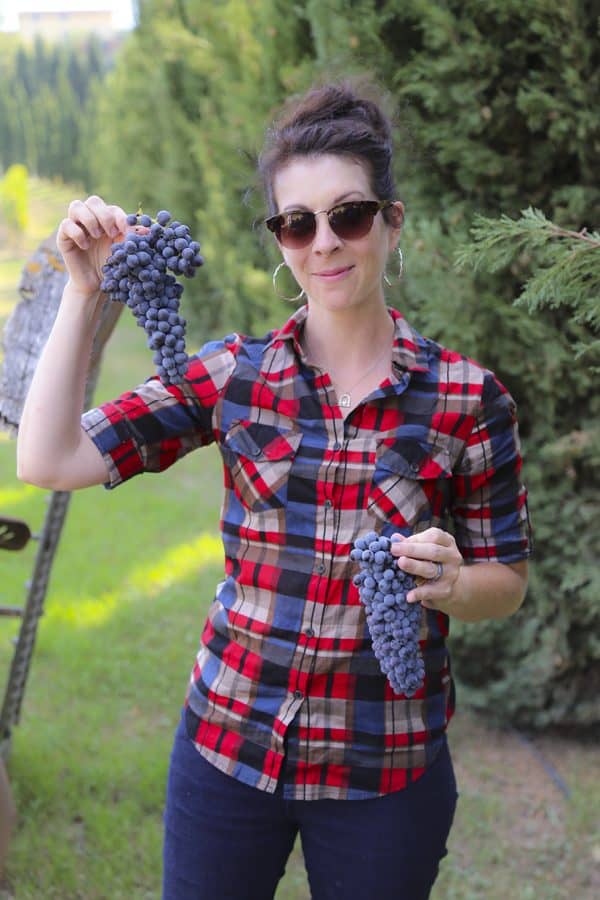 Foodie with Family – a.k.a. Rebecca Lindamood- picking Sangiovese grapes with DaVinci agronomist Andrea Meini. These grapes will be made into DaVinci Chianti and make it to market some time next year! What an amazing experience to get to pick the grapes that will go into the wine I love so much! Photo Credit: Alana Kysar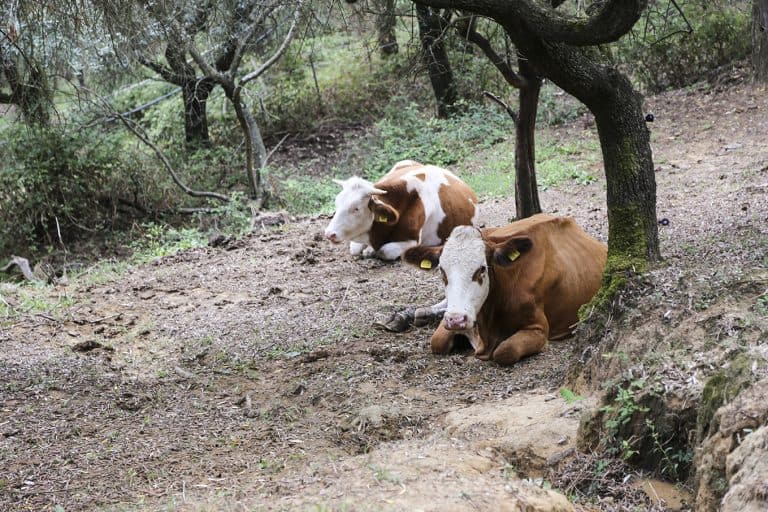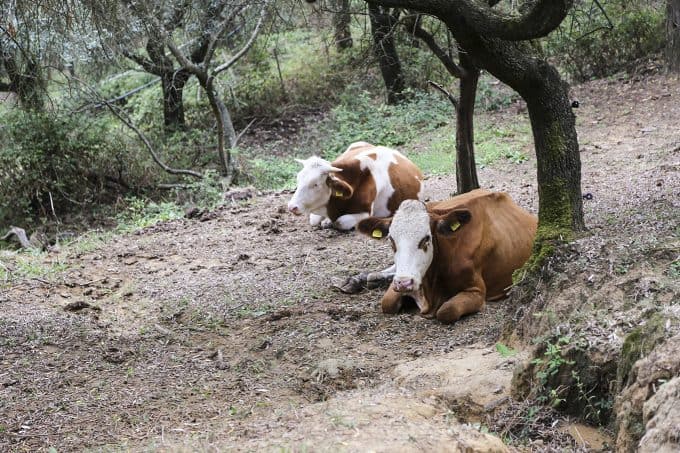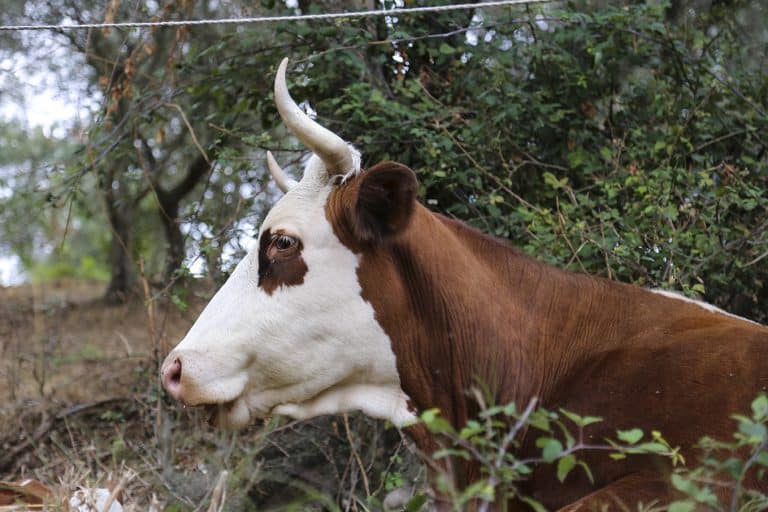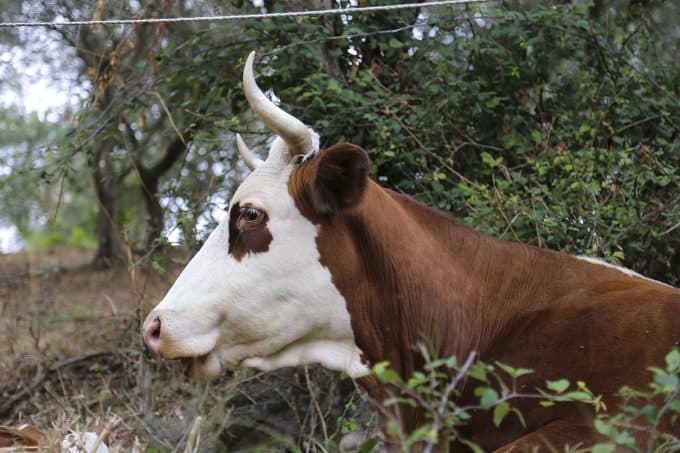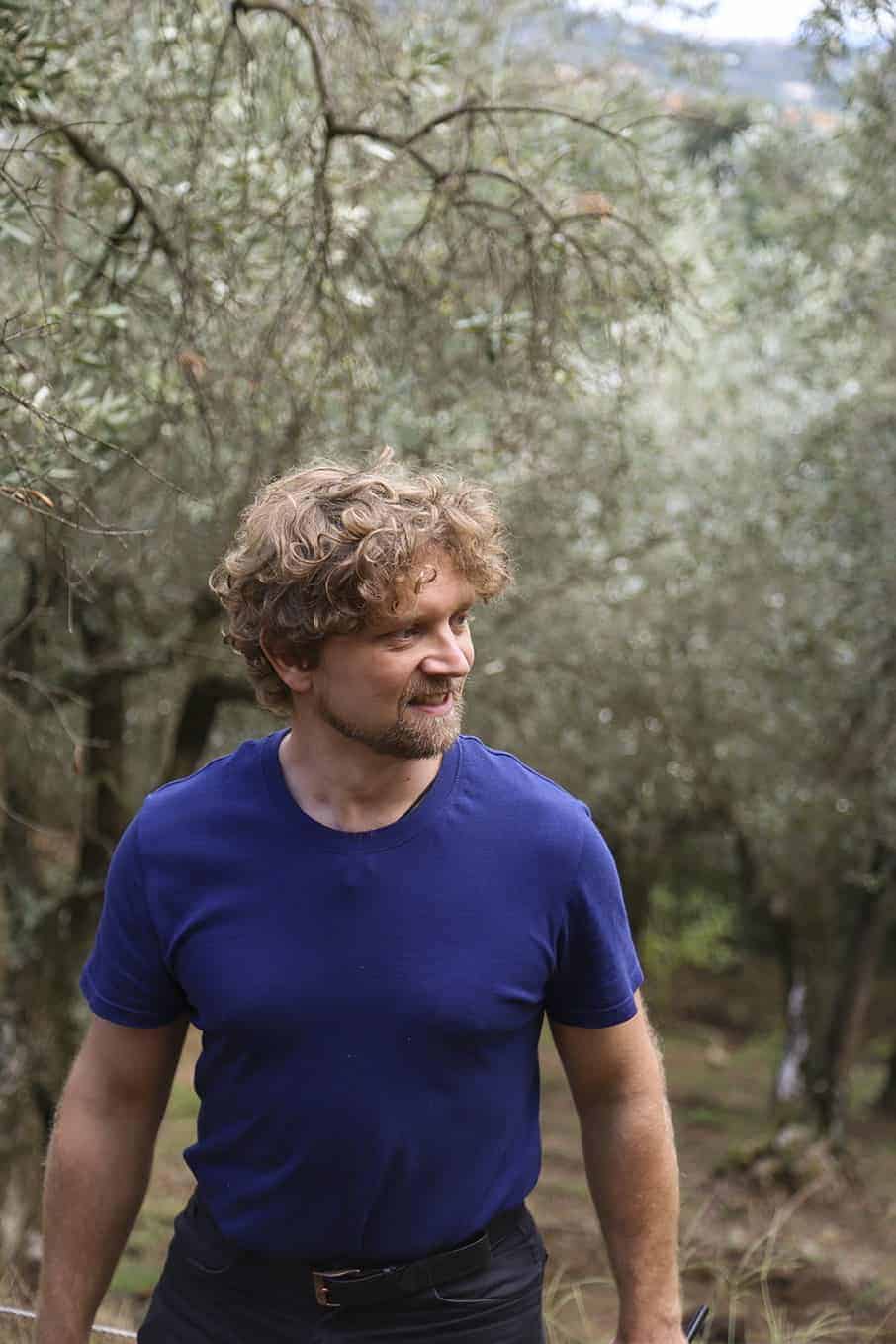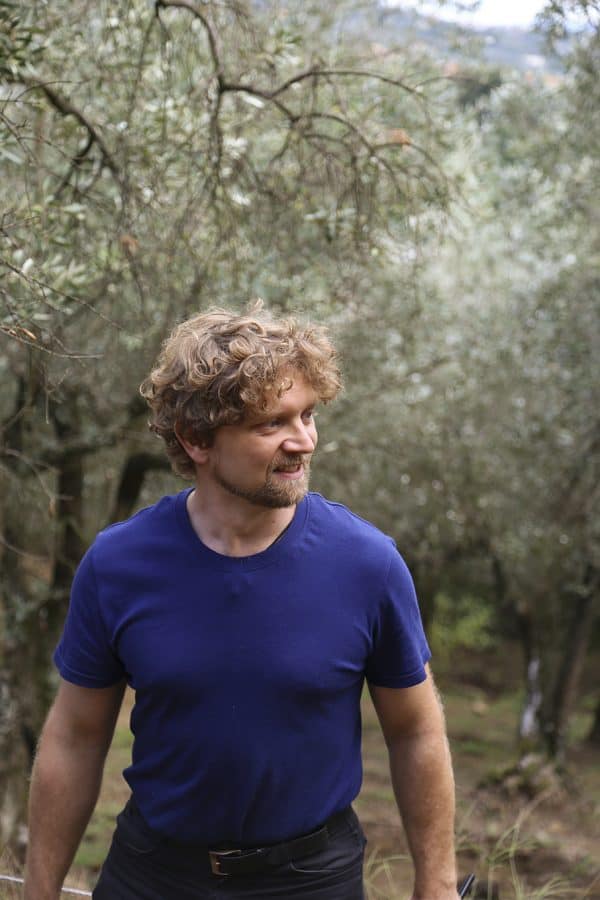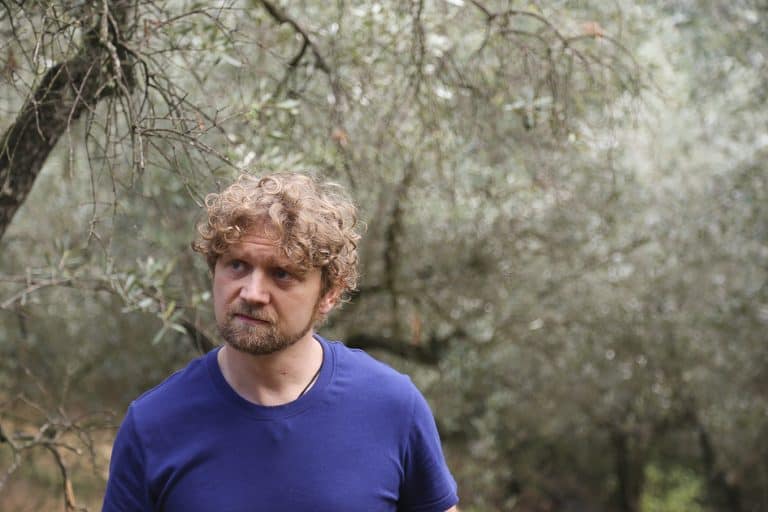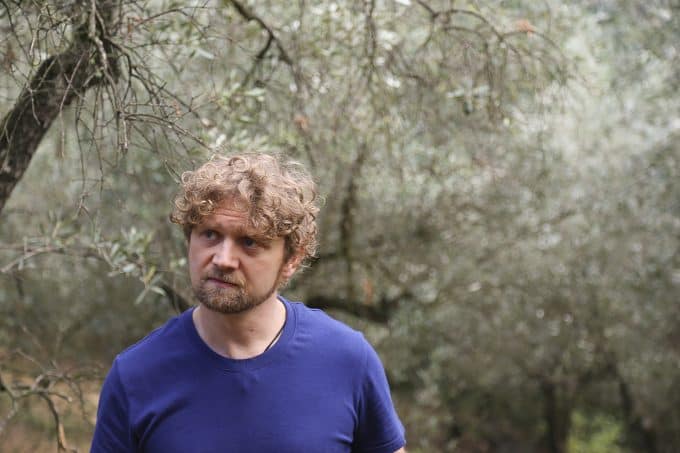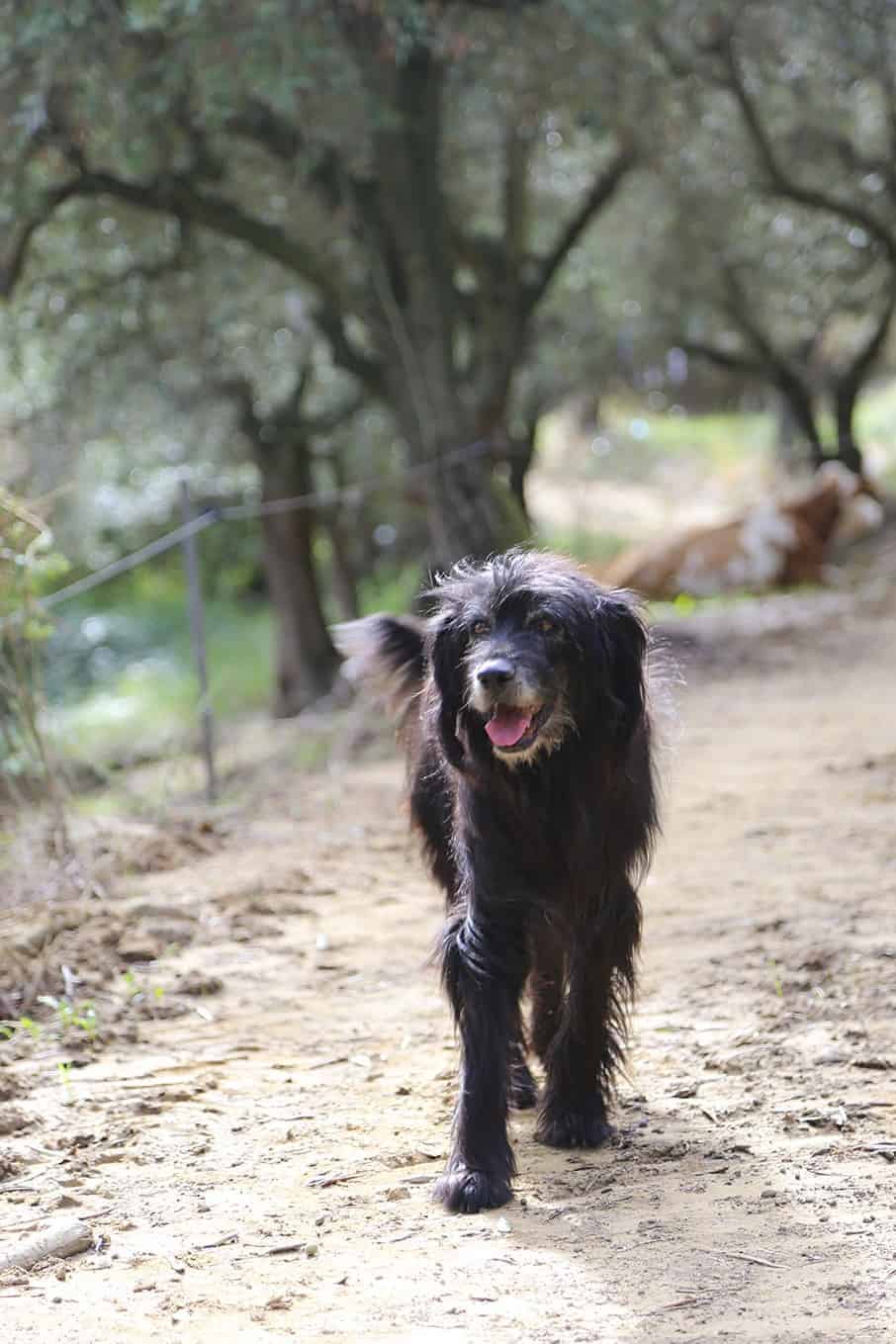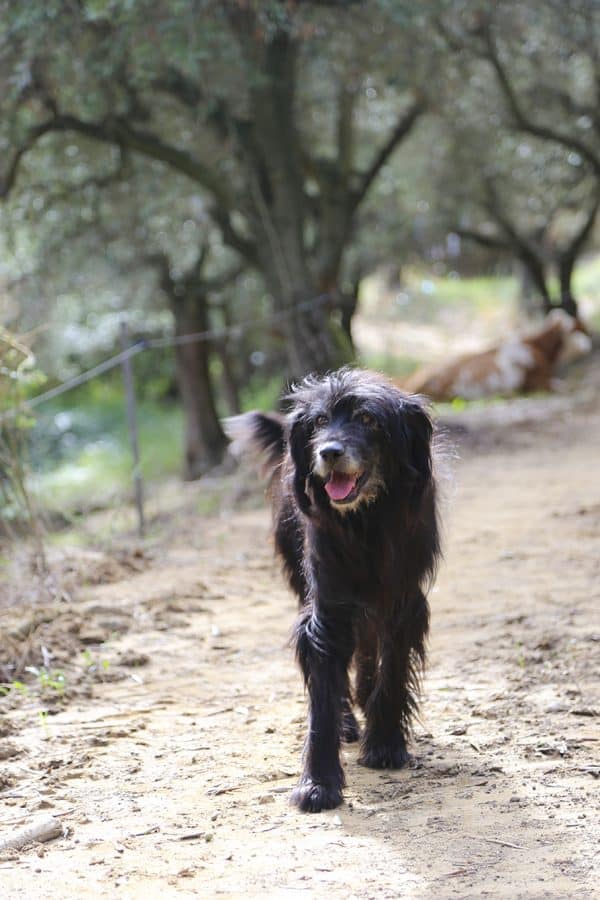 These photos feature Francesco Bagnoli of Il due Falcetti, an artisan cheesemaker located between Lucca and Florence, some of his beautiful cows, and his sweet 13 year old dog who accompanied us on a tour of the grounds.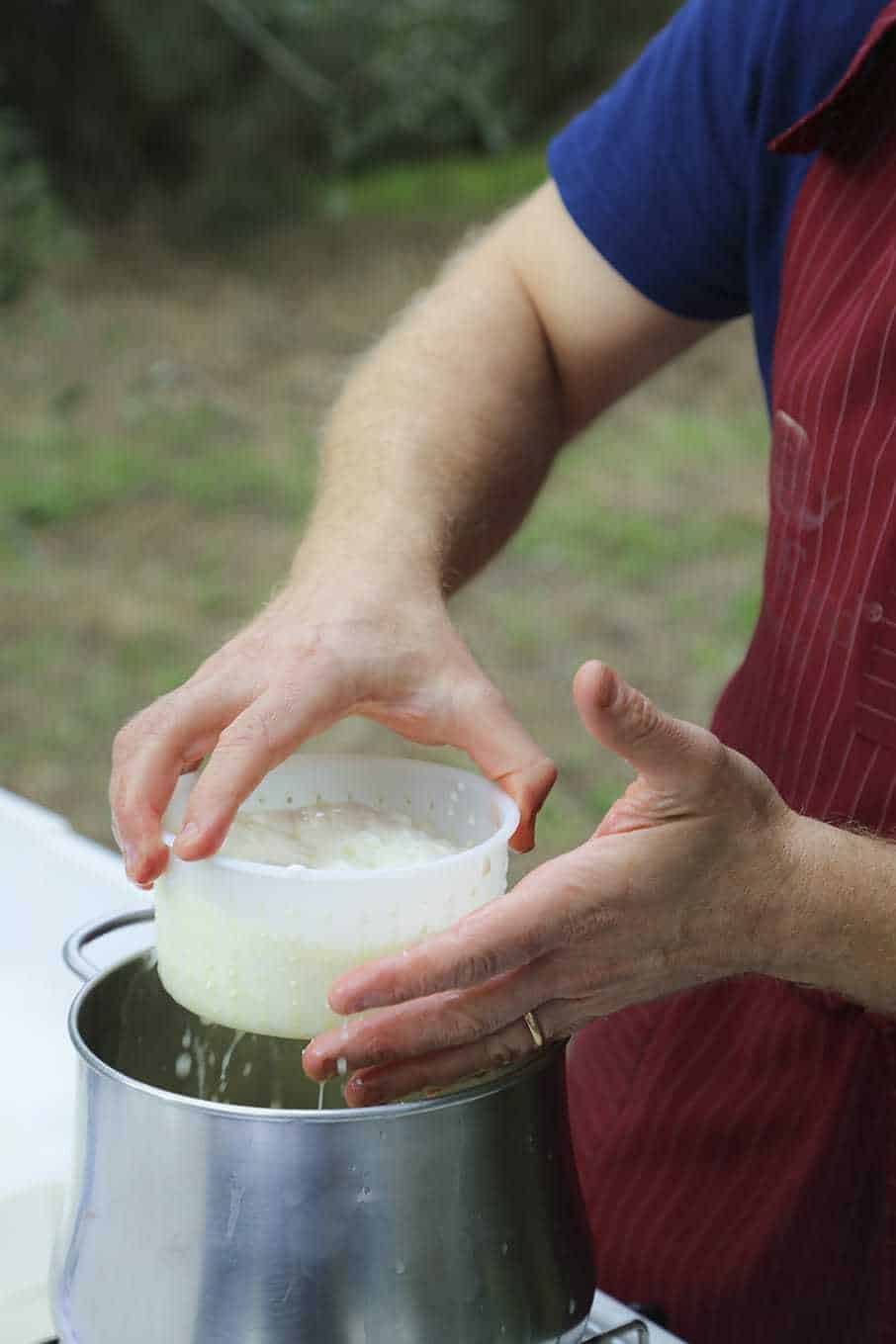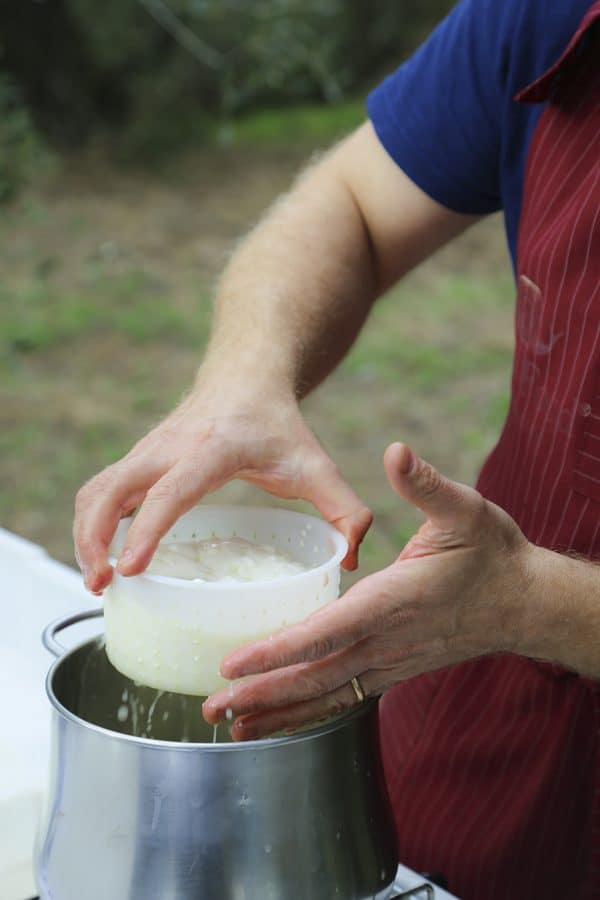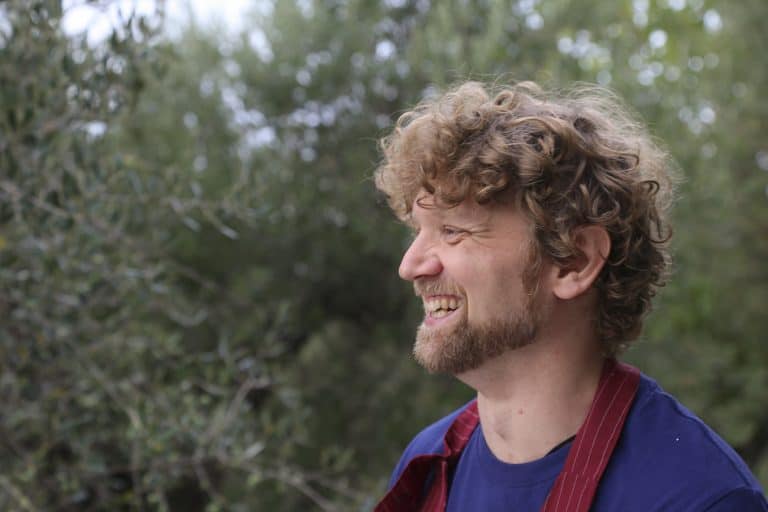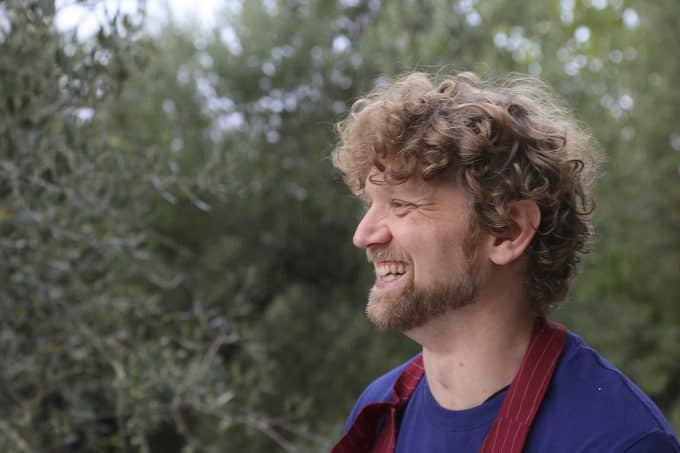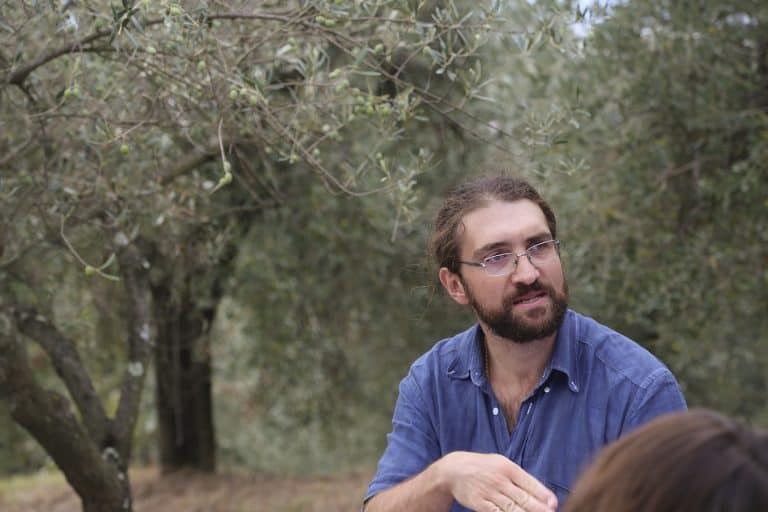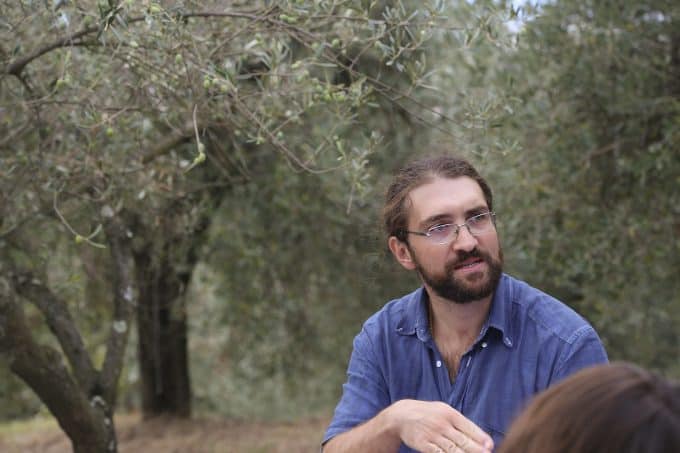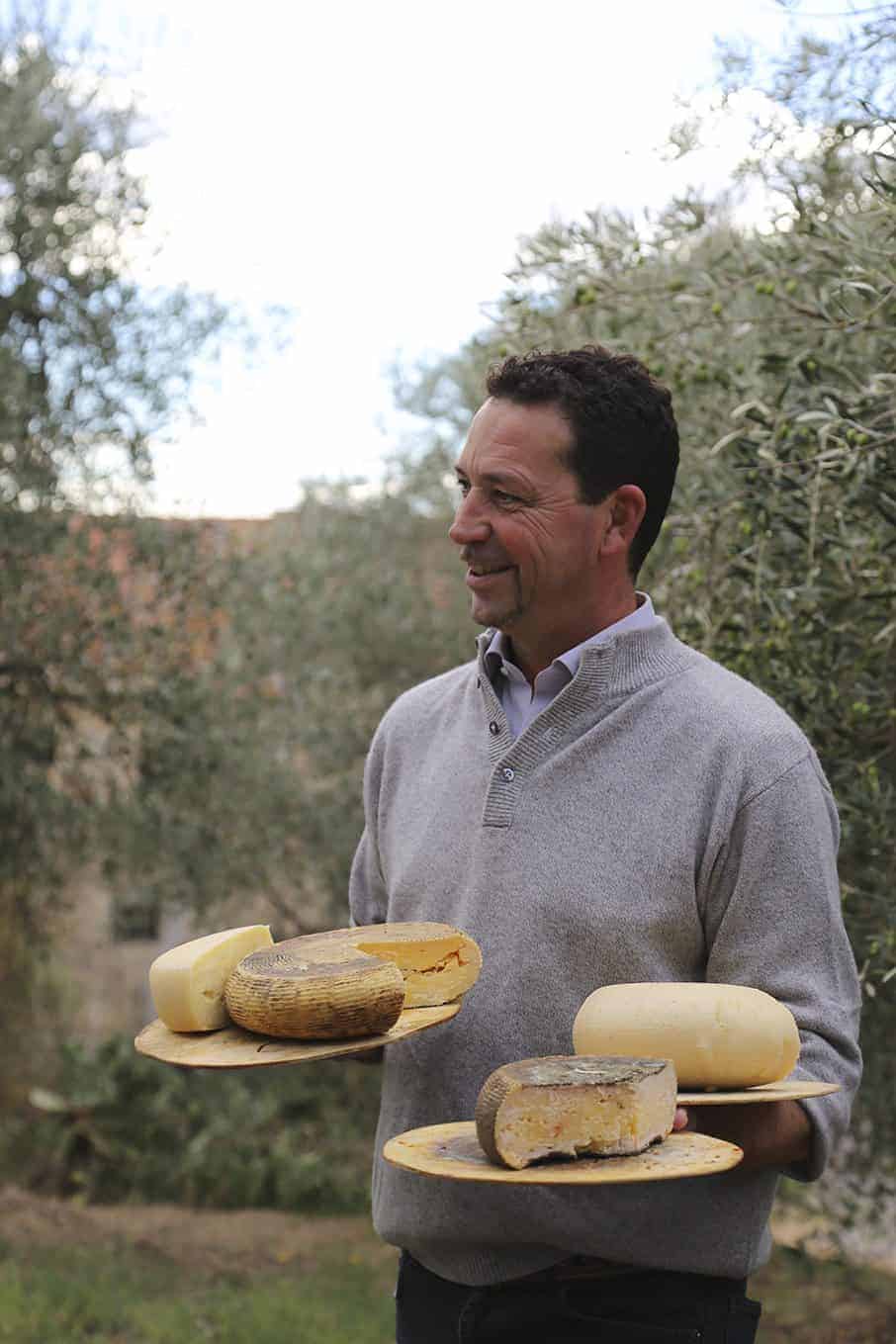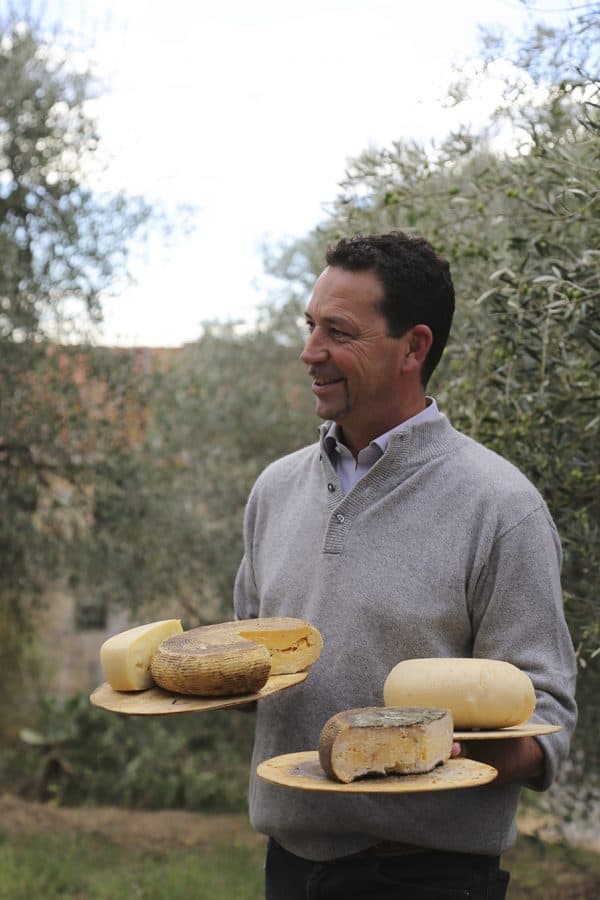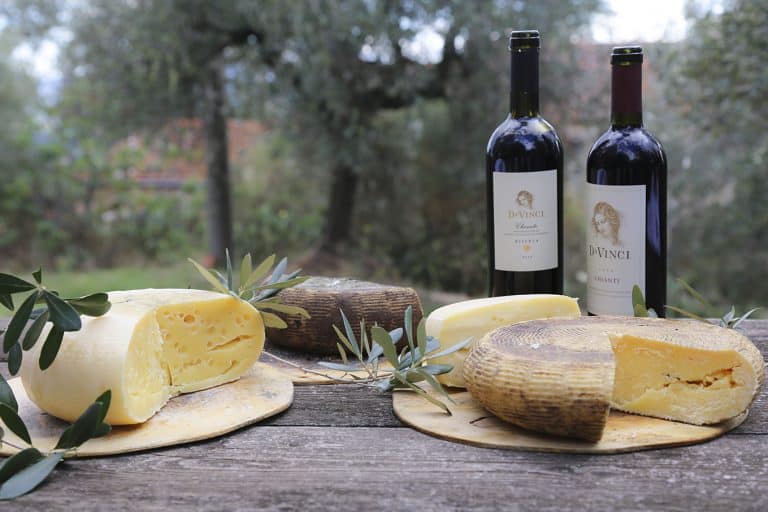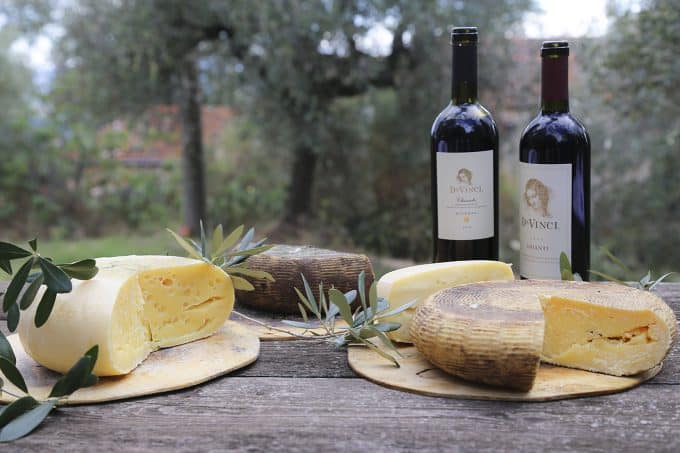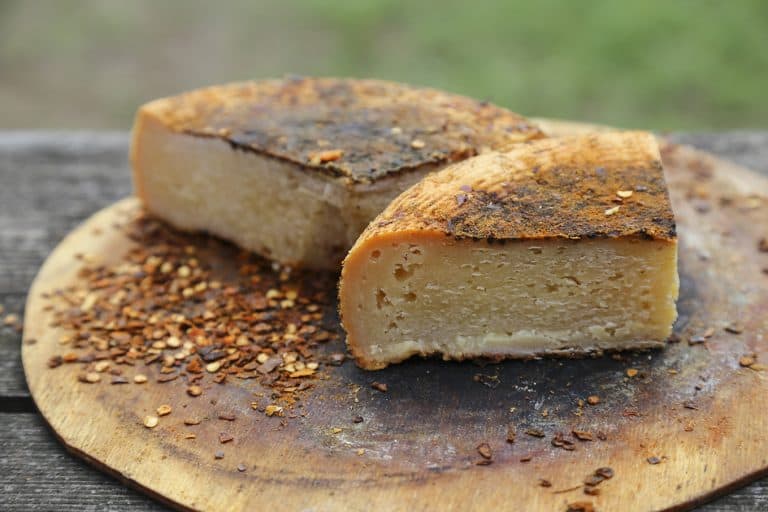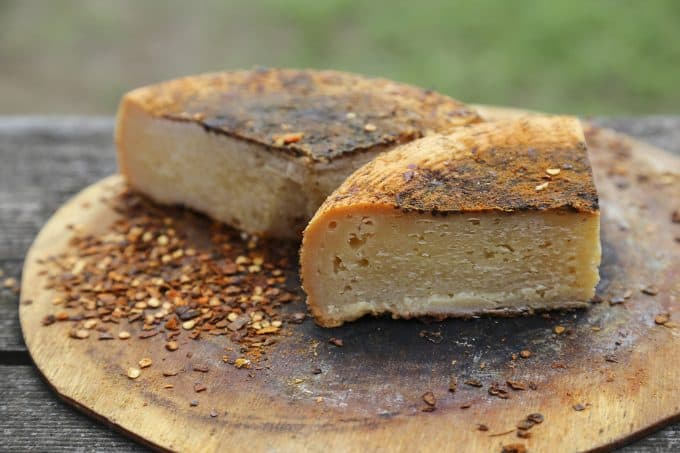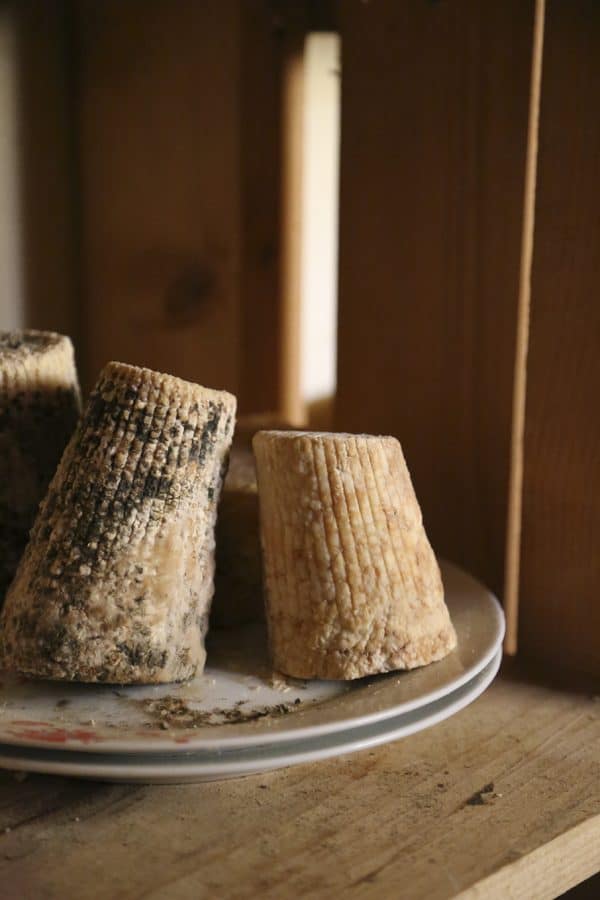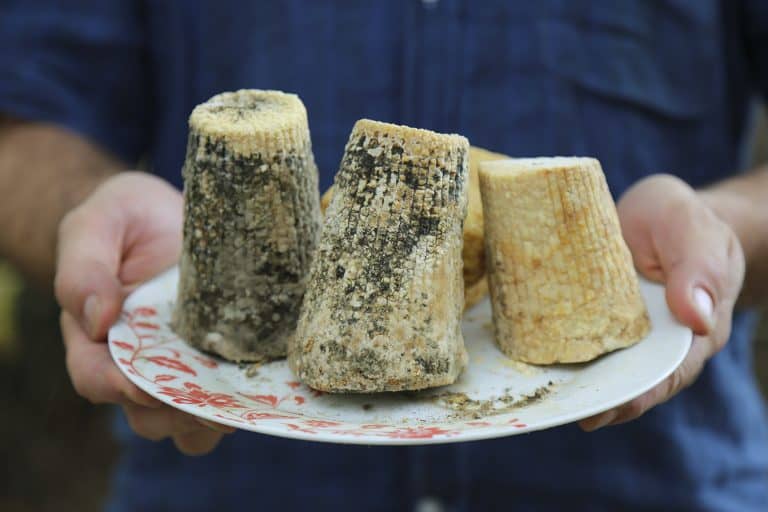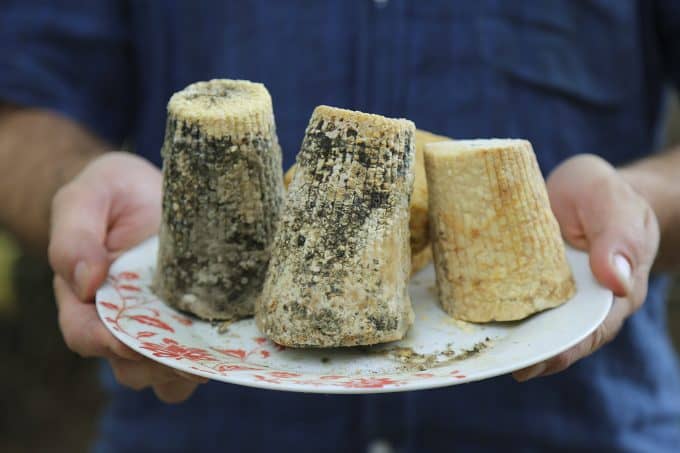 Francesco and his brother gave us a tour of their grounds then gave us a cheesemaking demonstration in the open air. To say it was beautiful is a gross understatement. They then offered us a tasting of several of their incomparable cheeses paired with DaVinci wines suggested by DaVinci's export manager and Wine Educator, Giacomo Alari (shown holding platters of cheeses, above.) We were thrilled by the pairings and given a memorable rule of thumb for pairing wines and cheese: Pair young wines with young cheeses and aged wines with aged cheeses. Even I can remember that one!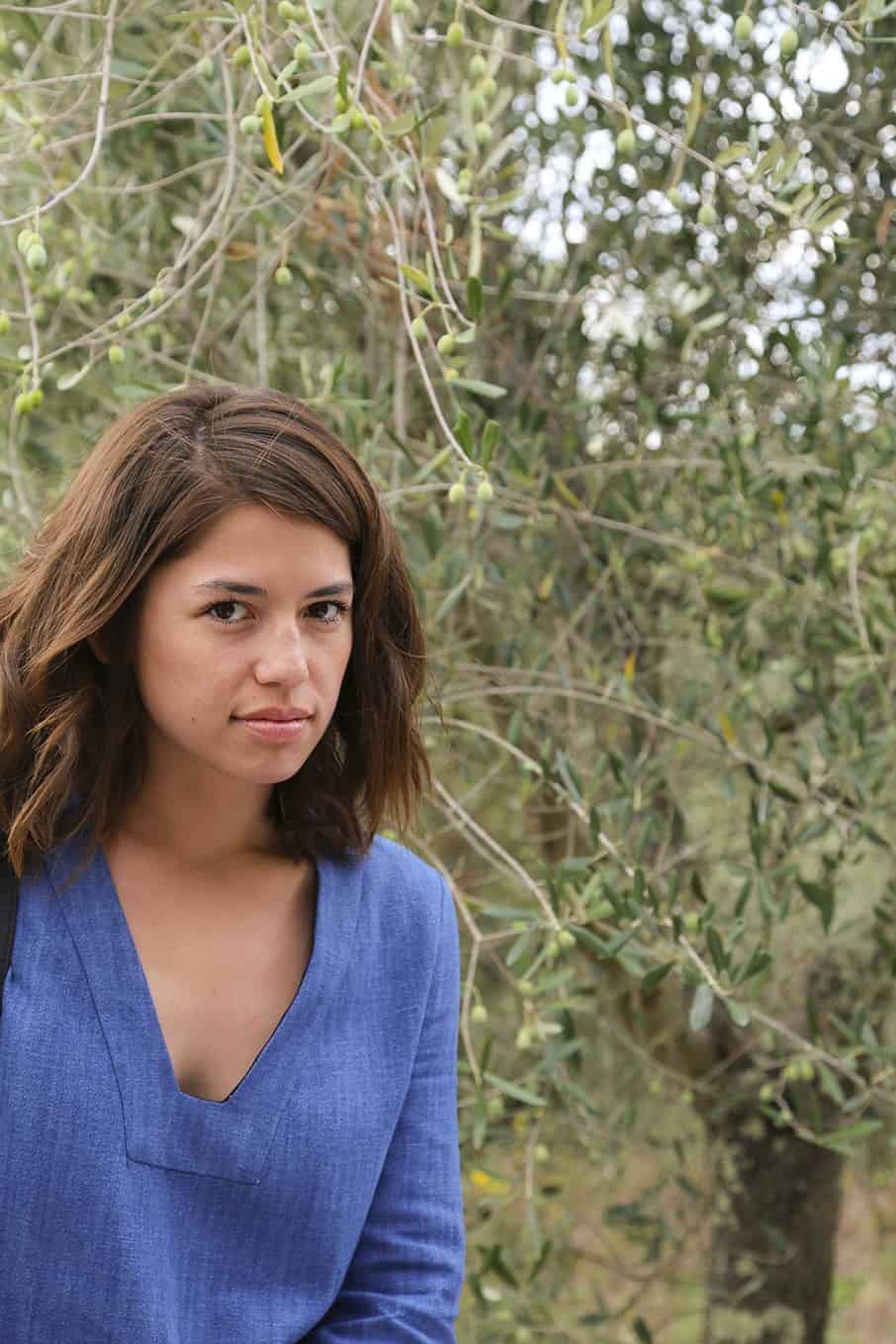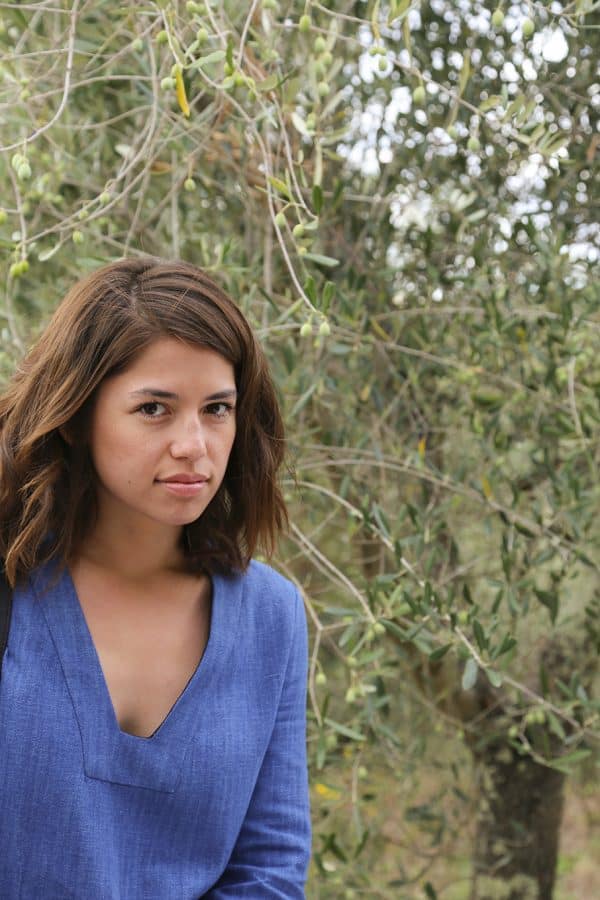 I snapped this shot of Molly Yeh of My Name is Yeh just a millisecond before she cracked a grin and stuck her tongue out at me. Can't you almost see that smile lurking? How very Mona Lisa!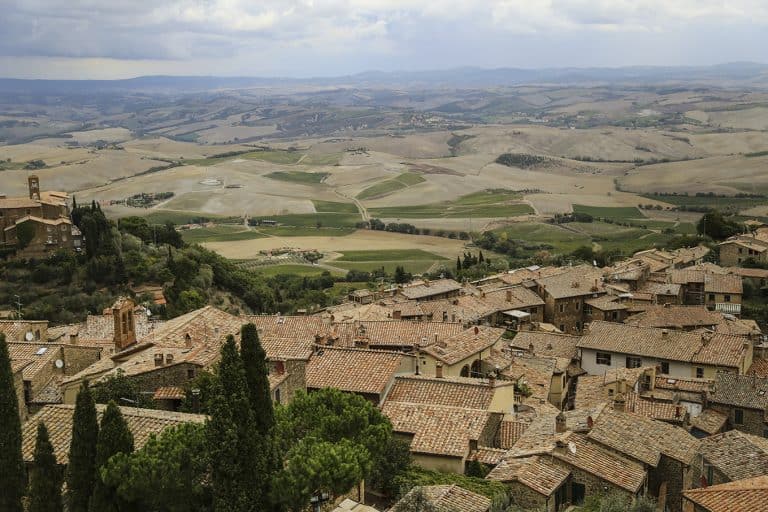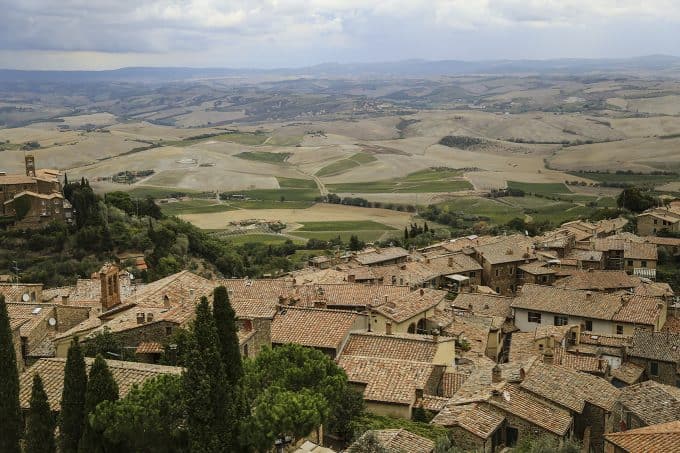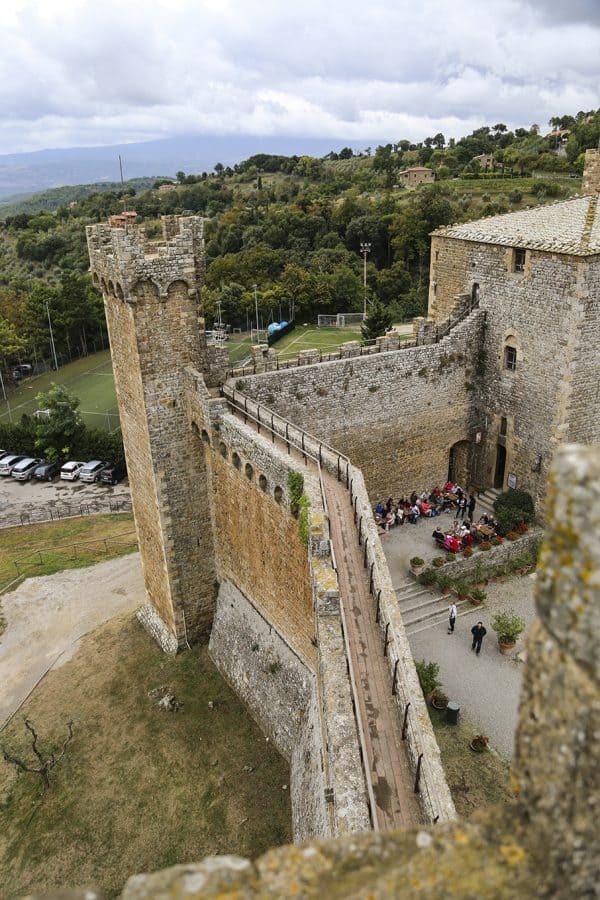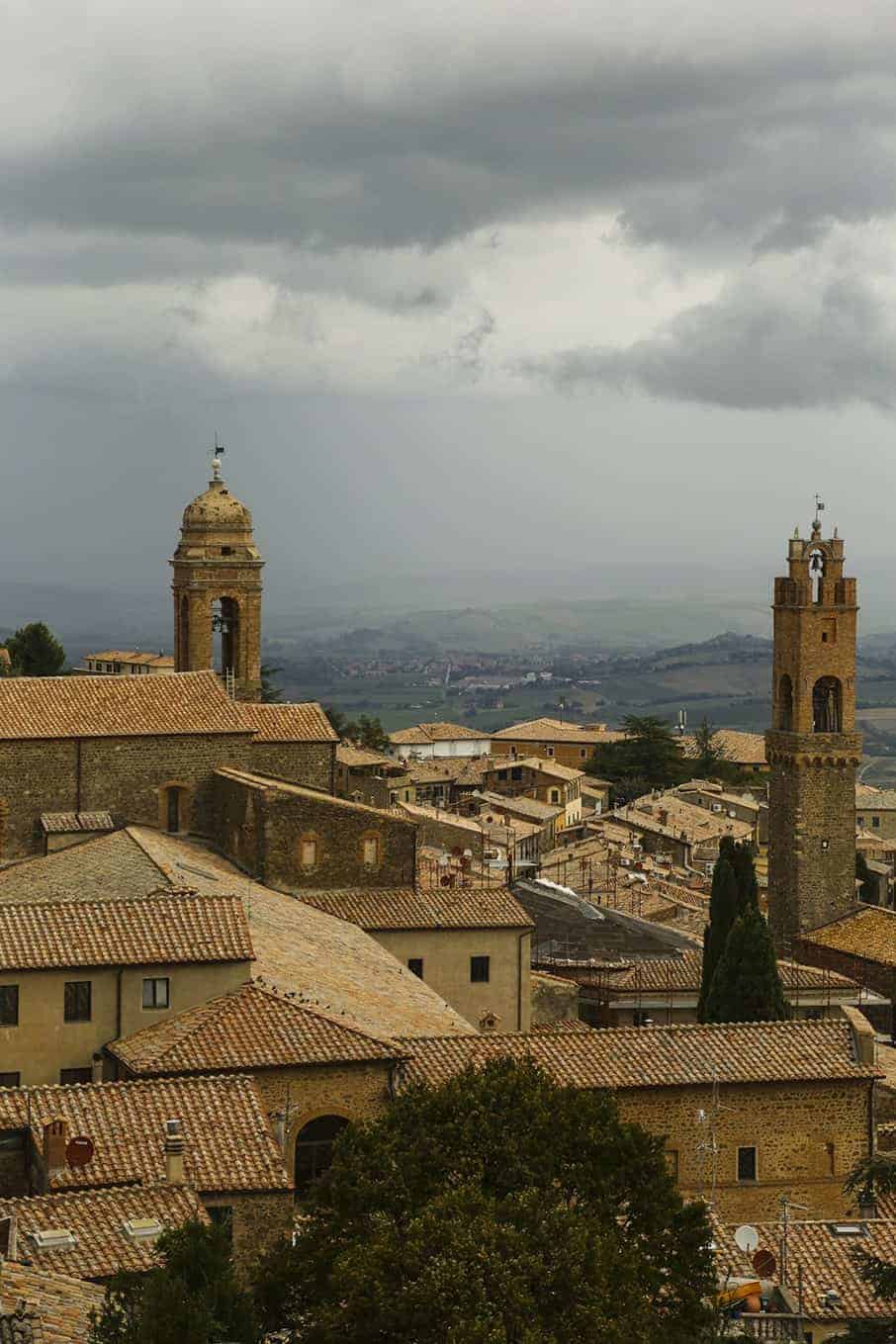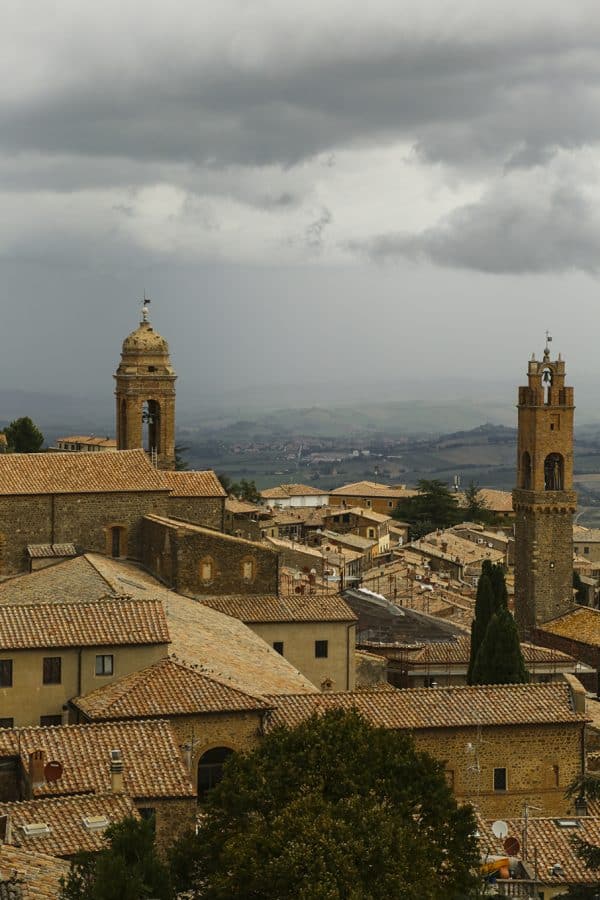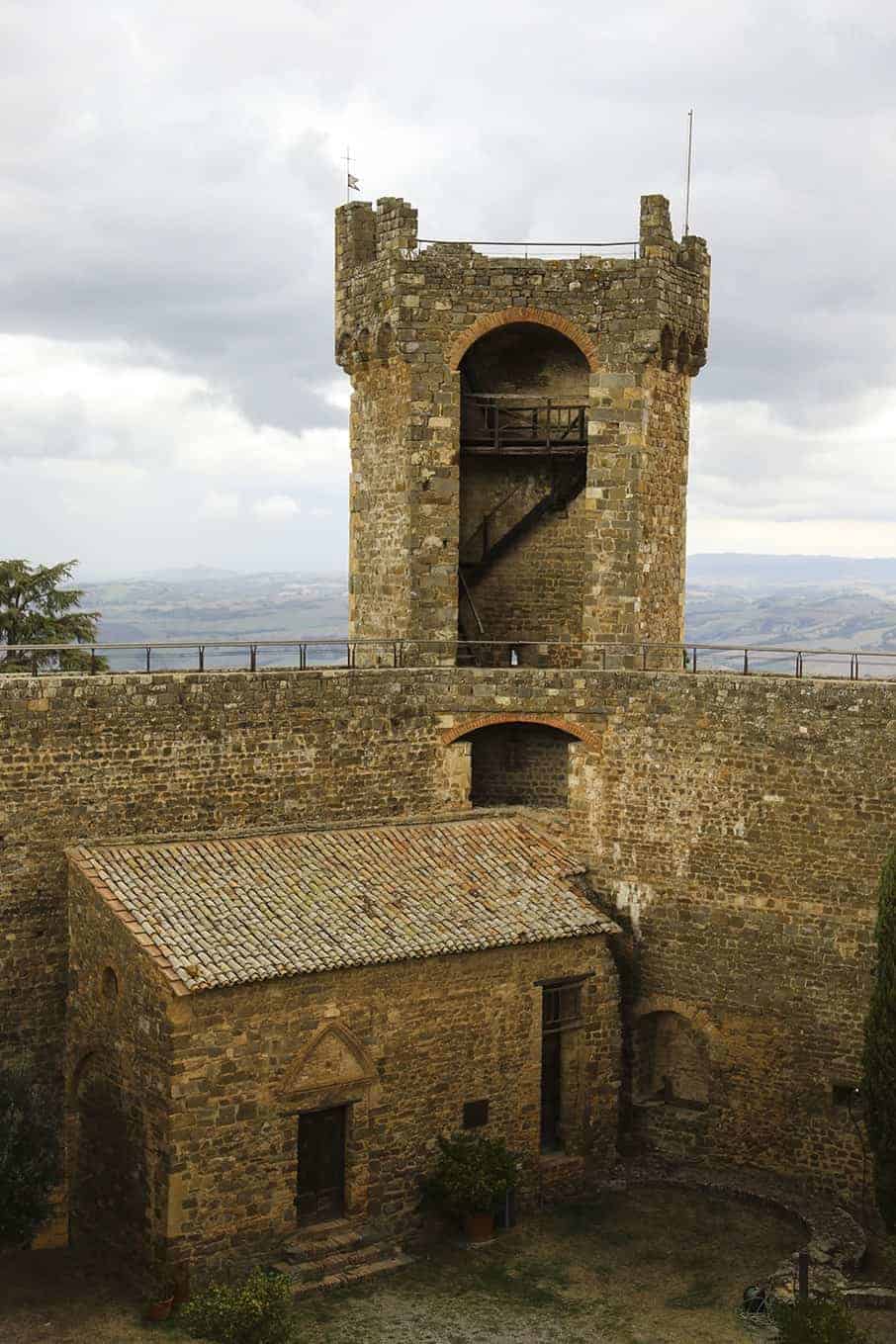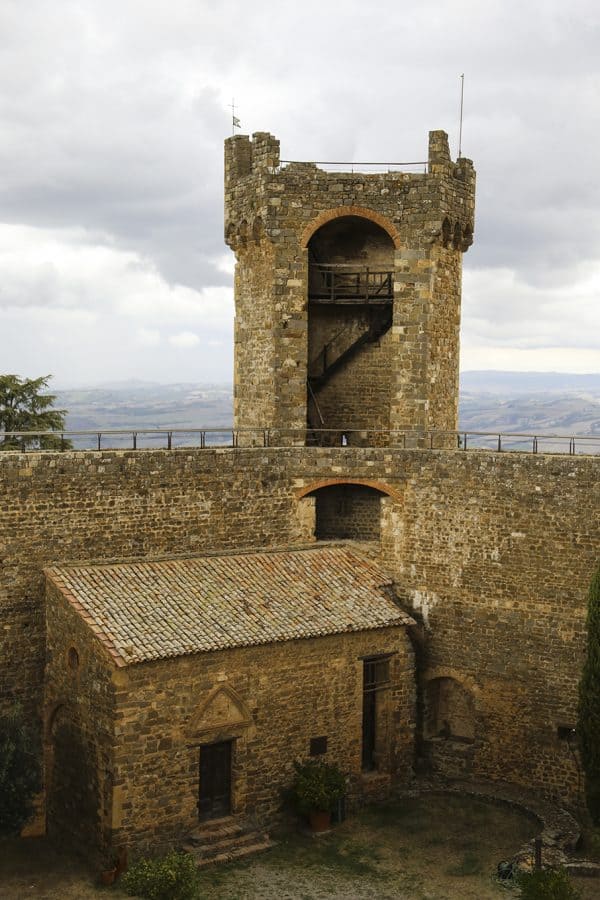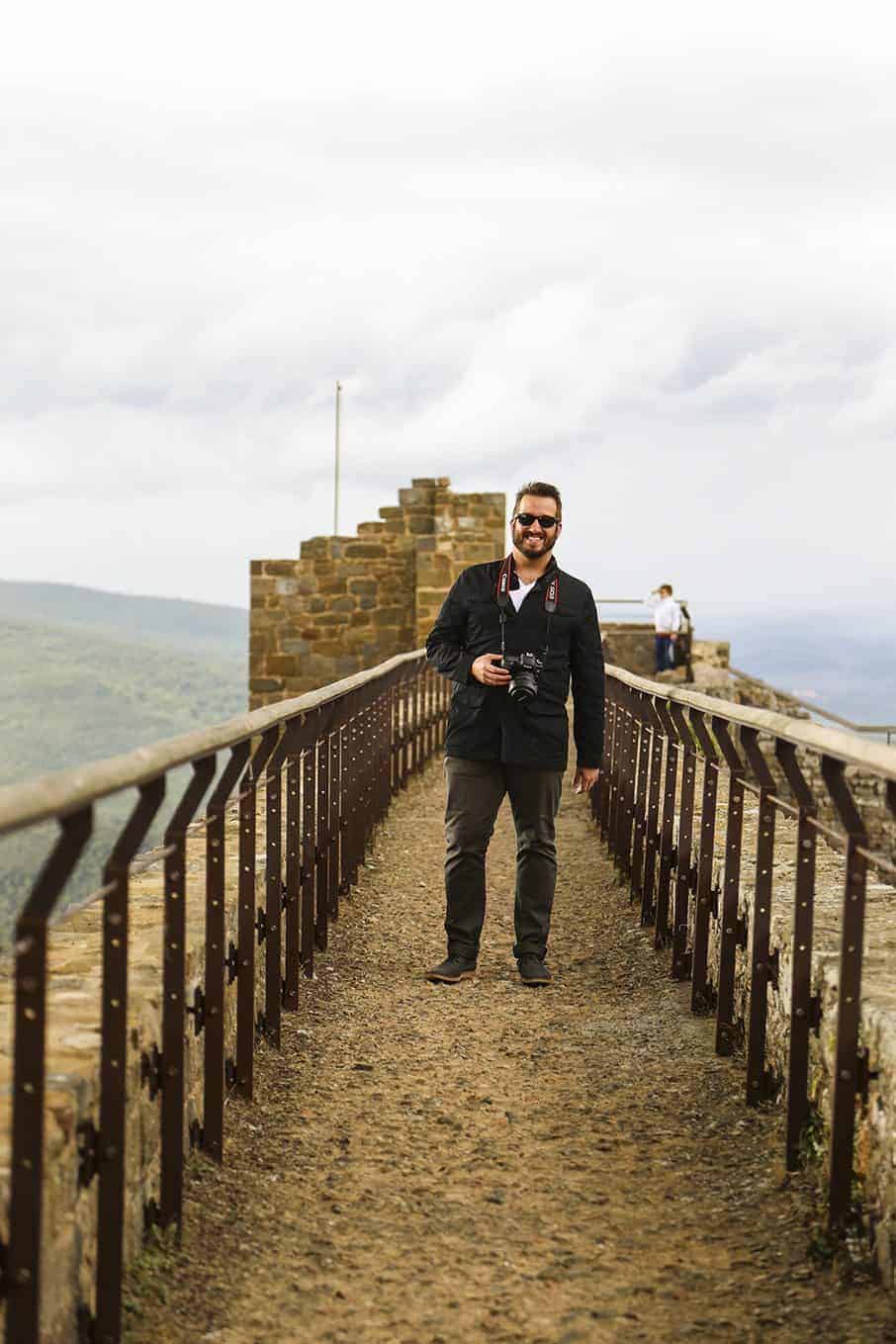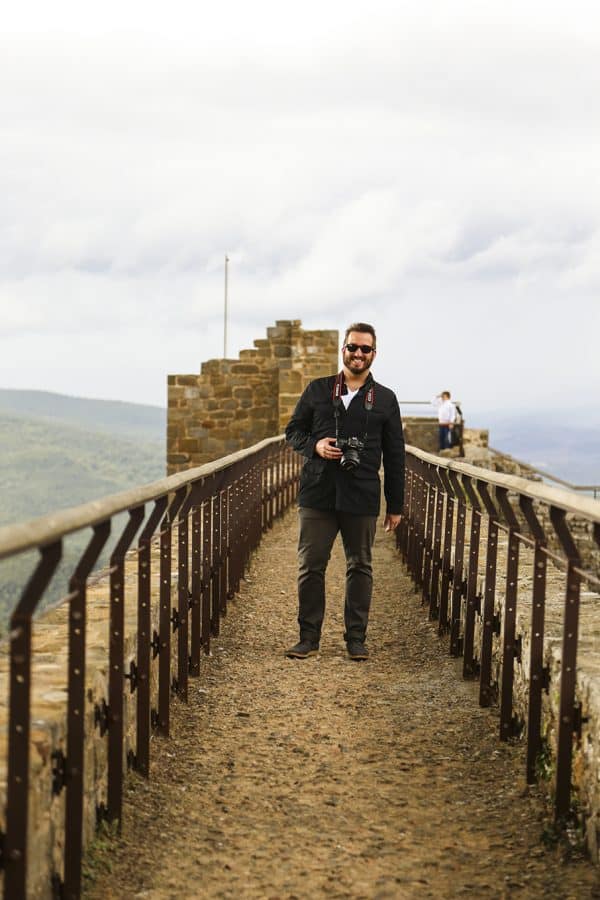 Brandon, Molly, Alana and I climbed the watchtower of a defense wall looking over the village of Montalcino. This was just minutes before the skies opened on us and sent us scurrying for the comforts of shoe shopping and gelato. WHAT?!? You wouldn't shoe and gelato shop in Tuscany?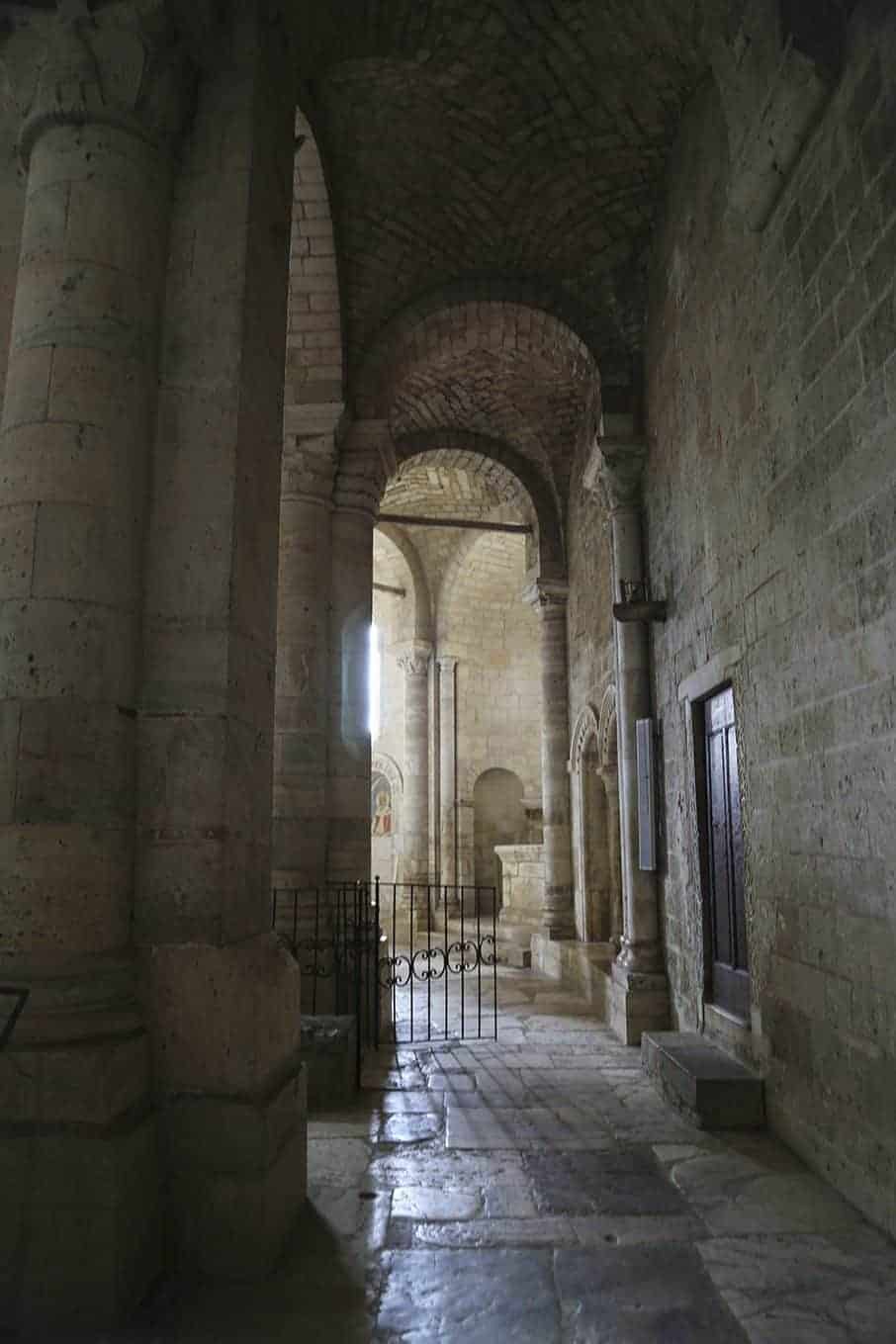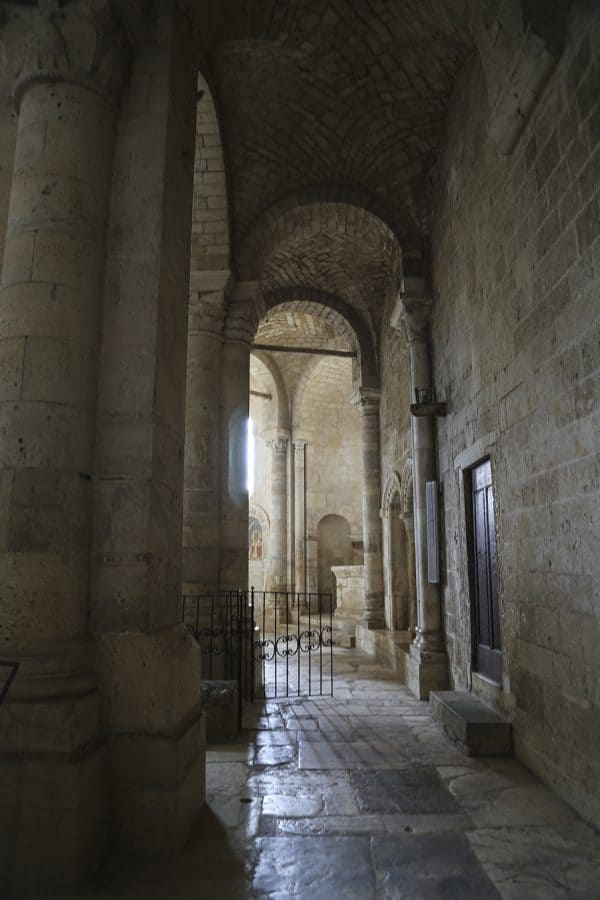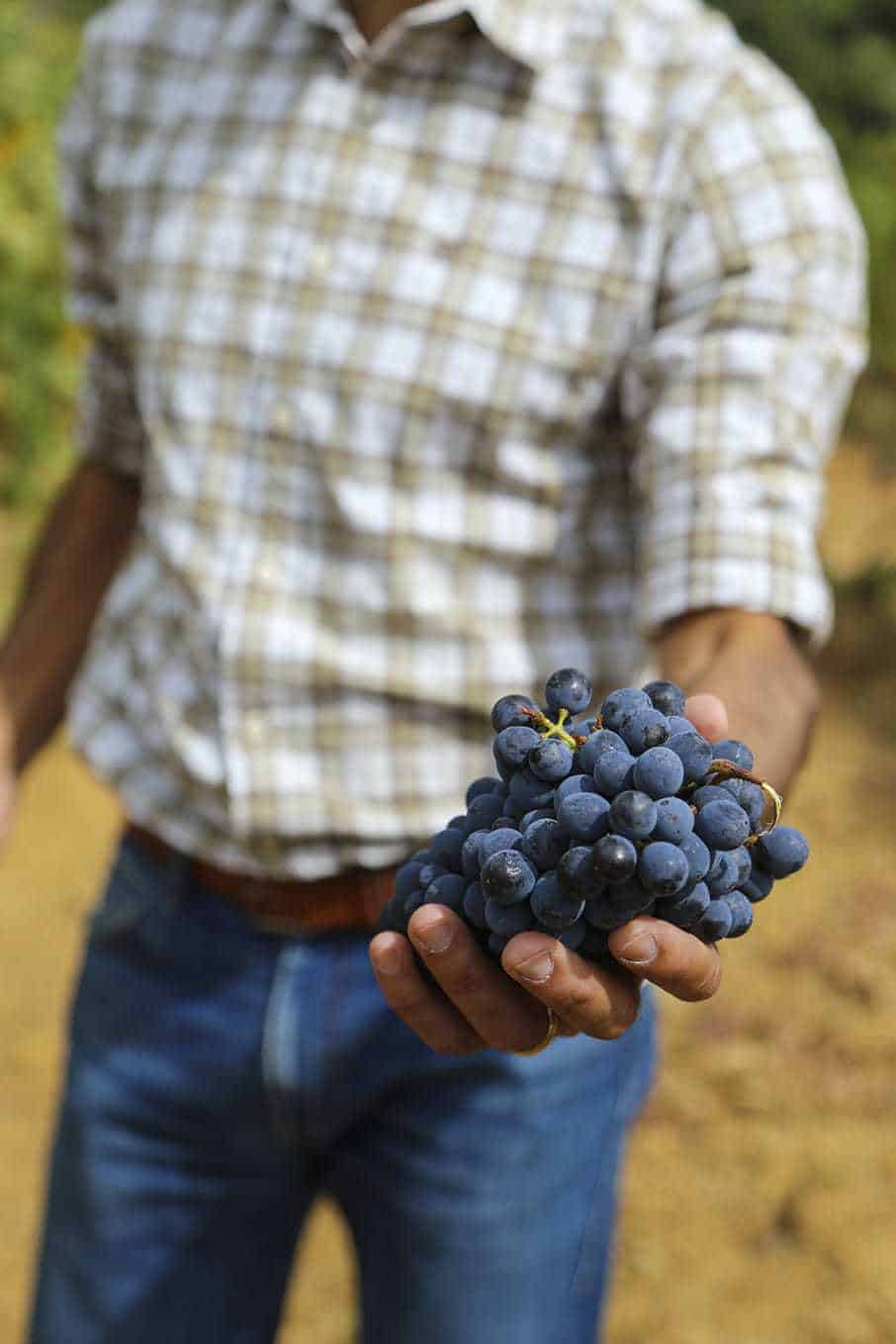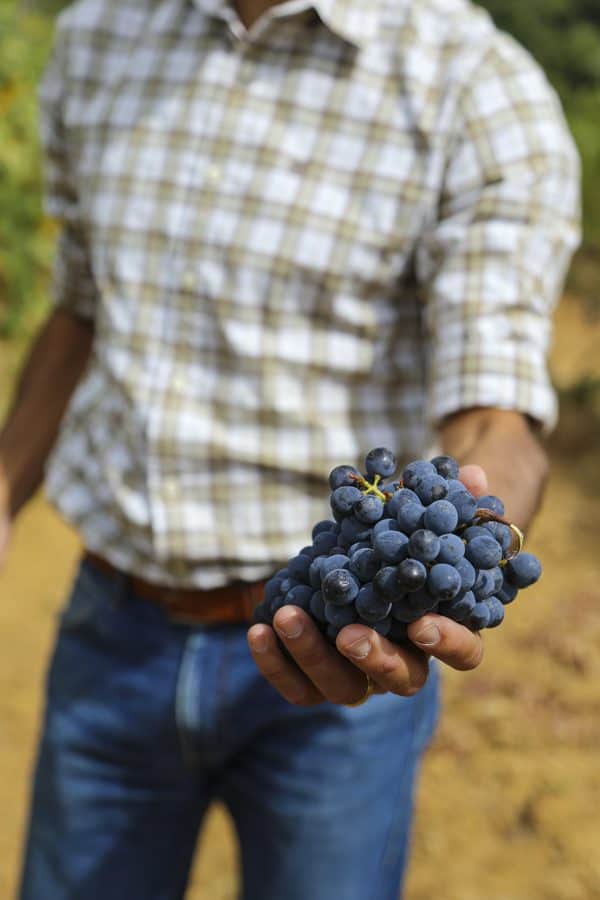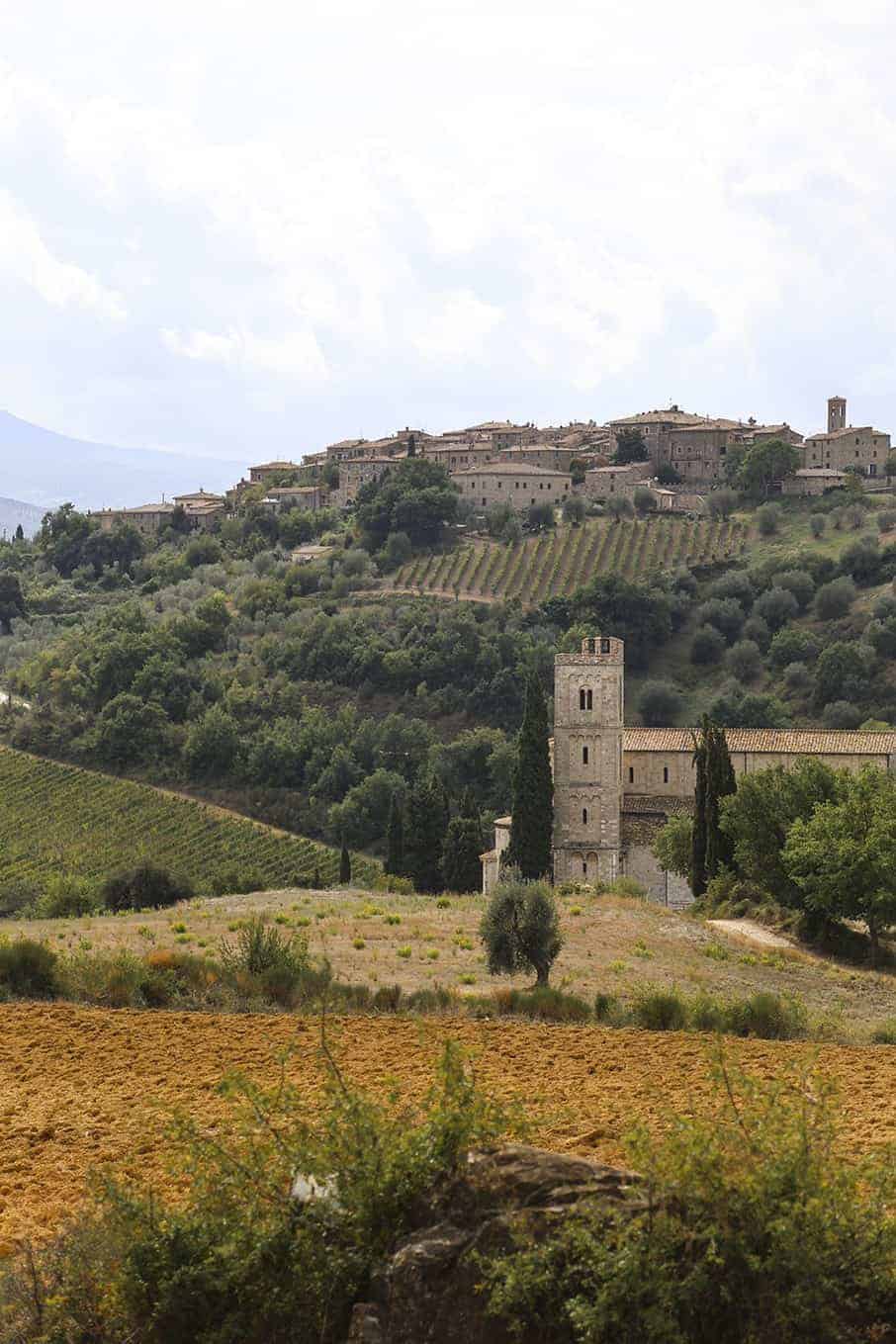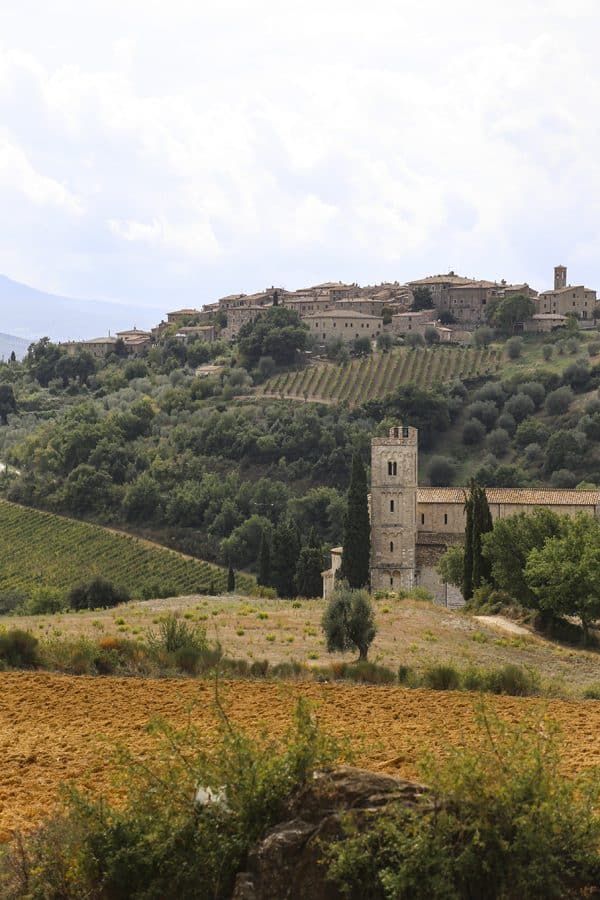 Over and over and over, I was in awe of the views the growers, winemakers and agronomists have on a daily basis. The beauty of the countryside and their crop is not lost on them. They fully understand what gorgeousness surrounds them. I think it adds to the art of DaVinci Wine. Lorenzo Danielli – DaVinci's Montalcino agronomist- is pictured holding a cluster of Sangiovese Grosso grapes which will be made into Brunello di Montalcino. Lorenzo's reverence for and pride in his work showed when he said, "I don't make wine. I make Brunello!" Lorenzo referred, of course, to the Brunello di Montalcino, the prized big, bold red wine of the area.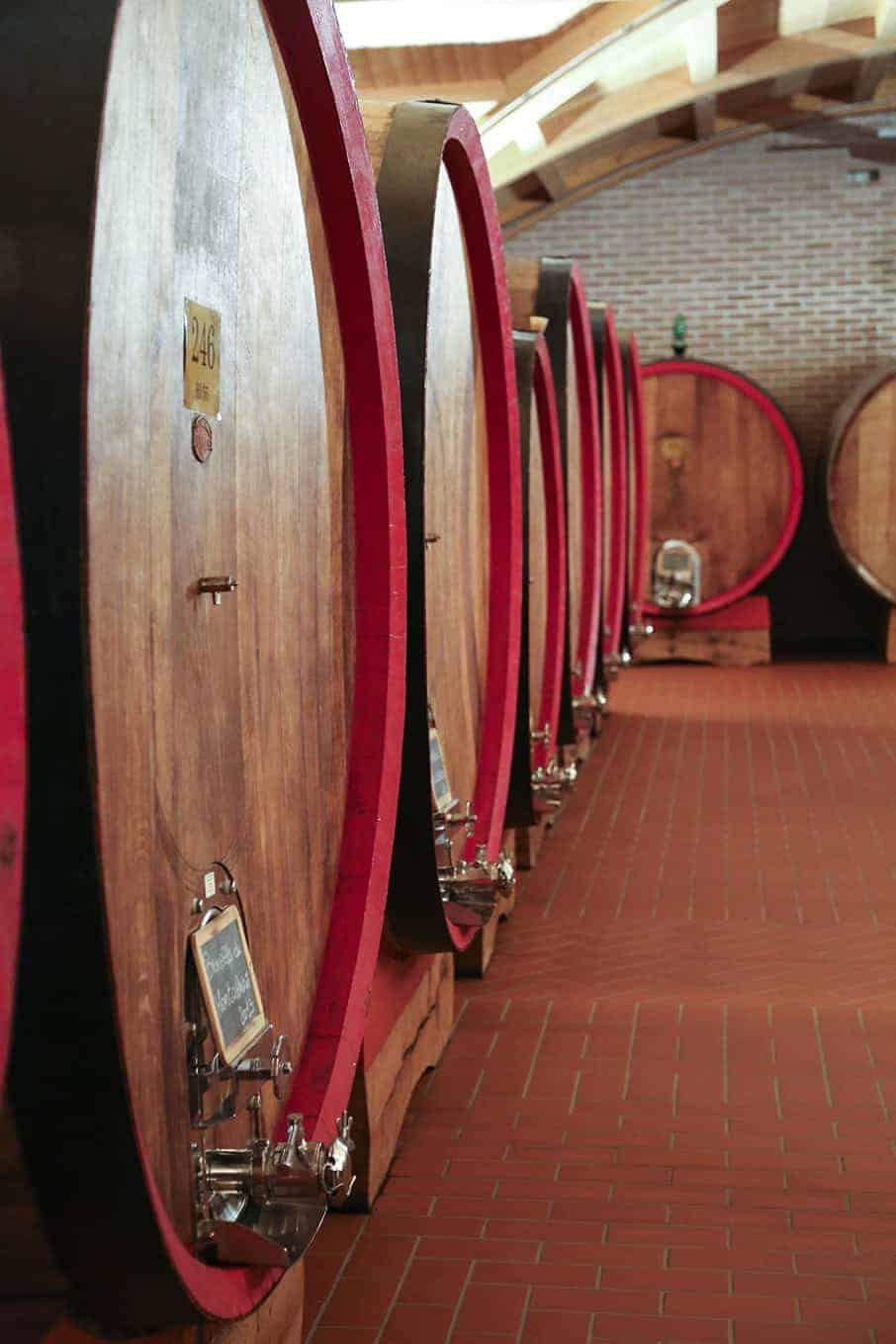 We were privileged to be given not only a tour of the wine barrel room at DaVinci's Montalcino winemaking facility, but to be fed a stellar lunch in the barrel room and be treated to two vertical tastings; one from young wines in the wine barrels themselves and one from the 2011 vintage of Brunello (which won't be on the market for another month or two), as well as the coveted 2010 Brunello di Montalcino, and its 2008, 2006, and 2004 vintages as well.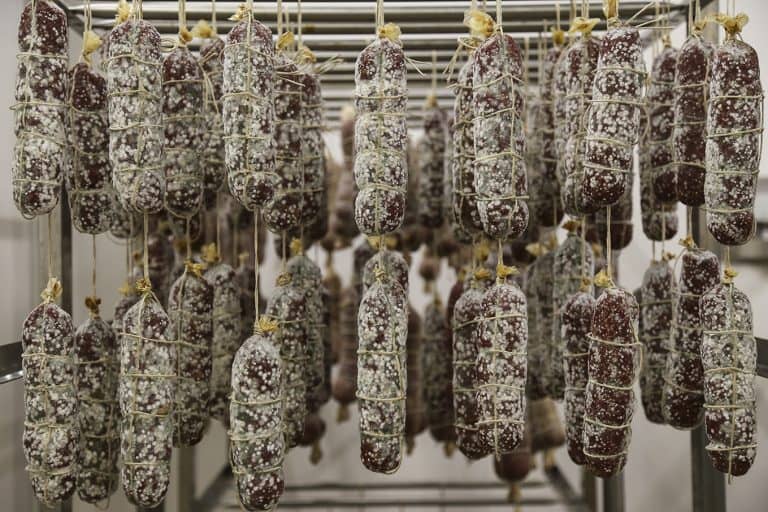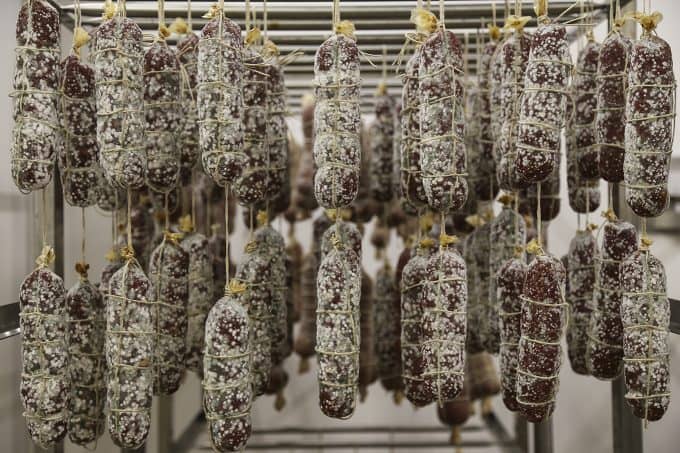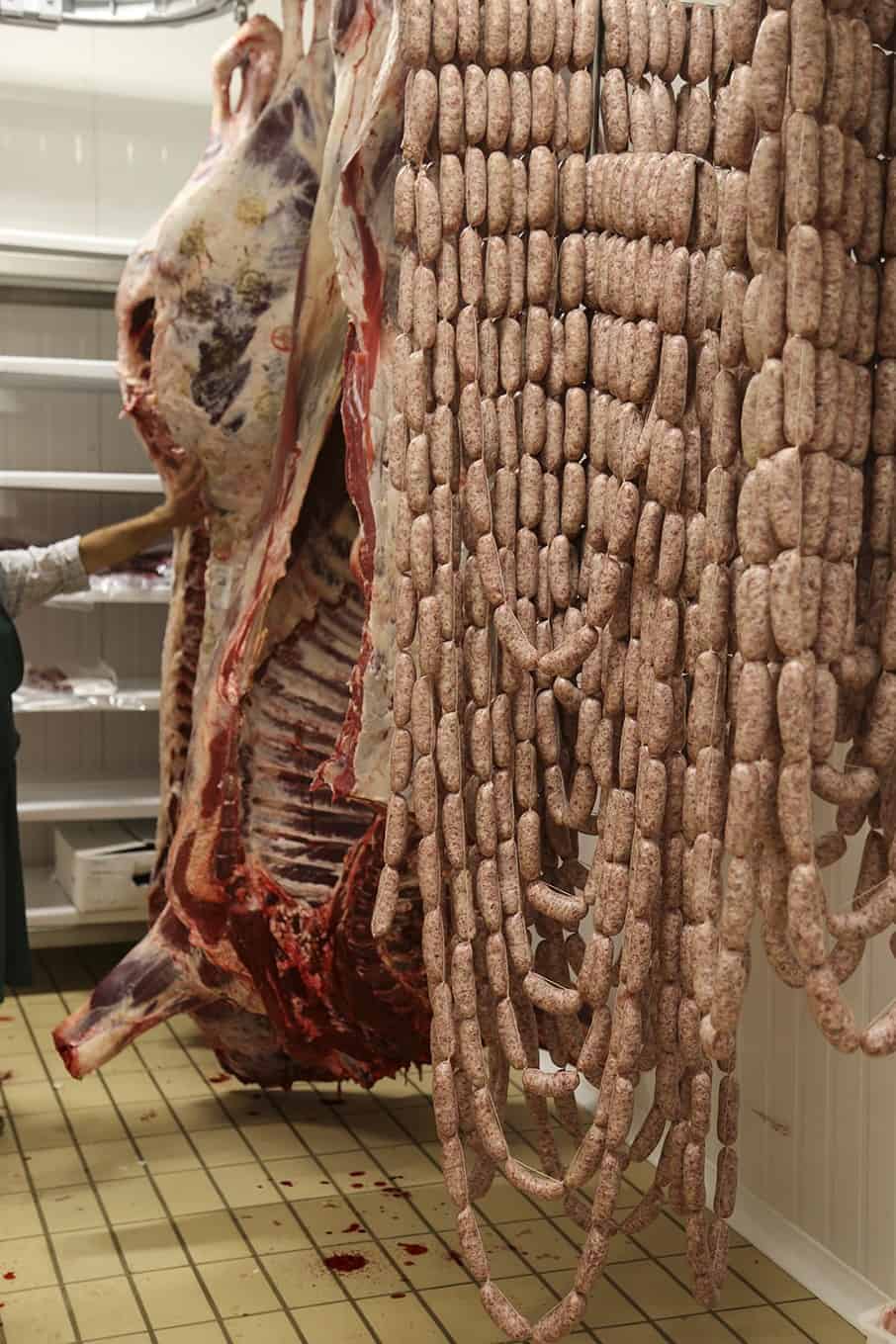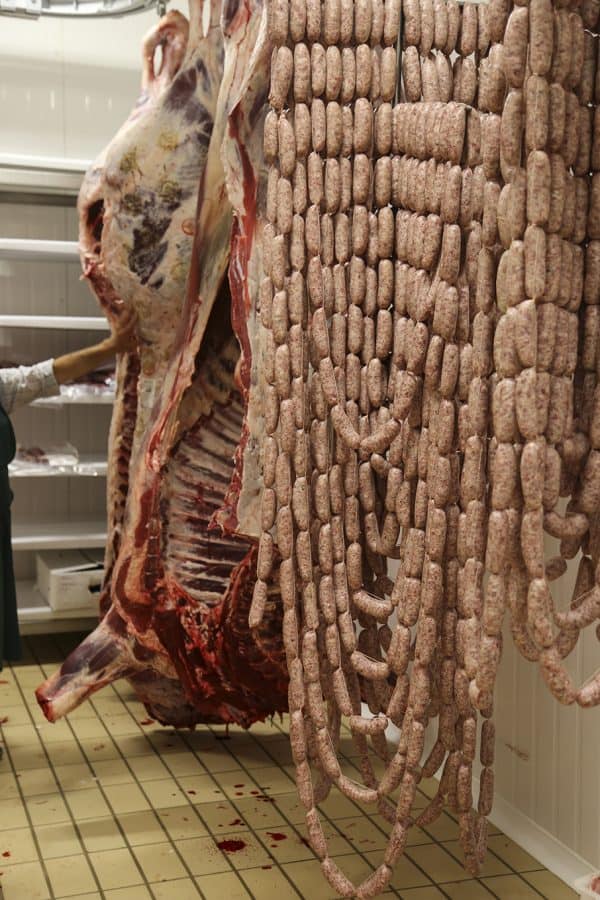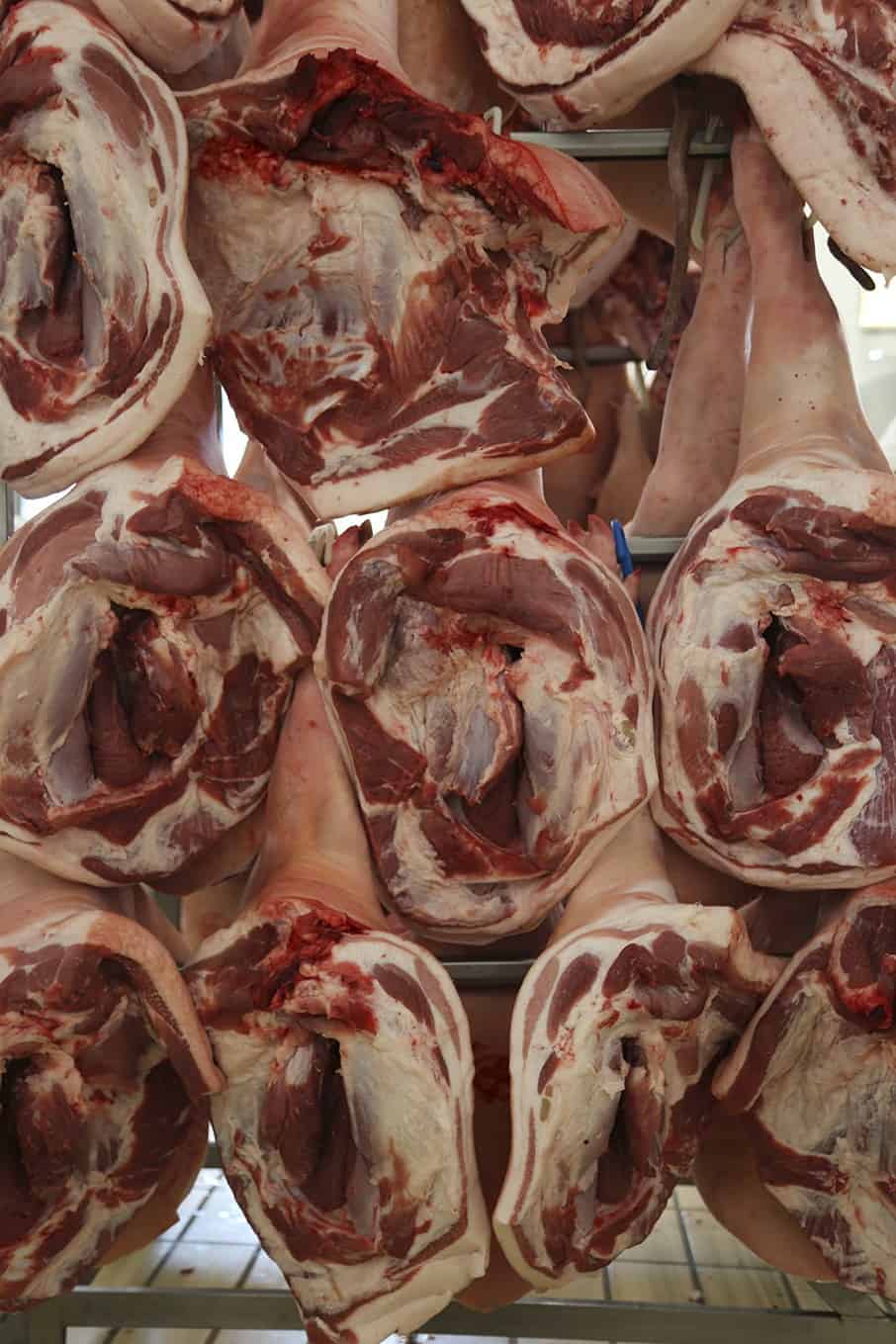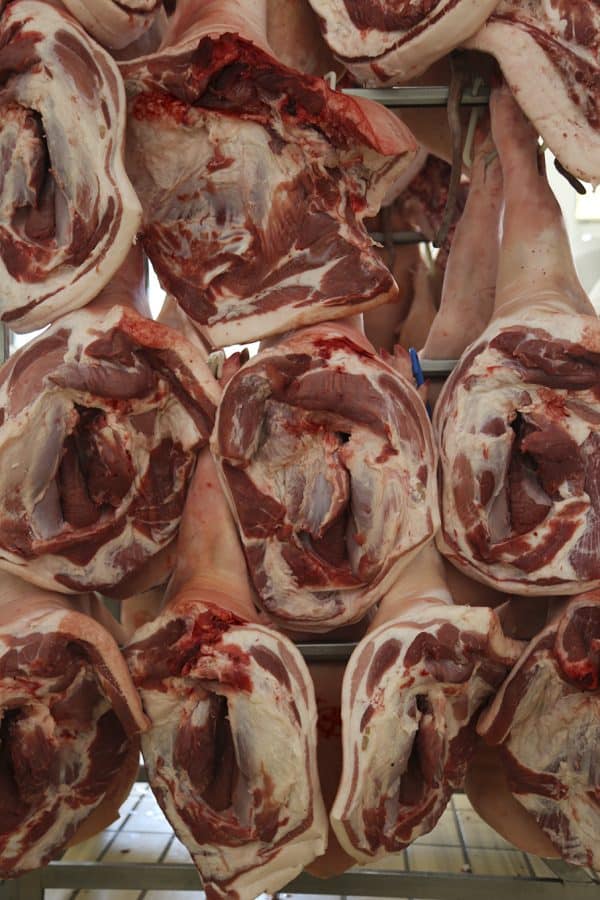 Toward the end of the visit, we had the distinct pleasure of visiting Macelleria Falaschi where we met Signor Falaschi, a well-respected producer of prosciutto and we toured his facilities.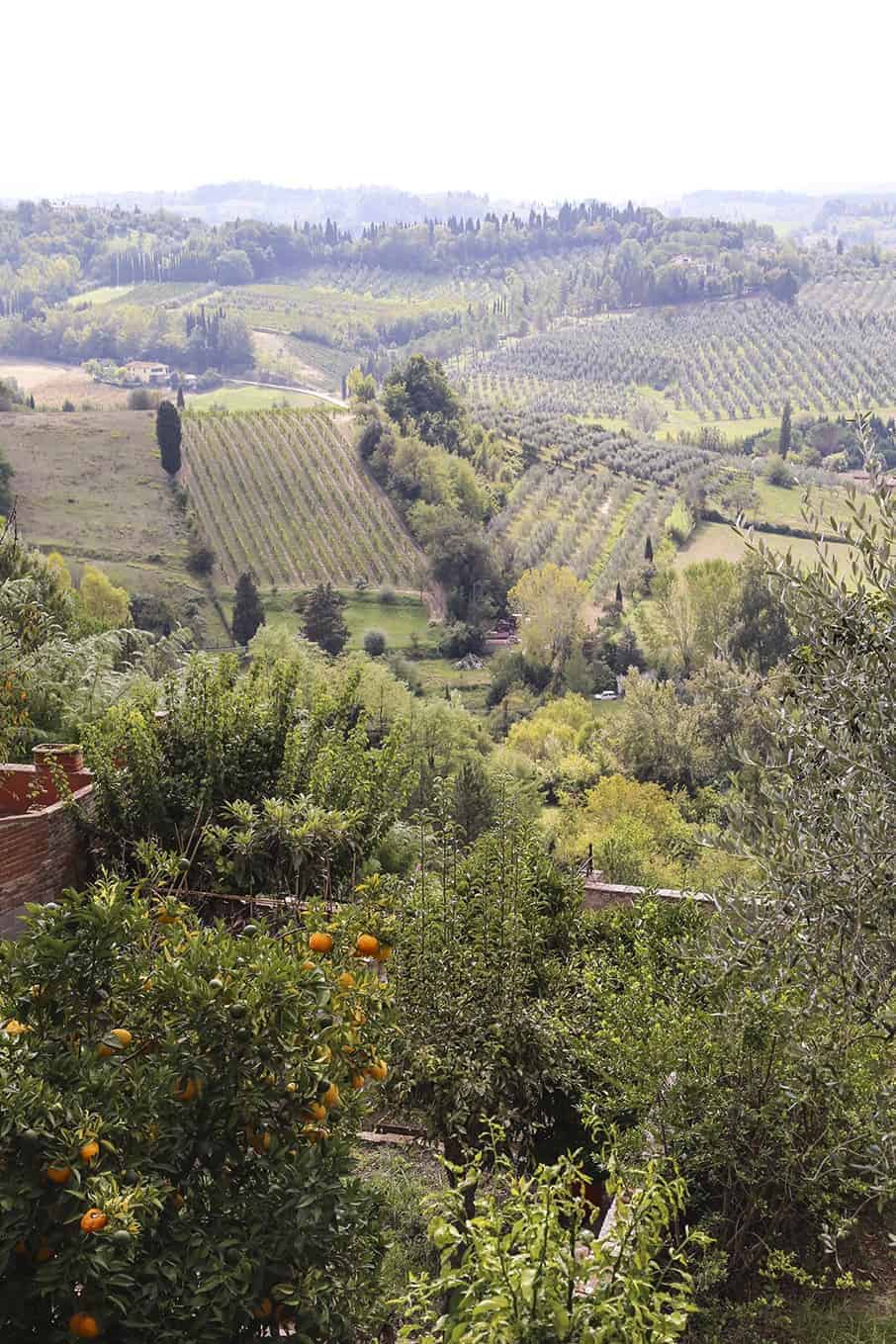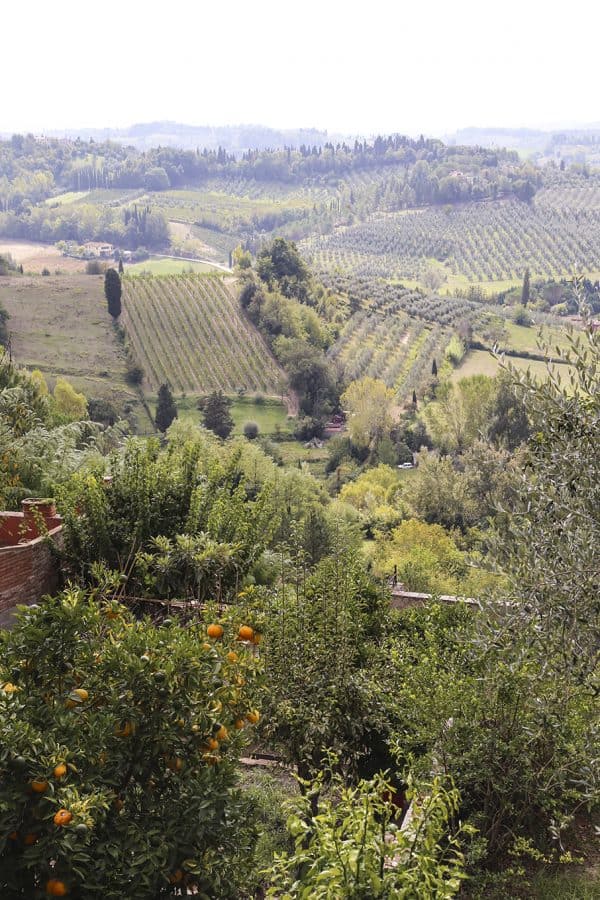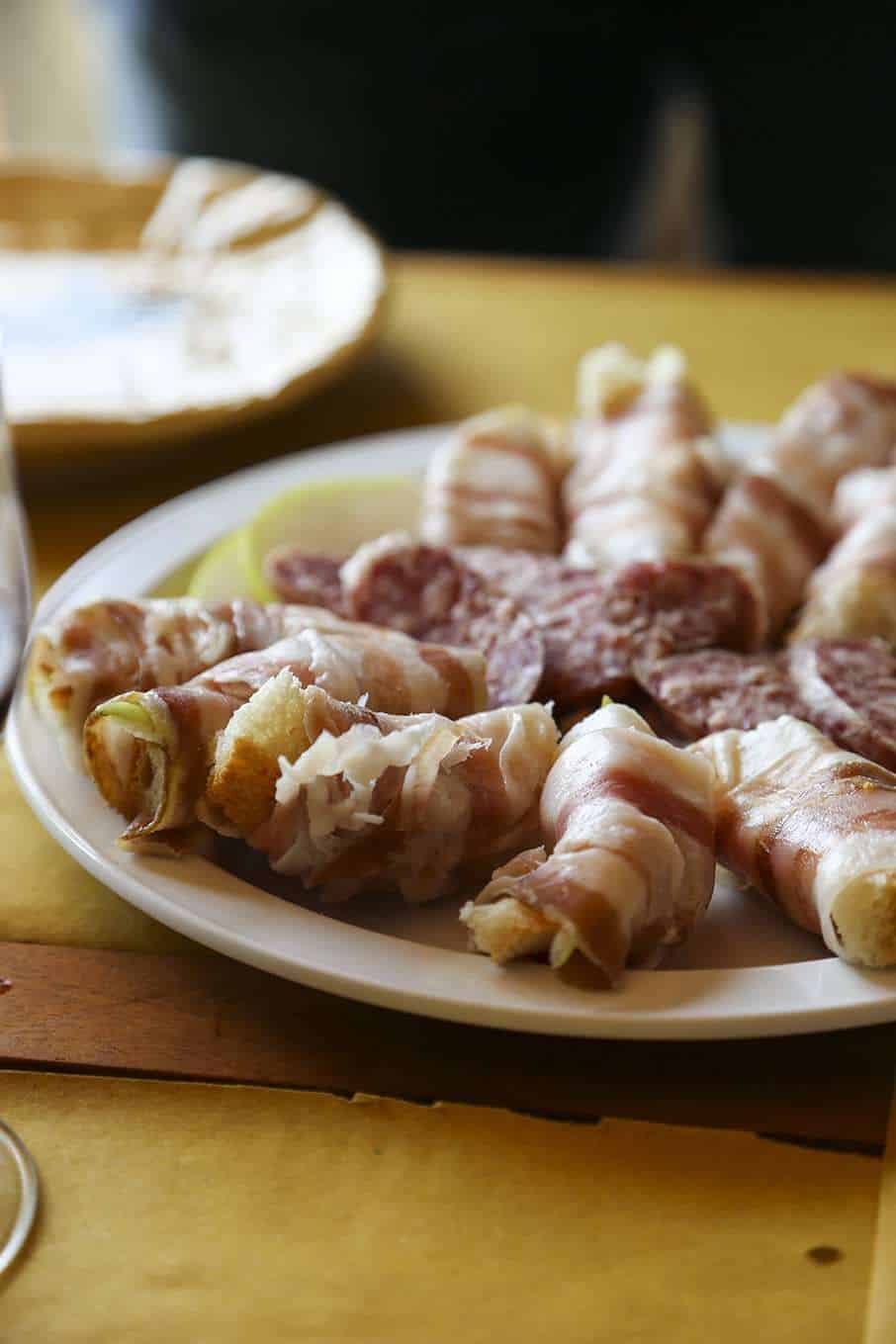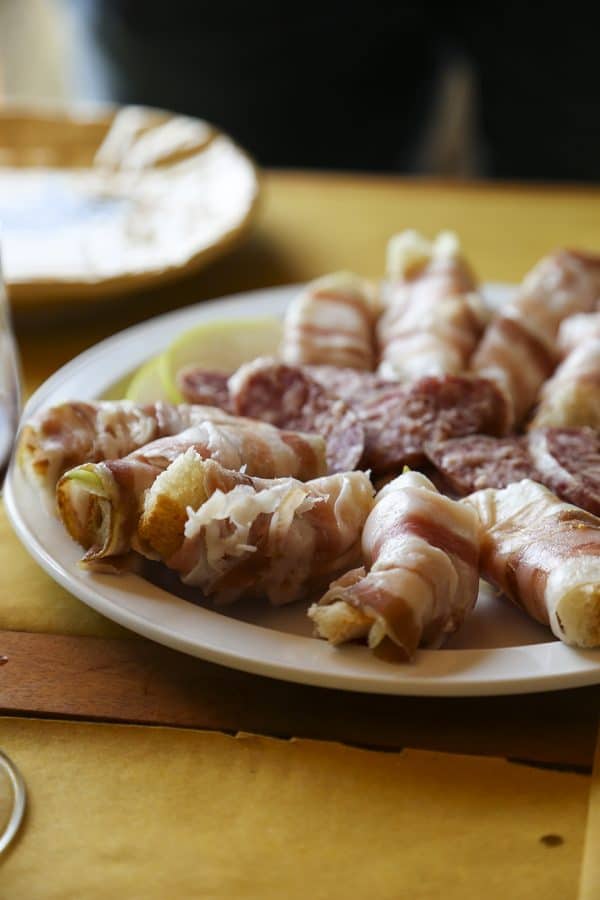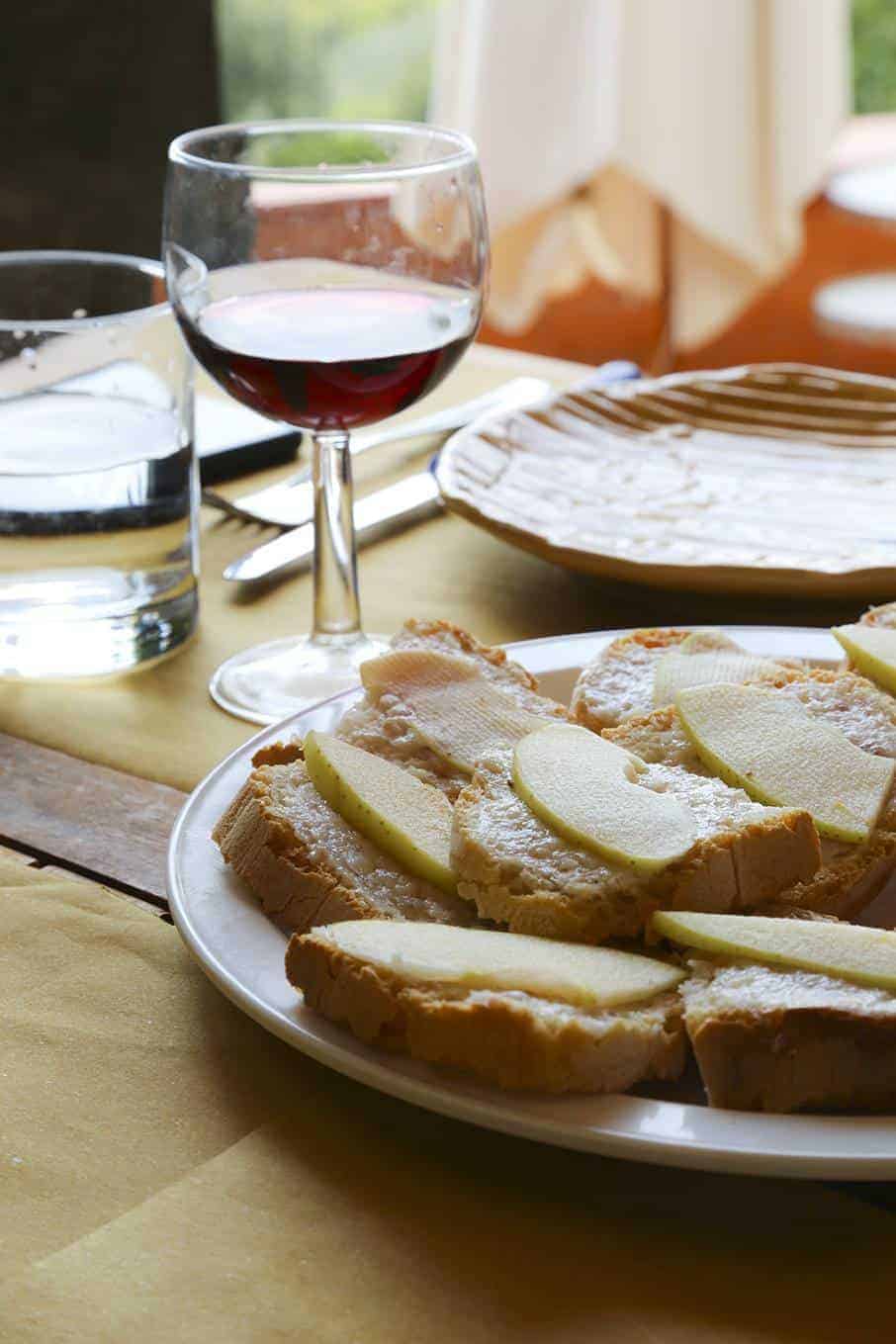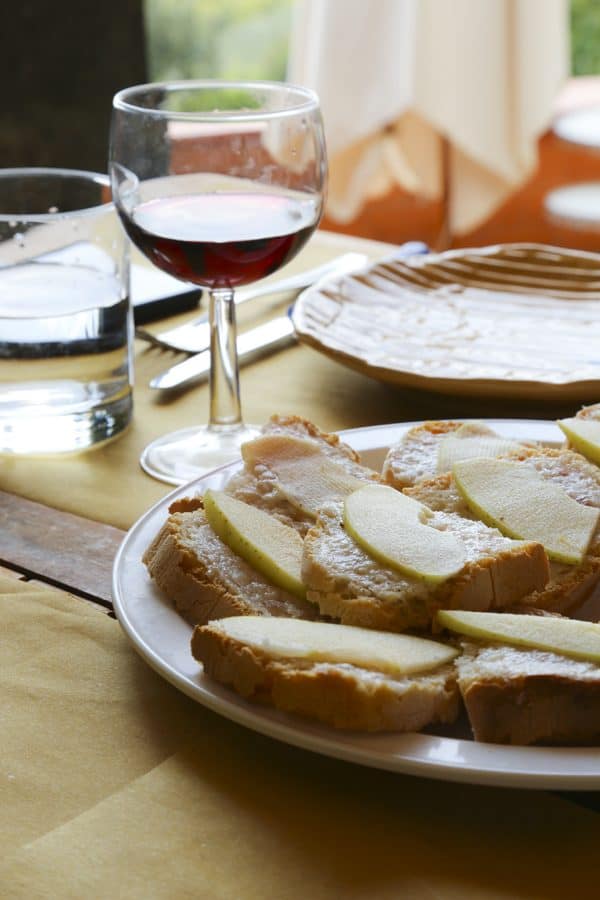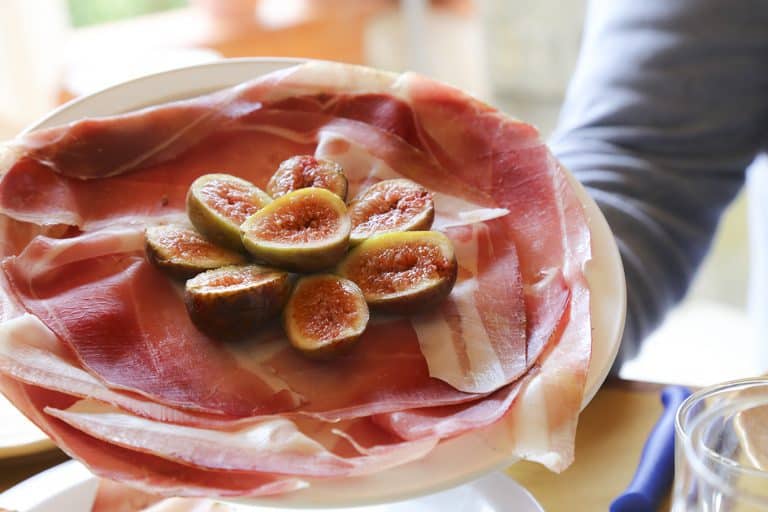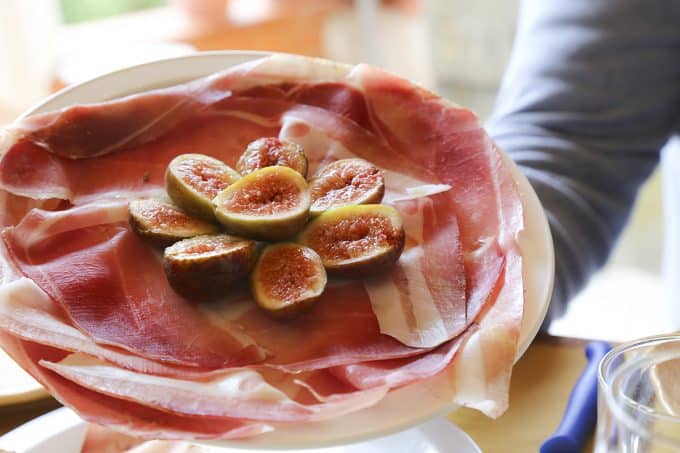 After this fantastic tour where we learned about all aspects of the production of prosciutto and other traditional cured Italian meats, we were treated to a very special lunch on the back porch of his butcher shop in San Miniato overlooking a hillside covered by olive groves, vineyards, orange trees, and cypresses. His wife prepared a series of incredible dishes to pass followed by a braised beef dish of surpassing loveliness that I will be sharing here before too long.
I have so much thankfulness in my heart to the good people of Tuscany, my friends at DaVinci Wine, and my fellow Storytellers for an incredible experience I will remember both in my mind and through my food for the rest of my life! Grazie, mille grazie, Tuscany and DaVinci!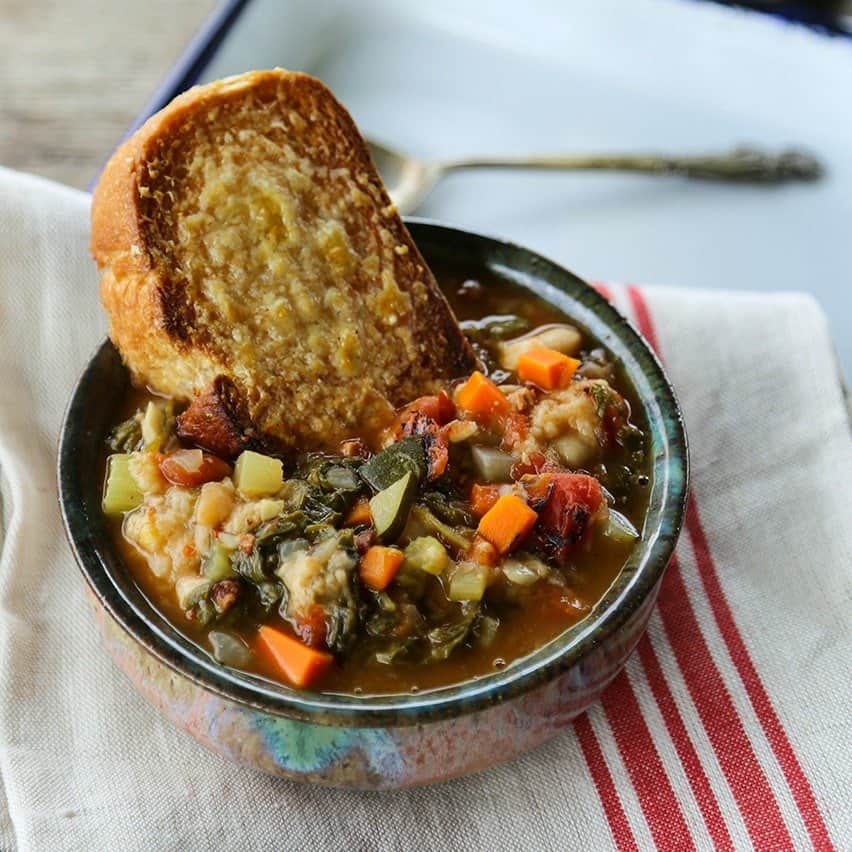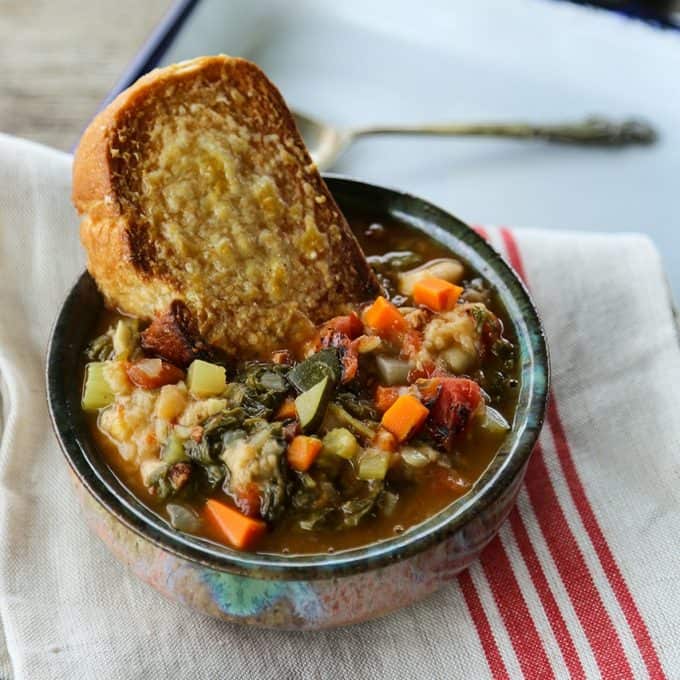 Disclosure: I was provided with this all-inclusive trip to Tuscany by DaVinci Wine. As usual, all opinions and recipes are my own. All photography is mine, unless otherwise noted.