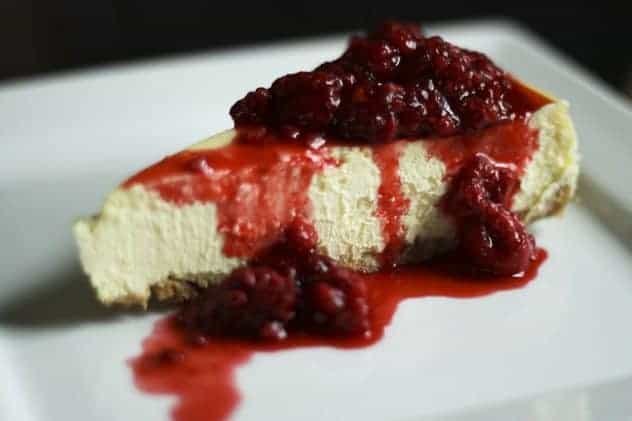 DON'T CLOSE THIS WINDOW.
I know, fear of cheesecake is strong, but I'm here to tell you it is one of the easiest things you'll ever make. Easier than a no-bake box number from the store. Easier than a brownie mix. Easier than falling off a cliff. Easier than, well… look. I'll just show you.
But first…
This is my wild man. (The one behind him is also a wild man, but I am referring, specifically, to the man in motion in front.)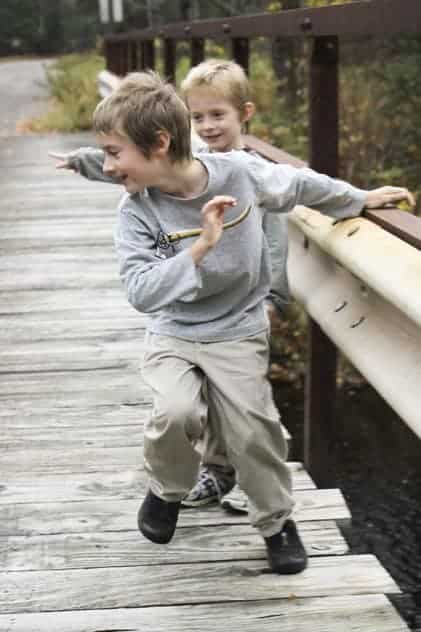 His hair is always a little crazy. No amount of water or mousse or hairspray or prayer or anything short of a head shaving will make it lie down and that's how we like him.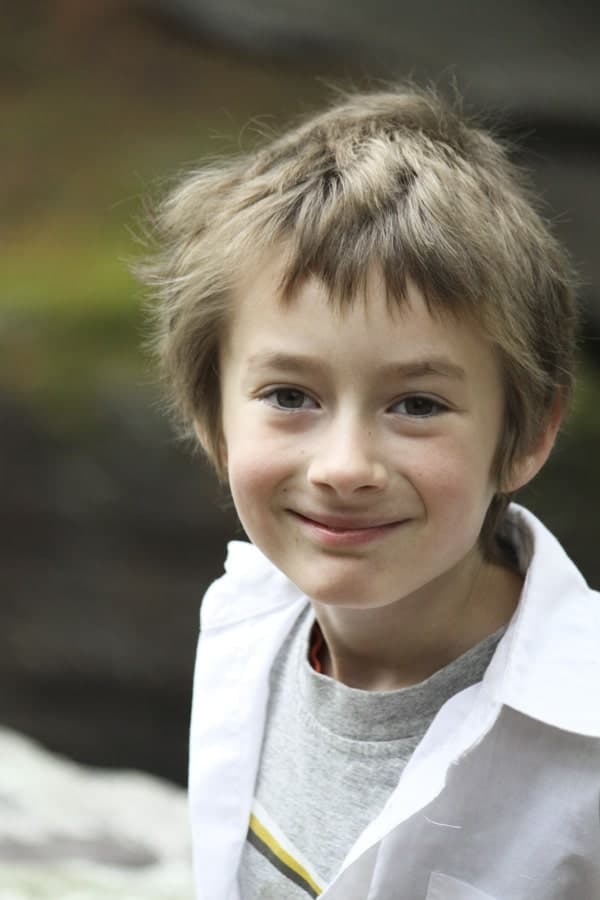 His grin is always huge and his ability to find or be found by mischief is near legendary. He's a dog lover, a fruit monkey, a silly little man and wow can he talk. He's not a man of few words. I have no idea where he got his gift of gab.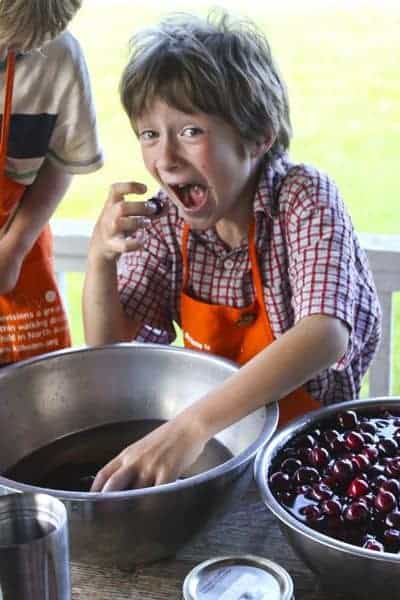 He has always been a noise maker. When he was little he beat-boxed and this year he discovered that he's a real, honest-to-goodness drummer. This kid is a metronome.
Between the hair and the antics and the drumming, he reminds me of a kinder, gentler Animal.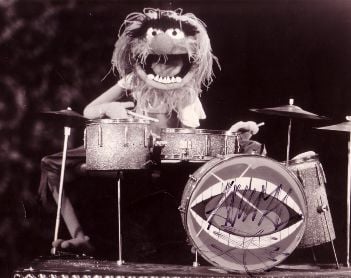 My boy has put a smile on all our faces since the day he was born eight years ago. This year, his birthday fell on the first day of a family road trip and we were unable to do our usual "choose the meal, dessert and movie" that is usually bestowed upon the birthday boy. He did, however, have an ice cream cake courtesy of a sweet auntie, but that didn't stop him from regaling us with what he was going to have for his birthday feast on the fourteen hour drive back home. It went something like this,
"I'm gonna have tacos and haystacks and home fries and tortilla chips. And I'm going to have celery and carrots and Ranch dressing and venison and pizza and hamburgers and hot dogs. And tortilla chips and pretzels and potato chips and dip and beef jerky. And a salad."
After we managed to negotiate down to tacos and a salad, I asked, "What would you like for dessert?"
And my talker, Young Master Verbose as we sometimes call him, said one word in a reverential whisper,
"Cheesecake."
Five minutes -and some meaningful looks- later he was back off and running,
"Can I have it be a plain one with lots and lots and lots and lots of berries? How about a big strawberry right in the middle? I think we should put some raspberries and strawberries and blueberries and cherries and apples and pears and blackberries and plums and grapes and…"
You get the idea.
Then my oven broke. (Yep. That again. I'm sorry. I write real-time. Most of the food on here makes it online within a week of being served to the family, so you get life as I get it, for better or worse.) And Leif had to wait again.
He was pretty patient, all in all.
And then today. I finally sliced into his cheesecake in all its plain cheesecake with berries and berries and berries. My slightly bigger every day eight year old sat down and dug into his cake and I sat down and dug into admiring him.
I'm pretty keen on this little guy.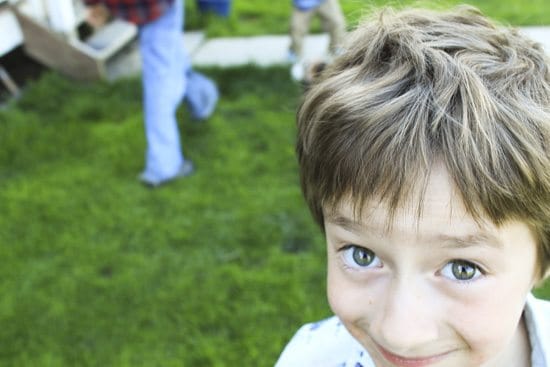 And obviously, I'm not the only one…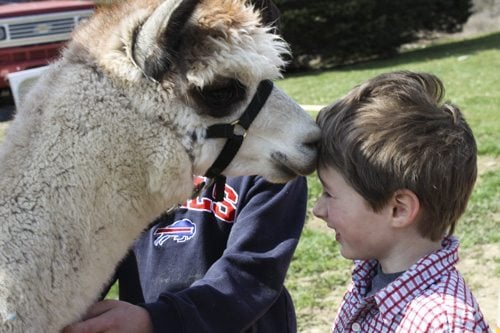 Now, let's talk cheesecake, shall we?
Can we agree on what a great cheesecake is? It's creamy, smooth, rich, and sweet-but-not-too-sweet. I like a little bit of a crushed cookie crust, but that's optional* and can be included or omitted. To top or not to top? I like it plenty naked. The cake being naked, not me. I don't eat cake naked. I mean honestly. If you're eating a wedge of plain cheesecake you're going to be happy enough. In my book, though, the perfect foil for this ultra rich and creamy cake is, as Leif wanted, a nice tart berry topping. Anything else must be approached with extreme caution at the risk of overdoing the sweet factor.
*Duck! The cheesecake mafia is going to smack me down on this one. I know, a "pure and proper" cheesecake has no crust, but shoot me. I like the homestyle crust. My recipe is flexible enough to omit the crust if you're a crust hater, though. Stick with me people.
Please. I beg you. If you love cheesecake and you've been afraid of making one or failed at it before or even if you're a cheesecake veteran, make my cheesecake. It is, in a word, sublime. It is everything a cheesecake is supposed to be -crust or not- and you will not be disappointed.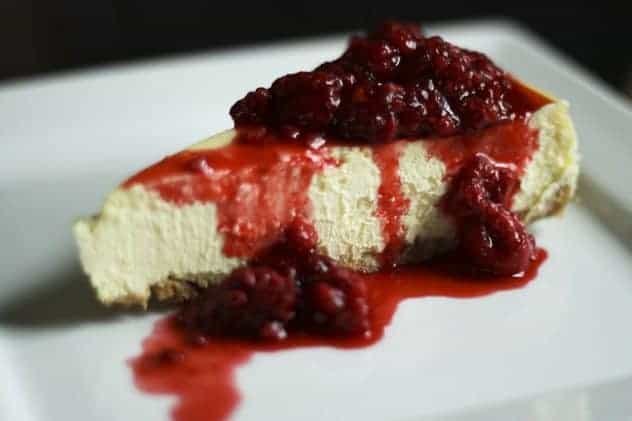 The gentle orange flavour of this silky, rich cheesecake makes it perfect for eating pure and pristine or topping with berries or ganache or whatever your imagination desires.
Ingredients
For a Cheesecake with a Crust:
1

sleeve graham crackers crushed

about 10 crackers, or 1 cup crumbs

6

tablespoons

butter

melted

3

tablespoons

raw sugar

For the Cheesecake Itself:

4

8 ounce bricks cream cheese, softened to room temperature

4

large eggs

1

cup

granulated sugar

4

tablespoons

Grand Marnier

or another orange liqueur ~or~ 1/2 teaspoon orange extract mixed with 4 tablespoons of orange juice

2

tablespoons

vanilla extract
For the Berry Topping:
2

cups

fresh raspberries

or the same amount of frozen raspberries, thawed

1

cup

strawberry jam

preferably freezer jam

1/2

teaspoon

lemon juice
Instructions
Put a kettle of water on to boil. Arrange the oven racks so you have one in the center and one 6-inches below it and preheat oven to 300°F.

Line a springform pan with parchment paper then butter both the paper and the pan generously. Place the pan on a rimmed baking sheet and set aside.
To Prepare with a Crust:
Toss all the crust ingredients together with a fork, then press firmly and evenly into the prepared pan.
To Make the Cheesecake Batter:
Put the cream cheese into a food processor and pulse until smooth.

Add the eggs and sugar and process again until smooth, stopping once or twice to scrape the sides down.

Again, scrape the sides down, then add the Grand Marnier (or extract and juice) and vanilla and process until smooth.

Carefully pour the batter into the prepared pan and put the baking sheet with the pan on it on the center rack. Put an empty bread pan on the rack beneath it and fill with boiling water from the kettle. Bake for 55 minutes, or until the outer 2/3 of the cake is set and the inner 1/3 is still jiggly. Turn the oven off, prop the door open a couple inches and let it cool to room temperature. Place plastic wrap directly on the surface of the cheesecake and refrigerate for several hours or overnight before attempting to umold.
To Unmold the Cheesecake:
With plastic wrap still in place, undo the clasp of the springform pan and push the base up through the outer ring to free the cheesecake. Place a platter on top of the cheesecake and invert it. Remove the base and parchment, then place a cake plate face down on the bottom of the cheesecake, invert again, remove the plastic wrap and Ta-Da! One cheesecake, ready to slice!
To Prepare Berry Topping:
Use a fork or whisk to beat the jam a little to break it up. Stir in the berries and lemon juice and top your cheesecake slices as you serve them.
Nutritional information is an estimate and provided to you as a courtesy. You should calculate the nutritional information with the actual ingredients used in your recipe using your preferred nutrition calculator.