Check out all of our wonderful Sweet Potato Recipes here!
Roasted Sweet Potato Black Bean Burgers with Smoked Paprika Chipotle Sauce are a vegetarian meal that impresses committed meat eaters like my crew, too. Hearty, filling, substantial, and flavourful, the little bursts of caramelized sweet potatoes croutons are an exciting addition to these bean burgers!


I know I've mentioned before that some of my kids are a touch on the pickier side. I've also pointed out that black bean burgers seem to be a safe vehicle for shoveling more vegetables into their mouths by virtue of the inexplicable fact that they like bean burgers. I have no idea WHY bean burgers are okay with them, but I'm surely not going to argue.
The same kids who dislike most vegetables most especially don't like sweet potatoes. Sadly, some of the usual vegetable likers also actively avoid sweet potatoes. I'm a big fan of sweet potato's taste and nutritional value, so this is something of a frustration to me.
This being said, I don't omit sweet potatoes entirely just because of some junior level griping. I subscribe to the "if you introduce a food enough times, someone is bound to start liking it" school of thought. Since crispy sweet potato fries are generally well-received here even among the professed non-sweet potato eaters, I carry on finding ways to tuck the orange goodness into as much as possible.
These Roasted Sweet Potato Black Bean Burgers with Chipotle Mayo were inhaled by all but one child. I'm calling four out of five a success since my husband and I also really enjoyed them.
Please don't be alarmed by the long title, this is really a simple and quick meal! How so? I cut the sweet potato into tiny cubes, tossed them with a little olive oil and chili powder, then roasted them until they were tender and caramelized around the edges. Those were chilled (to help them keep their shape), then stirred into a black bean burger base.
Since the sweet potatoes are pre-roasted and chilled, that makes the actual assembly and cooking of these burgers faster than a speeding drive through! Feel free to double, triple, or quadruple the amount of Roasted Sweet Potato Bits you're making.
They freeze beautifully which means you can make a bunch ahead of time, freeze them in individual meal sized portions and then you're mere moments away from these burgers at all times! Besides this, I've tossed a few of these little beauties in with pasta dishes and even hidden them under cheese on pizzas. They're seriously versatile!
I'm one of those people who likes a little crunch on my burgers, so I topped mine with some baked onion rings. On this occasion, I used frozen ones, but homemade ones would be divine, I'm sure.
The Smoked Paprika and Chipotle Sauce is a staple in our home. If you haven't tried it yet, you really need to do so soon! Once you have this in your refrigerator, you won't want to be without! And a note: If you absolutely can't find smoked paprika, or -like a boss- forget to add it into the blender like I did the last time I made it- don't fret. It's still delicious without it!
Pssst. Should you decide to make these Roasted Sweet Potato Black Bean Burgers smaller (as in half size) and serve them on buns, they'd make MARVELOUS sliders to serve your friends on Super Bowl Sunday. Don't even look at me like that.
My carnivorous husband and kids loved them. (And if you must have meat in them, they're pretty darned amazing with crispy crumbled bacon worked into the black bean mix, but save that for a day when you don't have vegetarian friends visiting!)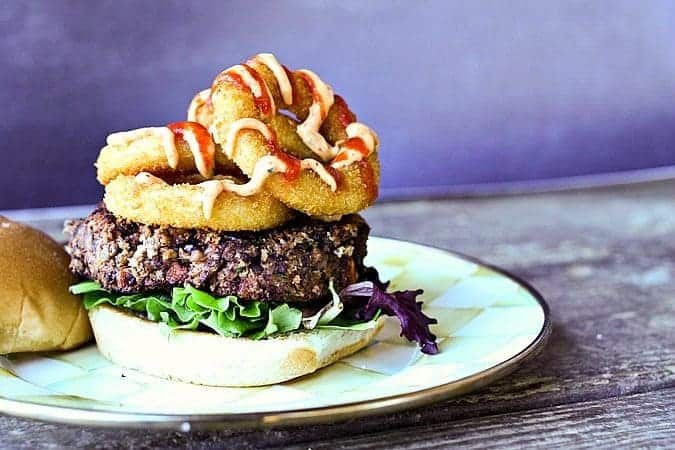 Connect with Foodie with Family
facebook | pinterest | instagram
Use this to make Roasted Sweet Potato Black Bean Burgers!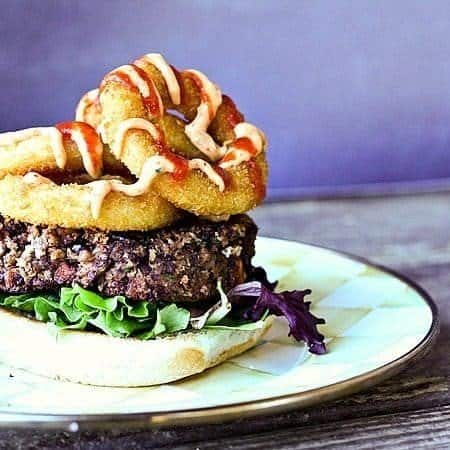 Roasted Sweet Potato Black Bean Burgers with Smoked Paprika Chipotle Sauce
Rate Recipe
Black Bean Burgers get an extra burst of flavour from tiny caramelized Roasted Sweet Potato Bits and delicious Smoked Paprika Chipotle Sauce. These are perfect for every day meals and game day!
Ingredients
For the Burgers:
3

cups

cooked black beans

or 2 cans, drained and rinsed, then drained again

1/2

of one small red or yellow onion

peeled, trimmed of the root end, and roughly chopped

1/2

of a fresh jalapeno

stemmed, seeded and roughly chopped

2-3

cloves

garlic

peeled, and minced or pressed

2

tablespoons

tomato sauce

1/4

cup

fresh cilantro leaves or parsley leaves

1/2

teaspoon

salt

if using canned black beans, you may wish to omit this to prevent the finished burgers from being too salty

1/2

teaspoon

cumin

1

cup

panko bread crumbs

You can use gluten-free panko crumbs for a GF burger

1

egg
To Serve:
spring mix lettuces

Smoked Paprika Chipotle Sauce or chipotle mayonnaise
Instructions
To Make the Black Bean Burgers:
Add the jalapeno, onion and garlic cloves to the bowl of a food processor fitted with a metal blade.

Put the lid in place and pulse, stopping to remove the lid and scrape down the sides of the bowl, until the ingredients are finely chopped.

Add half of the black beans, tomato sauce, cilantro or parsley, cumin, and salt (if using) to the food processor and pulse, scraping down the sides of the bowl as necessary, until the mixture resembles the consistency of guacamole (slightly chunky but a cohesive paste.)

Scrape the bean and vegetable mixture into a mixing bowl and stir in the remaining beans and chilled roasted sweet potato bits, then the egg and breadcrumbs.

Test the consistency of the mixture. You should be able to roll the mixture into a ball and flatten into a patty without it sticking to your hands. If you cannot, add one extra tablespoon of breadcrumbs at a time, stirring and checking the consistency after each addition until it does what it should. The goal is to add enough that the mixture ceases to be sticky but not so much that it becomes crumbly. I found that in each of the batches I made, I needed significantly different amounts of breadcrumbs to hold the patties together, but I never needed less than 1 cup.

Roll balls of the bean mixture according to the size of the burger you'd like: golf ball size for sliders, peach size for standard burgers, navel orange size for mega-burgers. This recipe should yield 8 mega burgers, 10-12 standard sized burgers, or 14-18 sliders.

Place a heavy-bottomed skillet over medium-high heat and pour in enough oil to cover the bottom by about 1/8-inch. When the oil is shimmering, flatten each ball into a patty that is about 1/2 to 3/4-inch thick and slide it into the oil. Do this with as many patties as you can comfortably fit into the pan without crowding. Fry for about 3-4 minutes on each side, or until deep brown and crunchy on the outside.

Transfer the patties to a paper towel lined platter.
To serve:
If using a bun, spread a small amount of the Smoked Paprika Chipotle Sauce or chipotle mayonnaise on the bottom half of the bun, then stack spring mix lettuces, one burger, crispy onion rings (if using), a little more Smoked Paprika Chipotle Sauce and a little Sriracha, if desired, before topping with the top half of the bun.
Nutritional information is an estimate and provided to you as a courtesy. You should calculate the nutritional information with the actual ingredients used in your recipe using your preferred nutrition calculator.
Are you looking for more Black Bean Burgers?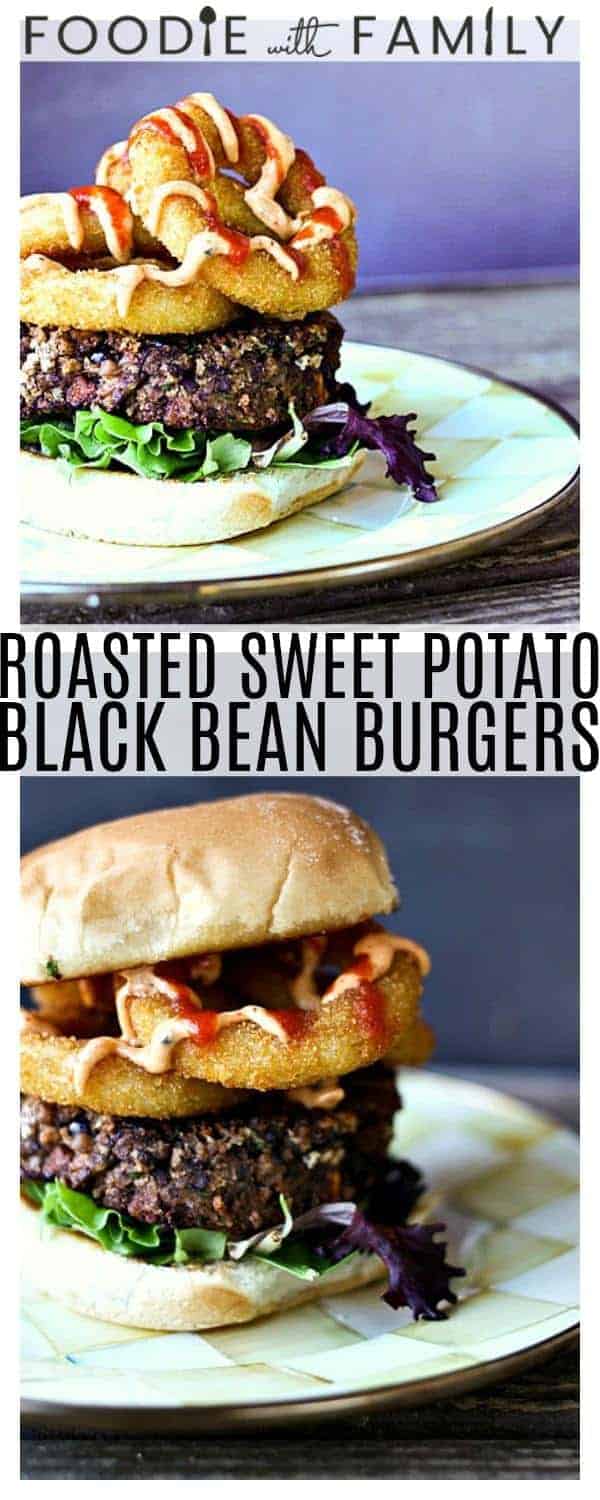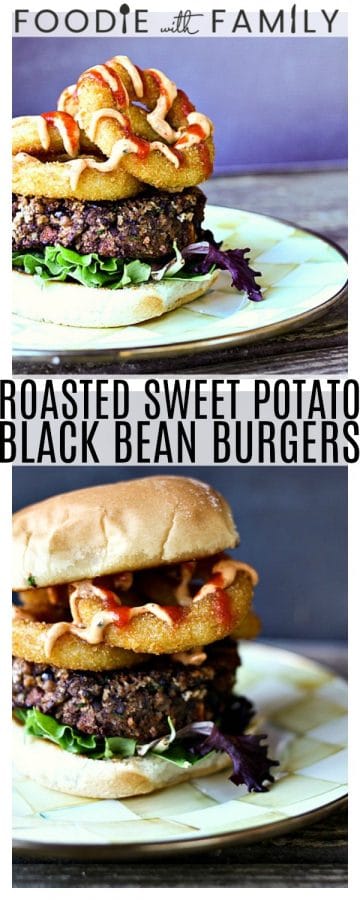 This post was originally published January 17, 2014.