Today's selection is a lightning fast, super fresh and divinely delicious vegetarian taco that cooks up in under ten minutes. HELLO LOVELY!  I can't say that Black Bean and Corn Tacos lack meat because they lack nothing; they're just right as they are. What they are -and I realize this is semantics- is meat free.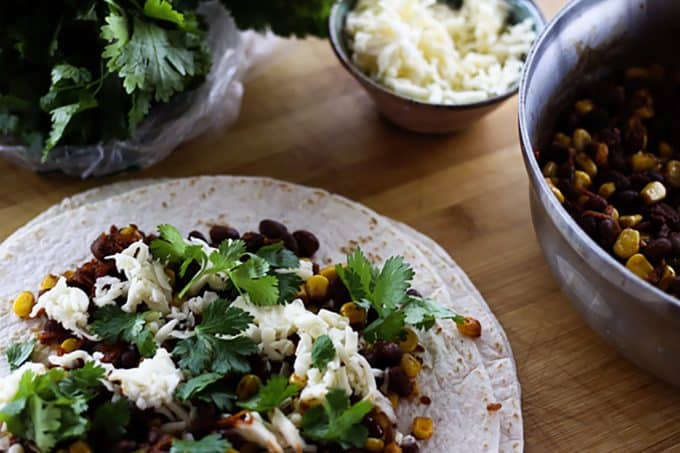 I hope that by now, you all know me well enough to trust that I'm not going to give you a healthy and/or inexpensive meal that feels like you're wearing a culinary hair shirt, right? I don't do healthy or cheap recipes just to behave. I do healthy and inexpensive recipes that taste like you just made a REALLY good decision for dinner and you're going to be just fine watching that cooking competition on television because you're full and happy. (Can someone please tell me they identify with that line of thinking?)
This recipe fits the bill in more ways than one. Let's cover the health bases first because they're impressive.
Black beans, corn and carrots are in this recipe. All three on their own are good for you, but put them together and you have a powerhouse of fiber, protein, vitamin A, carotenoids, antioxidants, alpha- and beta-carotene, phytonutrients, calcium, magnesium and potassium. Phew. I feel better just typing that. In short, it's heart, eye, digestive, immune and circulatory system approved. Beat that.
Now let's talk about WHY you need a recipe like this in your regular rotation. BECAUSE IT'S GOOD AND FAST AND CHEAP. I'm sorry to yell, but honestly… I'm serious here. Raise your hand if you feel tired/overwhelmed/uninspired/overextended in any way and wish you didn't have to cook from time to time. (For the record, my hand is in the air.) We all get the kitchen funk every now and again. It's recipes like these that save our budget and lift our spirits and make everyone happy. Even with my big family, we can all eat our fill from a double batch of this and it costs us less than $10.00 for the whole meal. Let's break that double batch cost down for proof, shall we?
$1.98 for two ten-count packages of flour tortillas from Aldi.
$1.25 (estimate) for three cups of homemade black beans (this would be about the same for canned beans from Aldi.)
$0.25 for one medium sized carrot (generous estimate)
$0.10 for two teaspoons of chili powder
$1.00 for one cup of salsa (generous estimate for both homemade and commercial)
$0.99 for three cups of frozen corn (Based on a ninety-nine cent one-pound bag from a local grocery store)
$3.00 for one pound of Monterey Jack cheese (Based on the price per pound from a local grocery store.)
$1.00 for half of a bunch of fresh cilantro (Based on a $1.99 per bunch cost from a local grocery store.)
This takes my estimate for the meal to a whopping total of $9.57 for a double batch WITH leftovers from a family of seven.
If you have a smaller family, or are cooking for yourself or a couple, you could cut that in half right away and be looking at an under-five-dollar meal!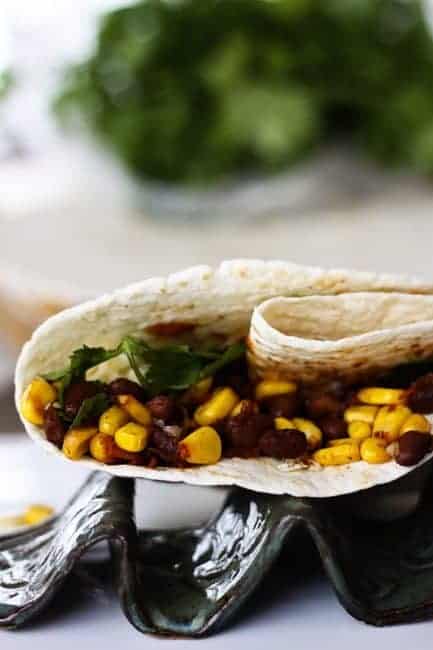 I used home cooked, frozen beans  but you could just as easily use canned beans (as was specified in the original recipe on CampbellsKitchen.com). Either way, the entire thing is done in less than ten minutes. That makes this last-minute snack worthy. I say this because you WILL crave it. And you WILL want these for game day or Super Sunday or late night snacks. And you want to know something? You don't even need to think twice about whipping up a batch of these because they're so good for you!
Good golly. We are looking at a meal that taste incredible for a price that is so low it's barely believable AND it comes together in under ten minutes to boot. That puts this meal squarely in Unicorn Meal* territory along with this and that other favourite but *GASP* it's even faster to make!
*Unicorn Meal: That elusive meal that is made at unbelievably fast speeds, pleases everyone, and is budget friendly. Hard to find, impossible to forget.
What do you all think? Will you give it a try? Share your favourite unicorn meal. We're all in this together!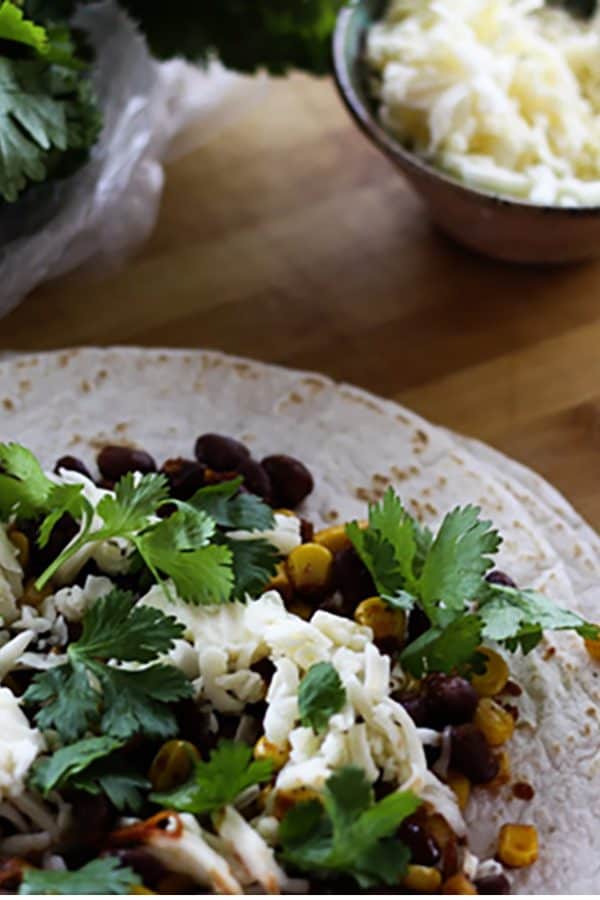 Cook's Notes
This recipe is really a no-brainer, but there are a couple of items to touch on including whether to use home cooked black beans or canned ones. Either will work. If you're watching your sodium intake, you may want to opt for the home cooked ones as a way to have complete control in that area. I prefer the home cooked ones for texture (and I actually DO add quite a bit of salt, but still CONTROL!) but for those nights when we are in a wicked hurry, the canned ones are a great substitute. Just be sure to drain and rinse either choice.
I like my carrots to be super finely shredded for these tacos. The easiest way to do this is to hand the carrot and the box grater to whichever kid is closest at hand. The FASTEST way, however, is to put it through the finest grating disc on the food processor. I like how the super fine shreds almost melt into the taco filling and bulk it up. If you prefer, you can shred them on the standard side of a box grater though. It's just a personal preference thing.
Can we talk salsas for a bit? Homemade salsa is always going to trump the stuff from the store in my book. Here's a great, 5 minute choice that wallops the dangout of many storebought alternatives. That's right.Homemade salsa in 5 minutes and dinner with that salsa in another 10. You're such a domestic superhero.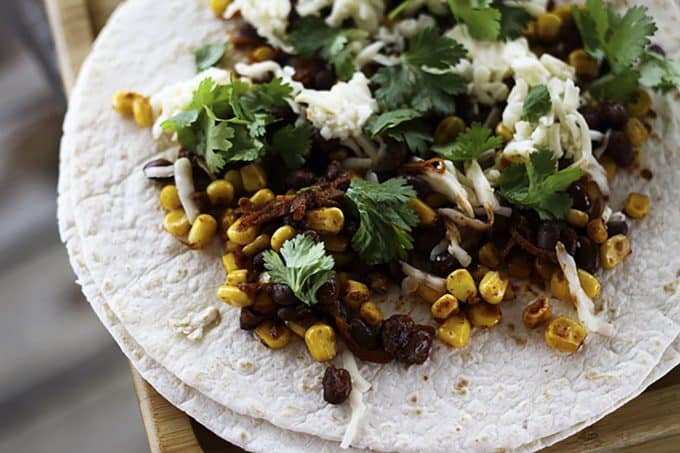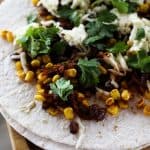 Black Bean and Corn Tacos | 10 Minute Meal
Fast, delicious, fresh, healthy and budget friendly, it just doesn't get any better than these Black Bean and Corn Tacos. Salsa and chili powder provide massive flavour in this 10 minute meal will fill you up, make you happy, and keep you healthy all at the same time! This is a perfect addition to Super Bowl parties and any game day festivities. Gently adapted from and with thanks to
Campbell's Kitchen
Ingredients
Vegetable or olive oil cooking spray

1

medium carrot

about 1/2 cup, scrubbed and shredded

1

teaspoon

chili powder

or more to taste

1/2

cup

homemade salsa or store bought salsa

1 1/2

cups

homemade black beans or 1 can

15 ounces, rinsed and drained

1 1/2

cups

frozen whole kernel corn

6

flour tortillas

8-inch, charred over a flame or warmed

6

ounces

shredded Monterey Jack or Cheddar cheese

about 1 1/2 cups

fresh cilantro leaves

or parsley leaves or shredded lettuce. See Notes.
Instructions
Spray a stainless steel (or other not non-stick) saucepan or small frying pan lightly with the vegetable or olive oil cooking spray. Set the pan over medium heat and let it get hot for a minute before adding the carrots and chili powder. Stir well and often and cook until the carrots are tender, about 2 minutes, depending on how coarsely shredded the carrots are.

Add thesalsa, black beans, and frozen corn. Stir, reduce the heat to low, and cook until the beans and corn are both hot all the way through and the corn reaches desired tenderness, about 5 minutes.

Divide the bean and corn filling evenly between the tortillas, then do the same with the cheese. Scatter fresh cilantro (or parsley or shredded lettuce) leaves over the top. Fold in half, then in half again to form a triangle. Serve warm or at room temperature.
Recipe Notes
The original recipe calls for shredded lettuce and sour cream. While you can certainly substitute the lettuce for the herb, I prefer the burst of freshness that cilantro or parsley provides.

By all means, add sour cream if you want. I like it just as well without (or with Greek yogurt) and it keeps the price down. If you have it on hand and want to use it, though, it will taste wonderful!
This post originally published January 29, 2013.