This Crispy Baked Parmesan Zucchini Fries recipe is the August installment of our series celebrating "food holidays" with National Zucchini Day! Join me and other excellent food bloggers as we celebrate that most prolific of summer produce; the zucchini! Scroll to the bottom of the post below the recipe to see other fantastic ways to use up your bounty!
Zucchini! It is EVERYWHERE right now and I'm a-okay with that despite the fact that zucchini isn't always an easy sell at the table around here. The problem is that when you plant zucchini, you either end up with an abject failure and get nothing, or you get so many zucchini that people avoid making eye contact with you so that you don't offer them the excess zukes you have coming out of your ears. It's a nice problem to have, honestly. I've got my own little ways to get zucchini into meals whether blatantly or via subterfuge. (See here, here, and here…) My current favourite method is to make Crispy Baked Parmesan Zucchini Fries. Honestly, just look at these… It would take a stronger person than me to resist all that crunch and crisped cheese and seasoned goodness.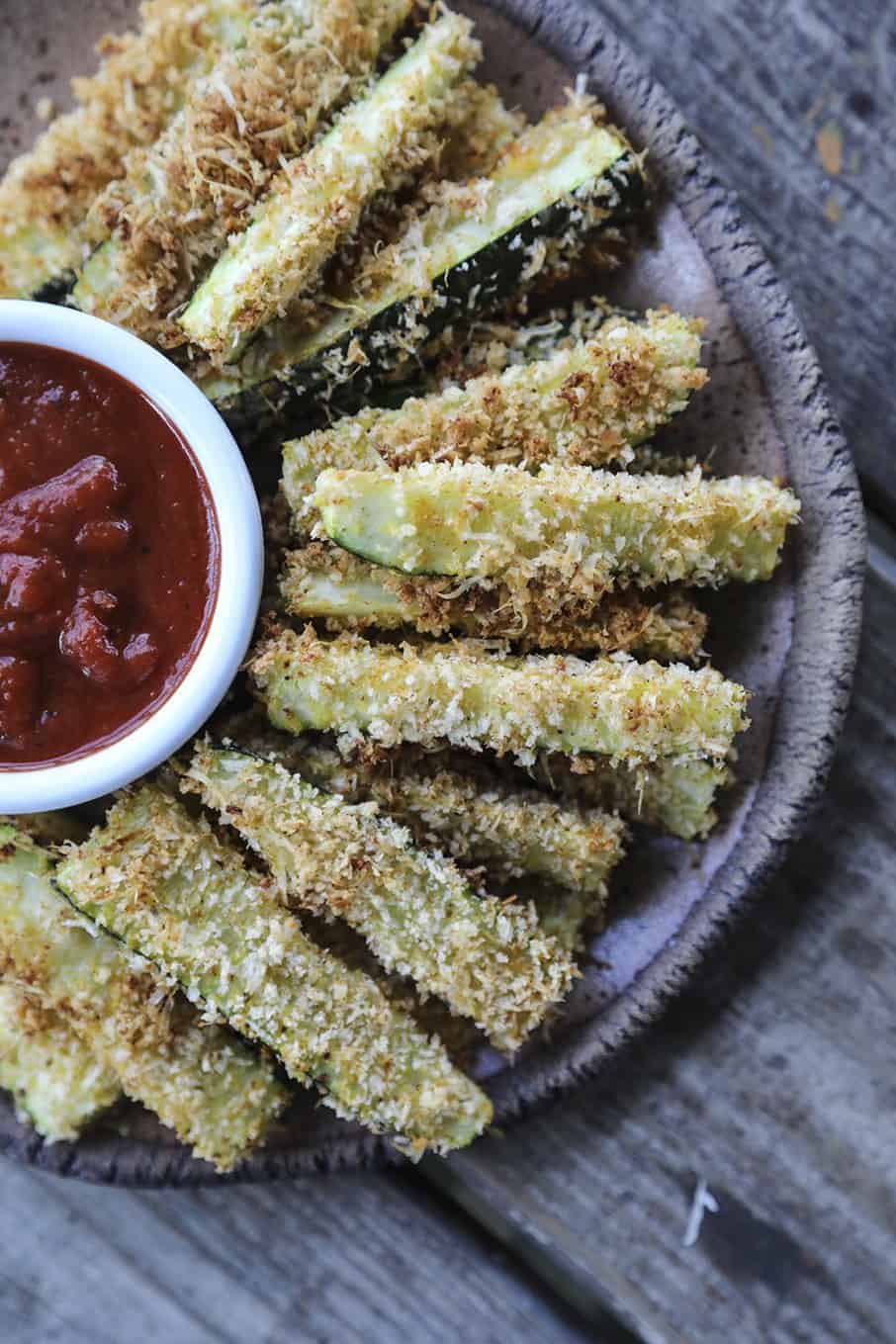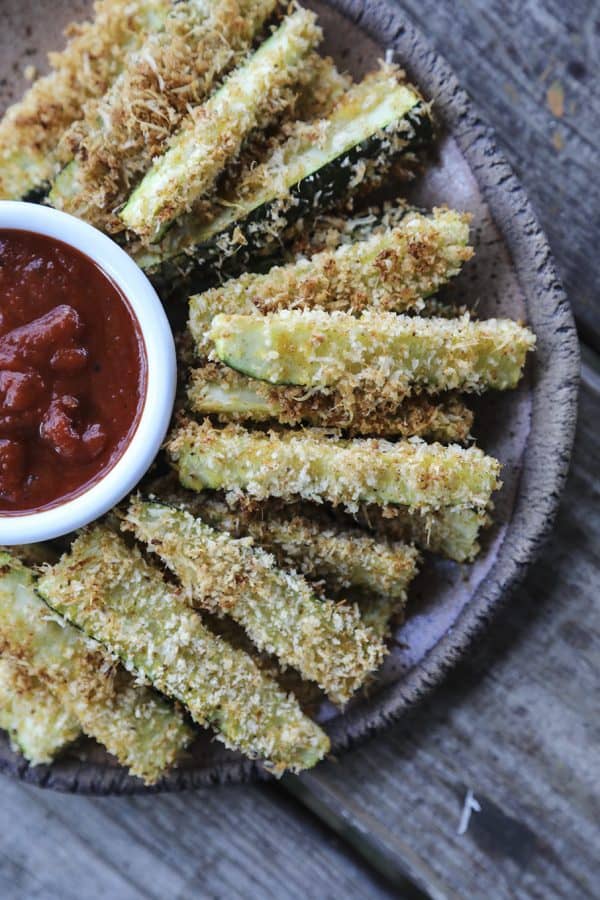 This isn't a tricky recipe, and -HALLELUJAH- doesn't require even a little bit of deep-frying. It's all about picking small-ish zucchini with tender skin and no to few, very small seeds. Those tender little fruits (HEY! Did you know zucchini are technically immature fruits and not vegetables?) are just made to be breaded and baked just long enough to crisp up the crispy parmesan, garlic, and breadcrumb coating that you dredge them in after dunking in beaten egg. And really, once you've done that, you're through with the hardest part of the whole process.
On reflection, perhaps the hardest part is actually when you take the pan from the oven and force yourself to wait five minutes (oh, alright, 3 minutes if you're not overly fond of the skin inside your mouth) to eat the Crispy Baked Parmesan Zucchini Fries. A word to the wise, if you opt to dip the crispy baked zucchini fries into marinara sauce, you're very likely to consider yourself a genius.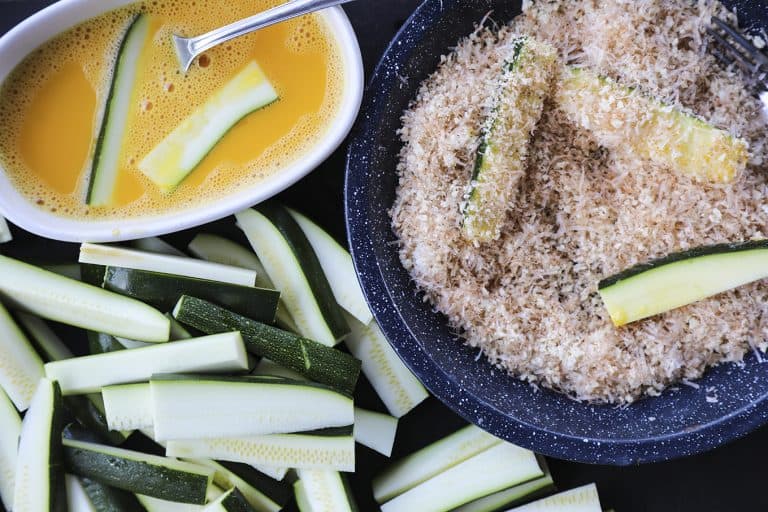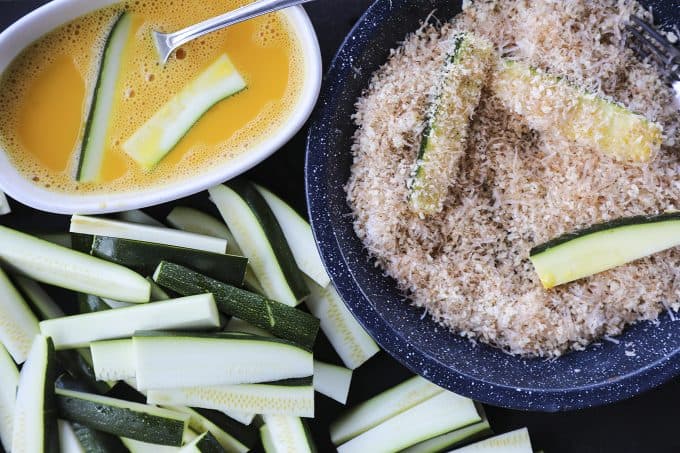 Cook's Notes
I prefer not to peel my zucchini before making crispy baked fries with them as I believe the green skin adds nutritive value to the fries. Yes, I realize I just said I was adding nutritive value to fries, but hey. I am what I am. Besides, I'm using tender, young zucchini, so the skin is nice and bite-able.
The most important part of making your crispy zucchini fries is breaking down the zucchini. You want to take your time making them pretty even in size -1/2-inch strips are the best size- so they'll cook evenly.
You can use either "standard" or panko bread crumbs. My preference is for the jagged crispiness of panko, but either will do fine. I do advise you to use unseasoned crumbs whichever style you choose, though, because you're adding plenty of your own seasoning to the party.
This is a job for freshly grated Parmesan cheese and not the shaker stuff. I know, the shaker stuff is convenient, and we do love it madly in our house for popcorn and spaghetti, but it just doesn't melt and adhere to the zucchini the same way the freshly grated stuff does. Trust me.
I use Old Bay for a little zest and spice, but if you don't have it and don't want to buy it, you can substitute 1 teaspoon of garlic salt and a 1/2 teaspoon of paprika. It won't be identical, but it'll be good.
I don't advise making more than you can eat in one sitting because the baked zucchini fries just plain don't hold up super well. If you are so inclined, feel free to halve or even quarter the recipe. It won't hurt you or your septic system to have some leftover egg to rinse down the drain with cold water…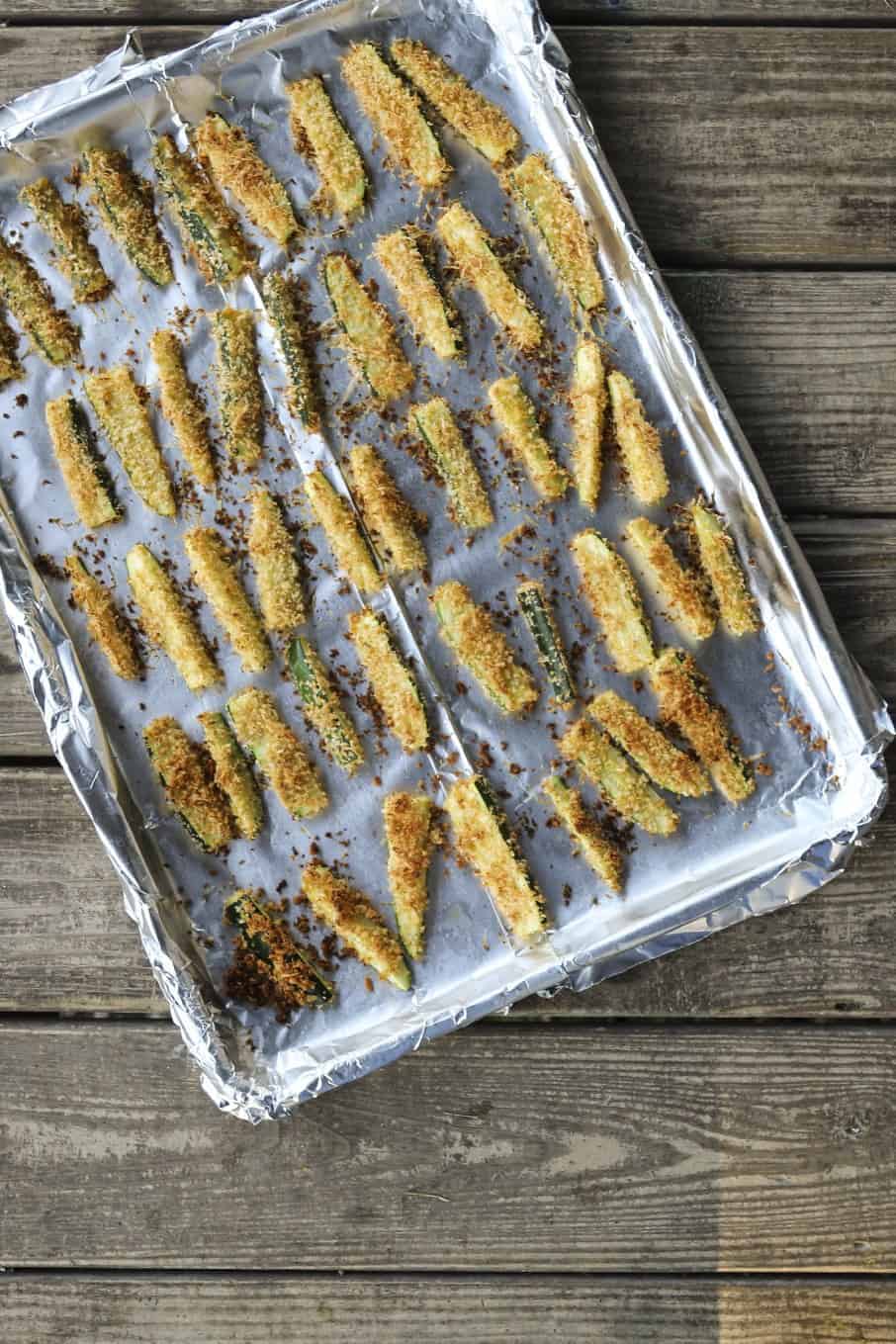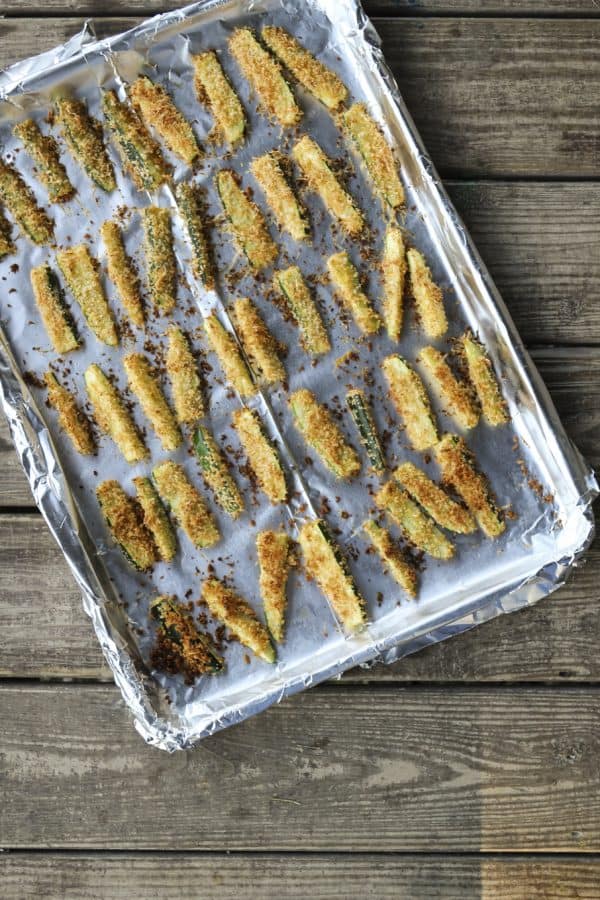 Use these to make Crispy Baked Parmesan Zucchini Fries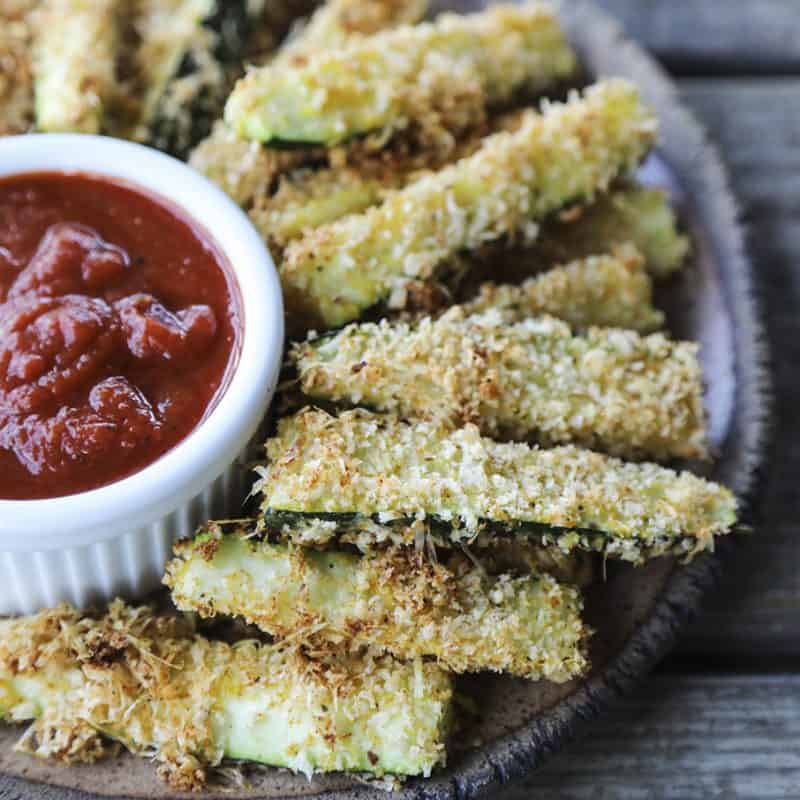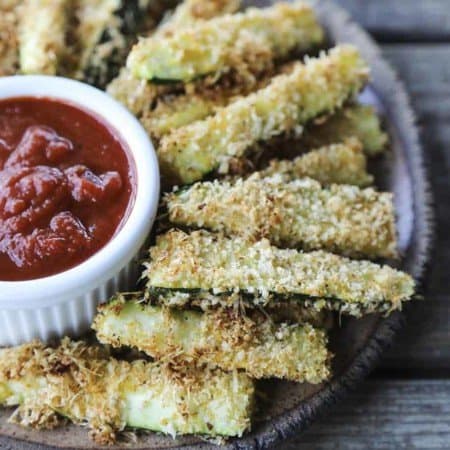 Ingredients
1 1/2

pounds

tender, young zucchini, trimmed of the root and blossom ends

1

cup

panko or regular unseasoned bread crumbs

3/4

cup

freshly grated Parmesan cheese

2

teaspoons

Old Bay Seasoning

1 1/2

teaspoons

granulated garlic

1

teaspoon

paprika

1/2

teaspoon

ground black pepper

2

eggs, beaten
Instructions
Preheat the oven to 425°F. Lightly spray a half sheet pan with non-stick cooking spray. Set aside.

Slice the zucchini into 1/2-inch by 3 to 4 inch strips. Set them aside.


In a pie plate, use a fork to toss together the bread crumbs, grated cheese, Old Bay, granulated garlic, paprika, and black pepper. Set aside.

Whisk the eggs until loose. Working with one piece of zucchini at a time, slide it through the eggs, lift to let the excess egg drain away, and then press into the bread crumb mixture. Flip over, press the other side into the crumbs, then transfer to the prepared half sheet pan. Repeat with the remaining zucchini strips. Do not crowd the pan.

Bake for 30 to 35 minutes, flipping about 15 minutes through, until golden brown and crispy. Let rest on the pan for 3 to 5 minutes before serving.

Nutritional information is an estimate and provided to you as a courtesy. You should calculate the nutritional information with the actual ingredients used in your recipe using your preferred nutrition calculator.

Want more zucchini recipes?
Save
Save
Save