Simple side dishes that knock your socks off are as easy as 1-2-3 in the warmer months when fresh produce is abundant. This Lemon Pepper Grilled Zucchini is as wonderful and fast as it gets and makes use of a corner of the grill while you're cooking burgers, chicken, fish, or other goodies.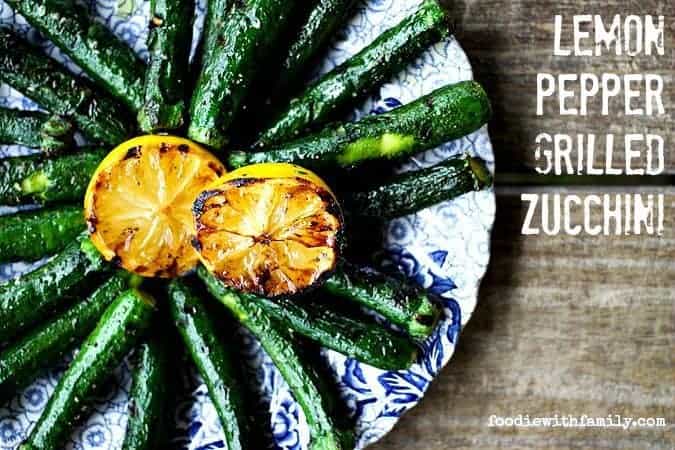 Over and over again I'm reminded that my favourite foods are the ones I don't have to fuss over much. I'm not saying that foodstuffs that require effort aren't wonderful, but I'm saying that the ones that surprise me with their perfection are the ones that took five ingredients or less and just a couple of minutes. Case in point, today's recipe for Lemon Pepper Grilled Zucchini. You start with baby zucchini, a halved lemon, olive oil, salt, and pepper. Grill it all up, pop it on a plate, and VOILÀ! Side dish bliss.
It's perfect in its simplicity. Tossing the whole baby zucchini in olive oil, salt, and pepper leaves a little of each of those items in a bowl. A halved lemon is slid around in what remains then placed on the hottest part of the grill alongside the zucchini. Turn the zucchini a few times. Even the largest baby zucchini won't take more than a total of five or six minutes. Transfer the works to a serving plate and -while serving- squeeze the charred lemon over the zucchini and prepare to have your mind blown.
WHOA.
There's an alchemy that occurs when you grill lemons. The acidity abandons it leaving only a concentrated lemon sweetness that gives incomparable flavour to whatever in touches. I about licked the plate, friends.
While I served this dish with burgers, I would absolutely, positively adore it with grilled fish, chicken, pork or steak, too. Because of it's ease and speed of preparation, it is ideal for summer entertaining. With what would YOU serve Lemon Pepper Grilled Zucchini?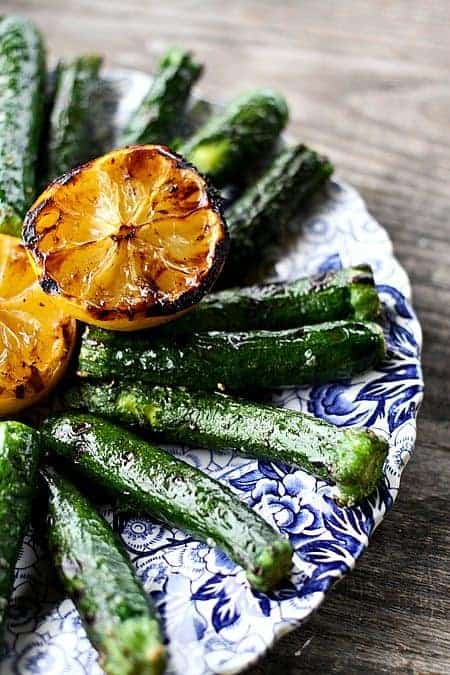 Cook's Notes
Baby zucchini are pretty easy to find this time of year, whether you're nabbing them from your own garden or snapping them up at farmers' markets or grocery stores. If, however, you can't lay your hands on them, you can halve or quarter small, more mature zucchini. If you've got bigger zucchinis on your hands, try this excellent skinny zucchini casserole.
If you toss the zucchini with the oil, salt, and pepper in a bowl, there should be plenty left in there in which you can mop the cut sides of your lemon.
Be sure to put the lemon over the hottest part of the grill. It'll fizzle and pop and generally protest, but carry on! It's that squealing and flaming up that creates the sweetness in the finished lemon.
Let's talk about removing the lemon from the grill, because when it's hot and charred, it's especially tender and susceptible to squeezing. You don't want to lose all that lovely juice, so use long handled tongs to remove it from the grill thusly: Slide one side of the business end of the tongs UNDER the lemon and lift gently, only squeezing the tongs enough to keep from dropping it. Alternatively, you can slide a thick, grill safe spatula under the lemon. The goal is to move it to the plate with a minimum of squishage or disturbance.
Don't squeeze the lemons over the zucchini until you are ready to eat. It's a bit of flash and show to do it at the table. Go on, impress them. You deserve the accolades.
I like this best served still warm, but I love the leftovers nibbled at room temperature, too. Can you serve it cold? Oh, probably, but it never lasts that long around here.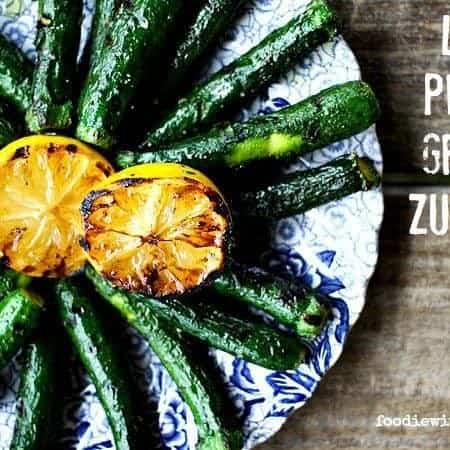 Ingredients
20

baby zucchini

or 4 small zucchini, quartered

2

tablespoons

extra virgin olive oil

1

teaspoon

kosher salt

1

teaspoon

cracked black pepper

1

whole lemon

scrubbed, and halved
Instructions
Preheat grill to HIGH heat. In a mixing bowl, toss the baby zucchini with the olive oil, salt, and cracked black pepper. Use tongs to transfer the zucchini to the grill. Slide the cut sides of the lemon around in the bowl to mop up the remaining oil, salt, and pepper to the best of your ability. Put the lemons -cut sides down- on the hottest part of the grill and do not move them.

Flip the zucchinis every so often, getting grill marks all around if possible, and remove them when they are crisp tender, about 5 to 6 minutes, total. Transfer the zucchini to a serving plate or platter. Gently remove the lemon from the grill, taking care not to squeeze out all the juice over the grill. Place charred side up on the zucchini and squeeze over it right when served.
Nutritional information is an estimate and provided to you as a courtesy. You should calculate the nutritional information with the actual ingredients used in your recipe using your preferred nutrition calculator.