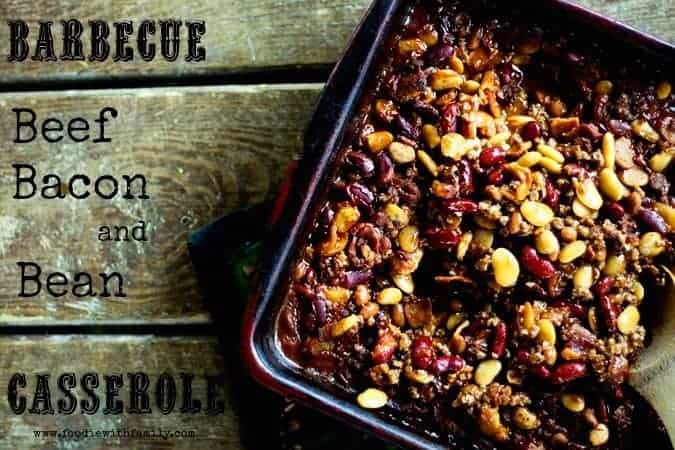 Calico Beans -beef, bacon, and bean casserole- is the ultimate in comfort food and is as easy as can be!
Do you feel that weather shifting the way I do? School is back in session and the brisk autumn winds are beginning to supplant the lazy summer breezes.
This makes my heart sing.
I love sweaters, thick socks, boots, and scarves, but even more than the clothes (which I love WAY TOO MUCH for the good of my budget) I live for the shift in food. Summer, for all its 'relaxing', is a time of manic canning and food preservation for me.
Fall –jack rabbit schedule and all- is a time of contemplative food: bubbling stewpots, all-day slow-cooker meals, baked bread, simmering soups, and warmth suffusing body, mind, and soul.

Fall is undoubtedly my best beloved season for all the jewel-toned leaves, pumpkins, butternut squash, cool weather, bundled up coziness, and excuses to stay in and read that it brings. Oh, I know the hustle and bustle and trying to get back to the schooling schedule (even for those of us who homeschool!) is akin to madness, but then there are those blessed moments of ahhhhhh.
You know them. You've just dropped four people at three separate activities, run a full card of errands, and folded three loads of laundry. Then you sit down and ahhhhhhh.
Or it's Friday night, you completed a full week of school, tidied the house, and your head hits your pillow. Oh, ahhhhhhhh.
Many of my fall ahhhhhhh's are food related. For example, let's say I've taught the kids their lessons for the day, done a bunch of housework, finished my writing and photography for a day or two.
I've popped a pan of the recipe I'm sharing today in the oven and gone out to rake leaves, plant garlic, or whatever will keep me outside for a good stretch of time. It's a good day.
When I come back to the house, a little damp and a lot chilled from my work, and open the door, the warm aroma of bubbling hot Barbecue Beef, Bacon, and Bean Casserole swirls out welcoming me back. It's almost like it's saying, "Good job out there! Get in here and get comfy. Grab a bowl and a spoon, you happy human, you."
I would never make this dish in the summer. The power it wields to warm you and comfort you from the inside out is wasted in hot weather. But believe me when I tell you it gets a serious workout in the fall and winter months.
My nine year old son loves to help me make this dish. He breaks up the beef in the pan, stirs the bacon, advises me to save the bacon grease for our cornbread, and stirs everything together before it goes in the pan to bake. It's easily his favourite dish to help cook. Why? Well…
I'm not usually one to call something a man-pleasing dish, but folks, I am feeding six men, and if I can't claim that, no one can. THIS is a MAN PLEASING dish.
(It's woman pleasing, too, but see the sentence before the last for the statistical reason I say that.) My boy knows that the sooner this gets heating up, the sooner he pile it high on his plate and lay into it.
He's no fool. Let me count the ways Calico Beans will make the men (and you, if you're not a man, baby) in your life weepy with joy:
It has beef.
It has bacon.
It has beans.
It has barbecue sauce.
It can be eaten with a fork or spoon, on a tortilla chip, Frito, wedge of cornbread, piece of toast, like chili, and any other way you can devise to convey it to your mouth.
It's perfect game-day food, party buffet food, post touch-football, Nerf-war, or faux-American-Ninja-Warrior food. In short, it's perfect dude-food.
This recipe makes A LOT. Don't freak out when you see the volume.
The good news is that it can be divided into individual meal size portions and frozen for homemade meals with the convenience of carry out or t.v. dinners. Wouldn't you just love to reheat a container of Calico Beans on a night when you don't have time to cook, but need something to sustain you while you're running from home to car to practice to sports to whatever?
If you just can't wrap your brain around a 9-inch by 10-inch pan plus an 8-inch by 8-inch pan of bubbly, beefy, bacony, beany deliciousness, you can certainly halve it but don't come crying when you run out well before your appetite for it does!
Are you looking for more delicious and economical ground beef recipes? Try out our Ground Beef Fried Rice a.k.a. Cheeseburger Fried Rice as well as our 15 Minute Korean Style Beef and Cheater Sesame Beef.
And if beans are your thing, try out our Barbecue Bacon Spicy Baked Beans, Slow-Cooker Breakfast Baked Beans, and Beans and Greens.
Calico Beans
If you don't like butter beans or kidney beans, you can swap out an equivalent amount of a variety of beans you DO like. For instance, you can sub in 2 cups of cooked (or 1 can of) pinto beans, black beans, navy beans, or cannellini beans. If you're not fond of pork and beans, you can sub in homemade or purchased baked beans.
This is equally delicious made with ground venison or elk! I imagine it would be pretty fantastic with any red game meat.
Calico beans are also amazing when made with ground turkey!
Mince those onions tiny if you want them to 'disappear' in cooking because you're dealing with picky eaters. If they're likely to balk at even that, you can replace the chopped onion with 1 ½ teaspoons of onion powder mixed in with the rest of the ingredients before baking.
If you want to make calico beans even faster, you can use your preferred bottled barbecue sauce (in place of the sauce ingredients. (Both variations are included in the recipe.)
Calico beans can be baked in the oven or prepared in the slow-cooker. How's that for versatility? (Both variations are included in the recipe.)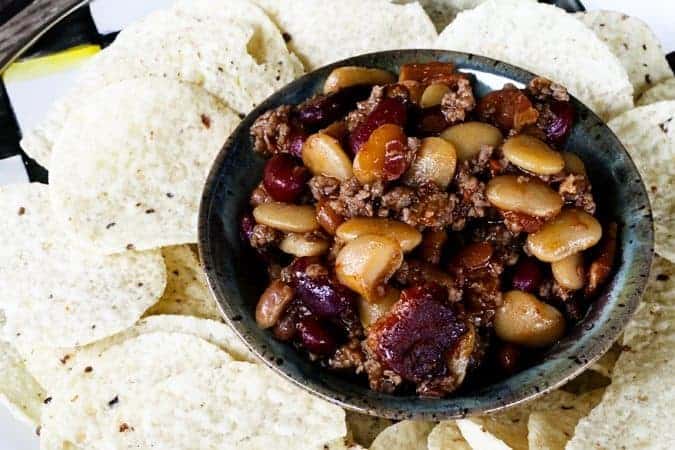 Calico Beans; This hearty ground beef, bacon, and bean casserole bubbles away in a delicious barbecue sauce while you spend your day enjoying the fall weather. It can be prepared in the oven or slow-cooker! Yes, the recipe makes quite a bit, but it freezes and reheats beautifully, so dive right in and enjoy!
Ingredients
For the Sauce (Optional: Can replace homemade sauce with 3 cups of purchased Barbecue Sauce):
1

cup

brown sugar

1

cup

ketchup

2

tablespoons

cider or white wine vinegar

2

teaspoons

dried mustard powder

1/4

teaspoon

liquid smoke

tasty but optional.

2

cloves

garlic

peeled and minced or pressed

Freshly ground black pepper to taste
For the Casserole:
1

batch barbecue sauce

Homemade or purchased Barbecue Sauce

2

pounds

of sliced bacon

2

pounds

lean ground beef

venison, or elk

1

small onion

or 1 1/2 teaspoons onion powder, peeled and finely chopped

6

cups

Butter beans

or 3 cans drained

6

cups

kidney beans

or 3 cans with liquid

4

cups

pork and beans

or 2 cans with liquid
Instructions
To Make the Sauce:
Stir all of the sauce ingredients together in a heavy-bottomed saucepan over medium high heat. Stir frequently until the mixture reaches a boil. Boil for one minute, remove from the heat and set aside.
To Make the Casserole:
Preheat the oven to 325°F.

Stack the two pounds of bacon and cut across the slices making 1/2-inch wide strips. In a large skillet, fry the bacon, stirring frequently, until crisp and brown. Use a slotted spoon to transfer the bacon to a paper towel lined plate. Drain the bacon grease from the pan (preferably into a jar and in the refrigerator for adding flavour to other dishes!)

Put the pan back over medium high heat and break up the ground beef into it. If using the onion, add it at this point. Continue breaking it up with a spoon as you cook it until the beef is browned. If necessary, drain any excess fat away from the meat. In a large mixing bowl, stir together the sauce, beef, bacon, and beans until well combined.
To Bake:
Divide the mixture between a 9-inch by 13-inch by 2-inch pan and an 8-inch by 8-inch by 2-inch square pan. Bake, uncovered, for 1 hour or until very bubbly and hot all the way through.
To Make in the Slow-Cooker:
Spray the bowl of a slow-cooker crock insert with non-stick cooking spray. Pour the mixture into the insert, cover, and cook on LOW for 4 to 6 hours or until very bubbly and hot all the way through.

Store leftovers tightly covered in the refrigerator or divide into individual meal sized portions and freeze in an airtight container for up to 6 months. Reheat with a dash of water in a covered saucepan or in the microwave.
Nutritional information is an estimate and provided to you as a courtesy. You should calculate the nutritional information with the actual ingredients used in your recipe using your preferred nutrition calculator.