Tender, never-dry, baked Asian Turkey Meatballs are fragrant with garlic, ginger, green onion, and other classic Asian flavours. The beauty of these Asian Turkey Meatballs isn't confined to how tasty they are, though; they are as simple to make as anything can be and you can eat some of them right away while freezing the others for last-minute meals at a later date. They carry the added bonus of being better for you than beef meatballs!

And if you're looking for a whole bird recipe for Thanksgiving, try this EXCELLENT and popular tutorial on "How to Smoke a Turkey".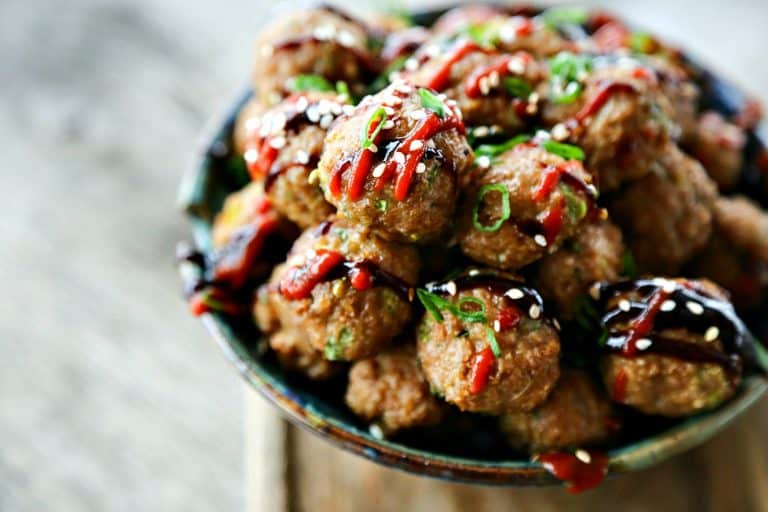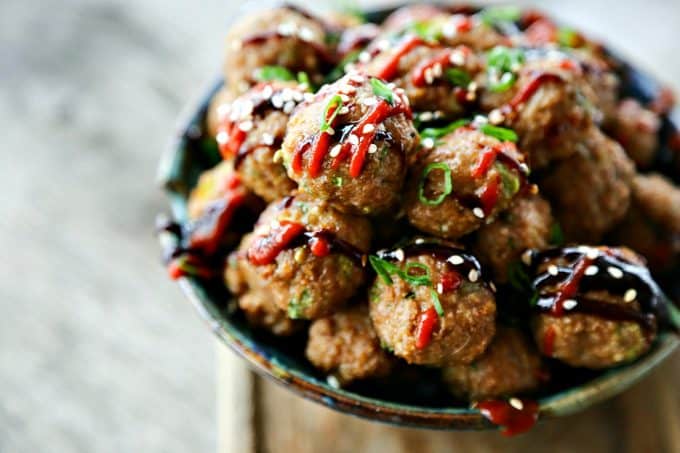 The flavours of Asia are my comfort zone; any combination of ginger, garlic, soy, and green onion makes me happy. If you add the classic Asian flavours of Hoisin sauce, fish sauce, and sriracha you make me gleeful. If you gild the lily and make it a nutritious and healthy recipe by using ground turkey, I will be ecstatic. Such is the case with Asian Turkey Meatballs; we have the most tender and juicy meatballs with the most identifiable Asian flavours. God bless these meatballs, they're simple. They're so simple, I'm almost embarrassed to share them with you, but there we have it. I eat, sleep, and dream recipes in the hopes they'll make someone's life just a teensie bit easier. If this helps, I've won!
These will be the most sought after items at your big game buffet table, to be sure, but they'll also make an incredible addition to your busy weeknight meals by virtue of the fact that they make a large amount. I often double or even triple the recipe and eat one portion the night they're made, freezing the rest for later meals. This "money in the bank", so to speak, means that you have the most important and time consuming part of the meal done ahead of time. I know we all have crazy busy lives, so I'm sharing this too help all my fellow folks who are just treading to make it through every day.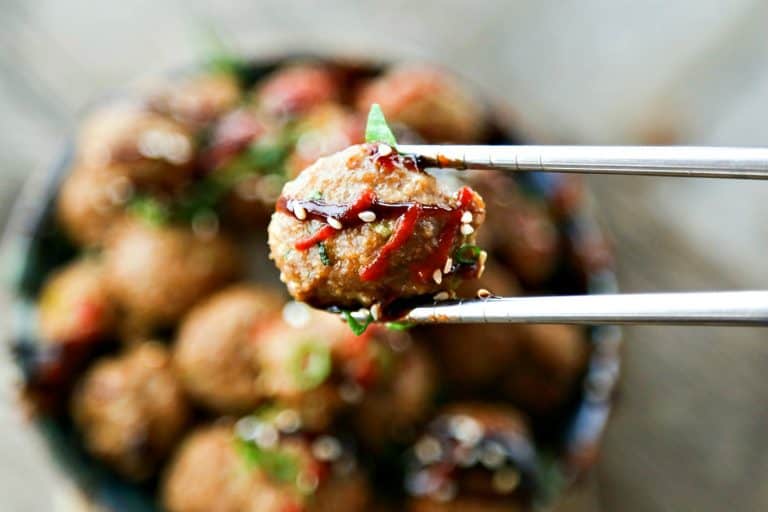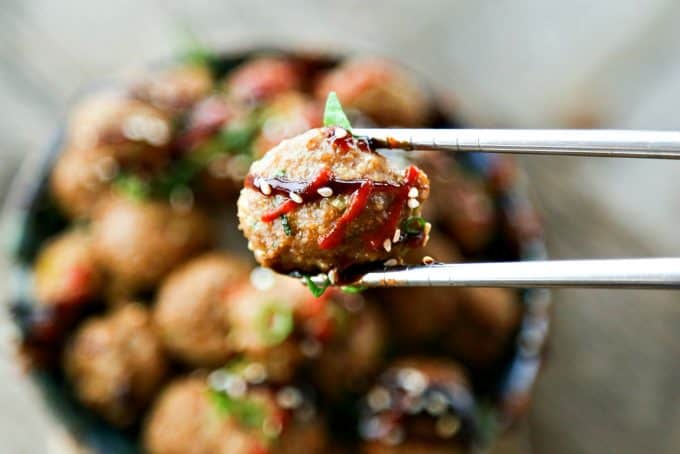 That you can tread to make it happen and eat food that is restaurant worthy is a bonus, right? And that you can make a bountiful amount with the same money you would need to spend on take-out for one is a blessing, too. It's honestly so easy to feed a crowd in abundance. I'm here to help you. Let Asian Turkey Meatballs help you out!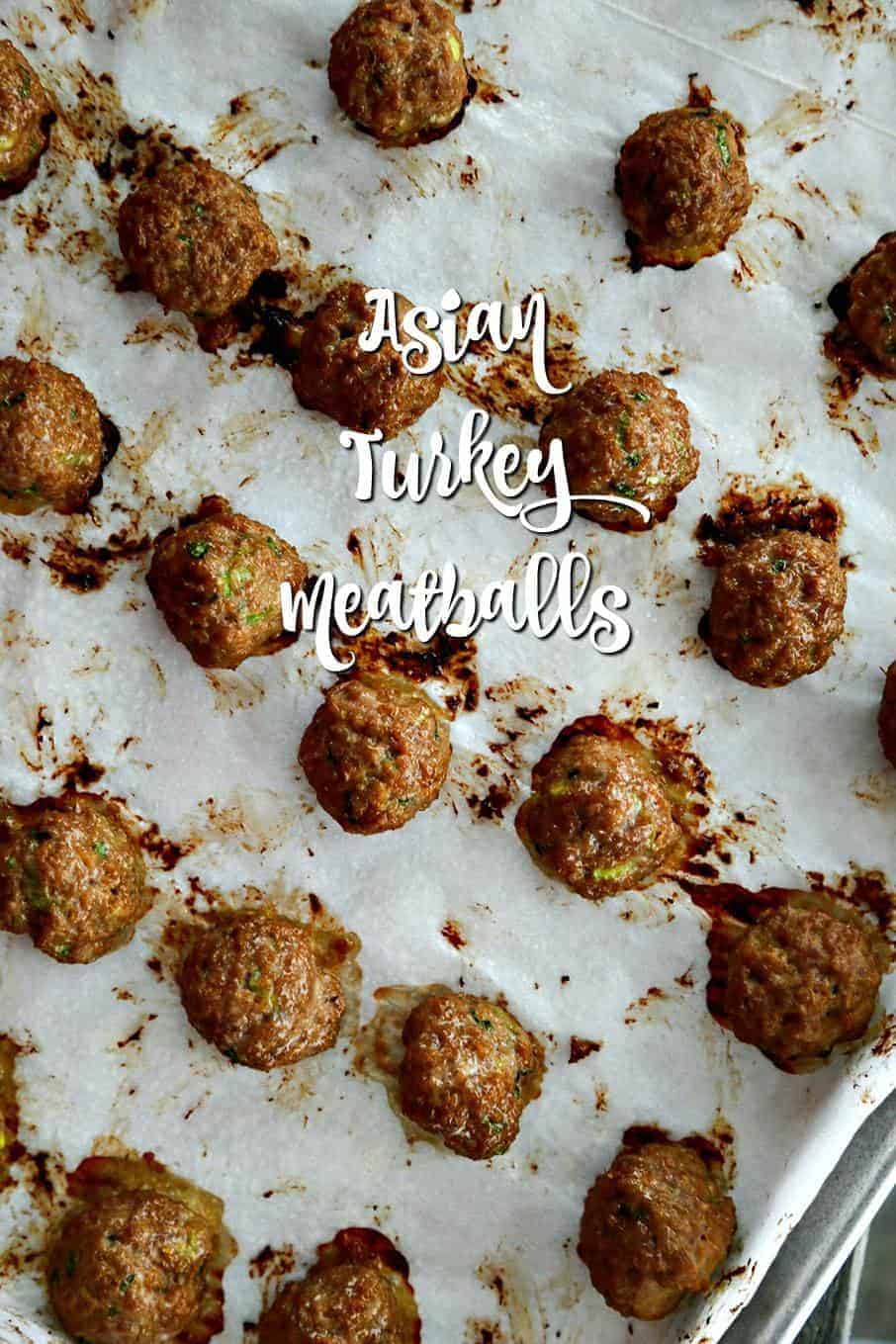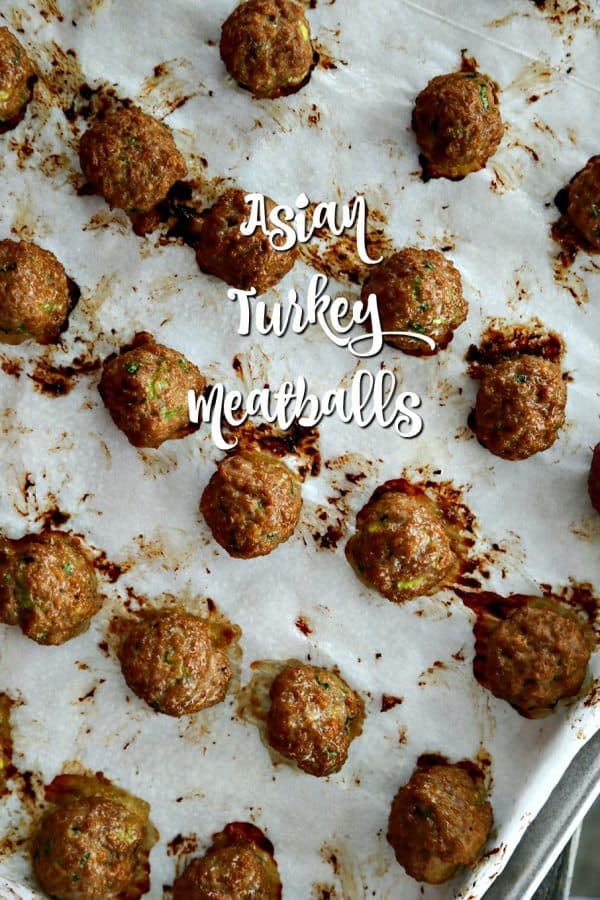 Asian Turkey Meatballs
I make Asian Turkey Meatballs with turkey that is about 93% lean. For me, this means buying fresh ground turkey rather than frozen. I have not tested the recipe with fattier turkey.
I grate my own ginger for the recipe instead of using the ginger paste that comes in tubes. This is for a couple of reasons. First, the tubed paste is more liquidy than hand-grated ginger.
Second, freshly grated ginger packs more ginger power. I know ginger can be a pain to grate, but I have a trick to share that I've used for years that takes the drudgery out of grating ginger.
Simply put, freeze it. When I purchase fresh ginger, I usually break it into usable sized chunks, wrap each chunk in plastic wrap, and stash in a zipper top freezer bag in the freezer. When a recipe calls for fresh ginger, I grab my microplane and grate the frozen ginger.
If the peel is tender, it'll grate right up with the ginger, if it's tough, it'll peel away from the tender insides as you work on it; no harm, no foul. The ginger grates up in a shower of tender ginger with no strings and no difficulty.
I like to use whole wheat panko crumbs in this dish to up the nutritive value a bit, but you can just as easily use white or gluten-free panko in it. Any of those choices work beautifully.
Let's talk fish sauce a moment, shall we? I love what it adds here that nothing else can add, but if you don't have it, can't find it, or are seriously put off by fish sauce, you can simply substitute an equal amount of soy sauce for it.
This recipe scales up beautifully. In fact, I most often make a batch using 3 pounds of ground turkey. This ensures that we have abundant amounts for both the current meal and to stash in the freezer.
I use a small disher a.k.a. cookie scoop to make even, 1-bite sized meatballs. This is helpful first, and most importantly, because evenly sized meatballs cook at the same rate.
That is plenty to motivate me to use a disher instead of fussing with eyeballing amounts of ground meat on spoons and trying to get it right. You have the added benefit of being able to predict how many meatballs you'll get from the recipe and being able to repeat the result.
Parchment paper makes clean-up a breeze and also eliminates the need to use oil or non-stick cooking spray on your pan. If you do not use parchment paper to line your pan, you will need to generously grease your pan or spray it with non-stick cooking spray to prevent the Asian Turkey Meatballs from sticking.
To freeze, remove the meatballs from the parchment paper and lay out in a single layer on a pan or plate. Put the pan into the freezer until the meatballs are solid, then transfer them to a zipper top freezer bag. When you want to eat them, you can reheat in the microwave or wrap in foil, set on a sheet pan, and reheat in a low oven just until hot.
To serve as an appetizer, simply pile into a bowl or arrange on a platter, drizzle with hoisin sauce and Sriracha, sprinkle with sesame seeds and sliced green onions, and put out appetizer forks, chopsticks, or toothpicks. It's about as easy as an appetizer can get!
We also serve this over rice with Spicy Roasted Broccoli or green beans. It's a fast and wonderful meal option for busy weeknights.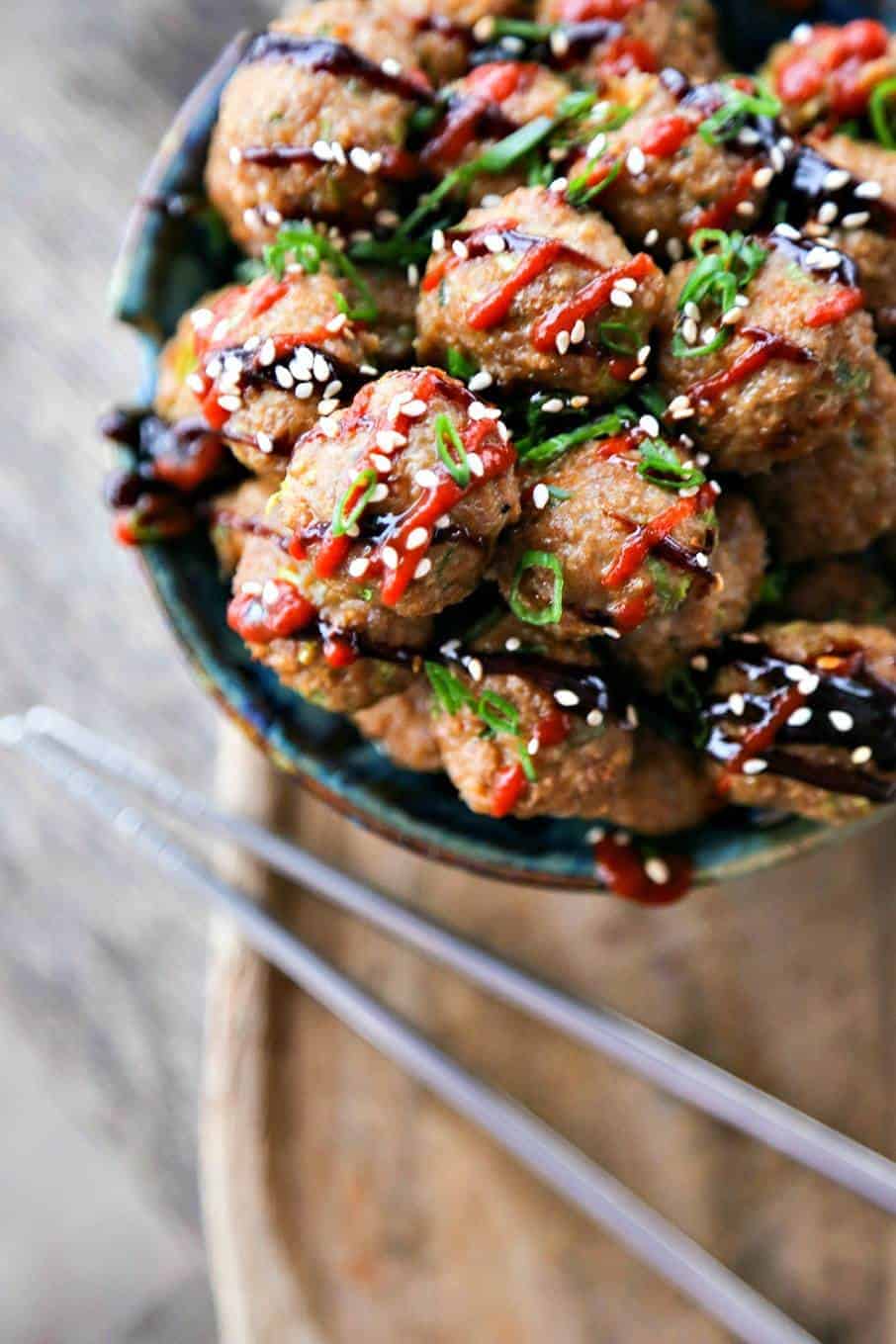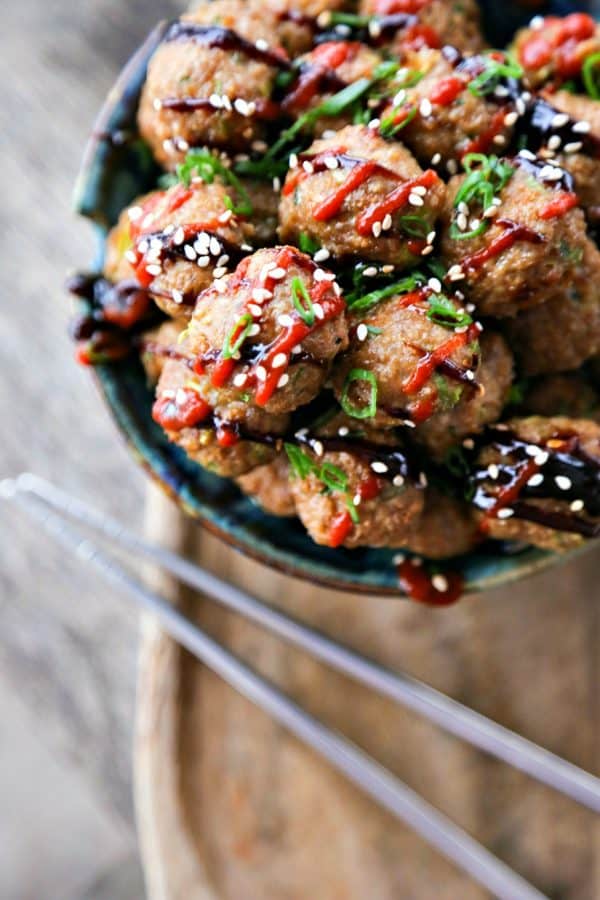 Connect with Foodie with Family
facebook | pinterest | instagram | twitter
Use these to make Asian Turkey Meatballs:
Need a great side dish to go with this Asian Turkey Meatball recipe? Try out our amazing Rice Noodle Stir Fry.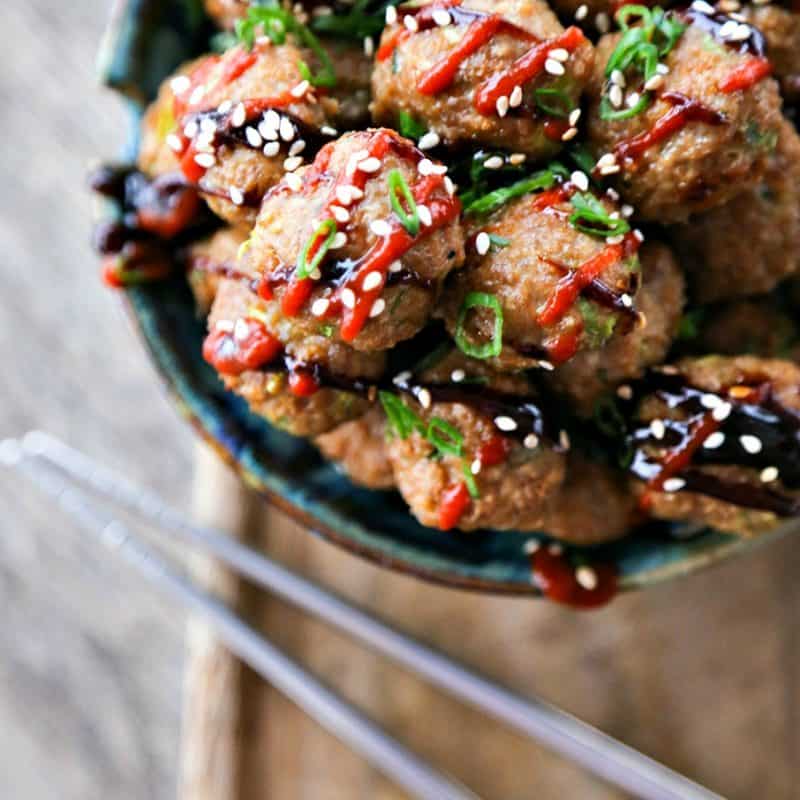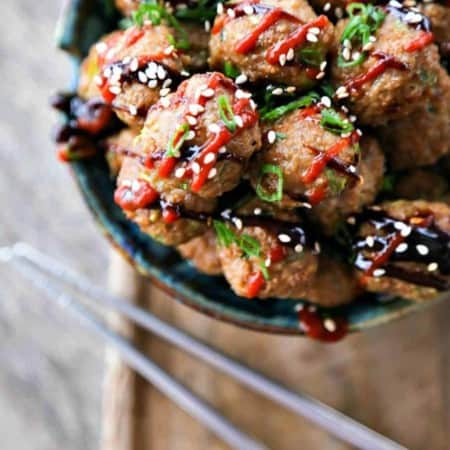 Tender, never-dry, baked Asian Turkey Meatballs are fragrant with garlic, ginger, green onion, and other classic Asian flavours. This recipe yields about 36 small, bite-sized meatballs.
Ingredients
1

pound

lean ground turkey

1

egg

1/2

cup

panko bread crumbs

2

green onions

thinly sliced

2

tablespoons

minced fresh cilantro

2

tablespoons

Hoisin sauce

2

tablespoons

grated fresh ginger

about a 3-inch frozen piece

2

teaspoons

soy sauce

1

teaspoon

fish sauce

1

clove

garlic

peeled and minced or pressed in a garlic press
Optional for serving:
additional hoisin sauce

Sriracha

sesame seeds

sliced green onions
Instructions
Preheat the oven to 375°F. Line a sheet pan with parchment paper and set aside.

Add all of the ingredients to a large mixing bowl and mix together until even. Use a small cookie scoop to divide the mixture (or make 2-teaspoon sized amounts.) Roll each meatball and place on the parchment lined pan, leaving about an inch between the meatballs so air can circulate around them in the oven. Bake the meatballs for 20 minutes, or until the internal temperature of the meatballs reach 165°F.
To serve immediately:
Drizzle with additional hoisin sauce and Sriracha and sprinkle with sesame seeds and sliced green onions.
To freeze:
Remove the meatballs from the parchment paper and lay out in a single layer on a pan or plate. Put the pan into the freezer until the meatballs are solid, then transfer them to a zipper top freezer bag for up to 3 months.
Nutritional information is an estimate and provided to you as a courtesy. You should calculate the nutritional information with the actual ingredients used in your recipe using your preferred nutrition calculator.