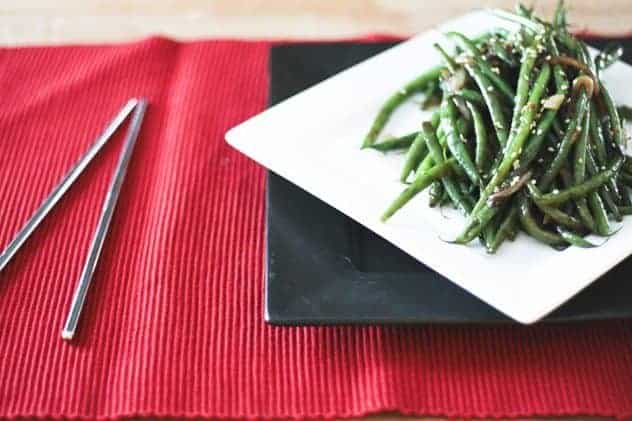 Let's review the rules of Tasty Penance.
I give you a highly caloric or nutritionally suspect recipe that is irresistible (par example: this.)
I feel guilty.
I offer a recipe that is nutritionally sound and legitimately good for you that also tastes irresistible.
I'm off the hook and feel free to give you more naughty recipes.
Take a good look at number three on the list because the last bit of the sentence is most important; the Tasty Penance recipe still has to taste outlandishly good. I'm not well-suited to culinary hair shirts and gustatory self-flagellation. My taste buds still have to be happy because I am needy.
Today's recipe knocks requirement number three out of the park.* These crisp-tender, garlicky, gingery, spicy green beans are not just packed with all my favourite flavours, they're also great for you. If you blanched (vegetable pun) at the sight of the word 'spicy', don't fret, the spice is easily omitted from this recipe. Whenever I make these, only about half of the finished product makes it to the table because The Evil Genius and I circle around the kitchen on any little excuse we can think of, snitching at first just one green bean, but then becoming bolder and dangling three or four into our mouths at once. Such is the power of this green bean dish. Did you ever think they could be so good?
*Cue baseball analogies because Spring Training is going strong. Go Red Sox!
Making this dish even more appealing is the fact that it is so easy to make.
I just have one warning, but it's a biggie.
More than one person has sworn off stir-fries because they didn't follow the law. They've gotten two or three or however many steps in and realized they forgot to peel/chop/measure/BUY some crucial ingredient and it derailed the whole process. I feel that pain. There is nothing quite like unrequited stir fry cravings. I can help, though.
I can. Trust me. The one simple hide-bound rule to successful stir-fries is this:
You need to remember to have absolutely everything -ingredients AND equipment- ready and within reach before starting to cook.
Have your green beans washed and trimmed if necessary, your garlic/onion/ginger minced or sliced according to directions, your water and oyster sauce, your wooden spoons, and your serving bowl standing on the counter raring to go. Once you put the oil in the pan, you are on duty and you will not walk away until it is done and in the bowl to be served. It's the law.
Now go forth and conquer stir-fries starting with this perfect spring green bean dish. Tasty Penance is a good thing.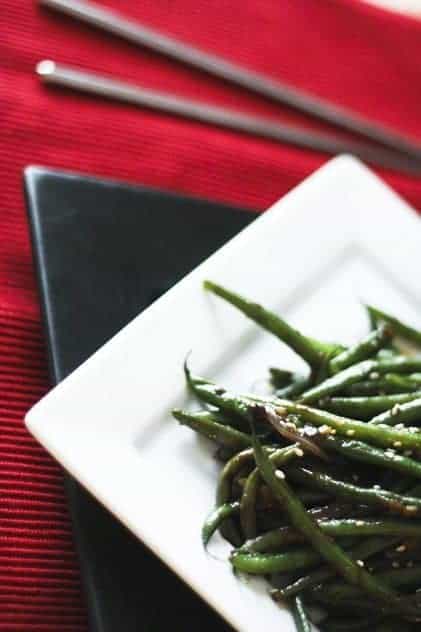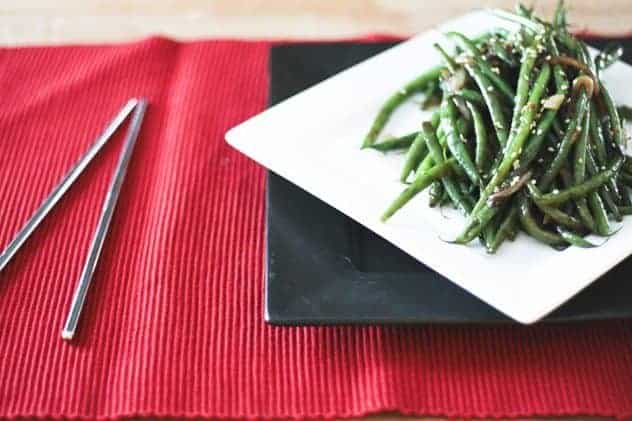 Crisp-tender, garlicky, gingery, and coated in a slightly sweet sauce, these spicy green beans are good enough to be a stand-alone vegetarian main dish, but are intended to be served alongside any number of stir-fries or grilled or fried meats. Healthy tastes great! Adapted, with thanks, from Kalyn Denny of Kalyn's Kitchen
Ingredients
1

pound

fresh green beans

Preferably haricot vert, but any fresh green bean will do., ends trimmed if necessary, and strings removed if they are particularly stringy.

2

tablespoons

canola

vegetable or peanut oil

3

cloves

garlic

peeled and minced

1

tablespoon

of ginger

peeled and minced

1/2

teaspoon

crushed red pepper flakes

Omit if you're sensitive to heat.

1

large yellow onion

1/2

teaspoon

salt

1 1/2

tablespoons

water

2

tablespoons

oyster sauce

found near the Asian foods in most grocery stores.
Instructions
Cut and discard a thin disc from both the blossom and stem ends of the onion. Peel the onion and cut in half from top to bottom. Lay each half and cut the onion into slivers (again from top to bottom) that are about the same thickness as the green beans.

Put a large wok or heavy pan with a tight fitting lid over high heat for 1 or 2 minutes or until you can no longer hold your hand a couple inches above the pan because it is too hot. Carefully add the oil to the pan and swirl to heat it through. When the oil is shimmery -about 30 seconds- add the garlic, ginger, onions and crushed red pepper flakes. Use two wooden spoons to keep the contents moving until they are fragrant, about 30 seconds. Add all of the green beans and the salt and use the two spoons to toss the green beans, garlic, ginger and onions. Cook for 2 minutes, stirring every 30 seconds or so. Add the water and put the lid on the pan. Let the beans steam for 5 minutes, checking about halfway through to see if it is too dry. If the pan is dry, add a teaspoon of water, replace the lid and continue steaming.

After 5 minutes, remove the lid and add the oyster sauce, using both spoons to toss the beans and sauce together. Continue cooking over high heat for 2 minutes, or until the oyster sauce is distributed evenly and the beans are all coated and crisp-tender.

Serve hot garnished with sesame seeds, if desired.

Leftovers (if you have some) store well tightly covered in the refrigerator and reheat very well either in the microwave or in a covered saucepan with a splash of water.
Nutritional information is an estimate and provided to you as a courtesy. You should calculate the nutritional information with the actual ingredients used in your recipe using your preferred nutrition calculator.