3-Ingredient Pesto Vinaigrette Recipe is about the simplest, easiest way possible to add mega satisfying flavour to a salad. It started as a recipe to reduce time in the kitchen on hot days, but is so good and full of garlicky, basil goodness that I use it all the time now!
Guys. It's hot here.
As in Wicked Witch of the West screeching, "I'm melting. I'M MELTING" hot. And in a moment of potentially embarrassing confession, I have to admit that I can never remember whether it was the Witch from the West or the Witch from the East who is wicked, so I had to google that. As I write this, though, I realize that the nasty witch's name is alliterative, so maybe I'll actually be able to retain that information now?
Who can tell? It's hot and my brain is addled. I may forget it before the day is out.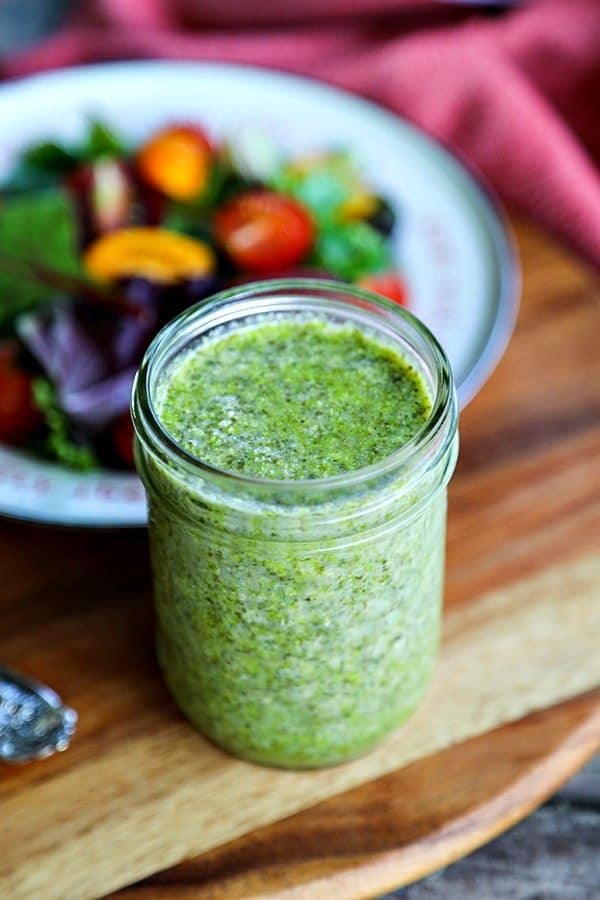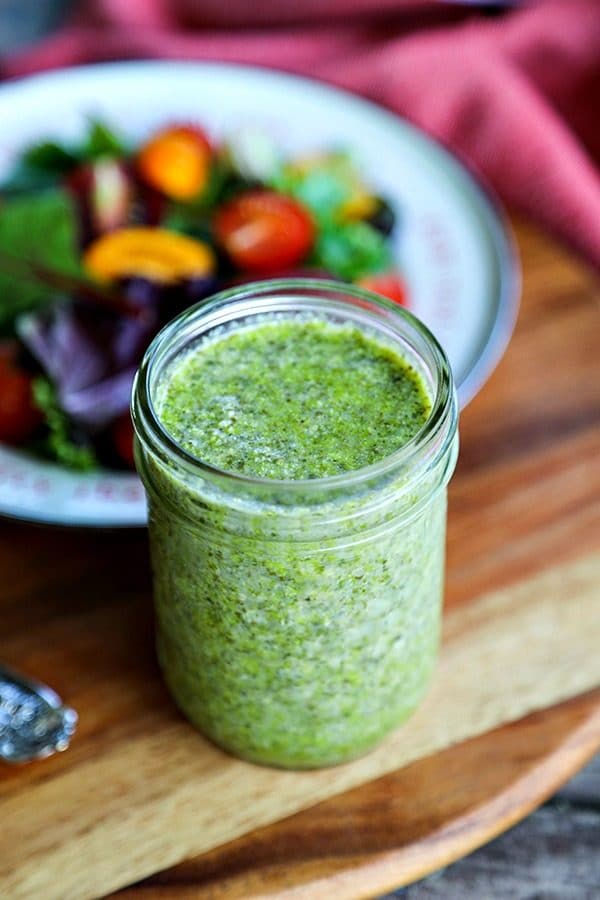 When it's hot like this, the very last thing I want to do is heat up my kitchen and stand there dissolving into a puddle on the floor that eventually I'll have to mop up. I also don't want to eat heavy, mega filling food either. At the same time, I don't want to nibble on an apple and call it a day. And I want my food to be pretty because, well, I like it that way! Hello, High Maintenance Party of One, here.
Light, fast, satisfying food is always the order of the day in wicked heat, and a salad topped with a delicious dressing is exactly what I want. This 3-Ingredient Pesto Vinaigrette Recipe hits all those marks. It's full of flavour without being heavy, it's such a pretty green, and oh my gosh, it is so ever-loving simple to make.
It literally takes 1 minute or less to mix our 3-Ingredient Pesto Vinaigrette recipe together and relies on things you may have in your pantry right at this very moment. If you don't have them in your pantry and refrigerator, you can most definitely find them at most grocery stores. We're talking about jarred or refrigerated prepared pesto, white wine vinegar, and the finely ground type of Parmesan cheese that you can find in green topped shaker jars on the shelves of grocery stores near the pasta or in the cheese section.
What ingredients do I need for a simple Pesto Vinaigrette recipe?
It may feel like you're phoning it in by mixing together three such common ingredients for your dressing, but I promise this 3-Ingredient Pesto Vinaigrette recipe delivers such a flavour packed salad dressing that you'll find yourself relying on it over and over and over.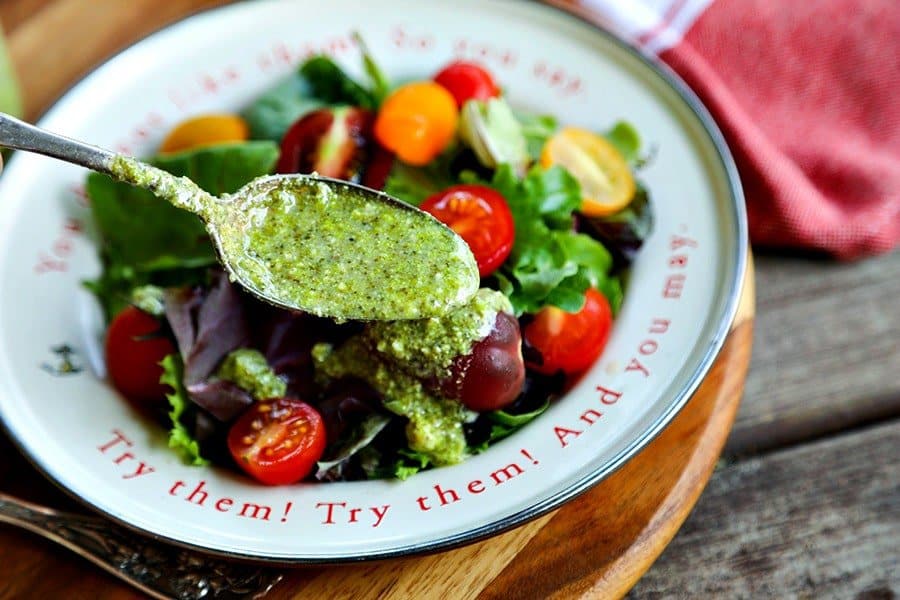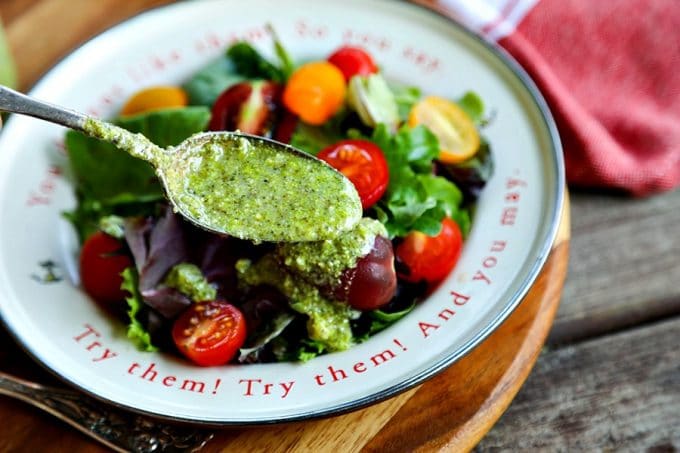 3-Ingredient Pesto Vinaigrette Recipe Cook's Notes
I shop at Wegman's Grocery Stores where they have fresh pesto available at their Mediterranean Bar. You can also use any good homemade pesto or even jarred pesto in this recipe. If you like it, use it!
White wine vinegar is a perfect acidity in our 3-Ingredient Pesto Vinaigrette Recipe. If you can't find it, you can substitute an equal amount of fresh squeezed lemon juice or rice wine vinegar, but white wine vinegar is my preference.
I often find myself advising people to use freshly grated Parmesan cheese recipe and say "there's a time and place for shaker cheese". Guess what. This is the time and the place. It's so easy and it gives this dressing exactly the right flavour and texture. Save the stuff you need to grate for other recipes like these Garlic Parmesan Green Beans, Crispy Baked Parmesan Zucchini Fries, Roasted Garlic Parmesan Almonds, or these Garlic Basil Parmesan Rolls.
This 3-Ingredient Pesto Vinaigrette Recipe lasts for up to a week in the refrigerator so you can have it on hand for your lunch and dinner salads.
Stay tuned for my absolute favourite salad to serve our 3-Ingredient Pesto Vinaigrette on. You're going to love it!
Do you love this 3-Ingredient Pesto Vinaigrette Recipe? Check out these salads and other dishes that would taste great with it!
Use these to make this 3-Ingredient Pesto Vinaigrette recipe!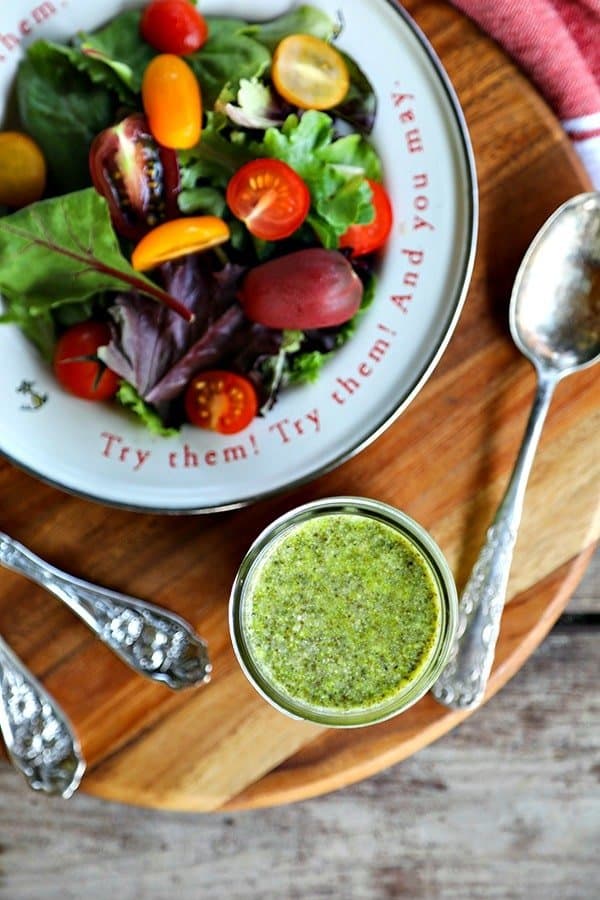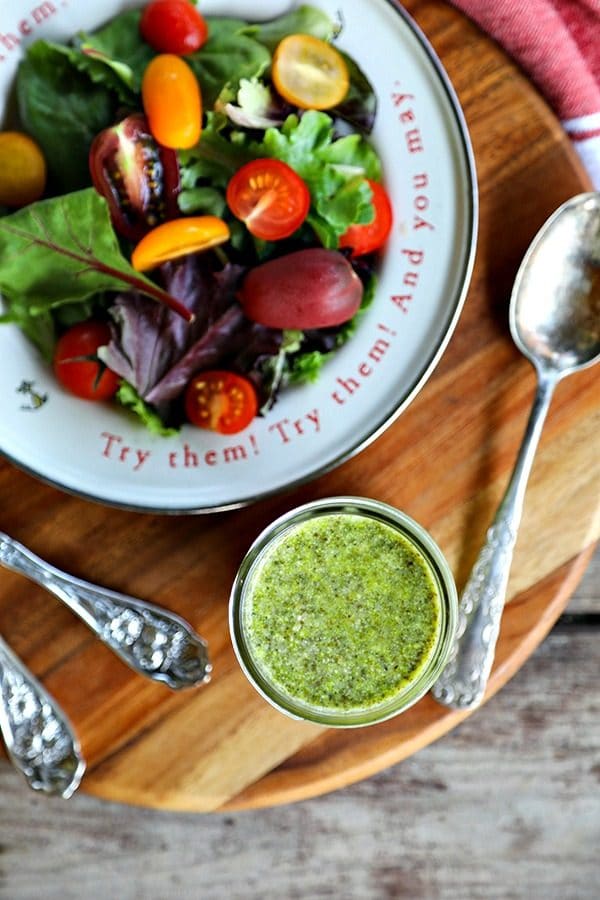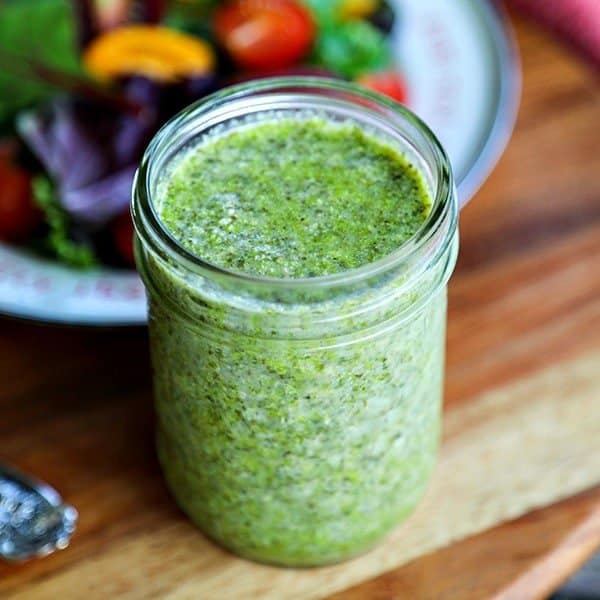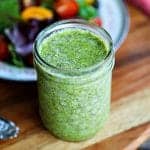 Print
3-Ingredient Pesto Vinaigrette Recipe
Ingredients
1/2

cup

prepared pesto

1/4

cup

white wine vinegar

1/4

cup

finely grated Parmesan cheese
Instructions
Add all ingredients to a jar, fix the lid firmly in place, and shake vigorously for 30 seconds or until evenly blended. Taste. If you need you, adjust thickness by adding vinegar or olive oil, depending on whether you like a tangier or smoother dressing.

Store leftovers in the refrigerator, tightly covered, for up to a week.

Nutrition
Calories:
73
kcal
|
Carbohydrates:
1
g
|
Protein:
1
g
|
Fat:
6
g
|
Saturated Fat:
1
g
|
Cholesterol:
3
mg
|
Sodium:
195
mg
|
Vitamin A:
335
IU
|
Calcium:
62
mg
|
Iron:
0.1
mg