Garlic Basil Parmesan Rolls are my idea of a perfect bread. My friend Zoe from Zoe Bakes had posted the most lovely pan full of curlicue rolls I had ever seen and I was so moved by the beauty of that dough that I immediately threw myself into the kitchen to make some pretty bread, too. I had fresh basil, garlic, and garlic olive oil on the counter, so it joined the party. The result was perfect bread dough brushed with garlic infused olive oil and rolled around  chopped garlic, fresh basil, and flakes of creamy, nutty Parmesan cheese then baked up to a beautiful, golden brown, tender-yet-chewy work of art. The anticipation while this bread rose and baked almost killed me. It smelled like fresh basil and garlic as the dough rose. As soon as it hit the heat in the oven, it smelled like hot bread, basil, garlic, and toasty Parmesan cheese. It was heavenly.
And dangerous? Well, I had to actively avoid eating everything in my path because it smelled so darned good. I caught myself mindlessly digging in the refrigerator for "just a little something" more than once during the 30 minutes of bake time. And the hardest part of all was letting the rolls set up for a few minutes when I took the pan out of the oven, because not only did it SMELL divine, but it looked gorgeous, too.
See?
How would your willpower be in that situation?
But wait, I did. And my hard-won patience was rewarded when I grabbed one of those stunning Garlic Basil Parmesan Rolls and pulled it out of the pan, unrolled it, and ate it bite by glorious bite. Then I grabbed a second one because my victorious battle of waiting had been won and needed to be rewarded. Then I grabbed a third roll and dunked it in some marinara sauce. The fourth roll? I might have hidden in the mudroom to eat that one. And the fifth? Well, shoot. Can we just pretend I stopped with 5?
They were good, friends. You should make them.
Cook's Notes:
The recipe for Garlic Basil Parmesan Rolls was designed to make use of my all-time favourite bread dough from my Sesame Semolina Bread. That said, I have also made it with purchased pizza dough and it turned out beautifully. You do you, friends… as long as it ends in Garlic Basil Parmesan Rolls, everyone ends up happy.
My favourite pan for making this bread is my 5 quart braiser from Le Creuset. If you don't have one of these, you can definitely make it in another 5 quart capacity baking dish whether it's round, rectangle, or square. Just remember to work from the outside inward when filling the pan with the rolls you've made.
I really do prefer to use garlic infused olive oil here because I am a big old garlic fan. If you'd like the garlic to be a little milder, you can use regular extra virgin olive oil.
Fresh basil and fresh garlic are pretty much non-negotiable here. The little chunks of garlic roast as the rolls bake making these so fragrant and perfect. The fresh basil lends a perfume that dried basil can never quite manage.
Likewise, please use a fresh piece of Parmesan or large flakes of Parmesan like they sell in bulk containers at Wegman's and Trade Joe's! A vegetable peeler is the perfect tool to cut paper thin flakes from a block of Parm.
The idea is to divide your dough into three roughly equal sized portions. Each portion is rolled into a ball, and then rolled out into a circle. The circle is then brushed generously with garlic infused olive oil, sprinkled with chopped fresh basil and garlic, and topped with Parmesan shards before being sliced into 8-12 wedges.

Each wedge is then rolled from the fat end to the skinny end and arranged in the pan in a circle moving from the outside to the inside. The pan is then covered and stashed in a warm, draft-free place to rise until about doubled in bulk.
It might be hard to judge when the dough has doubled in bulk because of the funky shape of the rolls. The key to knowing it's ready to bake is to give the pan a gentle shimmy back and forth. If the dough jiggles, it's ready to go. If it stands stalwart, give it a while longer.
Bake for 30-40 minutes, or until irresistibly deep golden brown and fragrant. That's all there is to it!
Use these to make Garlic Basil Parmesan Rolls
Connect with Foodie with Family
facebook | pinterest | instagram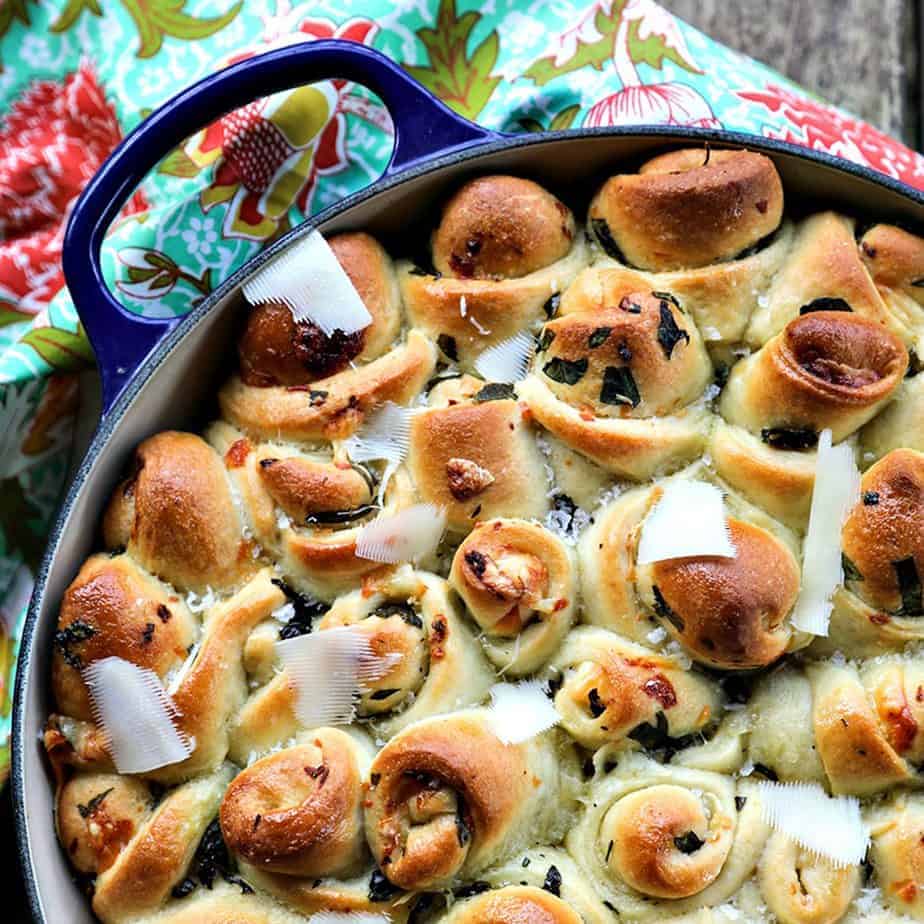 Garlic Basil Parmesan Rolls are my idea of a perfect bread. Perfect bread dough brushed with garlic infused olive oil and rolled around chopped garlic, fresh basil, and flakes of creamy, nutty Parmesan cheese then baked up to a beautiful, golden brown, tender-yet-chewy work of art.
Ingredients
1

batch

Sesame Semolina Dough

or 2 pounds prepared pizza dough

1/2

cup

garlic infused extra virgin olive oil

1

cup

Parmesan flakes

20

leaves

fresh Italian Basil

torn or roughly chopped

6-9

cloves

garlic, finely chopped

For milder garlic, use the lesser amount. For bolder garlic, use the greater amount

1 1/2

teaspoons

Maldon coarse sea salt flakes
Instructions
Drizzle 2 tablespoons of garlic infused extra virgin olive oil in a 5-quart oven safe baking dish or braiser.
Lightly dust your work surface with all-purpose flour. Divide the risen dough into 3 equal parts. Roll each part into a tight round. Place two rounds to the side under a towel. Roll the third round out into an approximately 10" circle. Drizzle another 2 tablespoons on the dough round, brush to distribute evenly, then scatter about 1/4 cup of the Parmesan flakes, 1/3 of the fresh basil, and 1/3 of the garlic. Use a pizza cutter to cut the dough round into 12 wedges. Roll each wedge from the fat end to the thin end and arrange around the inside perimeter of the pan without crowding. Repeat with the remaining dough rounds, moving toward the inside of the pan until it is filled with rolls.


Cover and let rise in a warm, draft-free place until the dough is puffy and jiggles slightly when you gently shimmy the pan back and forth. Toward the end of the rising time, preheat the oven to 400°F. Drizzle the remaining garlic infused olive oil evenly over the rolls.

Bake, uncovered, for 30 minutes, or until the tops are golden brown and the rolls are set. Scatter the remaining Parmesan flakes and grind the coarse sea salt flakes between your fingers over the tops of the rolls and serve warm.

Nutritional information is an estimate and provided to you as a courtesy. You should calculate the nutritional information with the actual ingredients used in your recipe using your preferred nutrition calculator.
Save
Save
Save
Save
Save
Save
Save