Hey! We have a giveaway this week. Details are after the recipe. Stick with me, it's worthwhile and will make your upcoming holiday baking projects sing!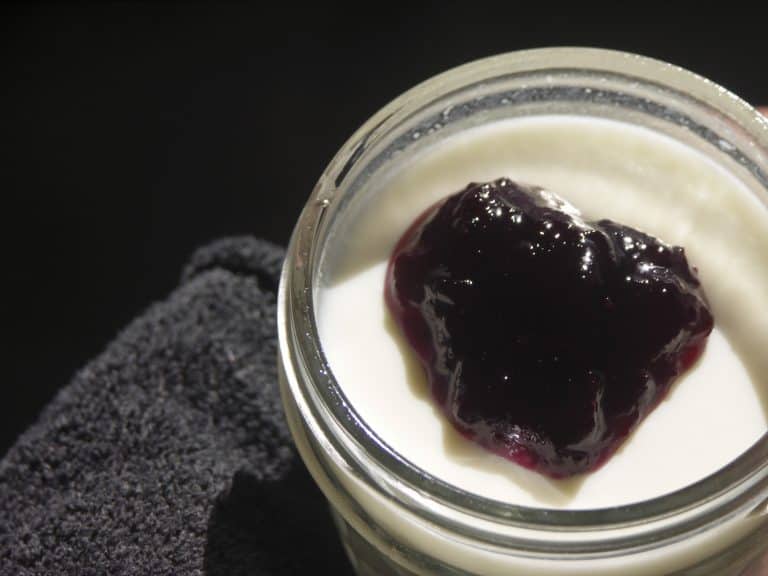 We are currently in Week Three of a full-immersion 'get-to-know-influenza' unit study of our homeschool. One, two, three, four, five, six, and seven. We like to space things out around here -move at a leisurely pace- and we subscribe to rugged individualism, so we've each started our full-body look at the flu at a distinctly different time. This is also great for our math studies. Check out the following word problem we composed:
If each person in a family of seven begins a sickness of two-weeks' duration at a rate of one every fourth day, how long will that family be stuck at home? (And I'm not answering it for you. If I did, what kind of self-respecting homeschool mom would I be?)
So the stomachs (there's part of this unit's anatomy study) around here have been craving mild, easy-to-prepare* food. Our normal super-spicy fare swimming in hot sauce has been off the table, quite literally, for the past couple weeks. We've been turning to simple comfort food; steamed rice, mild fruit, soups, and stews (Liam, since a babe in arms, has held the immovable conviction that beef stew cures everything. So stew is de rigeur when anyone in our household is ill, even if they refuse to eat it.)  And new to the sickbay rotation is Vietnamese Yogurt.
*Well, my stomach has anyway. The rest of the stomachs don't care how difficult something is to prepare so long as it's mild. Since I'm the one wielding the tongs, spatulas and whisks, I get to add the easy-to-prepare dictum.
I first read about Vietnamese Yogurt in a post by Todd  of White on Rice Couple (two of the blogosphere's sweetest sweeties ever to be sweet) a couple months ago. Intrigued by the promise of a silky, sweeter-than-its-Western-counterpart yogurt, I decided to give it a go. Since the recipe calls for pantry staples, it was simple to whip it up on a whim. Todd promised in no uncertain terms that it was easy, and boy howdy it was. I raided the cupboard and grabbed a bunch of small glasses (read: jelly jars. What? You use real glasses?). The kids hovered, as they are wont to do, over me as I mixed up the yogurt, peppering me with questions; "Hey! What's that for?", "Can I just dip my finger in that sweetened condensed milk?", "Can I just drink that sweetened condensed milk?", "Can I at least lick the empty can of sweetened condensed milk?", "What are you making, Mom?", "Do I have to eat that stuff?", "You do know I don't like yogurt, right?", etc… So this was the environment in which I made my first batch of Vietnamese Yogurt. If I could do it in the midst of this household's chaos, anyone could. Next came the hard part. The waiting.
I've gone my whole life thinking yogurt is one. thing. only. And don't get me wrong, I like yogurt. In fact, I make what I think of as 'regular' yogurt a couple times a month. And it's a bit of a production. But what a revelation this particular yogurt was. It was not tangy and sour enough to make my tongue curl back up in my mouth like parchment the way many Western yogurts did; It was mild and gently tart and sweet and totally set my mental picture of yogurt on its ear. If you've never had Vietnamese Yogurt before let me clue you in on one of it's more interesting differences. While it's totally spoon-able (that is, you can eat it top to bottom with a spoon) it's also imminently slurp-able (in other words, you could pop a straw in there and drink it down.)  It's almost like a short-cut to a yogurt smoothie. Not to be ignored is the fact that every single one of my kids love it. Even the three inveterate yogurt haters can't get enough of it. The fact that I found a simple-to-make, inexpensive yogurt that all of my kids like in time to be really grateful for the fringe benefits* yogurt offers is nothing short of a miracle.
*Healthy bacteria for the gut, improved digestion, etc…
For a photo-free, printer friendly version of this recipe, click here!
Vietnamese Yogurt
This recipe is my take on the original  White On Rice Couple recipe. The ingredients and ratios are all theirs but I played a bit with the method. Because I'm incorrigible. I should also mention that this recipe doubles and triples beautifully!
Ingredients:
1 can (14 ounces) sweetened condensed milk

1 1/2 cups water

(

It should be hot enough that a great deal of steam is coming from the surface of the water, but it should not be boiling.

)

1 1/4 cups cold milk (Using cold milk helps bring down the temperature of the mixture to just the right point to encourage the yogurt to set nicely.)

1 cup plain yogurt

(This can be any plain or vanilla yogurt you can get at the grocery store. Plain is preferable, but vanilla stands in nicely. Just as good a quality yogurt as you can find.)
Optional for serving:
Assorted toppings: jam, fresh fruit, syrups, granola… Whatever floats your boat!

Prepare a water bath for the yogurt by adding about two inches of water to a wide, deep pot (for example, a canning pot, pasta pot, soup pot, etc…) Place the pan over high heat and bring the water to a temperature where a great deal of steam is pouring from the surface of the water but it is not boiling. Place a tight fitting lid on the pan and turn off the heat. Put a separate kettle of water on over medium heat on another burner. While that heats, prepare the yogurt as follows.
In a large mixing bowl, whisk together the sweetened condensed milk and water until thoroughly combined. And don't take any guff from that can of sweetened condensed milk. Use brute force to open it if necessary.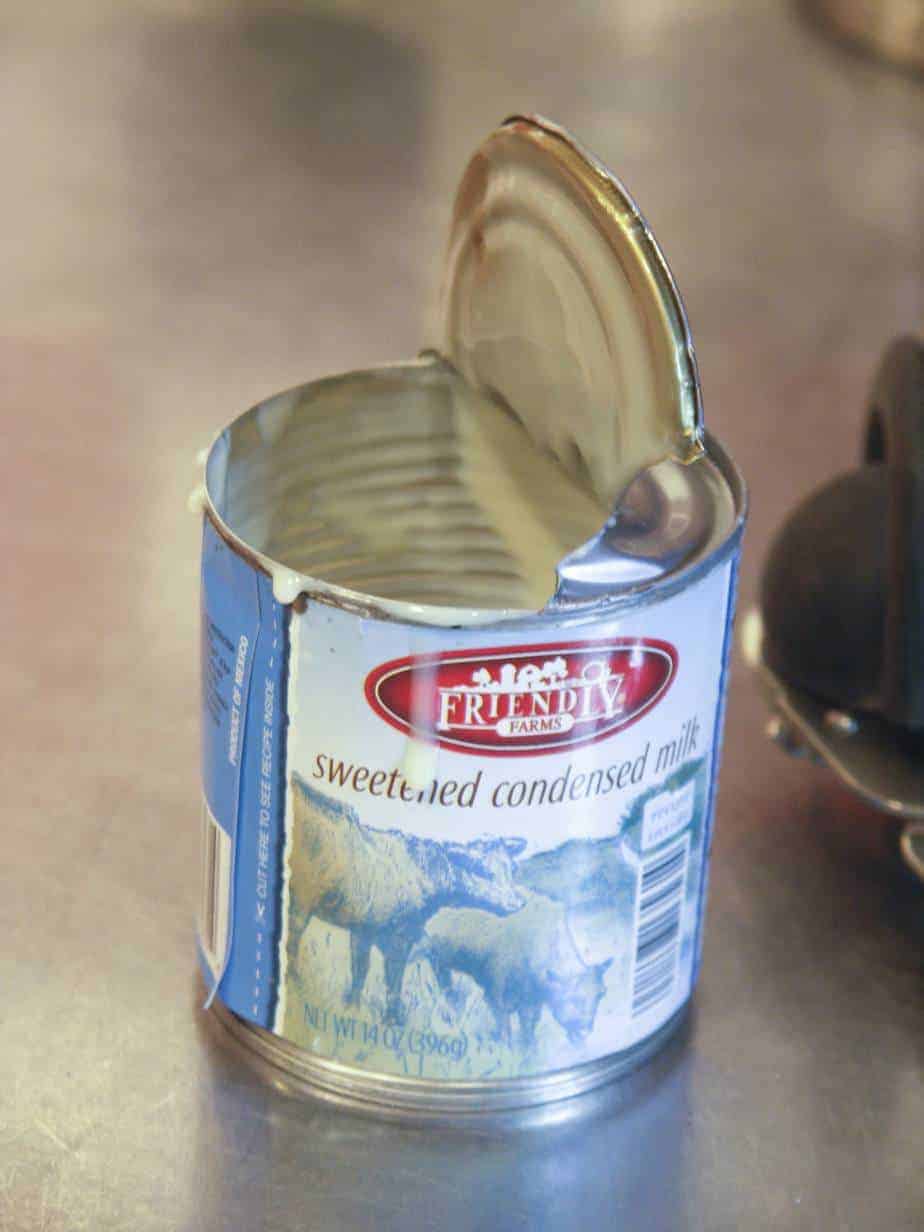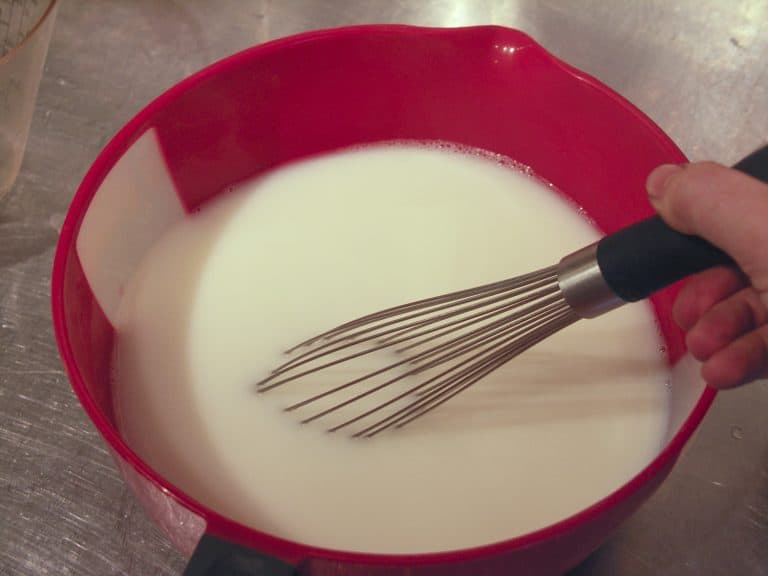 Whisk in the cold milk. Set aside.
Measure the cup of yogurt into a medium sized mixing bowl. Gently whisk in a ladle full of the warm milk/water/condensed milk mixture until smooth. Repeat with two more ladles of milk. When it is completely smooth, pour into the remaining hot milk and whisk gently until smooth. Position a fine-mesh strainer or a colander lined with cheesecloth over another bowl and pour the liquid through the strainer. Use a spatula or wooden spoon to press any lumps through the strainer. This guarantees a silky finished yogurt. If you don't mind a few lumps you can skip this step.
Pour the prepared yogurt into clean and empty jelly or baby food jars or into small drinking glasses. If using 8 ounce jars, this will fill about five or six jars. It is helpful to use jars or cups of a uniform height since you will be putting them in a water bath. Do not put lids on the jars. Why the paper towel covers you might ask? We're not just fighting the flu around here, we're also fighting cluster flies. If you have them, you are probably cringing right now. If you don't have them, let's just say you don't want them in/near/on your yogurt.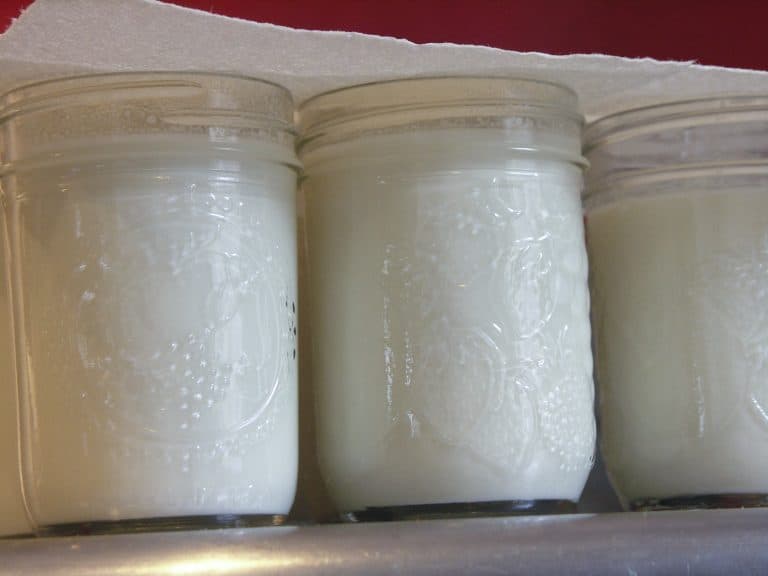 Remove the lid from the pan of hot water, steam should still be coming from the surface of the water, but not quite as vigorously. If there is no steam, reheat the water slightly. Transfer the pan of hot water to a heat-proof surface. Arrange the jars in the hot water. Yes, that is most of a double-batch down there. Remember I'm feeding a family of seven. Little batches are a pointless tease. And this proves that I know, from experience, that the recipe doubles and even triples beautifully.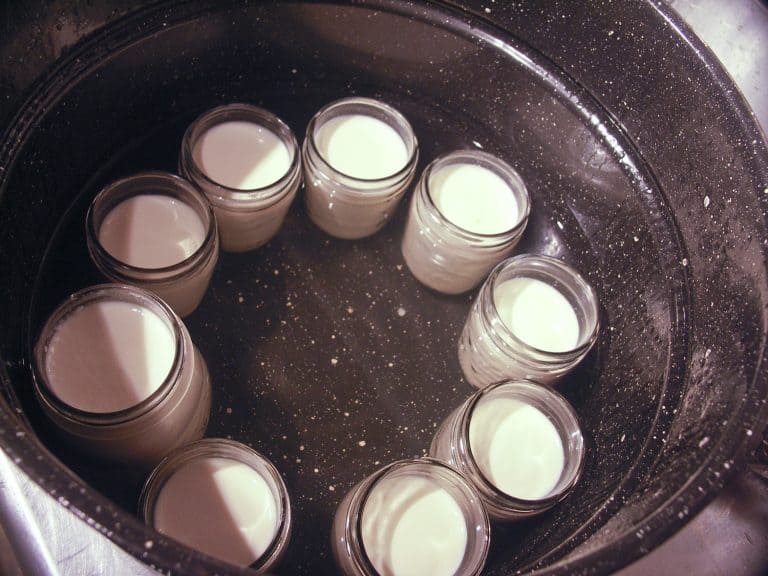 Use the kettle to add enough water, if necessary, to come about 4/5 of the way up the sides of the jars. Todd recommends using a funnel to add the extra water to direct it away from splashing into the yogurt cups. I agree wholeheartedly! Lay a bath towel over the pot in such a way that it covers the top of the pot but does not fall down into the yogurt or water. Now the hard part is done. All that remains is to let the water return to room temperature. In my house this takes about four or five hours. You may have to adjust this time slightly depending on how warm your climate (or thermostat) is at the time you make it.
When the water is room temperature, the yogurt should be set (in other words, it may wiggle like a firm jelly when gently shaken, but it won't be a liquid.)  Transfer the jars from the pot to a tea towel.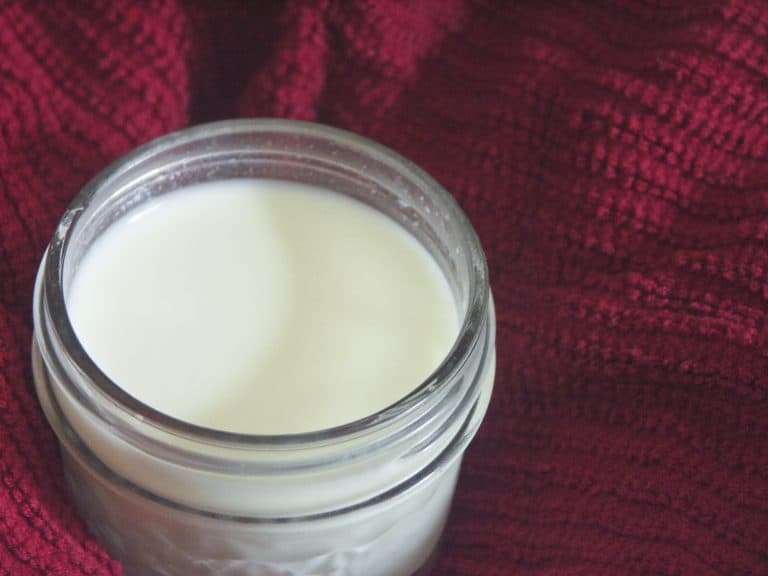 If using jars, you can screw or clamp on lids. If using cups, cover lightly with plastic wrap. Either way, refrigerate for two hours or more before eating. Around these parts, we like them with a dollop of homemade blueberry jam.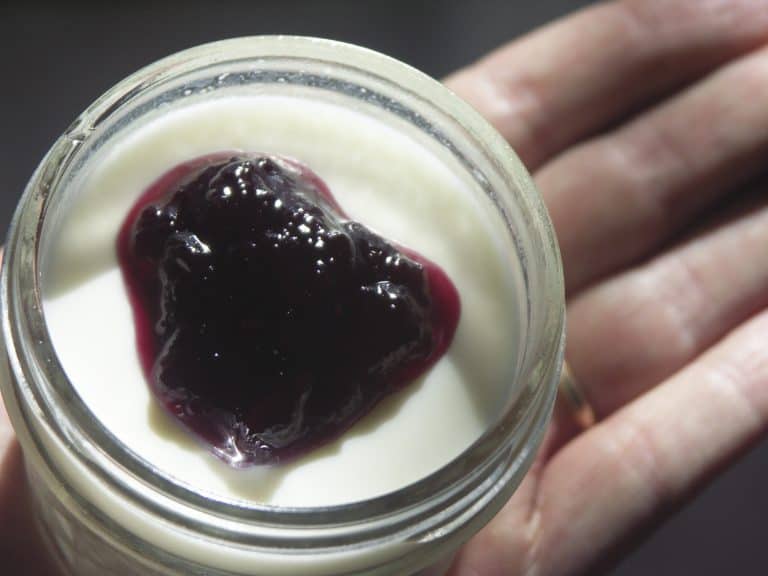 …Or strawberry jam.
Don't forget to try it with a fistful of fresh fruit sometime; peach slices, crushed or cubed pineapple, pomegranate arils, and mango cubes are all wonderful compliments to the velvety texture of the yogurt. (Don't tell anyone I said this, but it's also really good with a healthy spoonful of dulce de leche [yes, I am aware of the irony inherent in that statement] on top for dessert.)
Now, I promised a giveaway and I have a real humdinger of one to share with you. But first, a quick story. A few months ago, one of my Record-Eagle readers, Amy Martin,  contacted me to share her recipe for chocolate syrup (which is delicious, by the bye) and some fellow-harried-mom stories. We exchanged a few emails back and forth and in one of them she mentioned that she made and sold hard-to-find vanilla products. She has graciously offered to sponsor a giveaway of a gift pack of the more popular items she sells on her Etsy site. (and if you can browse her Etsy site without becoming famished then you're a stronger beast than I am.)  Can you even imagine a better time of year to get a box full of vanilla goodies? Look at what  that temptress Amy is giving to one lucky Foodie With Family reader:
These images all come from Amy's Etsy shop, SoVanilla.
2 ounces of Ground Bourbon Vanilla. Imagine this baked into some pots de creme or a pound cake. Pure heaven.
15 (count 'em FIFTEEN!) Bourbon plus 5 (like fifteen wasn't generous enough) Tahitian Vanilla Beans. Make your own vanilla extract or vanilla sugar. The possibilities are almost limitless.
A bottle of Vanilla Bean Syrup. Drizzle that over some oatmeal with a handful of dried cherries (or just straight into your mouth) and tell me the world doesn't like a better place.
And finally…
A package of BourbonVanilla Bean and Pecan Granola. Oh yes. Now you see the tie-in to my recipe? If you sprinkle a fistful of this crisp and full-bodied vanilla granola over the top of a serving of silky smooth Vietnamese Yogurt you will think you've died and gone to heaven. The kicker is that it's great for you! Healthy and decadent tasting? That's a recipe for success.
So, what do you need to do to win this generous package? In Amy's words:
So Vanilla Giveaway Rules!

The Details:

Simply find the answers to the three questions below by going to the following links:  Sovanilla.etsy.com and amyecotarian.wordpress.com. One name will be drawn from all correct answers for the grand prize:  A package including 2 ounces of ground bourbon vanilla, 15 Bourbon and 5 Tahitian vanilla beans, a bottle of vanilla syrup and a package of Vanilla Bean and Pecan Granola.

3 other people who have correctly answered the questions will be randomly drawn to receive 3 Bourbon Vanilla Beans. (Rebecca here. I just had to emphasize this. Three other folks are going to receive a prize, too. I'm only terribly jealous that I can't enter my own giveaway.)

The Questions:

From my blog:  amyecotarian.wordpress.com

From the post "Pickled Pink! And Other Things of the Summer"

What wildlife did Amy have to rescue and relocate this summer?

From my Esty Shop:  sovanilla.etsy.com

What's the "fishy" name for the vanilla seeds inside a vanilla pod?

And the last one:

What is one interesting thing you learned from either the blog, Confessions of an Everyday Ecotarian or the So Vanilla shop that you didn't know before?
Now for my details. This contest is open until Friday of this week, November 6th, 2009. You have until 12 noon, EST on Friday to enter. The grand prize winner and the three other vanilla bean package winners will be announced by  8 PM, EST on Friday. Good luck folks. This is some great stuff!