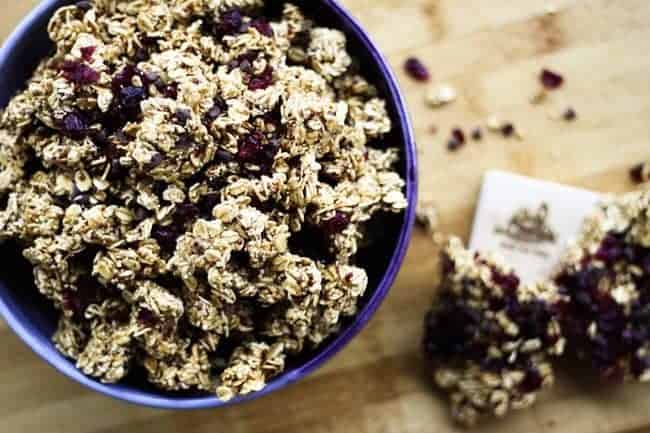 I am more than just a wee bit obsessed with granola.
I eat it on yogurt with fruit almost every day. On the days when I don't have it on yogurt, I have it, um, on my hands. As in, I eat it by the handful. I especially adore clumpy clusters of granola. While I've been making my own granola for years, I recently discovered KIND Cranberry Dark Chocolate Clusters and I couldn't get enough.
I was hooked on the super crispy, crunchy, just-sweet-enough combo that was studded with tiny little chopped dried cranberries and had little morsels of chocolate adhered to the crunchy bits. My word… who wouldn't be, I ask you?
I'm not the only one in my family with a thaaaaang for granola, though. Every single one of my guys can plough through it at such a pace that it's a wonder they ever get more than a few steps away from a toilet.
Oh gosh. That was probably really unappetizing of me to say that. Apologies. It's what comes of living with six males.
The point is this… my dainty little bags of KIND clusters were disappearing at an alarming rate. I had to do something. I had to make my own.
Thankfully, granola making isn't rocket science and today's recipe was not only a fairly simple one to nail down the way I wanted it, but it's a ridiculously easy recipe to repeat.
In short, you stir stuff together.
Now, there's a little trick to getting the clumps but it's not taxing; you firmly press the sticky wet mixture together with a stiff spatula in the form of a rectangle ("Wonder Twin powers activate! Form of… A RECTANGLE! Form of… A SPATULA!") When you remove the granola to give it a stir, you restrain yourself and -instead- flip the mixture over with the spatula, then press it together again and bake. Then, when the baking is finished, you sprinkle with the chocolate (CHOCOLATE GRANOLA!) and press the little ruby-hued bits of dried cranberry into the whole lot and let it cool before you mess with it again. Ta da! Giant slab-o-granola just waiting to be broken into clumpy bits. What a happy, happy thing to load into jars!
This has an enthusiastic stamp of approval from every single member of my household, INCLUDING the no-fruit duo who -for whatever reason- do not seem to mind tiny minced bits of dried cranberries but would rather stage a dramatic hunger strike than eat a WHOLE dried cranberry. Whatever. If it ain't broke…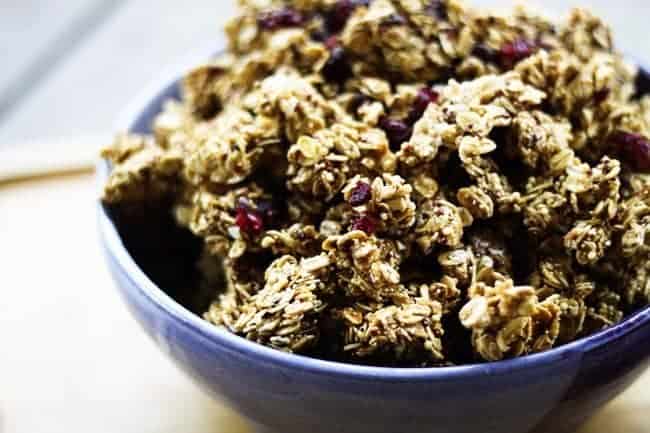 Ancient Grains Cranberry Dark Chocolate Granola| Make Ahead Mondays
Rate Recipe
This isn't just any old homemade granola, this is power food! Protein packed by virtue of it's amazing medley of quinoa, millet, amaranth, and rice, this sweet, crunchy Ancient Grains Cranberry Dark Chocolate Granola takes the cake for nutrition AND taste, too. It bakes up nice and clumpy, too, making it an ideal healthy out-of-hand snack! It tastes almost exactly like KIND Cranberry Dark Chocolate Clusters.
Ingredients
8

cups

whole rolled oats

1

cup

puffed brown rice or white rice cereal

1/2

cup

uncooked quinoa

red or white

1/2

cup

uncooked millet

1/2

cup

uncooked amaranth

1/4

cup

untoasted white sesame seeds

1 3/4

cups

brown rice syrup

*See Notes, honey, light agave syrup, Lyle's Golden Syrup, light corn syrup, maple syrup, molasses or a combination thereof.

1/2

cup

almond butter

or your preferred nut butter: peanut, sunflower, cashew, etc...

1/2

teaspoon

salt

2

tablespoons

vanilla paste or real vanilla extract

1 1/2

cups

dried cranberries

chopped into small bits

1 1/2

cups

finely chopped dark chocolate or miniature semi-sweet chocolate chips
Instructions
Preheat oven to 325°F. Line two rimmed half-sheet pans with silpats or parchment paper and set aside.

In a large mixing bowl toss together the oats, puffed rice cereal, quinoa, millet, amaranth, and sesame seeds with your hands. In a smaller mixing bowl, whisk together whichever combination of sweet syrup/honey you're using, the almond or other nut butter, the salt and the vanilla paste or extract until smooth. Pour this over the oat mixture and stir until everything is evenly coated. Divide the mixture between the two lined pans and press it into a rectangle with the back of a spoon or spatula.

Place the pans in the oven, immediately lower the temperature of the oven to 225°F, and bake for 30 minutes. Remove the pans from the oven and use a spatula to flip the mixture over in sections. It may fall apart as you do this, but do your best to flip it all over and make sure the stuff from the edges is now toward the center. Press it back together with the spatula and return to the oven for another 30 minutes. The mixture should be very sticky. To test whether it has been cooked enough, pull a pinch from the center and let it come to room temperature. If it is crispy, it has baked enough. If it is still sticky, it may require as much as another 30 minutes of baking. If you need to return it to the oven, repeat the flipping it over in sections and pressing it back together before returning the pans to bake longer.

When the granola is done toasting, remove the pans from the oven and sprinkle the chopped chocolate evenly between the two pans. Use your hands to break up the chopped cranberries and sprinkle those evenly over the two pans as well. After the cranberries are added, use the palms of your hands to press the cranberries into the mixture. Let it cool completely on the pans and then break up into a mixing bowl before storing in jars or other containers with tight fitting lids.

The granola is good for up to a month when stored at room temperature in an airtight container.
Notes
*While you can use any combination of these liquid sweeteners to make your granola, I do recommend using at least half brown rice syrup, honey, or corn syrup for their super sticky qualities. You can make up the rest with maple syrup, agave syrup or Lyle's Golden Syrup, or add up to 1/4 cup of molasses. Any more molasses tends to be a bit too bitter.
Nutrition
Calories:
369
kcal
Carbohydrates:
61
g
Protein:
8
g
Fat:
12
g
Saturated Fat:
4
g
Trans Fat:
1
g
Cholesterol:
1
mg
Sodium:
71
mg
Potassium:
280
mg
Fiber:
6
g
Sugar:
26
g
Vitamin A:
8
IU
Vitamin C:
1
mg
Calcium:
82
mg
Iron:
3
mg
Nutritional information is an estimate and provided to you as a courtesy. You should calculate the nutritional information with the actual ingredients used in your recipe using your preferred nutrition calculator.