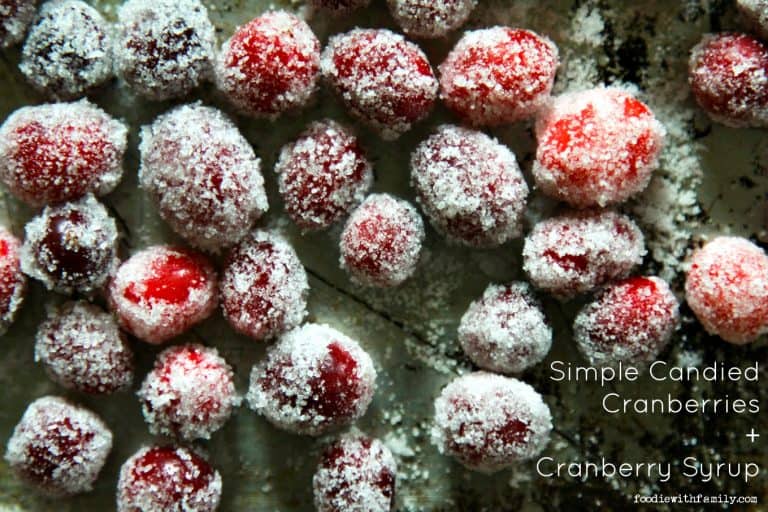 I love Simple Candied Cranberries + Cranberry Syrup both because they're BEYOOOOTIFUL and ridiculously tasty. Can you even look at these pretty little cranberries that look like they were left out in the snow and think a little "ooooh!" or "aaaah!" or "I'd really like to eat every single one of those!"? Can you view the jar of pink syrup infused with cranberry goodness and not madly desire to pour it over ice and top it off with cold seltzer or mix it into a cocktail?
That they're lovely to look at is indisputable, but they're ever so delicious, too. I also don't hate that they're easy as heck to make. Making BOTH of these products -because this recipe is a two-fer- is as easy as pouring fresh simple syrup over fresh cranberries and letting them sit, undisturbed, overnight. You drain them the next day, reserving the syrup.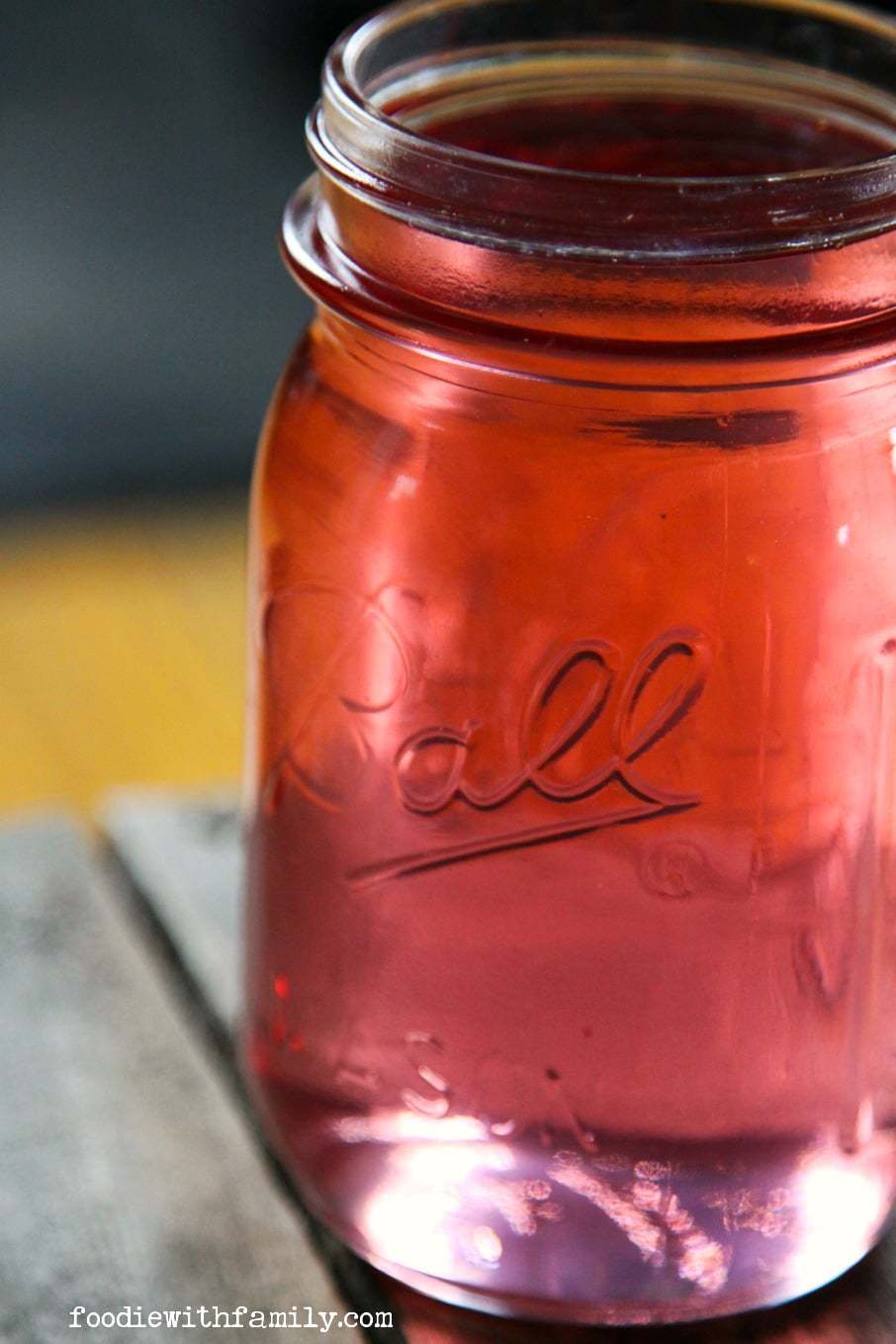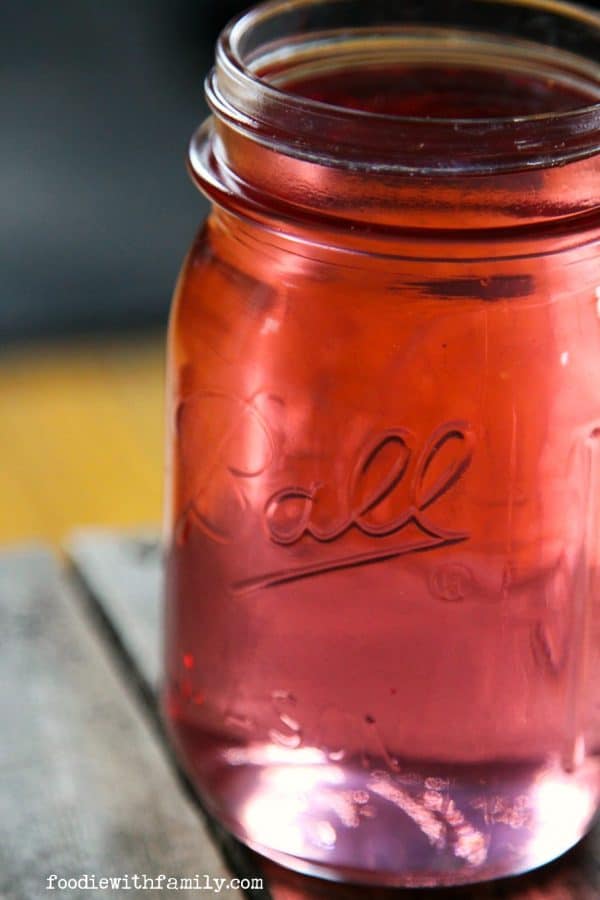 Pour the Cranberry Syrup into a pretty jar and fix a lid in place and refrigerate for up to two weeks. Voila! The Cranberry Syrup is finit! El-done-o! Complete! You then toss the soaked and drained cranberries with granulated sugar and let them dry for a few hours.
The result is a dry, crispy, sugar crust around a juicy cranberry that POPS when you bite into them. These are such a fun departure from the normal Christmas candy and make a gorgeous addition to any holiday buffet, cheese course, or Christmas cookie tray!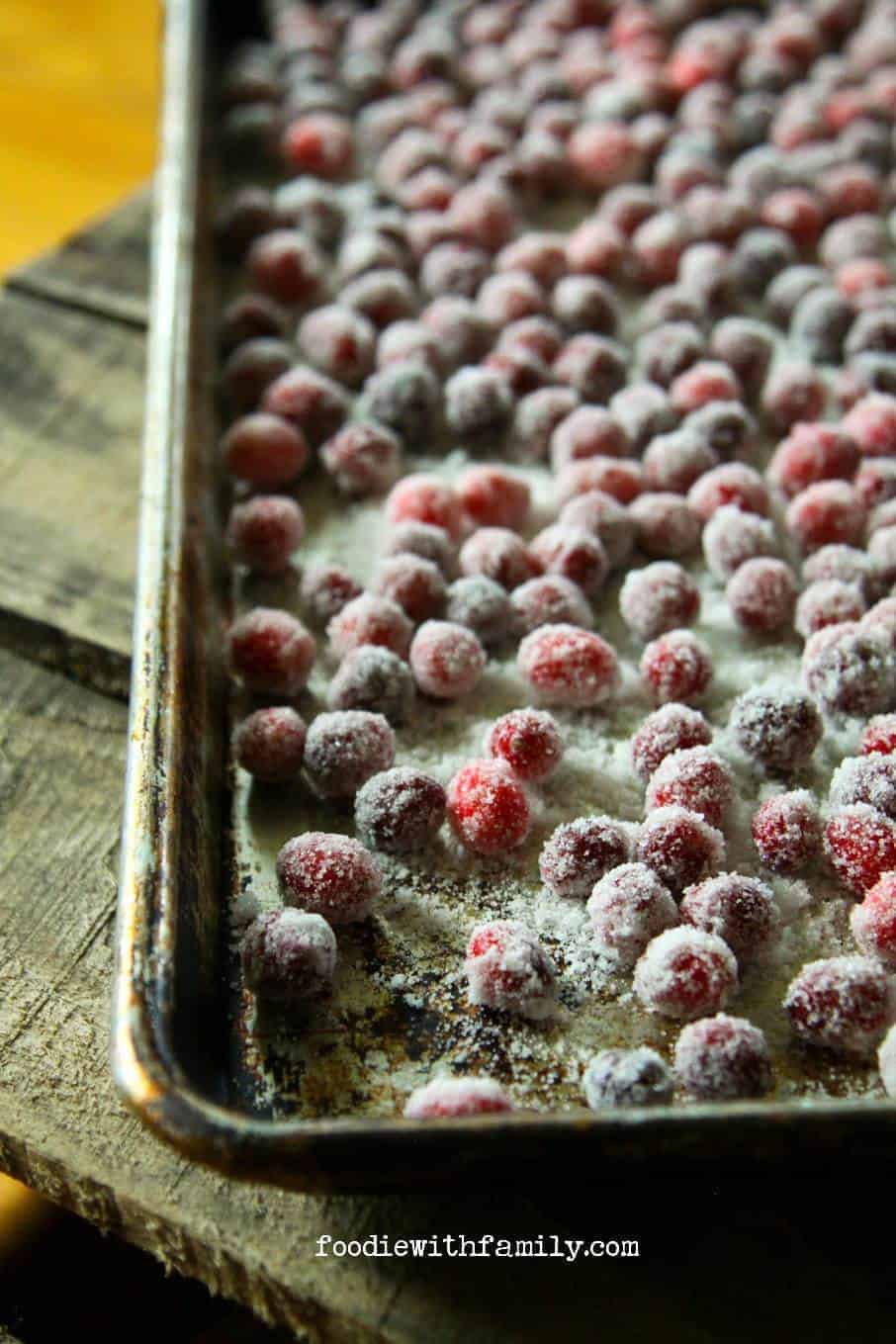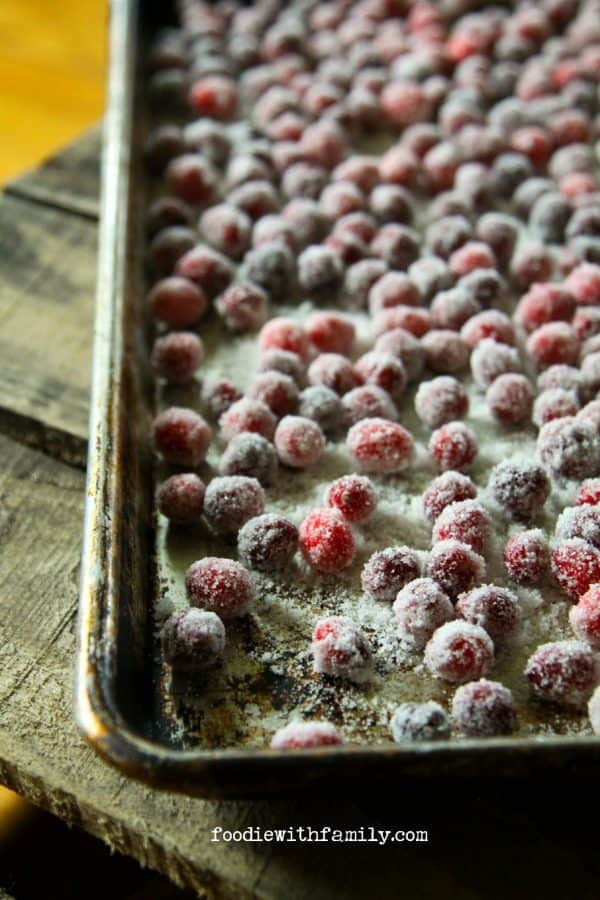 Cook's Notes
Make sure you start with fresh, fresh, FRESH cranberries. Don't use frozen ones for this purpose. They just won't have that glorious POP when you bite into them.
Speaking of cranberries, sort through the cranberries and discard any soft or squishy ones. They won't taste good!
While I'm normally a raw sugar kind of gal, I found I got the best and prettiest results by using plain, white, granulated sugar.
This is not at all a difficult process, but this is not a last minute project and you DO need to plan ahead. The cranberries need to soak in the syrup for at least 12 hours then after being rolled in the sugar, need to dry at room temperature for another 2 to 4 hours.
Do not skip the drying process for the berries before transferring to an airtight container for the refrigerator or your lovely candied cranberries will lose their coating.
Store the finished cranberries in a container in the refrigerator. These have never made it past three days in my house, so I can't speak to whether the coating will hold up after that point, but from a food safety standpoint, they should be fine for a week or so.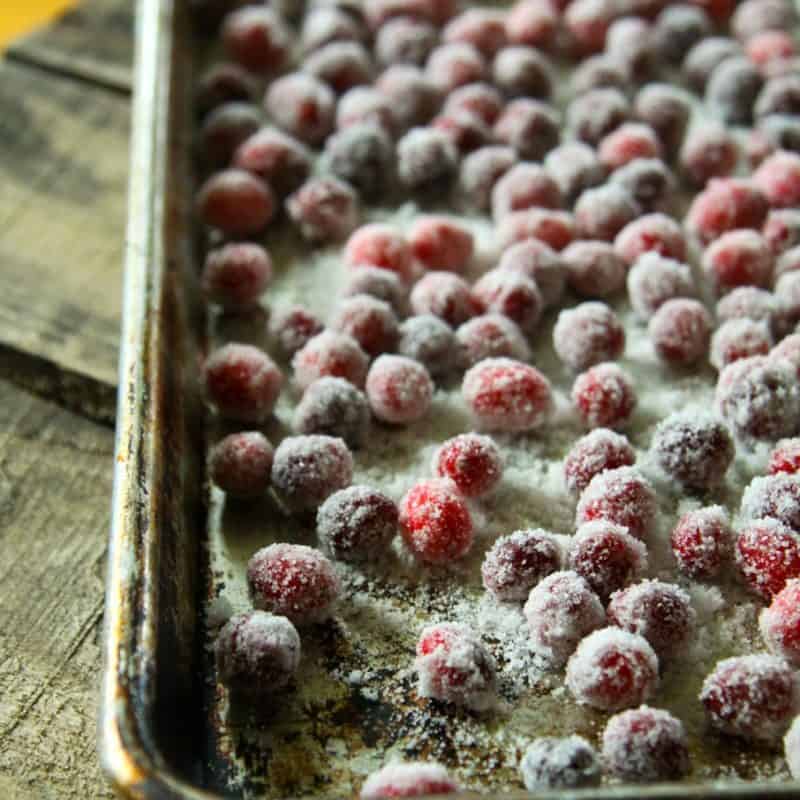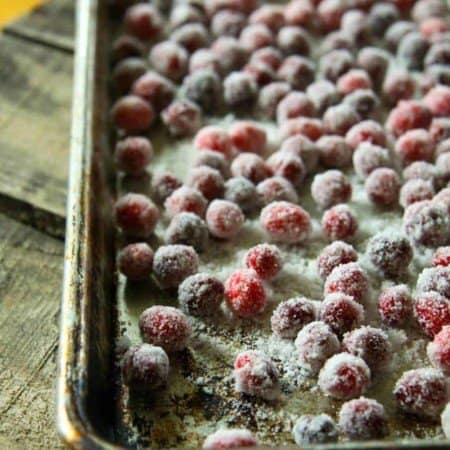 Simple Candied Cranberries + Cranberry Syrup
Rate Recipe
Ingredients
3

cups

water

3

cups

granulated sugar plus 1 cup extra for coating the cranberries

3

cups

fresh cranberries

1 bag, picked over to remove soft or bad cranberries
Instructions
Stir together the water and 3 cups sugar in a heavy saucepan over medium high heat. When the sugar is fully dissolved and the syrup has tendrils of steam rising from it, remove the pan from the heat and let it cool for 6 minutes. Place the cranberries in a heat safe bowl and pour the syrup over them. Cover with plastic wrap and let rest at room temperature for 12 to 24 hours.

After 24 hours, strain the syrup into a jar, put a lid on the jar, and refrigerate until ready to use.

Spread the remaining sugar over a sheet pan. Drop one handful of the cranberries into the sugar and shake them (or stir if necessary) until covered. Transfer the coated cranberries to a clean sheet pan in a single layer. Repeat until all the cranberries are completely coated. Let the coated cranberries dry at room temperature for several hours. Store in a container in the refrigerator.
Nutritional information is an estimate and provided to you as a courtesy. You should calculate the nutritional information with the actual ingredients used in your recipe using your preferred nutrition calculator.