Spicy hot is how things are around here.
From the weather to the produce to the activity level, everything packs major heat these days.
My garden is in a bit of a lull at the moment since cucumbers are about done and tomatoes are just gearing up, but the jalapeño plants are ready to go, go, go. My love of jalapeños is well-documented. And while I'm thrilled to finally get some homegrown hot peppers* there aren't quite enough to put together a full batch for Candied Jalapeños. Because tomatoes aren't really fully ready yet, salsa is out, too. But I'll be darned if I'm going to let one of those little green beauties go to waste.
*I have tried, unsuccessfully, year after year after year to grow hot pepper plants of various types. I've ranged from mild disappointment -plants that grew and set fruit that never matured- to abject failure –plants that were eaten down to the ground by nasty, greedy woodland critters, and/or plants that I forgot to water. And even in years where I did everything right -when I weeded and watered and pruned and trimmed and fed- it was still dismal. This year we tried something new out of sheer laziness. When we reached the end of space in the garden after filling it with the necessaries (cucumbers, tomatoes, zucchini, summer squash, beans, radishes, lettuce and whatnot) we had no desire to break more ground for the wee pepper plants we had bought. Instead of breaking out the pick-axe and the tiller, we rummaged around until we came up with several nursery pots, filled them with composted manure and sawdust and nestled the little pepper hopefuls in and walked away… Whaddya know? It worked.
Pique to the rescue. We're talking about the unofficial national hot sauce of Puerto Rico. I've not yet had the privilege of traveling to Puerto Rico* but I've heard from reliable sources that most households and restaurants keep a bottle or two of their own version of pique at the dinner table. It is hot sauce in its simplest form; vinegar, hot peppers, and optional spices to round out the flavors. Over greens, steamed or roasted vegetables or into soup, or *ahem* on top of freshly deep-fried French fries (not that I'm trying to lead you astray), a little drizzle of Pique is just what the doctor ordered. And it's a match made in heaven for frugal food lovers. Because of the acidity level of pure cidervinegar, Pique is good indefinitely in the refrigerator. Standard practice is to top off the vinegar in your Pique bottle as it gets lower. It's an almost never-ending bottle of hot sauce. Rejoice! The taste and the cheap are like peas and carrots here!
The perpetual advantage of making buyable items at home is that it is always customizable for your individual tastes. You can make it gently spicy or burn-your-face-off-hot with any combination of hot peppers. Since jalapeños are what I have (victory dance!) that's what I used. I tossed in a few dried arbol chile peppers for added kick and color. And I went heavy on the garlic because I could.
If you have an empty glass soy sauce bottle or vinegar bottle that has the little removable plastic shaker top to keep things from plopping out onto your plate en masse, it makes a wonderful vessel for your gorgeous Pique. If that's not handy, you can always use a canning jar or empty jar of some other sort with a tight fitting lid. The shaker bottle just makes Pique-to-dinner deployment a more precise operation.
Of course, if you can lay your hands on pretty little bottles with spouts, that would transform your project into one worthy of gift giving. Tie a tag with instructions on storage, use and refilling around the neck of the bottle and gather up the compliments because they will be heaped upon you. (You creative, tasteful, thoughtful, frugal friend, you!)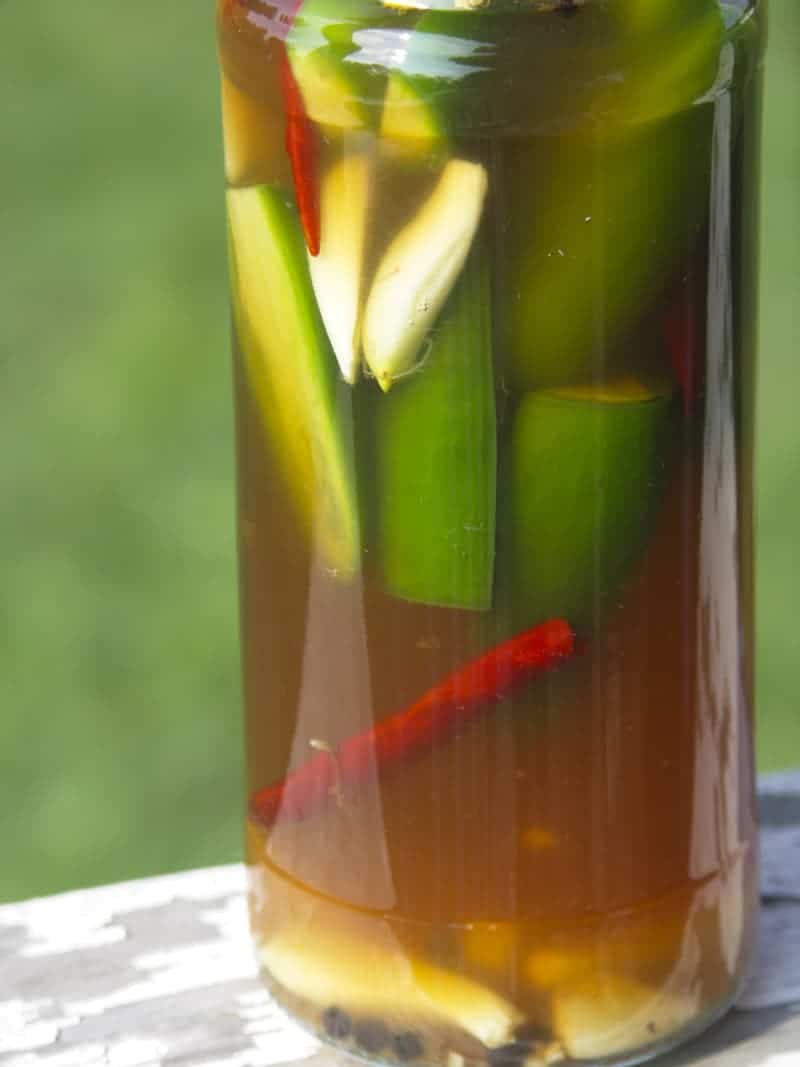 For a printer-friendly, photo-free version of this recipe, click here.
Pique (Puerto Rican Style Hot Sauce)
Ingredients:
about 1 cup cider vinegar (I like Bragg's Raw Apple Cider Vinegar)
about 12 long hot peppers (You can use any combination of  jalapeno, arbol, scotch bonnet, habanero, cayenne, etc…)
4-6 cloves of garlic, peeled and cut in half lengthwise
12 black peppercorns
1/4 teaspoon Kosher (or other non-iodized) salt
1/2 a bay leaf
Other optional tasty additions:
Several stems of fresh cilantro or fresh oregano
a squeeze or two of lime juice
toasted cumin seed
a splash of rum
Also needed:
1 clean, empty glass bottle of about 12-ounce capacity with a tight fitting lid. If there is a removable plastic shaker top, that is even better! Remove the shaker top prior to filling and set aside. An empty rice wine vinegar bottle works very well.
Drop the garlic cloves,  peppercorns, salt and bay leaf (and any of your optional additions) down into the bottle.
Remove the stems from the hot peppers. Leave the seeds and membranes intact if you want your Pique spicy! If necessary, slice the peppers lengthwise until they are a size that fits easily into the mouth of the bottle. Insert peppers (or peppers strips) into the bottle. Use a funnel to pour vinegar into the bottle to cover the peppers and spices. If your bottle has a shaker top, snap it back into place, add the lid and set out on the counter for two days. After two days, store your Pique in the refrigerator. You can top off with vinegar when it starts getting low. When the peppers start losing their punch, use a chopstick to remove the peppers and start over!