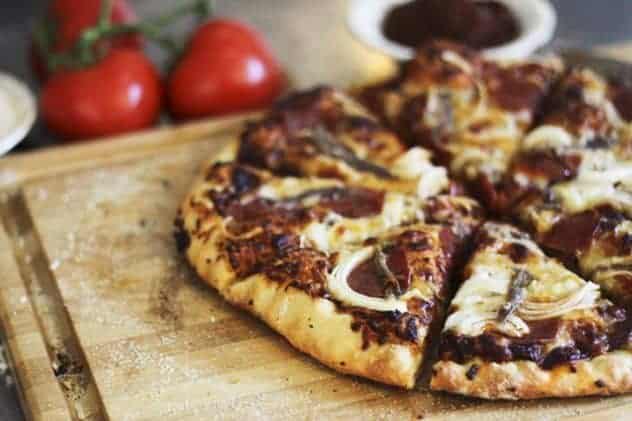 I'm about to do something I've wanted to do for a long, long time. I declare this week to be pizza week.
I've run a handful of pizza recipes (this, this, this and this) but I've never gone deep into pizza territory in this space. This -to put it mildly- is nuts. Why? Because I am certifiably obsessed with pizza. I love pizza truly, madly and deeply. It is my happy food. I'm not talking about cardboard take out pizzas (although I'll eat those, too.) I am talking about homemade pizza whether it's thin and crispy, thick pan pizza, or anything in between.
Way back when The Evil Genius and I were first wed, we went on our first of many food kicks. We had a collective hankering for a pizza fresh from the oven with a thin, crispy and chewy crust. We bought a pizza stone and peel, researched recipes, and ate pizza nearly every night for a month. We were thrilled with our results, but there was always one little piece that didn't quite meet our expectations: that crust.
Good golly. Who knew that a little piece of dough could create such frustration? We tried stiffer dough, slacker dough, dough made from various flours, enriched dough, plain dough, new dough and aged dough. It seemed like no matter what, it just wasn't exactly what we had pictured.
The years passed and we still loved homemade pizza infinitely better than takeout*. We liked our crust and put aside our quest for crust perfection while we were busy with our five baby boys. About a year ago, though, the pizza crust bug bit again. I decided to go a direction I had never gone with my dough.
*I like a variety of ingredients on my pizza. Sometimes I like ham, sometimes bacon, sometimes artichoke hearts, pineapple, roast beef, provolone, crusts rubbed with garlic, extra char on the crusts, caramelized onions, anchovies, shaved asparagus, bleu cheese, barbecue sauce, shredded chicken, a combination of those things or something else entirely. Aside from the fact that our local pizzeria just doesn't carry half of those, I'm a little to embarrassed to order the world's most high maintenance pizza, and I'm too cheap to pay for it. I'd far rather make twice as much at home for the same price and preserve my dignity.
I weighed flours and ingredients as I dumped them into my dough bucket and stirred. I let it rise and fall, got my oven screaming hot, sprinkled flour over the surface of the dough, pulled off a piece the size of an orange, rolled it out*, transferred it to the peel, topped it and baked it.
*This may horrify some pizza purists and hand-tossing devotees, but the truth is simple. I prefer to roll out my pizza crusts. I like a relatively uniform shape and whenever I toss the dough, I end up with amoeba shaped pizzas. While that's not a terrible thing, it's a little harder to evenly cut it. Yes, I am a control freak. We've already covered that. Feel free to hand-stretch or toss your crusts. My rolling pin and I will happily carry on doing what we're doing.
I moved the pizza to the cutting board, let it rest for a couple of minutes then sliced it. Unlike the usual approach to pizza night, where I call everyone to grab pizza and settle in at the table, I slid over into the corner of the kitchen where no one can see me unless they come all the way into the room and took a bite. Oh yes. This was the crust I'd wanted all those years. Crackly crisp on the outside but chewy on the inside, slight bits of char here and there, sturdy enough to hold the toppings I love, but delicate, too. Oh yes. This was pizza love. I served the pizza to my family without telling my husband what I had changed.
He took a bite and looked at me. "This crust! This is the crust! What did you do? This is perfect!"
So here's the skinny. Today, for Make Ahead Mondays, I am giving you the crust recipe in handy-dandy printable form. Get a batch of this mixed up and into your refrigerator, because this week, we make pizza, and lots of it.
Those of you with good memories may recognize this recipe as being very similar to one I've posted before. It's true, I did! The only difference between the previously posted recipe and the one being posted today is the presence of white whole wheat flour in today's version. There's something about that white whole wheat that perfects what was an already good dough. This is the dough that fulfilled the pizza crust fantasy. This is crust upon which dreams are built.
Is it hyperbole? I'll let you be the judge.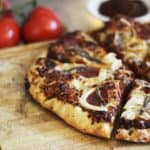 Print
No-Knead Whole-Wheat Semolina Pizza Dough
Ingredients
5 1/2

cups

room temperature water

1/2

cup

extra virgin olive oil

3

tablespoons

instant yeast

2

tablespoons

kosher salt

2

tablespoons

sugar

raw or granulated

4

cups

1 pound 1 ounce by weight white whole wheat flour

7

cups

1 pounds, 14 3/4 ounces by weight all-purpose flour

2

cups

11 ounces by weight semolina flour
Instructions
Mix the yeast, salt, sugar, olive oil and water in a 12 quart capacity bucket. (This recipe can be halved if you do not have a large enough container.)

Stir in the flour until no dry pockets remain. You do not have to knead it, but I find the easiest way to have it thoroughly mixed is to wet one hand and forearm and use that one to mix it in completely.

Cover lightly (Do not put a lid on tight. Trust me.) and let rest at room temperature until the dough has doubled and collapsed. (Or at least until dough is very, very puffy.) This takes a less than 2 hours in warm weather and more than 2 hours in cool or cold temperatures.

You can use the dough immediately. If you have leftovers, you can store them in the container, lightly covered (again, do not use a tight lid!) for up to 10 days. If you need to store the dough beyond that time, divide into individual pizza sized servings. Freeze in re-sealable plastic bags that have about a teaspoon of olive oil smeared around inside each for up to 3 months.
Save