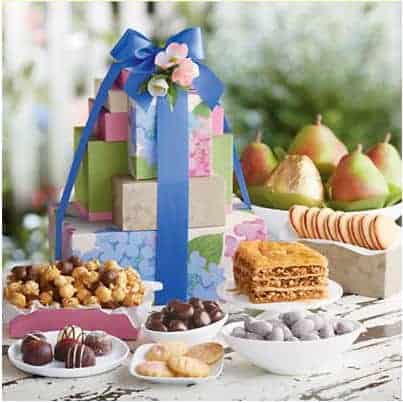 Harry & David sent me a Mother's Day Tower of Treats Gift Deluxe (ARV $59)  to review and has offered to give an identical gift tower to one lucky Foodie with Family reader in celebration of Mother's Day. I do so love Harry & David.
You know 'Mom' is 'Wow' upside down, right?
How perfect is that? Every mother is aware how very upside down and wowed you spend most of your days. We think we've gone down the rabbit hole with diapers and spit-up, but every single day proves that you ain't seen nothing yet. It's the beginning of  a lifetime of your heart being a dishrag that just keeps sopping up love and being wrung out just in time to soak up more love that you didn't see coming.
…Just in time for Mother's Day, my good friends at Harry & David ride to the rescue once again with a perfect gift to give to a deserving mother in your life, whether it's yours, your spouse's, your own, or a really nice lady down the street who mothers all the lonely kids. THIS mom is telling you that a stack of pretty boxes filled with treats of all kinds and tied together with a beautiful satin ribbon is a splendiferous way to show your appreciation. Have you TRIED their Royal Riviera pears yet? Let me explain how good the pears are… Each opportunity I've had to review and give away one of Harry & David's gifts, I've deliberately chosen one with the pears because they rock my world. There is no other pear that is so tender and juicy that it's easiest to eat if you cut it in half and scoop the flesh with a spoon. Seriously. What mom wouldn't love that?
It's not just full of pears, though; look at all the goodies in there…

Most of us have more than one mama for whom to buy or make a gift. If you're stuck for ideas, you must hop over to Harry&David and look at their selection of Mother's Day gifts. If your mom loves gardening, cheesecake, fruit, wine, cheese, flowers, tea, candy, chocolates, cake, cookies, wreaths, and birdhouses, they have you covered and there's still seven days to order and have your gift arrive on time!
The giveaway is now closed. Congratulations to Terah, the college student! Please check your email and get back to me quickly. Your mama is going to be thrilled!
What is included in the Giveaway:
Harry & David will ship one (1) Mother's Day Tower of Treats Gift Deluxe to one (1) Foodie with Family reader who will be chosen at random using the Pick Giveaway Winner plugin at the end of the giveaway.
How to Enter the Giveaway:
Leave a comment here on the blog telling me who you want to be on the receiving end of this package. Is it you? Is it your mom? Is it your sister/aunt/mother-in-law? Tell me why… I'm warning you, though, if you make it heart-felt, I'm probably going to cry. It's just how I am.
Legal-ese:
One entry per email address, please. This will be strictly enforced with my patent pending Plasma Eye ™ (one of my motherhood-acquired gifts) across the board.
This giveaway is only open to residents of the continental United States. Apologies to my North, South, East and West of the border friends.
Entries will be accepted until noon EST on Friday, May 3rd, 2013. The winner will be announced here on this post at that point.