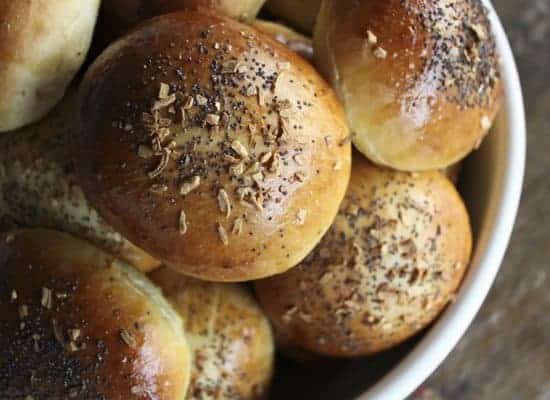 Would you believe I've been writing here for three years? Three years! I can hardly believe it. So much has changed over these years both in the 'real world' and here at my home on the internet. We moved to an Amish farmhouse, grew a teenager out of a little boy*, saw the end of the diaper era in our home (and my teenager would appreciate it if I'd point out that it wasn't him wearing diapers a mere three years ago.), published more than three hundred recipes here, learned a little bit about using a camera, and made a lot of great new friends.
*The fact that I have a teenager sends my brain reeling. It's not because of the 'fear of the teenage years' because my teen is a really awesome human. What knocks me out is the fact that I'm old enough to have one. If you'll pardon me just a moment, I'm going to go double over and hyperventilate for a bit.
Three years ago, I posted the recipe for my favorite homemade burger rolls. If you look at the old post, you'll see what I mean about changes. And yet, with everything that has become different in one way or another, these buns have remained our favorite hamburger and sandwich roll for more than just my tenure here on the interwebs. They have the staying power of a recipe that will in all likelihood -judging by the prodigious quantities eaten at mealtime- be one my kids make when they're out on their own. They are truly that good.
With Memorial Day weekend -and with it the start of "official" grilling season- starting in seventy-two hours, it is time to get busy with our best summer-esque, barbecue and grill friendly recipes. This one is going to be what elevates whatever you choose to serve, whether it be hamburgers, grilled chicken or ham sandwiches, or a sliced, ripe tomato with mayonnaise and a paper thin layer of Vidalia onion.
Because the old post was still in my "play with the format" era, I've updated the recipe here to use my handy-dandy, new-fangled printable recipes. The old post will remain up, crazy formatting and all, to keep the beautiful comments from people who have become great friends and to remind me of how far I've come.
If you're into compare and contrast, you'll notice that this recipe is nearly identical to my homemade hot dog buns. The hot dog buns are formed differently and brushed with buttermilk. And in the old post, I specified using a water/egg yolk wash before topping the buns. These days,  instead of a water and egg yolk wash on the buns, I've changed to an egg-only wash. This is a matter of personal preference. I like my buns (heh) with a little richer colour to them and I think the egg-only wash does that better. Besides, I'm awful at saving and using single leftover egg whites, so this is a two-birds-with-one-stone moment. Birds? Eggs?*
*Clearly one thing that has NOT changed is my love of really bad jokes.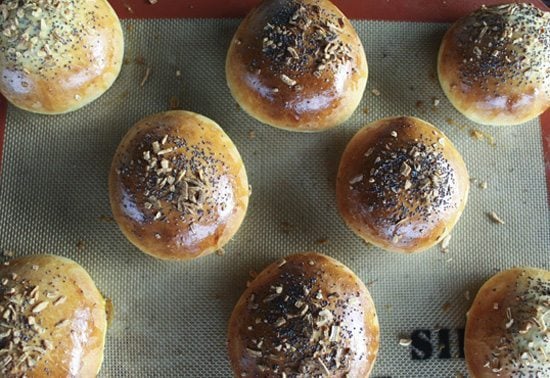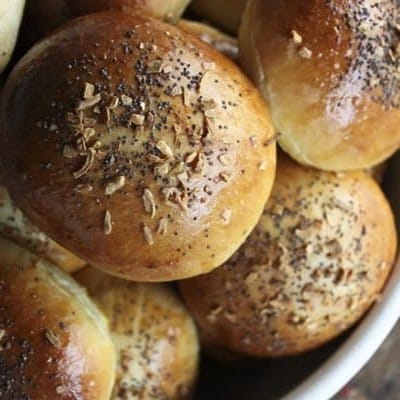 Golden brown, shiny, soft but sturdy, these hamburger/sandwich buns are good enough to steal the show from whatever you put on them. Whether you use them for glorious grilled burgers or simple fresh tomato sandwiches, happiness is guaranteed!
Ingredients
Ingredients for the dough:
1 1/4

cups

lukewarm milk

1

large egg

beaten

6

tablespoons

butter

softened to room temperature, cut into pieces

3

tablespoons

sugar

4

cups

bread flour

You can substitute all-purpose flour if necessary.

3

tablespoons

instant potato flakes

1

tablespoon

vital wheat gluten

optional, but it improves the final texture.

2

teaspoons

kosher salt

2

teaspoons

instant yeast
Optional toppings;
poppy seeds

sesame seeds

dehydrated garlic flakes

or minced garlic

dehydrated onion flakes

or minced onion

rosemary

coarse salt

caraway seeds

coarsely ground black pepper
Instructions
To mix dough in a bread machine:
Put all dough ingredients in the pan. Program bread machine for the dough cycle and hit start.
To mix dough in a stand mixer:
Put all dough ingredients in the bowl of a stand mixer fitted with a dough hook. Mix on low speed for 10 minutes, or until a smooth, elastic dough is formed. Remove the bowl from the mixer, cover with a tea towel and let rise in a warm, draft-free place until doubled in bulk, about 1-2 hours.
To mix dough by hand:
Add all dough ingredients to a large mixing bowl. Use a sturdy wooden spoon or your hand to stir until a shaggy dough forms. Turn out onto a lightly floured surface and knead until a smooth, elastic dough forms, about 15 minutes. Place in an oiled bowl, cover with a tea towel and let rise in a warm, draft-free place until doubled in bulk, about 1-2 hours.

To form rolls:

Lightly grease an 11-inch by 13-inch baking sheet or line with a silpat or parchment paper. Set aside.

Divide dough into 3 equally sized pieces and form into logs.

Divide each log into 4 equal pieces.

Cup your hand over one piece at a time and roll in a clockwise motion until the surface of the roll is smooth and it has formed a tight ball.

Transfer to the lined baking sheets, leaving about 3 inches between rolls.

Flatten gently with the palm of your hand, and let rise in a warm, draft-free place until puffy, about 30 minutes.

Preheat oven to 375°F.

Brush the puffy dough generously with beaten egg and sprinkle with desired toppings.

Bake for 18-22 minutes, or until deep golden brown.

Cool the rolls on a rack for at least 10 minutes before slicing.
To store leftovers:
Wrap tightly and store at room temperature for up to two days. They can be wrapped tightly and frozen for storage up to a month.
Notes
Choose the toppings for your rolls based on what you plan to serve inside them. For hamburgers, the sky is the limit, top it with as many things as you'd like. For grilled chicken, try a combination of rosemary, coarse salt and black pepper. For ham sandwiches, top with minced onion. For pulled pork or beef, top with minced onion, minced garlic and black pepper. For beef-on-weck, top with coarse salt and caraway seeds.
Nutritional information is an estimate and provided to you as a courtesy. You should calculate the nutritional information with the actual ingredients used in your recipe using your preferred nutrition calculator.
This brings me to my giveaway. I'd like to give away a jar of my semi-demi-hemi famous
Candied Jalapenos
to two readers here plus one to a
Facebook
or
Twitter
follower. (Speaking of things that make burgers and sandwiches better…) It's a two-birds-with-one-stone moment, too.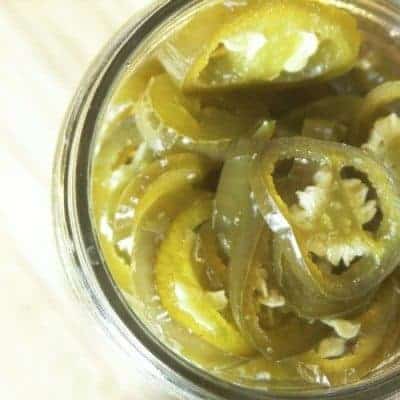 Save
Save